Berlin-based producer Joyce Muniz reconnects with Desert Hearts and teams up with Namito to unleash a firecracker of an EP, Me & Da Beat! 
---
Today marks the official Berlin kickoff of Joyce Muniz's very first "little" world tour that will see her touch down in locations ranging from Bogota and Bangkok to Austin and Tampa. To amp up the excitement as she embarks on her journey, Joyce has delivered a brand new mind-melting EP with fellow underground music connoisseur Namito for their first collab together called Me & Da Beat, out now on Desert Hearts Records!
Me & Da Beat has quite the cool back story. Back in 2015, Joyce Muniz took on the challenge of remixing Mikey Lion and Sabo's track, "Sally". The label was so impressed by her work that she was invited to play at Desert Hearts Festival for the very first time and rocked the crowd to their core!
Since that moment, the Desert Hearts family has stayed in contact with her, reconnecting on a visit to Berlin. Just three weeks later, Desert Hearts would find Me & The Beat in their inbox. Of course, Mikey Lion would step up to pay her back for her marvelous remix action on his track, adding his very own rendition of "Me & Da Beat" to complete the package!
Stream Joyce Muniz & Namito – Me & Da Beat  on Spotify:
---
Get ready to see the booties bouncing on the dance floor!
The title track "Me & Da Beat," featuring the vocal stylings of Quinta Young, is full of infectious swag that will get stuck in your head for many days to come. It's the kind of track that inspires nothing but unapologetic fun and happy feelings. With its bubbly bouncing melody, it's impossible not to start gyrating your hips as your feet do the fancy work.
On the B-side, we dive a bit deeper as "Beside My Beat" pulls us into the ground for a twisted grind session with our closest friends and lovers. Stripping away the vocals, all that is left is the driving rhythm that makes way for a trippy sound detail designed to flip reality on its head. As we allow the sidewinding character of "Beside My Beat" to abduct us out of our bodies, all that is left to do is listen as the musical insanity lights up the dance floor with a sense of beautiful chaos.
To close out the EP, Mikey Lion dives in to do what he does best. Bringing back the vocals, he makes the choice to place them earlier in the track, highlighting the excellence of Quinta Young's gritty vocal chops. What makes this particular rendition stand out is the unique synth structures that pop up halfway through the track, effortlessly percolating above the strong bassline. Going forward, I truly hope that we see more from Joyce Muniz & Namito on Desert Hearts because Me & Da Beat has proven itself to be one hell of a wild ride!
Will Joyce Muniz or Namito be joining in on Desert Hearts Festival this year? While the lineup is yet to be revealed, we can only hope! Tickets go on sale today, so grab yours and we'll see you on the dancefloor! 
---
Joyce Muniz & Namito – Me & Da Beat  EP – Tracklist:
Me & Da Beat
Beside My Beat
Me & Da Beat (Mikey Lion Remix)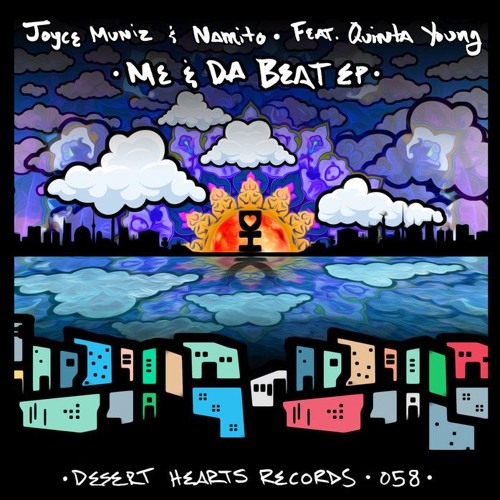 ---
Connect with Joyce Muniz on Social Media:
Facebook | Twitter | Instagram | SoundCloud
Connect With Namito on Social Media:
Facebook | Twitter | Instagram | SoundCloud