Noizu stopped by to chat about fresh release "DANCE" on Black Book Records, his label Techne, and what it was like to play b2b2b with Tchami and Wax Motif.
---
Noizu may be a relatively new name in the scene, but don't underestimate the power of this rising star. Releasing tracks since 2017, he has already begun to make some major waves with tracks like "Lasers" and "Slow Down" while also working and touring with fellow artists like Dombresky, Malaa, and Tchami.
Last year was a huge one for Noizu that included the kick off of his record label, Techne, with track "Rave Alarm" that proved to be a huge hit. On the performance front, he played his debut LA show at Sound Nightclub and captivated audiences with a B2B2B set with Tchami and Wax Motif to close out the latest CONFESSION tour. Starting 2019 off strong he took the stage on Holy Ship! 13.0 for three epic sets and is set to play at Beyond Wonderland SoCal this March as well.
We got the chance to chat with this fresh up-and-comer about what his set preparation process looks like, information about his label Techne, and more. Listen to "DANCE" below, stream or download it on your favorite platform, and read on for our chat with Noizu for some insight!
Stream Noizu – DANCE on Spotify:
---
First of all, let's talk about Holy Ship! You started 2019 off with a bang by playing three sets on the 13.0 sailing. Congrats on that! What was your experience like while on board this year?
It was amazing, I'm so happy to have done it!  Each set I did got better and I managed to spend time with fans, which is such a cool thing to do.  My new single 'Dance' was played all over the boat by Fisher, Chris Lake, Green Velvet, etc.. That was an amazing start to the year!
When you know you're going to be playing numerous sets at one event, what does the preparation process look like for you? Do you try to curate specific vibes with your tracks based on the environment you're playing in?
I try to switch it up every set but keep it in the same lane every time. I don't want to change my sound just because I have three sets in a row, but I am aware people will be coming back from the night before. I try not to plan my sets too much. I have the songs I want to play and I just vibe on stage. That's when I really enjoy myself!
You already have a stacked schedule for 2019 and are billed to play at Beyond Wonderland SoCal. Do you have anything special planned for this set to help take Headliners down the rabbit hole with you?
I'm so excited for this one! I'm going to try to keep most of the songs I play my own so it stands out to the others. It's also a great time to test out some unreleased records and see how they go down. I'll definitely make sure that is a special set.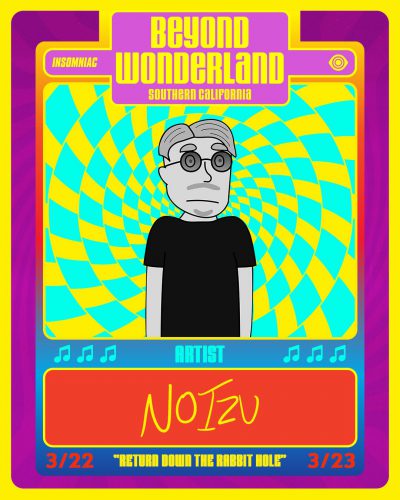 Let's move on to your single "DANCE" which was just released on Chris Lake's label Black Book Records. What was the production process like on the tune and how does that compare to collaborative tracks like "Rave Alarm"?
I have a very specific production process now, which has taken some time to get to but it feels like it is paying off. I took the same approach with both songs. I wrote the vocal hook first then built the song around that.
Now, let's rewind to last year. You had an explosive 2018, headlining your first LA show at Sound Nightclub and touring with Tchami on his Confession tour with Wax Motif. If you had to pick one, what was your favorite moment of 2018?
I think the best moment of last year was releasing 'Rave Alarm' on my own record label 'Techne'.  It was such a big moment that my team and I worked really hard to make happen. Annie Mac making it the "Hottest Record In The World" on BBC Radio 1 out of the blue was really incredible. I'm so happy with that song and how it was received. The headlining show at Sound was also a massive milestone as it made me realize that all of the hard work is paying off. I was so happy that night.
Circling back to the Confessions tour last year, what was it like closing out the tour with your epic B2B2B set? 
[Laughs] That was epic. It was a very last minute decision by Tchami. We weren't sure if it was going to happen but once he finished his set he brought me and Wax on to play with him. We just played house and tech house records for what felt like hours. It was such good fun!
Tell us about your record label, Techne Records. What prompted you to start your own label, and do you have any releases planned for 2019 that you can share with us? 
The main reason of starting Techne is to have the freedom to release records when I want. I just want to make sure I am releasing consistent music and that is my platform to do so.  I will definitely be releasing some more Noizu records on Techne this year. I also want to release music from other artists as well, but I am taking my time to make sure everything is right first and we have the best infrastructure possible to support other acts.
What has been the biggest lesson you've learned in your career so far that you feel would help other artists in the scene?
I think the most important thing is to have your goals and stick to them. Try and have a clear vision of what you want and then go out and get it.
Are there any specific goals you'd like to achieve in 2019 as an artist?
I want to spread Noizu as far and wide as I can, release the best music I can and have a good time doing it!
Finally, which movie or TV show character do you identify most with and why?
Rick and Morty because they look like me. 😉
---
Connect with Noizu on Social Media:
Facebook | Twitter | Instagram | SoundCloud