With great music, great production, and great people, HiJinx 2018 was the perfect end to my year and exceeded all of my expectations. 
---
You have to have a lot of faith to attend a brand new festival, and even more to travel cross-country for it. With a lineup filled to the brim with top-tier artists, it was difficult to look the other way from HiJinx Fest. Eventually, I gathered enough courage to do a last-minute send to the Pennsylvania Convention Center. I didn't know what to expect, but any expectations I might have had were immediately exceeded before the first set even began.
After being on the road for a little more than ten hours and paying upwards of $30 in tolls, my group and I settled into our Airbnb the night before the first day of HiJinx. We woke up the next day and spent a couple of hours getting ready. By the time I pulled my fishnets and Subtronics shirt on and tied my hair up in my signature pigtails, I could feel a swarm of butterflies in my stomach. There were no pictures released of HiJinx's layout, and I was terrified I wouldn't like it considering I don't usually do indoor festivals.
We decided we wanted to get in line early, so we ventured to the city and hit up the market across the street from the convention center.
I feel like "market" isn't even the best word to describe this place and just how mind-blowing it was. Food vendor upon food vendor lined every square inch of this massive building, ranging from pretzel stands and bakeries to buffets and Philly Cheesesteaks. We walked up and down the aisles, gazing up at the bulb lights strung across the ceiling and countless signs brandishing different foods. I ended up settling on a pretzel dog and water because that was all my excited stomach could handle.
We got in line around 4:15 PM and watched as fellow attendees paraded by in pashminas, Nectar gear, and copious amounts of glitter. When the doors finally opened, we were happy to find that security and ticket-scanning went by smoothly and we were able to get inside within a moment's time.
Upon entering the stage area I was immediately taken aback.
I really was expecting just an empty warehouse with a small stage, but HiJinx pulled out all the stops with a sizable main stage with several screens on either side, electronic panels lining the ceiling, and inflatable tentacles and other wonky decorations on the ceiling and walls. In one corner of the massive arena was a small cornucopia of vendors offering everything from pins to pashminas.
Dorfex Bos was the first artist to perform on the first night, and I immediately fell under his smooth and sultry spell of lowdown bass. The set quickly picked up in energy as more people filtered in, and he brought out some seriously crazy wobble-filled tunes such as "Chameleon". It was a great start to the night, though I wondered how the stage would perform for Bassnectar later on.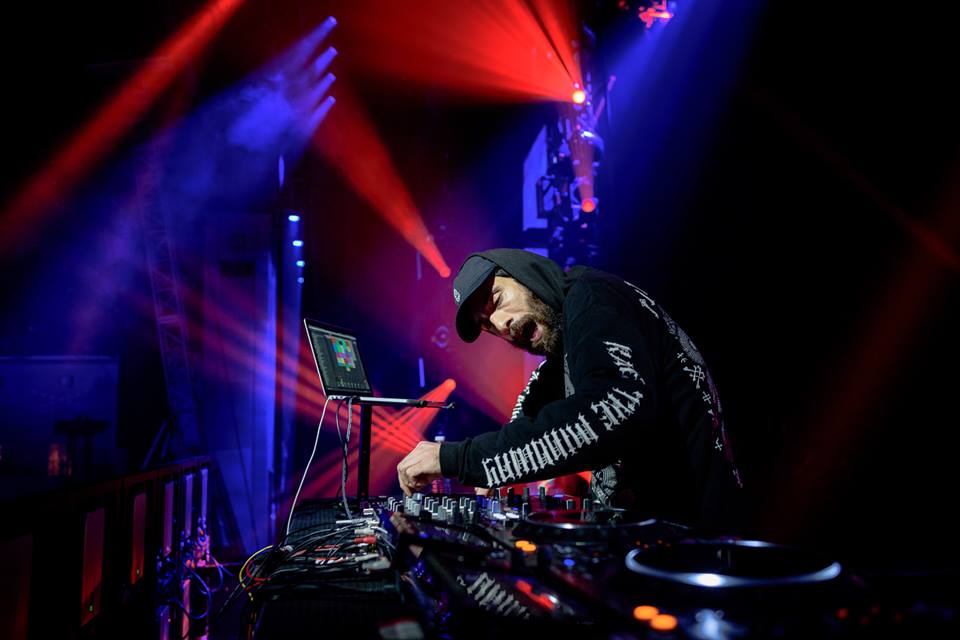 After Dorfex Bos was one of my favorite artists, Whipped Cream.
Since seeing a portion of her set on the Deadbeats tour, I've loved Whipped Cream's diverse selection of midtempo and gnarly dubstep. She opened with Crankdat's re-crank of Travis Scott's "No Bystanders", which is one of my favorite remixes. The lights and lasers remained a blood-red color throughout her set, which was especially fitting when she dropped my favorite tune by her, "Blood". Not surprisingly, Whipped Cream's set was one of my top sets of the weekend, and I couldn't have been happier to finally catch a full set from her.
Up next was Denzel Curry, and though I personally am not a hip-hop fan because of the crowds they typically draw, I found myself really enjoying this set.
Of course I didn't know a single song besides "Ultimate", but Denzel Curry had amazing stage presence and his energy was contagious. Everyone around me was jumping in unison to each rapped lyric and I couldn't help but follow suit.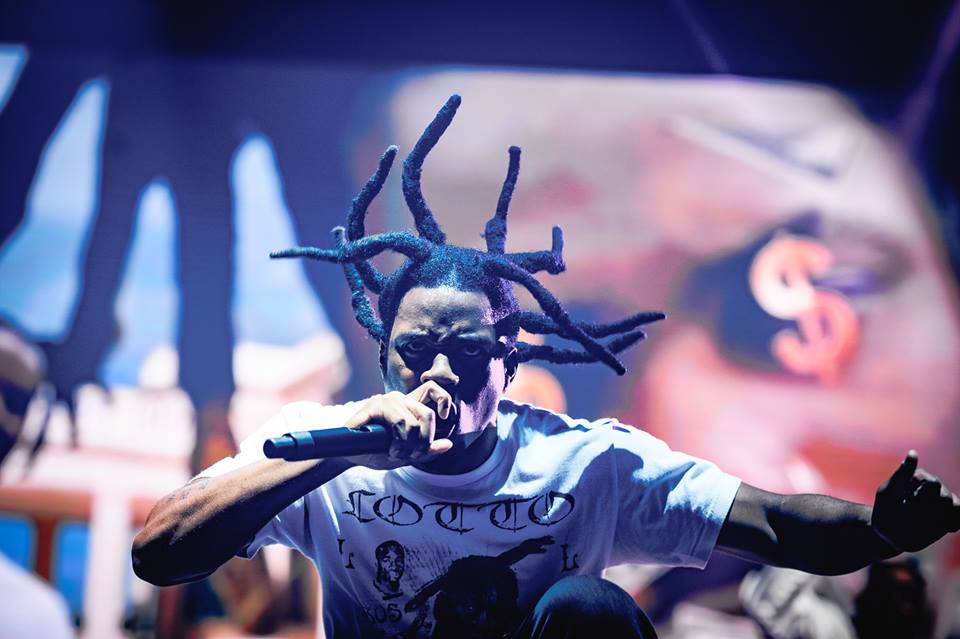 Once his set was over, Ganja White Night took the stage, a set which I had mixed feelings about until it began.
I've seen Ganja White Night before and left early from their concert because the sound was a little too repetitive for me, so I wasn't really excited to see them again. I don't know if it was the crowd or if my taste of music changed in the past few months, but I genuinely could not get enough of this set. Every slinky wub and wobble paired beautifully with visuals of marijuana leaves and a dazzling array of green lasers. The entire crowd was electrified, especially when they dropped their collab with Zeds Dead, "Samurai", and everyone's arms writhed and wriggled to each bass slap.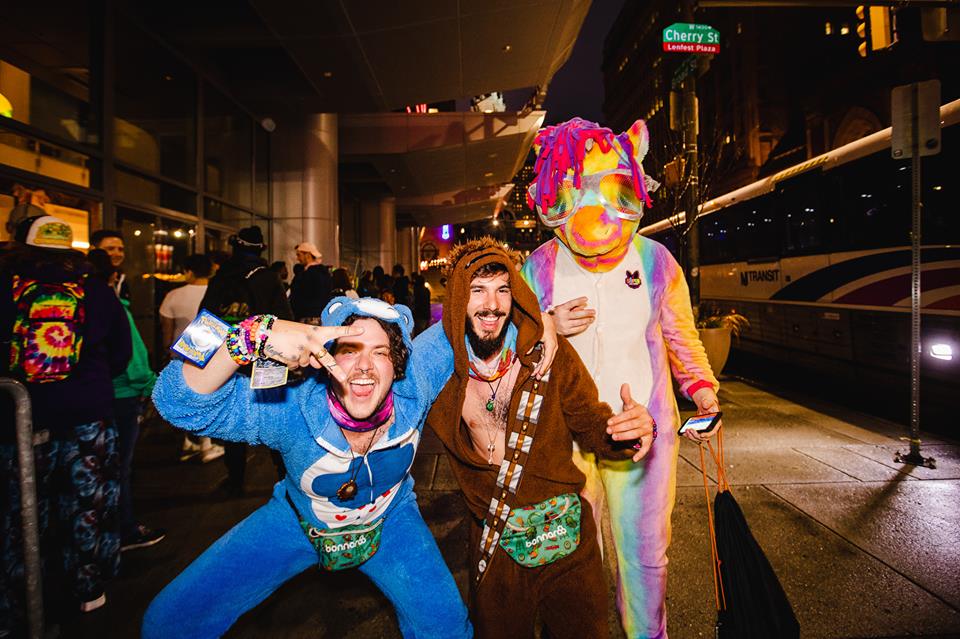 Ganja White Night was followed by RL Grime, and this was another set I was apprehensive about.
I saw RL Grime a few years ago at Lollapalooza back when he was one of my favorite artists and I was more into trap than I am now. I wasn't really sure what to expect with this set since RL Grime's sound has evidently evolved since a few years ago, and I hadn't fully listened to his recent album NOVA.
His set was so beautiful, I barely have any words for it – in fact, I ended up spending a good portion of the set sobbing uncontrollably. It's amazing how much RL Grime has grown not just in his sound but his visual production: the screens were dominated by a hypnotizing collection of constellations and intergalactic backdrops, with each blinding flash of light coordinating perfectly.
One minute I was breaking down sobbing to "I Wanna Know", the next I was screaming at the sound of "Tell Me" coming on, which used to be one of my favorite songs back when I first started getting into EDM. I would definitely see RL Grime again if given the chance!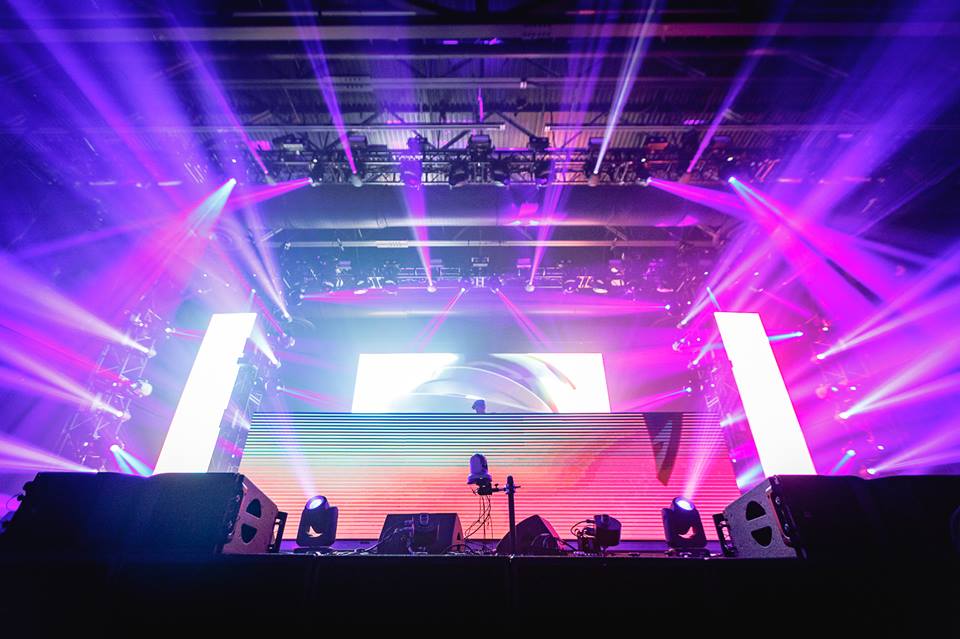 Following RL Grime's set was Big Gigantic who brought the funk as well as some heavy bass.
Unfortunately, I couldn't enjoy Big Gigantic's set as much as I would've wanted to because the crowd started to get extremely packed, which was expected being that this was the last set before Bassnectar. That being said, Big G's trippy visuals and hip sound brought me out of my funk and inevitably put a smile on my face.
During the intermission, we took a seat on the floor and waited for Bassnectar to begin. Because we were in the middle of the crowd, we didn't have a chance to go refill our water, and this paired with the intense crowd was starting to stress me out. The second the lights dimmed again, we all stood up and as soon as the first note began, I felt my chest constrict and butterflies return to my stomach.
I knew before the first drop that this would be my favorite Nectar set I've seen, and I was right.
Lorin satisfied my headbanging craving with Barely Alive's "Wompum" and Xaebor's "Foul" VIP edit, as well as some other incredibly nasty dubstep tunes. I lost my mind during "Slather" and "Heavyweight Sound", as well as his collab with Jantsen, "Every Time".
My apprehension about the stage doing Nectar justice immediately disappeared with the first tidal wave of lasers washing over the crowd.
I honestly do not think I have ever seen a show with as intricate of light work as this singular Nectar set. Even though I thoroughly enjoyed his set at Camp Bisco, this was easily the set that changed the game for me. I have always been a little hesitant to get into Nectar and attend his sets because of some poor interactions I've had with members of his fan base, but everyone felt like family during this set. It definitely convinced me to make attending his curated events my priority in 2019!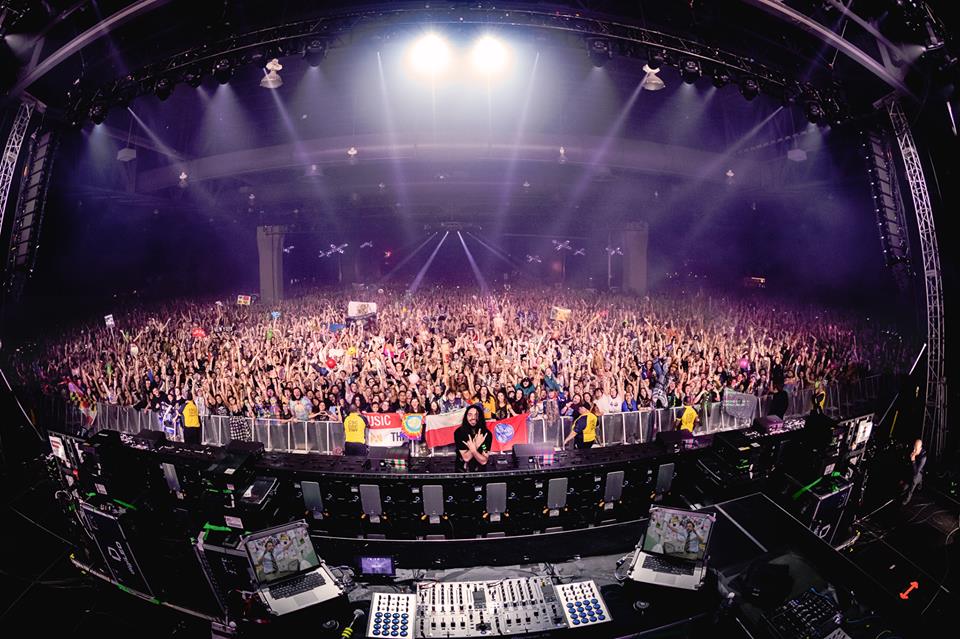 Our night didn't end with Bassnectar, though – up next was the SubCarbon takeover afterparty featuring my personal favorite Subtronics along with Ganja White Night.
We were some of the last people to leave the convention center and I was scared I wouldn't get a spot on the rail for Subtronics, but was happy to find the show hadn't started yet when we arrived and there was so much room. We claimed our spot on the rail and as soon as I heard Jesse's voice come on the mic, I couldn't help but scream in pure excitement.
For so many reasons, Subtronics' set was one of my favorites of the weekend.
From "Two Faced" and his unreleased collab with Midnight T, to "Mecha Doodle" and "Shock Value", Subtronics blew me away with every vicious double and triple, intricately layering tracks to create some of the heaviest sounds known to man. Music aside, I knew this set meant a lot to Subtronics considering he's from Philadelphia, and it was heartwarming to visibly see him so excited to play for us.
We ended up leaving halfway through Ganja White Night's afterparty set solely because we were incredibly exhausted, and returned to our Airbnb to show each other our videos of the night and rest up for the next day.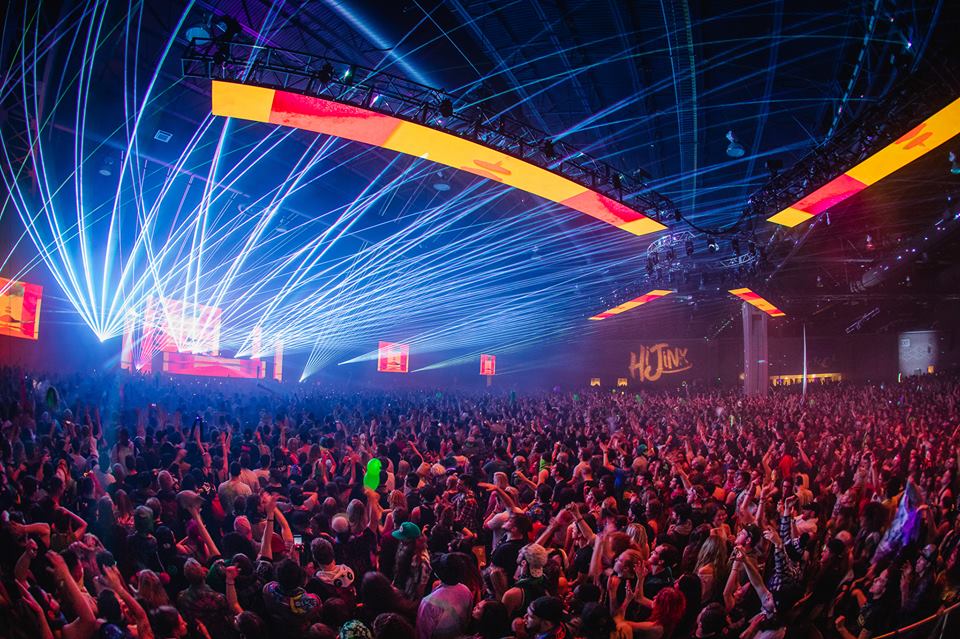 Though the first night was definitely my favorite, I thoroughly enjoyed Kaivon's and Xie's sets on the second night, which brought some heavy bass as well as some groovy, feelsy tunes.
Vanic also brought the heat, and Flatbush Zombies had unfortunately canceled and was replaced by Philadelphia rapper PnB Rock. I took the time to visit some of the vendors and friends before returning for Illenium's set.
I had a feeling Illenium would have a heavier set than usual, and I was right.
Though Illenium sets typically aren't for me, I enjoyed belting out the lyrics to some of his classics like "Crawl Outta Love", "Fractures", and "Sounds of Where'd U Go". It wasn't all his signature future bass, though – Illenium brought the heat with tunes like Getter and Virtual Riot's remix of "Throwin Elbows", his collab with Excision "Gold", and "Don't Give Up On Me".
Up next was GRiZ, who threw down a funk-filled set mixed with some heavy experimental bass and dubstep.
My first time seeing GRiZ a few years ago was average, and I left his live band set at Electric Forest because I wasn't into it, but GRiZ definitely gave it his all during HiJinx. He dropped some of his classic hits and new tunes in addition to taking us all by surprise with Peekaboo and G-REX's "Babatunde". The entire crowd erupted in yells and screams when he said "Say hi Lorin" and led into Bassnectar's "Underground" with Jantsen's "Bring It Back". I would definitely see GRiZ again after such a crazy performance!
Last but definitely not least was ODESZA, who played everything I wanted to hear
ODESZA dropped so many tracks that I love like their VIP edit of "Memories That You Call", "Late Night", and "Across The Room" with "Falls". On top of that, they ended their set with their VIP remix of "It's Only", and I nearly collapsed with emotion as soon as I heard the first few chimes. No matter how many times I see them, I'll always be completely captivated by ODESZA's music and visual production. I remained in the back during this set, spinning circles and sobbing and laughing with my friends. I couldn't have imagined a better ending to such a perfect weekend.
Overall, HiJinx was an incredible experience that I would love to repeat next year.
From the production to the lineup and everything in between, I couldn't have been happier with how HiJinx 2018 turned out. Especially with it being its first year running, I was more than a little impressed with how smoothly operated everything was. Security and volunteer staff were incredibly friendly and helpful, and the bathrooms remained clean. My only complaint about the festival would be the lack of water stations, but otherwise, I could not have asked for a better time at the very first HiJinx. I hope to make a return to Philadelphia next year for the 2019 edition!
A huge thanks to HiJinx for having me, and I hope to see you again next year! 
---
Connect with HiJinx on Social Media: