It has been a massive year for MOOD Records and what better way to wrap up 2018 than with a compilation that highlights the very best of the underground! 
---
As we approach the end of another incredible year in dance music many of our favorite artists have begun to release their highly anticipated year-end compilations. Within the techno universe, there is one compilation that has risen from the darkness to shine a light on the beats that have made us lose our minds on the dancefloor. It is none other than Best of MOOD 2018 Mixed by Carlo Ruetz and believe me when I say that you are not going to want to pass this one by!
The release comes to us as the second compilation from the MOOD Records imprint and features pinpoint auditory selections from MOOD favorite Carlo Ruetz. You may be familiar with him as just this past June he delivered his four-track power pumping EP, Stormer, which was his debut on the MOOD Records label. With the torch passed from Nicole Moudaber to his more than competent hands, Carlo Ruetz has pulled out all the stops to deliver a 12 track representation of everything that MOOD Records stands for.
"Carlo Ruetz is a hard-working talent from Germany that I've had my eyes on for many years; his releases can truly do no wrong. We welcomed him to the MOOD family with his 'Stormer' EP in June and he also joined me at MoodZONE at BPM Portugal earlier this year. So naturally I've selected him to help me compile and mix the Best of MOOD 2018 because I knew he would deliver an impressive mix showing his dedication to the craft."

–Nicole Moudaber
Download or stream Best of MOOD 2018 Mixed by Carlo Ruetz on your favorite platform and read on for my full take on the release!
Stream Best of MOOD 2018 Mixed by Carlo Ruetz on Spotify:
---
We begin the compilation with a nine-minute journey from Wigbert, a man who has designed a career out of sound experimentation.
Who doesn't love a simmering build to get the body warmed up in all the right ways? On Wigbert's "Moonlight" we are gifted with a slow climb to euphoria as the acid detail pierces through the brain waves. What I love most about this track are the brilliant crescendos that drop into a basic beat which titillate the senses. As I let the melody wash over my soul I feel like I have become one with the creatures of the underground.
Suddenly I am hit with a blast of percussion as Stephan Hinz drops us into the abyss for a foot-stomping moment of unbridled passion on "Conspiracies". Debuting on MOOD Records back in 2016, this Berlin-based producer has all the tools to blast us into oblivion with a heavy drive meant only for the most serious of techno aficionados. To balance out the weight of "Conspiracies", the Italian techno duo ANNA V & M.I.T.A. come swooping in at the perfect moment, with their debut MOOD Records track "Through The Wormhole". It is here that we begin to see the compilation begin to take shape.
Lifting us out of the devil's domain I am shot like a rocket into the outer reaches of the galaxy where I swirl weightless within a wormhole to counter dimensions.
Now, when I look for a great techno track there are a couple of things that must be present. It has to keep me locked in with an intriguing melody or hair rising sound bytes paired with a rhythm that keeps my body gyrating from start to finish. On "Through The Wormhole" the boxes are checked and instantly I come to terms that this just may be my favorite track of the entire album.
Now that I am fully invested it is time to go minimal with SUDO's "Abstract."
While I am not necessarily the biggest fan of minimal I have to say that the choice to include "Abstract" was well thought out and well placed as the character of this track helps to balance the dark with a little touch of festive light. In fact, it sets the stage quite nicely for Carlo Ruetz to make his first appearance on Best Of MOOD 2018 with "Surrender". Dropping down an octave we head back into the shadows as Carlo Ruetz reminds us why he is a shining star on the MOOD Records brand. This is a track full of grit, swagger, quirk, and pinpoint auditory detail that is too infectious to ignore.
Standing on the precipice of mind-altering mayhem there could be no better track to jump in and steal the show other than Truncate's remix of Nicole Moudaber and Carl Cox's "See You Next Tuesday". It is here that we reach the meat and potato section of Carlo Ruetz's peak hour selections and the inclusion of this remix was once again, perfectly placed. Firing on all cylinders Truncate gets the party started and evokes a bit of nostalgia as "See You Next Tuesday" has always been a fan favorite!
While we are on the topic of remixes, how about a little Nicole Moudaber action on Moby's "Like A Motherless Child"!
We certainly couldn't have a proper MOOD Records compilation without throwing the queen herself into the mix and I have to stay that I am taken aback by the mystical energy and demonic vocal reconstruction that bubbles through every nook and cranny of this Moby remix. As I drift away into a hypnotized state it is Fur Coat's "Spiral" that throws the figurative water on my face, sparking me back to reality with its winding reverberation and haunting melodic detail.
The next two tracks provide a spellbinding turn into insanity as POPOF's "Alone In The Dark" and Stephan Hintz's "Fearless" touch me deep as I close my eyes and imagine grooving to each pulse-pounding soundscape among a sea of strobe lights. Both very different from each other in their own right, these are the types of tracks that must be present to design a truly fulfilling experience on the dance floor. While I stated earlier that "Through The Wormhole" was the standout track, "Alone In The Dark" may have just stolen the crown.
We have come to the last two tracks of the compilation and in true form, Carlo Ruetz refuses to let his listeners down!
Australia's own Sly Faux has been chosen to help wrap up our auditory trip down the rabbit hole and does so brilliantly with the mesmerizing flair of "This Made You". Once again we are scooped up to dance in celebratory fashion as a selection of otherworldly sound bytes takes front and center. This is a track that I really connect with as I am a sucker for the strange and out of the box musical stylings.
I seriously don't want to come down from my emotional high but with Carlo Ruetz waiting in the wing with "Silence" I turn up my speakers and allow the last seven and a half minutes to take me home! "Silence" has been described as a billowing storm, unleashing the electric energy through claps of bass-heavy thunder. As I sit alone in the eye of the auditory hurricane, there is no escaping the wrath of one of techno's finest pieces of work.
I want to take a quick moment and point out that this compilation has me really pleased with the way Carlo Ruetz chose to place each track.
There was never a moment where I felt I began to get bored. With each pulled back or dark selection, he finds a really cool balance with productions that lift the energy high and punch the eardrums with eclectic techno character. With brilliant ebb and flow, as the listener, I got a very clear and vivid reflection of the many faces that MOOD has to offer. So, with 2018 just about written in the books, here is to many more years of success for the MOOD Records family of beatmakers!
---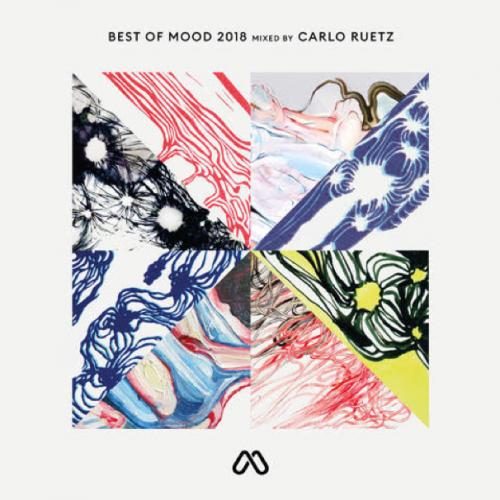 Best of MOOD 2018 –
Mixed by Carlo Ruetz –
Tracklist:
Wigbert- Moonlight

 

Stephan Hinz – Conspiracies
ANNA V vs. M.I.T.A. – Through the Wormhole
SUDO – Abstract
Carlo Ruetz – Surrender
Nicole Moudaber & Carl Cox – See You Next Tuesday (Truncate Remix)
Moby – Like a Motherless Child (Nicole Moudaber Remix)
Fur Coat – Spiral
POPOF – AloneInThe Dark

 

Stephan Hinz – Fearless
Sly Faux – This Made You (Deep Mood)
Carlo Ruetz – Silence
The 2019 techno season is already shaping up to be one of the best ones yet! Catch the MOOD Records brainchild Nicole Moudaber at Ultra Music Festival where she will be joined by Paco Osuna and Dubfire for a massive B2B2B experience you won't ever forget! 
---
Connect with Carlo Ruetz on Social Media:
Facebook | Twitter | Instagram | SoundCloud
Follow MOOD Records on Social Media:
Facebook | Twitter | Instagram | SoundCloud