RAM sat down before his back-to-back set with Arctic Moon at Dreamstate SoCal to discuss his latest and upcoming tracks, Grotesque, returning to hard trance and more! 
---
At times it is difficult to strike it out solo after being part of a successful duo, but RAM did just that. He first hit the trance spotlight as part of massive hard trance duo Bas and Ram, however, in 2009 the duo split and Ram Boon had to reinvent himself and reintroduce himself to the trance world. This did not take long as that same year he released the wildly successful track, "RAMsterdam" and only went up from there!
Merging his name within tracks started as a joke which quickly becomes one of his trademarks to distinguish some of his most uplifting tracks such as "RAMazing", "RAMplify" and "RAMbition". He's also released non-RAM titled tracks such as "Grotesque" (ft. Alex M.O.R.P.H.) Mirakure (ft. Arctic Moon) and Heartfelt, among others. In a bittersweet moment that reflects the irony of life, the track that is likely RAM's most successful and requested is "RAMelia" which focuses on the love he shared with his wife who passed in 2013.
In addition to creating heartfelt uplifting tracks and previously gritty and raw hard sounds, RAM heads Grotesque brand. Grotesque began as a lively themed party series and grew into a massive brand that is growing internationally. Additionally, Grotesque encompasses RAM's record label as well as his weekly podcast. Lisa and I sat down with RAM ahead of his Dreamstate SoCal set with Arctic Moon to discuss the growth of Grotesque, his return to hard trance, his present and future tracks, and more!
Stream  Arctic Moon vs RAM Live at Dreamstate SoCal 2018 via SoundCloud:
---
This year has been a massive one for you and your label, Grotesque Music. What has been your favorite memory so far?
Whoa. [Laughs] That's always a difficult question. There's not just one favorite, just doing what I love is always a good memory for the whole year. Just touring around the world, meeting nice people, doing great gigs, whether it's Dreamstate or a small party…just doing what I love doing is all a good memory.
Earlier this year US fans saw the first US expansion of Grotesque Indoor Festival as Grotesque 300 hit San Francisco. How did the expansion come about and could we be seeing more GIF events in the US? 
We will have the Grotesque 350 show in Holland that's always the kickoff and after that, we will be touring around the world with it. We will probably do two shows in the US, then Australia, Asia, South America and then Europe again so we are definitely seeing and hearing a lot more from Grotesque.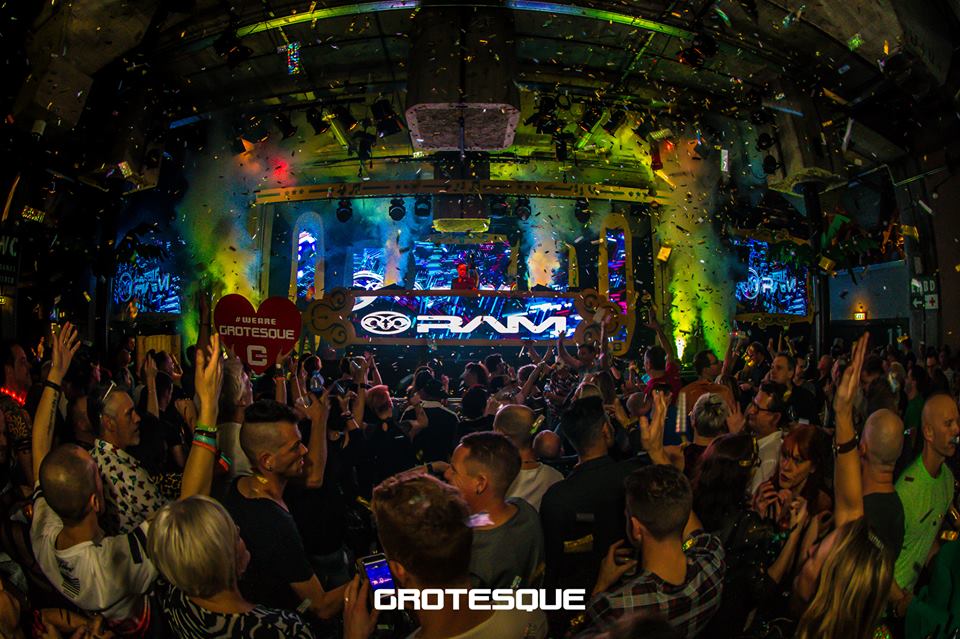 Speaking of Grotesque Indoor Festival, congratulations on running a largely successful independent event. How did this year's carnival concept come to be and how much goes into putting on the event each year? 
I started with a friend of mine. I was formally part of a duo, Bas and Ram, and we always used to put on events. After we split up, I decided that I still wanted to continue doing events so I teamed up with a friend of mine to start a new concept Grotesque which started in 2009.
We started by doing shows for 500 – 600 people a few times a year but it kind of exploded very fast because we wanted to give more quality shows with good production and entertainment etc. whereas most of the other trance parties are just about the music. We wanted to have a door-to-door experience with entertainment of all kinds all night. That took on a life of its own. From there we started the label and radio show and it's getting to be a worldwide brand now. It's nice to see it develop!
We wanted to have entertainment so each year has a theme. This year's carnival is a very nice theme on its own, you can do a lot with it and Brasil is amazing so it was an easy choice.
You and Susana collaborated once more for "Northern Star" which, based on Susana's amazing lyrics, sounds like a follow up of "RAMelia". What is the story behind "Northern Star"? 
After "RAMelia" and "Someone Like You", we had so much feedback and so many great reactions and we said we should do a new track again. This one took almost one and a half years to make. We went back and forth to develop it and I started over three times. We just wanted to make, as you said, a good follow up to RAMelia, really emotional and sensitive. I think we did a good job in the end and it's amazing to see all of the great feedback again.
In the past, you've collaborated with Arctic Moon on a few tracks such as "A Billion Stars Above" and "Mirakuru" and most recently are playing a versus set with him at Dreamstate. What about this Arctic Moon and his style have you constantly coming back for more?
We're good friends and we've known each other for a long time. We love the same genre and like to collaborate. After "A Billion Stars", so many people were asking for a new collaboration. We are working on a new collab with Denise Rivera, a Spanish song. We wanted to have it finished for today but we did not make it unfortunately so that was a bummer. We just get along well and feel each other's music and it's just nice working with someone to do something special.
Other than "Northern Star," "RAMbulance" came out this year which is a blend of uplifting and tech trance. Could we see more trance subgenre blending in future RAM releases?
I'm working on a new artist album and I've launched a new project that's progressive house. In 2019, I'm going to launch a hard project, RAM presents RAW, so this is going to be the darker, harder, hard trance style and classics. It will premier at Transmission and it's basically going to be the harder style of RAM.
What you just said leads perfectly into our next question. In the 2000s, you were part of Bas and Ram, a primarily hard trance duo. Even after disbanding you continued to play hard trance sets every so often, especially at Luminosity. You just mentioned the RAM presents RAW is the harder side of RAM, so will fans see you returning to creating more hard trance tracks and playing more hard trance sets?
The hard trance classics sets kind of blew up after Luminosity, I'm not sure what the fuck happened there. I got messages from all over the world and that's partially why I started a separate hard project called RAW and I will be remixing hard trance classics into a 2018 modern version. That's part of the project – getting the classics into a new, modern sound. I just want to give it a new twist.
In the past few years, we've seen the popularity of psytrance grow rapidly here in the USA. Do you think that'll remain or will it shift to hard trance perhaps? 
I feel like dance music is always progressing and evolving. I can't say the next big thing will be hard trance or another sub-genre, but it's always moving and I'm sure hard trance will be in there.
With being an international trance artist, what are some common differences that you notice between Dutch trance fans and American trance fans?
Dutch fans are probably the most boring ones. In Holland, they are spoiled because there's a lot of trance music and it's been there for so long. I feel like outside of Holland the enthusiasm and passion for the music is much more alive. In Holland, it's not like being in the moment or enjoying the party or the music. In Holland, you don't see everybody standing the whole night as you do in other countries. I love American trance fans but here it's much more in development. The public is also much younger here. The average age in Holland is 35+; it's like in 10 years everyone will be in a wheelchair. We're trying to get the younger crowd to love trance but they seem to prefer techno and house.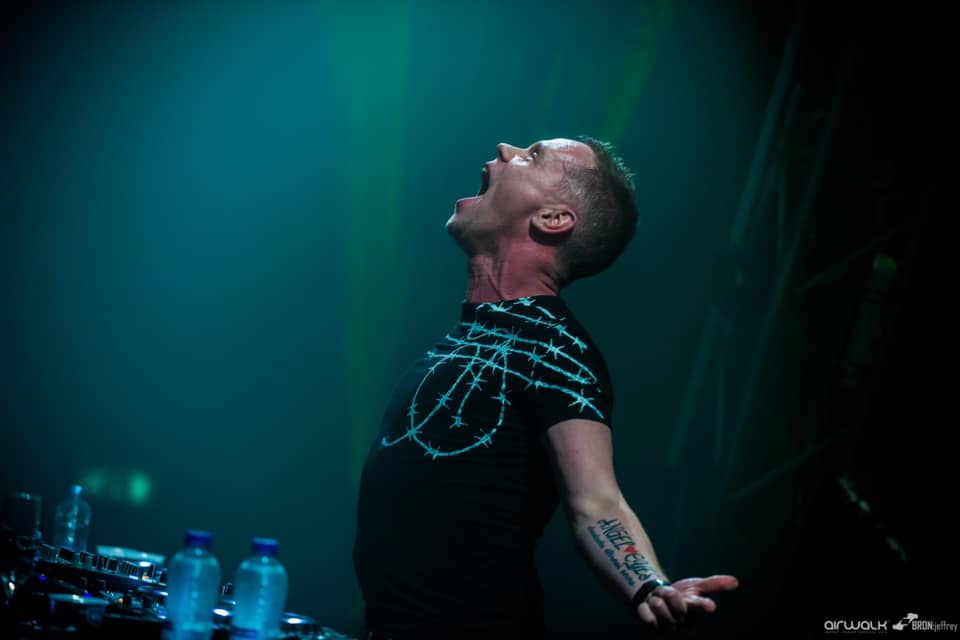 Though you travel extensively, you also have a son at home. How do you balance being a father and being a touring artist?
It's pretty difficult. It's absolutely very difficult because I am a single parent so it's hard to leave him especially when I'm touring overseas. If it's a few days, it's ok but like now where it's 5 days and we just spent 5 days in Asia, then I'm gone again next week, it's hard to leave him. It's a bit of a struggle, you know. On one side I try to do what I love but on the other side, I miss my son. It's hard.
Finally, with 2019 on the horizon what is next for RAM & Grotesque Music?
I'm doing a new album, we are doing a few new compilations, we are taking Grotesque on a worldwide tour, we are doing Grotesque Dutch nights internationally, and I have a whole list of collaborations. I'm looking forward to doing my new album as it will be the biggest project for me in 2019 as it takes a lot of time. Everything is growing so fast with Grotesque, so it's so nice to see the support we get for it. It's been amazing!
---
Connect with RAM on Social Media:
Facebook | Twitter | Instagram | SoundCloud