Welcome to The Landing, EDM Identity's weekly post highlighting fresh tracks you may have missed!
---
In each edition of The Landing, we intend to highlight some tracks that have landed in our inbox each week that you may have missed, or perhaps shine a light on new music for you to fall in love with.
This week's edition of The Landing features fresh tracks from Koven, Julian Gray, TyDi & JES, Subtronics & Space Jesus, Black Coffee, and more!
Listen to some of our favorite tunes from this week and past editions in our playlist and read on for more details on the tunes added below!
The Landing || Volume 096
---

Subtronics and Space Jesus finally released highly-anticipated collab, "Omega Robot".
Have you ever thought about what it would be like if two of your favorite artists came together on a track? That was me prior to Subtronics and Space Jesus dropping their juicy, crunchy, unreleased collab "Omega Robot" in their sets. The two are some of my all-time favorite artists, and I couldn't be happier that this saucy concoction of a tune is finally released.
Featuring chirpy blips and a disgruntled slew of wubs, "Omega Robot" perfectly captures both artists' styles. Released on Zeds Dead's esteemed label Deadbeats, this unreal collab interweaves the worlds of wonky and freeform and creates a thick bass-y blend that'll leave you with the nastiest of bass faces. – Jayce
Download or stream "Omega Robot" on your favorite platform!
---

Julian Gray puts his spin on Morgan Page's legendary track "The Longest Road"
If you've ever talked with me at length about the electronic music tracks I've fallen hard for over the years, then you'll know that one of my favorites of all time is the deadmau5 remix of "The Longest Road". Consistently getting play, it is just one of those memorable tunes that really tugs at your heartstrings and speaks to your soul, and now it has gone one step heavier with a remix from one of mau5trap's rising stars Julian Gray.
Picking up some serious steam with his own originals like "Touch" and the Autonomous EP earlier this year, this techno remix of "The Longest Road" has only further proven that Julian Gray is an artist you should be tuning in to. A fantastic take on the track that is perfect for underground spaces and dark winter nights. Don't sleep on this remix! – Grant
Download or stream "The Longest Road" (Julian Gray Remix) on your favorite platform! 
---

Songspire releases new Klunsh EP featuring tune "Isolated".
It's not often that a new label keeps breaking the mold in a subtle yet meaningful manner. Songspire, a new label based within Amsterdam and distributed by Black Hole Recordings, offers a brilliant look at the simplicity and beauty of house music in its deeper forms. Gravity pulled in Klunsh to the label with his debut EP featuring "Anyway" and "Isolated." The second of those tracks is a doozy for fans of the deeper progressive sounds.
"Isolated", dripping in Afro House, offers a delectable amount of things to capture the ears, be it the progressive pads that drone in the background, the stunning sprinkled semi-lead synthesizers, or the African rhythms that percolate through the field of sound. Then there are the big brass sounding stabs in the track accompanied by the beauty of dark orchestral strings! Bellissimo! Anjunadeep fans ought to find this one a lovely mix for their playlists as Klunsh plays directly into the sound the label caters for. Ready to mix up the sound you normally play as we wind into the winter time? – MyStro
Grab your copy of "Isolated" today on your favorite platform.
---

Adventure Club x Snails join forces to drop "Follow Me".
My favorite Canadian artists, Adventure Club and Snails, have teamed up to bring us "Follow Me", an emotionally charged track fueled with a sublime mix of each's unique sound elements. Snails has been on an amazing run of collaborations in 2018, adding Adventure Club to that roster produced an exciting and powerful joint effort on Snails' Slugz Music label.
This song gets rolling with the beautiful vocals of Sara Diamond giving us a slow burn to start eventually integrating Snails' gritty fluttering synths and a heavy bassline. "Follow Me" takes us on a musical adventure with outstanding vocals framed by Snails driven filthy drops and Adventure Club influenced melodic breaks. Embrace this Canadian invasion, it is not the most obvious choice for a collaboration but the result is amazing! – Bill
Stream "Follow Me" on Spotify or SoundCloud.
---

Giuseppe Ottaviani Invites Clara Yates to join him on the heartfelt love ballad, "Why".
Who doesn't love a great love song?! Come prepared with those tissues because Giuseppe Ottaviani has arrived once again to deliver a spectacular trance ballad that will get those tears flowing like a river! Clara Yates is the perfect choice as the vocalist on "Why" as her sweet angelic voice rests softly on the ears as she belts out a story about true love lost through death but finding strength among the healing process.
Out now on Black Hole Recordings, "Why" is one of those types of tracks that inspires the hands to reach far to the heavens as the divine melody erases all of our pain. It is surely one of the most uplifting tracks that I have heard in a while. What I love most about this offering is that Giuseppe Ottaviani has taken the somber concept of tragedy and flipped it to shine a focus on the idea that someday we will meet our loved ones again. A track meant for the big speakers with its seemingly weightless soundscape and powerful undertone, I have a feeling we are going to be hearing this one for a long time to come! – Maria
Stream "Why" on Spotify!
---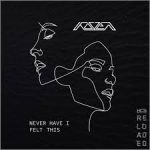 Koven breaks out the cinematic bass for their track "Never Have I Felt This".
Koven continues to bring their cinematic sounds to the dancefloor with the release of "Never Have I Felt This". The song opens with the pounding of percussion coupled with massive orchestral strings before surrendering to the vocalist, Katie, as she starts singing. So much of the song is power and Katie's voice greatly contrasts against the heavy sounds but she never disappears.
Her vocals represent that calming moment before we get sucked into the massive cinematic sounds that Koven creates with the use of live instruments and deep bass. I love how vibrant the trumpets sound against the drums beating that come together in the bass drops. This song is a refreshing feast of sounds and definitely sets Koven apart from the usual artists in the electronic music scene. – Lisa
Stream Koven's "Never Have I Felt This Way" on YouTube.

---
TEGI brings the energy with his latest track "Please You" featuring Florenza!
Miami-born Trap producer, TEGI, is no stranger to producing outright hits. His tracks have garnered the support of names such as Tiesto, DJ Snake, Slander, Herobust, and many more. He also just made his debut at EDC Orlando this year!
On his latest track, "Please You," he enlists the help of vocalist Florenza to unleash a truly trapped out track! The energy in this one is unlike anything else and in between the wild drops are some beautiful breaks where Florenza's vocals shine through. TEGI is without a doubt closing out 2018 on a good note! – James
Download or stream "Please You" by TEGI on SoundCloud!
---

Xenia released her latest single "Lay In Your Arms".
Greek artist Xenia is definitely emerging as a powerhouse in the dance industry. As a classically trained musician, her unique ear for ravishing tunes has taken her far as a DJ, producer, label head and songwriter. This year she's already teamed up with EDX's label Sirup and has released two tracks, both of which has amassed numerous streams online.
Xenia has just released her latest track "Lay In Your Arms" the third release under Sirup this year. The track certainly has a pop-electronic feel which will have you singing along with the soothing lyrics. The melody and vocals play off each other beautifully and will certainly take you on a feel trip. Take a listen and let us know what you think! – Abisola
Download or stream "Lay in Your Arms" on your favorite platform!
---

Black Coffee Releases Beautiful Track "Wish You Were Here" featuring Msaki. 
The latest downtempo track by Black Coffee is a beautiful work of art. The massive house artist shows his versatility by slowing down his usual style and infusing the sound with Afrobeat and Jazz to create the gorgeous "Wish You Were Here." His blend of rhythm and melodies in combined with the sultry vocals of fellow South African artist Mskai to complete the journey. This track is rounding what has been an amazing year for Black Coffe. With a massive worldwide tour and acclaimed performances at Coachella and Tomorrowland, we can't wait to see what 2019 brings! – Abisola
Download or stream "Wish You Were Here" on your favorite platform! 
---
StayLoose wraps up 2018 with the heart-hitting "Let Go"!

StayLoose has had a huge 2018 gracing fans with a steady stream of new music all year. His most recent release "Let Go" featuring Andrew Paley B-lines straight for the heart as it's about understanding when something is over and letting go. In life, distancing yourself from toxic relationships or anything that keeps you from being happy can be a difficult decision to make at that moment. I feel like "Let Go" captures and supplies the positive energy to make that decision and move into a more positive direction with your energy.
Beginning with Andrew Paley's vocals over a piano instrumental the track strikes an emotional chord right from the beginning. "Let Go" builds up and drops into an unpredictable, but ear-tickling experimental first drop before dropping into a second huge crescendo. There are so many amazing things about this track but my favorite part is the cosmic Mario coin sound used throughout. I love when artists use noises like that because it adds a completely new vibe to the track. Keep StayLoose on your radar because there is no stopping this extremely talented producer! – Zach
Stream "Let Go" on SoundCloud and Spotify!
---

TyDi teams up with JES to release "Say The Word"!
Known for his explorations in style over the past few years, TyDi has been bringing his biggest fans some tunes that are absolutely fantastic. Now, he's closing out the year strong with the release of his debut collaboration with renowned singer, songwriter, and producer JES dubbed "Say The Word". This indie electronic track is one that shows off the diversity that TyDi has been able to bring to the table in recent years, and the powerful vocals from JES give the song a sense of completion. Bittersweet yet optimistic, this dance track is one that will be a solid addition to your holiday playlists. -Grant
Stream "Say The Word" on SoundCloud!