Tickets are on sale now for One Reason US Tour that will see Hotel Garuda head to cities like Brooklyn, Chicago, San Diego, and more!
---
Dance music artist Hotel Garuda has become renowned for providing some of the most infectious sounds that have pumped through speakers around the world. Born in Mumbai but graduating from Occidental college here in the US, he has been on a nonstop journey that has been filled with quality releases and live sets that have kept crowds dancing from start to finish.
This year has continued that path for Hotel Garuda as sets at festivals like Paradiso, Electric Forest, and most recently DAY MVS in San Diego left a lasting impression. This was paired with the release of tunes like "One Reason", which dropped back in November and featured fellow artists Imad Royal and Kiah Victoria to give it a sense of completion. This week, he released SNBRN's take on the track, which gives it a fresh spin that you'll definitely want to check out.
Aside from his work in the studio and shows on the road, Hotel Garuda also helped make a positive impact by shining a light on epilepsy. Taking to Facebook, he shared his personal battle with the disorder that first surfaced when he was 13 while also raising funds for the Epilepsy Foundation of America.
Take a listen to SNBRN's take on "One Reason" below, stream it on your favorite platform, and read on for some information about Hotel Garuda's upcoming tour.
Stream Hotel Garuda – One Reason (SNBRN Remix) on SoundCloud:
---
Kicking things off in Washington DC next February, Hotel Garuda's One Reason US Tour is one you won't want to miss!
With 16 dates spread across the country, his tour will be a fantastic way to close out the cold, winter months and say hello to spring. Taking the stage at venues like Bang Bang in San Diego, Elsewhere in Brooklyn, and Electric Hotel in Chicago, those who attend can expect a set filled to the brim with some unreal vibes. Look below for the full list of dates and venues!
Tickets for the One Reason US Tour 2019 are on sale now, grab yours today via HotelGarudaMusic.net!
---
One Reason US Tour 2019 – Flyer: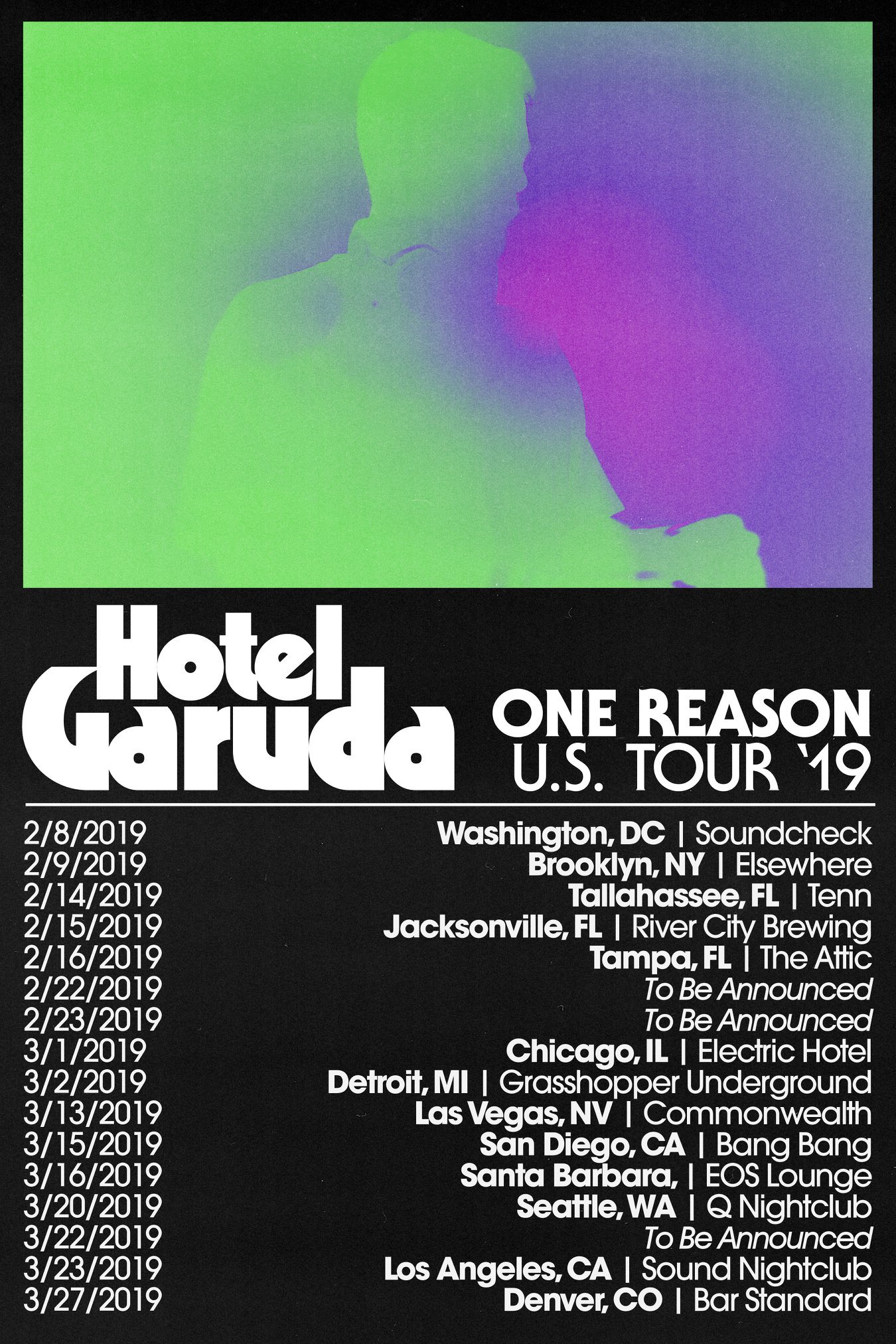 ---
One Reason US Tour 2019 – Dates:
February 8, 2019 – Washington, DC – Soundcheck
February 9, 2019 – Brooklyn, NY – Elsewhere
February 14, 2019 – Tallahassee, FL – Tenn
February 15, 2019 – Jacksonville, FL – River City Brewing
February 16, 2019 – Tampa, FL – The Attic
February 22, 2019 – TBA
February 23, 2019 – TBA
March 1, 2019 – Chicago, IL – Electric Hotel
March 2, 2019 – Detroit, MI – Grasshopper Underground
March 13, 2019 – Las Vegas, NV – Commonwealth
March 15, 2019 – San Diego, CA – Bang Bang
March 16, 2019 – Santa Barbara, CA – EOS Lounge
March 20, 2019 – Seattle, WA – Q Nightclub
March 22, 2019 – TBA
March 23, 2019 – Los Angeles, CA – Sound Nightclub
March 27, 2019 – Denver, CO – Bar Standard
---
Connect with Hotel Garuda on Social Media:
Website | Facebook | Twitter | Instagram | SoundCloud | YouTube