Taiki Nulight's first full-length album, Murky Manor, is an interesting journey through dark house sounds and bass soundscapes.
---
When it comes to Brighton resident, Taiki Nulight, we see an artist with a history of putting his unique spin on UK Garage, bass, and house music. Furthermore, he has collaborated with big names such as Chris Lorenzo, Lo Steppa and Cause & Effect and remixed songs from even larger staple artists like Above & Beyond and Netsky. For Taiki's new album Murky Manor, released under AC Slater's Night Bass Records, he hones his experience in the industry to release a piece of work heavily influenced by bass house, UK Grime, and Garage, reflecting his personal sound that he has always wished to convey.
Take a listen to Taiki Nulight's Murky Manor, download or stream it on your favorite platform, and join me as I explore some highlights from the album below!
Stream Taiki Nulight – Murky Manor on Spotify:
---
Murky Manor marks the house DJ's first foray into full-length LPs. Taiki Nulight calls it the culmination of his past six years DJing.
The opening track "Invite to Murky Manor" starts off slowly. Calm lounge overtones begin, then a bouncy house beat joins the mix, setting the tone for the whole LP. Dark overtones and heavy bass are the overall mood of the album. However, from track to track the sound changes quickly, and varies from subtle and nuanced, to more direct. The intro track builds with satisfying, gritty, grimy vibes. These, in turn, carry over to the title track, "Murky Manor".
Taking on the album's moniker, "Murky Manor" picks up with snazzy keyboard riffs adding in a steady house beat. As a result, it gives off an impression or feeling of hybrid lounge house music. Soft, yet riddled with bass and dark energy.
Most of Murky Manor straddles the line between dark and tranquil house music. It can quickly flip from calmly reassuring to highly energetic, in the best way possible.
Most of the album follows this trend, straddling the line between softer, dark house sounds and more energetic cuts that would be at home at an underground house club. This embodies the different moods Taiki Nulight has felt in his life and as a DJ. At times, the sounds are soft, subtle and funky. At others, they are much more powerful and heavy. Big bass, steady snares and foreshadowing rhythms, and synths build in the back-beat culminating in his overall vision of sound.
"This album is a culmination of years of DJing and collaborating. Murky Manor is the soundscape of my life. It was so important for me as an artist to do a full album that showcases the full depth and breadth of the Taiki Nulight sound, and I couldn't be more excited to release it with Night Bass."

– Taiki Nulight
The much more charged "Night Bass Thing", which receives treatment from Night Bass label head AC Slater and Atlanta rapper Dell Harris, is the first cut with vocals that aren't samples. Harris raps / Girls in the club they movin' movin' / over dark synths and a quite dance-able BPM. AC Slater brings his unique sound to this track as well, certainly taking it up a notch. This one is perfect for house lounges and clubs that embrace the underground feel.
On the bass-house side, standout tracks like "Murky Labs," "Primal", and "Sinner" (with Chris Lorenzo) have side-step and shuffle ready flows.
The light keyboard present in the softer songs returns in a few of these, mixing well amid samples you'd expect to hear in something more G-House tinged. It's in nice contrast with the shadowy, dark vibe present throughout the album. "Primal" is a bass-house club-ready track and one of the more upbeat numbers present. In addition to multiple layers of sound and waves of bass, a nice almost subtle drop creates a head-bobbing rhythm and is certainly one of the star tracks.
""Primal" is a bass-house club ready track…waves of bass, an almost subtle drop, create a head-bobbing rhythm. A Star track."

– Taiki Nulight
In short, Taiki Nulight's first LP is a captivating display of the depths of darker, more subdued house music.
Remaining true to its theme throughout, Murky Manor explores the depths of a unique blend of bass, house, and garage music. There are times when some of the tracks become indistinguishable from the next, but all fit the general vibe Taiki is trying to portray. In all honesty, it's an easy listen all the way through and comes off as much more authentic. Murky Manor is a successful foray into the world of full-length albums for Taiki Nulight, made for underground house venues and bass-house and dark house connoisseurs alike.
---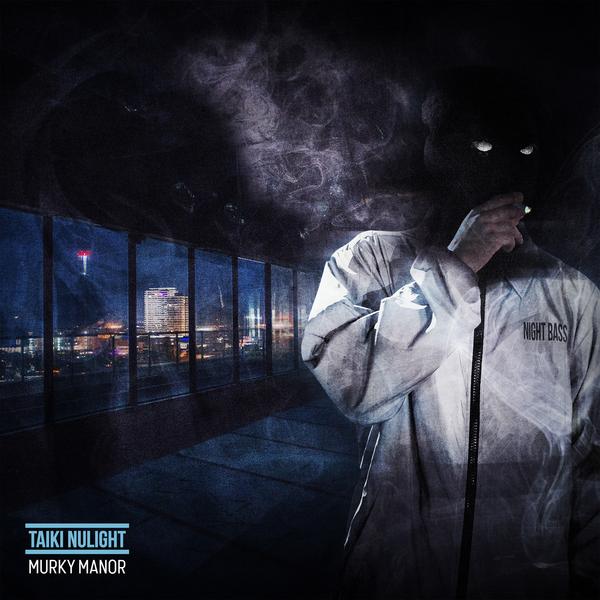 Taiki Nulight – Murky Manor – Tracklist:
Invite to Murky Manor
Murky Manor
The Business
Night Bass Thing with AC Slater (feat. Dell Harris)
Way I Feel
Murky Labs
Sinner with Chris Lorenzo
Iconic with Dread MC
Primal
What You Gonna Do with Cause & Effect
Villain Dub
---
Connect With Taiki Nulight on Social Media:
Facebook | Twitter | Instagram | SoundCloud