On October 31, RÜFÜS DU SOL headed to San Diego on their SOLACE tour to deliver a spooky treat that put us in a truly blissful state.
---
While the entire electronic music scene has seemingly exploded with amazing music this year, one of the standouts that I've personally fallen deeper in love with is RÜFÜS DU SOL. It's not like I didn't enjoy the trio's music previously, but having the chance to catch them in a handful of live settings and soak in their progressive, sweeping soundscapes firsthand gave me an even deeper appreciation for the work they've put out. They left me impressed both at CRSSD Festival in 2017 and again at Electric Forest, taking me away to a far-off place that was pure and serene.
So, when the trio started dropping singles and hinting at an album release this year I couldn't wait to listen. I closely followed each release that led up to the news surrounding SOLACE and when they announced their shows in Los Angeles along with a full-on tour I was stoked. I opted to stay local for the show and couldn't wait to see what was in store for their live performance after getting stunned by their full album earlier in the month.
Although I was somewhat sad that the show was on a Wednesday, those emotions were washed away when I realized it was slated for Halloween.
I was excited to see RÜFÜS DU SOL in my hometown while surrounded by costumed attendees and dancing away to their beats. Adding to the thrill of the show was the announcement that Cassian and Icarus would also be taking the stage to start the evening off, which was something I was looking forward to because I had never seen either in a live setting before.
Then, it was finally here, the day of the show. While I worked throughout the day, all I could think about was the sets that were to come later that night. After passing out candy to some trick-or-treaters, I headed to the Valley View Casino Center to get my night started. The line was quick and painless and soon enough I was inside the venue that I have frequented my entire life. It was like walking into a second home.
Unfortunately, the set times weren't posted anywhere except inside the app for the venue, and the ones that did surface were incorrect. Icarus actually opened instead of Cassian, which caused quite a bit of confusion for myself and others in attendance. It didn't matter much though, because both artists absolutely slayed the crowd and got things warmed up nicely. Cassian even donned a hockey mask like Jason from Friday the 13th during his set as he celebrated the holiday in style.
After Cassian finished his set, there was a brief intermission before RÜFÜS DU SOL took the stage.
During this time I opted to leave my perfect spot in the crowd to take a side journey and grab another drink, it was a big mistake. The lines were massive wherever we tried to go and it was clear that the venue had understaffed their bars that night for some reason or another. We ended up waiting for quite a while in line before RÜFÜS DU SOL actually started and never actually ended up getting the drink we had been waiting for. As they hit the stage, there was no use waiting anymore.
From the moment RÜFÜS DU SOL took the stage the energy in the entire venue was insane.
They donned robes as they kicked off their set, creating a mysterious, spooky vibe that was certainly fitting for the night. Although it was a live performance that featured breaks in the music and not the continuous flow of beats from a DJ set, it was just as impactful as the other times I've caught them over the past few years.
In the lead up to the show I was ready to take this in more as a concert experience than a club night, and their album SOLACE really plays into that style of performance as well. With all three of them on stage playing their hearts out and moving the crowd with each and every beat, it felt more like an alternative rock show than anything else. That feeling is one that I've come to appreciate since jumping head first into the electronic music scene. It took me back to a different era of my music-loving career and provided a breath of fresh air from the DJ sets that have dominated my life.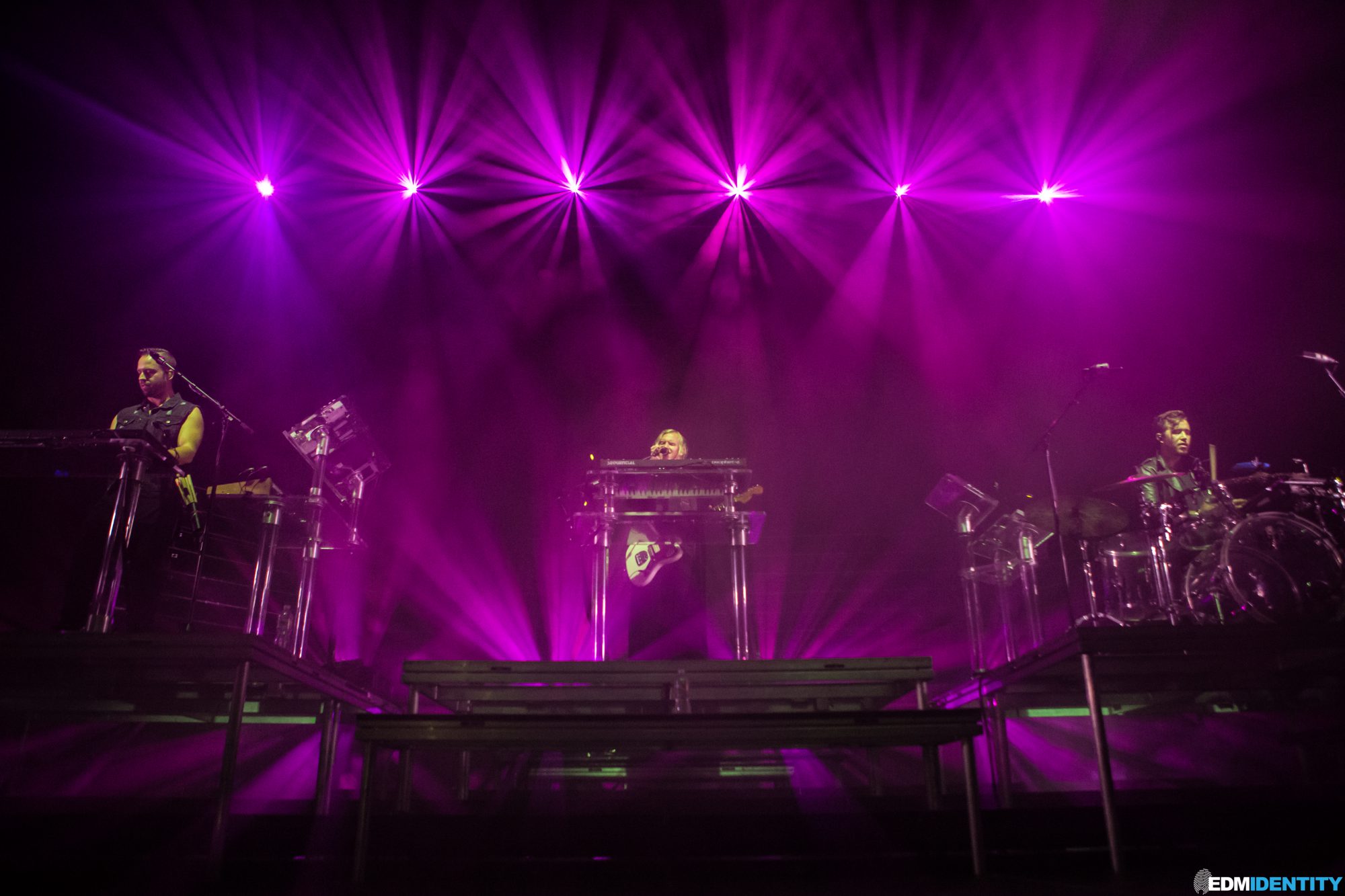 Leading the crowd on a journey through their latest releases and hit tracks, RÜFÜS DU SOL perfectly blended the different eras of their sound together to give the show a sense of completion.
The trio made it seem easier than ever to have us completely under their control as the lyrics to their tunes were belted out by everyone in attendance. Whether they were older tracks like "You Were Right" and "Innerbloom" or newer additions from the album like "No Place" and "Underwater", no one missed a beat as the vocals echoed throughout the arena.
A reflection of their current sound more than anything, this vocal-driven show only featured a handful of instrumental portions for the crowd to really get down to. From the first note until the last they seemed to play every track in a seemingly effortless manner as they guided us along. It was almost as if their instruments were a true extension of the emotion that they were conveying to the crowd and they were synced together to create a unified sound that only years of practice and true synergy can provide.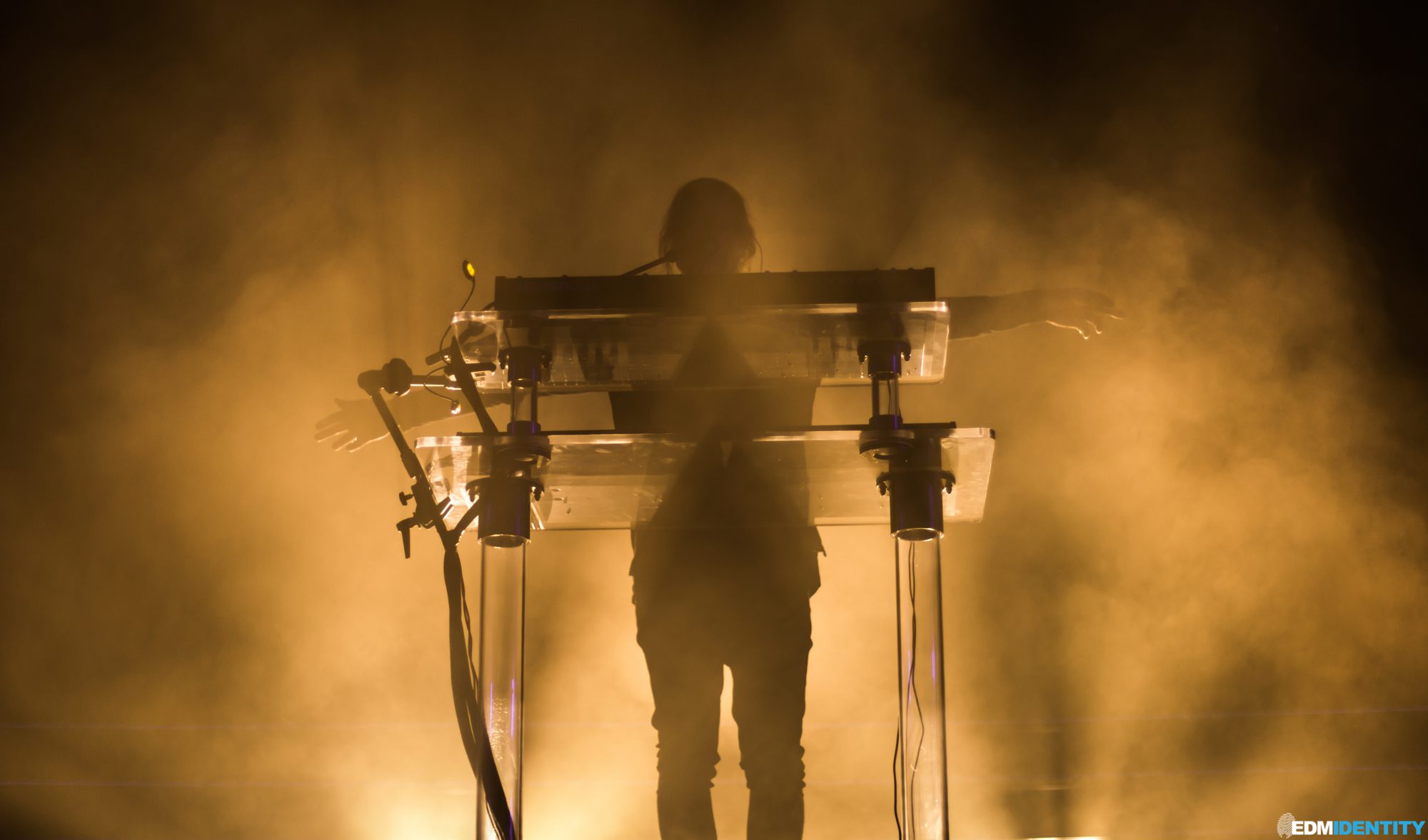 My biggest complaint was that the acoustics inside the Valley View Casino Center were average at best and left a lot to be desired.
This isn't an entirely new issue for shows hosted at the venue but it was definitely evident during the Rufus show. I can't tell if it was just my placement in the crowd, technical issues from the venue, or some other reason, but there were moments in which the sound just felt… off. For a show that was clearly supposed to be driven by the vocals from Tyrone, they definitely did not do his voice any justice, which was a disappointment. While this wasn't something that ruined my night entirely, it will make me second guess attending an event at this venue in the future if the artist has a style similar to theirs.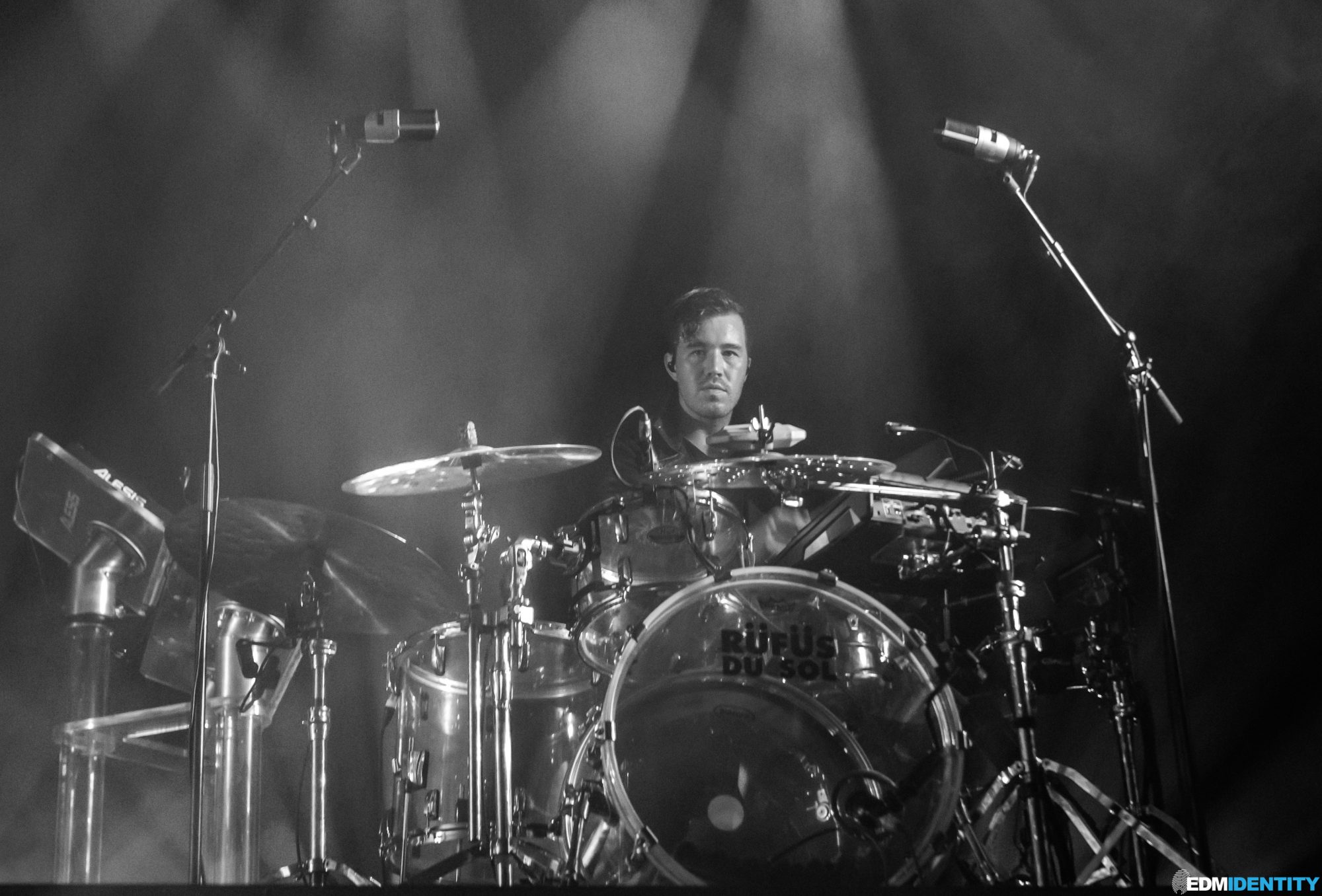 What made up for the less than stellar sound was the feeling of connectivity between RÜFÜS DU SOL and the crowd.
It was refreshing to see so many people who were just simply happy being there, dancing away and enjoying every second of the performance. Perhaps it was the vocals that everyone knew or the fact that this was a tour and not some one-off event, but there was just an infectious energy that really made me feel connected to other people in the crowd and even RÜFÜS DU SOL themselves. I guess you could say that on that night, RÜFÜS DU SOL truly gave us a moment of solace from the crazy world we're living in.
Overall, I had a wonderful time at the SOLACE tour, and I definitely recommend catching RÜFÜS DU SOL when they hit a city near you. If you fell in love with their album upon first listen, then hearing them perform it live will firmly cement its legacy in your memory bank. Hopefully, their set will give you the same feeling it provided for me.
Check out our full photo gallery from the show over on Facebook!
---
Follow RÜFÜS DU SOL on Social Media:
Website | Facebook | Twitter | Instagram | SoundCloud | YouTube