Good vibes were felt all over Tinker Field during EDC Orlando this year as Insomniac brought another stunner to the Sunshine State.
---
EDC Orlando means different things to those who find themselves heading to Tinker Field each year. For some, it is a trip back home and a place to meet up with friends they've made over the years. For others, it is a place to witness larger than life production and get away from the monotony of everyday life.
Although attendees flock to Orlando every year for a variety of reasons, all who come are bonded under the electric sky while surrounded by like-minded music lovers, performers, and artists who are ready for two days of pure epicness. This year was the fifth time I returned to EDC Orlando and after a solid edition last year I couldn't wait to see what was in store.
Since the first year that I attended EDC Orlando, the grounds have transformed and morphed into a seemingly ever-expanding playground.
Each year the stages have shifted and grown, with the addition of more pyro, lasers, and other production elements. This gives me the impression that Insomniac is really trying to bring the Las Vegas vibe to Orlando, something that I appreciate greatly.
Their mainstage, aka the kineticFIELD, is always something to behold, and this year they brought their kineticLOVE stage design that was featured at EDC Las Vegas back in May. Two monolith beings stood tall, hand in hand, holding up a heart high above the crowd to show us that love is something we can find with one another. In a world plagued by constant negativity, it was uplifting to see these two figures facing one another while holding up a symbol of love.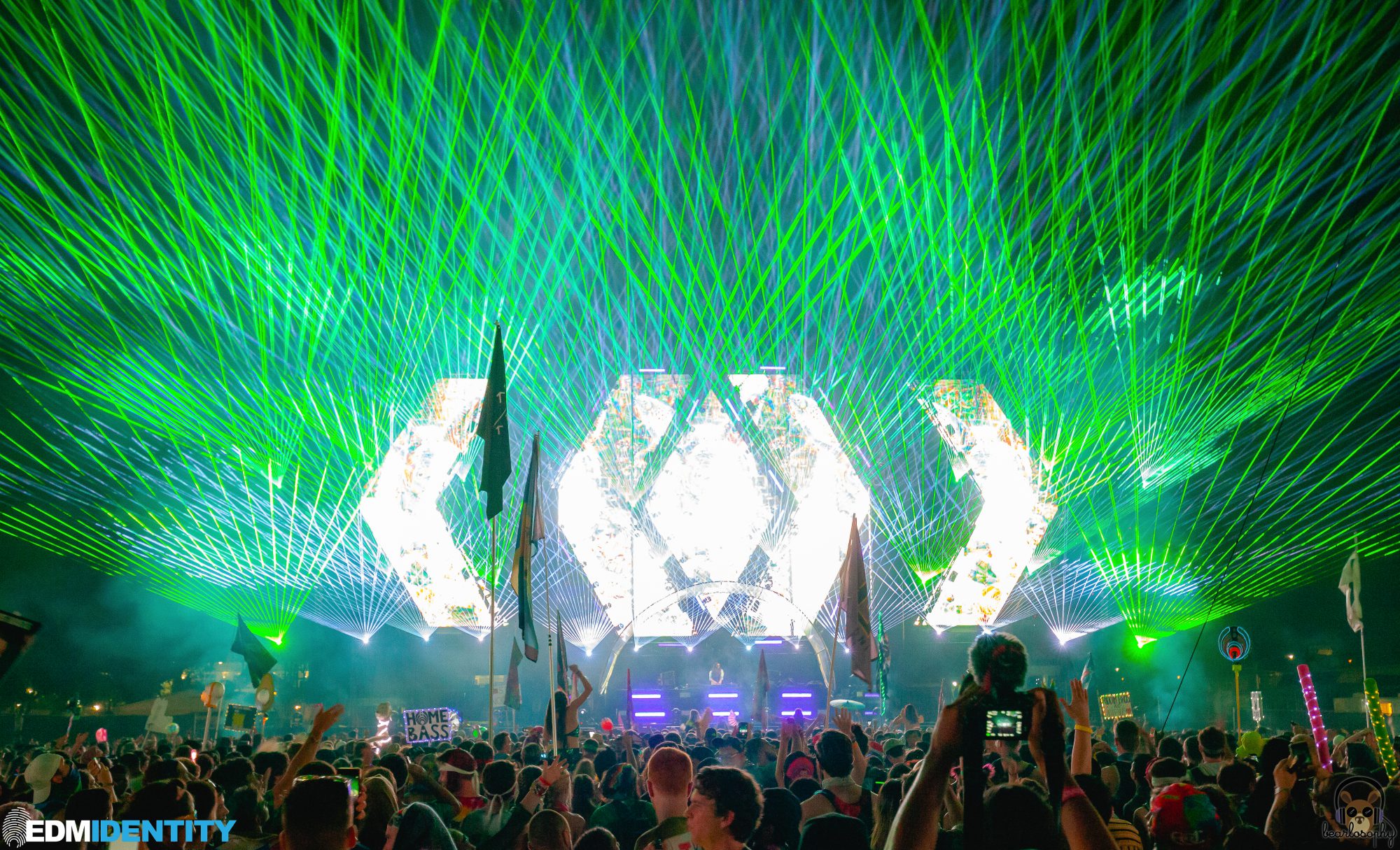 On the flipside, I was a little disappointed in the stage design at the circuitGROUNDS.
Last year's design was a highlight for me from a photography standpoint, as the 2017 edition featured a pyramid look with massive LED screens and fire cannons. This year was a different story though, as circuitGROUNDS looked more like a large baseball scoreboard that had triangular LED panels facing out; it was just a little anticlimactic for my tastes. While I was almost won over by the fact that surrounding area was matched with towers that formed an enclosure, the sound itself was not as loud as I would have expected considering the style of the layout.
I definitely felt that the amenities inside the venue were improved upon from last year.
Sure, we had our usual Ferris Wheel in front of kineticFIELD and the zip line to take you across the pond, but there were a few more rides that were added this year. Strategically placed around the outskirts of stages, it allowed for a cool vantage point for attendees to not miss any action while also screaming their heads off. The VIP offerings were also expanded to include a pool that I found to be a nice touch for those who were looking to cool down and spring for the added experience.
Those who ventured over to the Boom Box Art Car could also find the vendors who were selling a variety of products, giving shoppers a front row ticket to the artists who were taking the stage at that time. Insomniac also gave attendees a taste of what Camp EDC is like with a few of the ShiftPods that are used for the Moon Glow and Desert Rose camping options scattered around the area.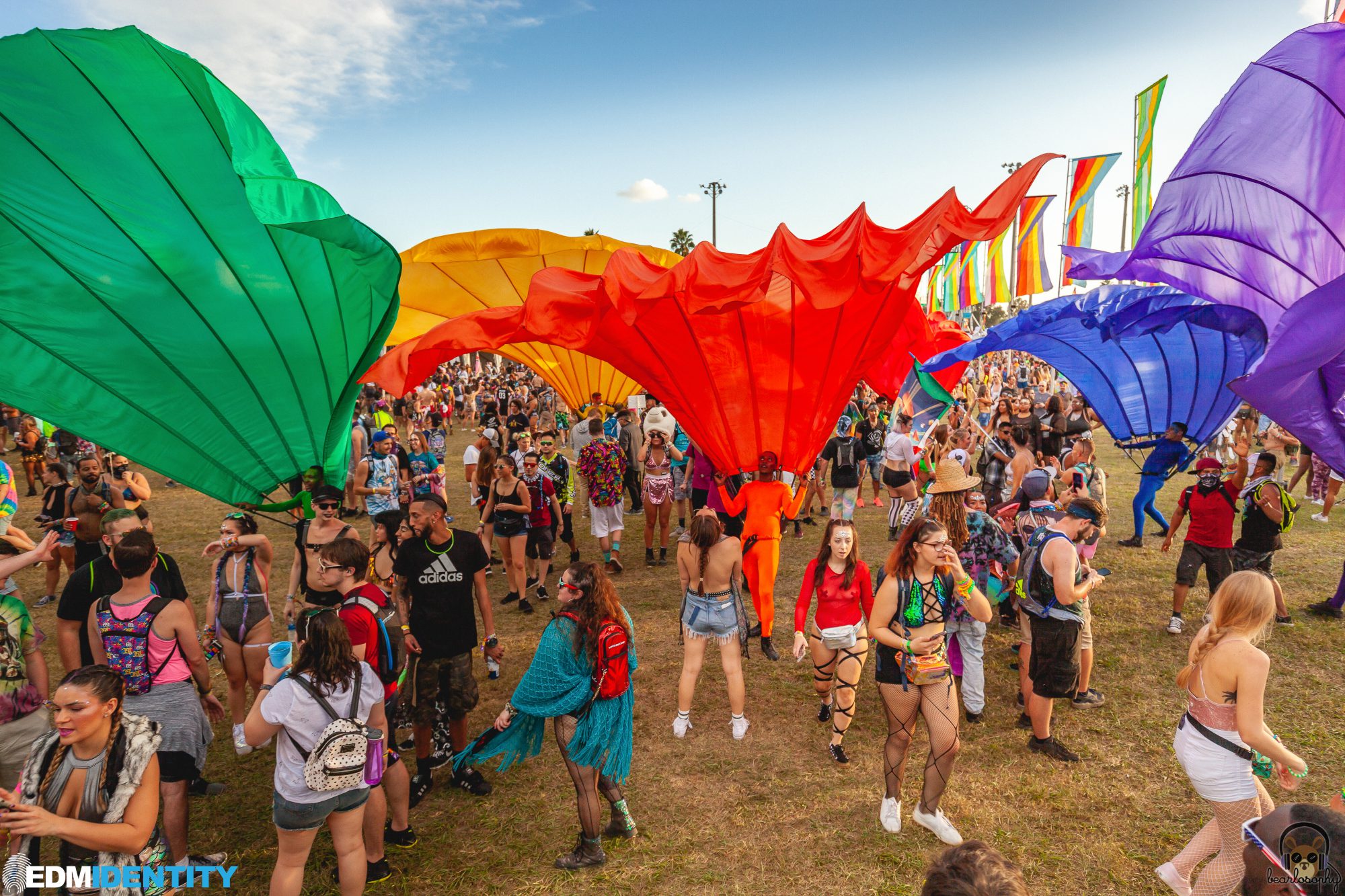 While I've never been one to stick to the main stage at a festival, kineticFIELD was a nonstop party.
More often than not at electronic music festivals you would find me at the side stages or live stages, usually anywhere but the main stage. It's not that I haven't appreciated the production value of the main stages I've experienced but truth be told, I have preferred the lesser-known acts to whoever is typically playing there.
This year, however, I found myself at the kineticFIELD quite a bit. This could be owed to the fact that bass acts like Space Jesus and Bassnectar have lost my interest, having just become annoying whomp sounds in my head. Or maybe it was the underwhelming sense that I got every time I was at the circuitGROUNDS due to the stage set up. Regardless I felt like the kineticFIELD was the place to be at EDC Orlando 2018 and I feel a good majority felt the same.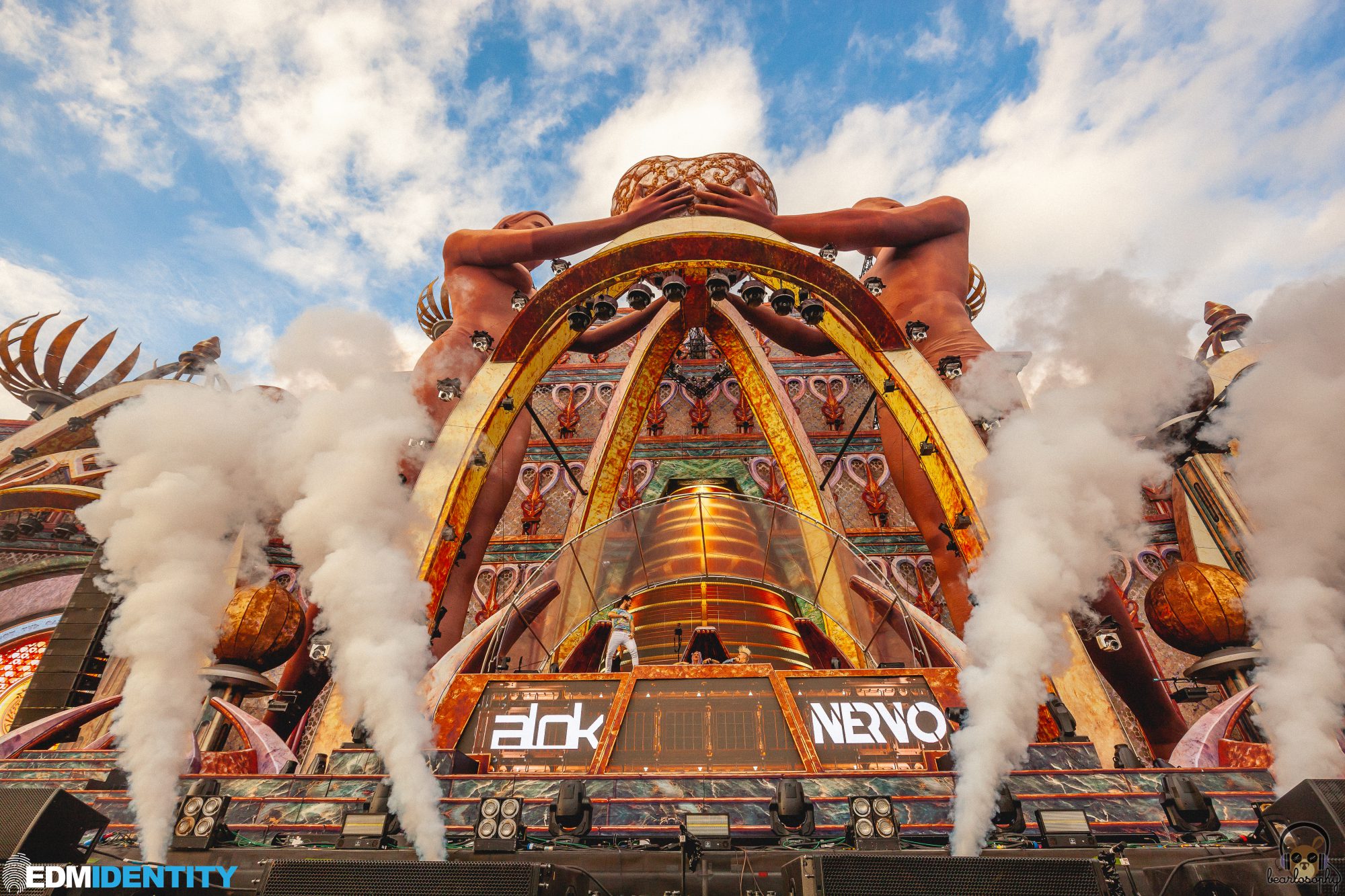 Nervo going b2b with Alok was the highlight of my experience with their multi-genre set that brought together headliners from all nations.
The set itself spanned across all genres, with Nervo and Alok including their original tracks and remixes while adding in songs from popular artists like Drake and Post Malone. Alok even interlaced some Brazilian tunes which I didn't know, but the reaction of a few Brazilian attendees near me was priceless.
At one point the crowd was waving flags from all different countries with Nervo calling out all the nations they could see; England, Israel, Jamaica, Ireland, South Africa, Brazil, Anjuna, and more were all present. Yes, I know that last one is not internationally accepted nation but considering the mass following Anjuna has across the world, I think they are worth including.
Though I never thought I would be acknowledging a set from him, I have to say that I was very impressed with Tiesto.
I know the history of Tiesto. I know he was once a trance artist who has since turned into a multi-genre behemoth to which some have received well and others not. But when I found myself at his set at the kineticFIELD for sunset, I saw him give a taste of so many different styles ranging from house and hip-hop to bass and even some harder styles. In fact, he dropped a remix of The Cranberries' hit tune "Zombie" to which I damn near lost my head and camera during the drop.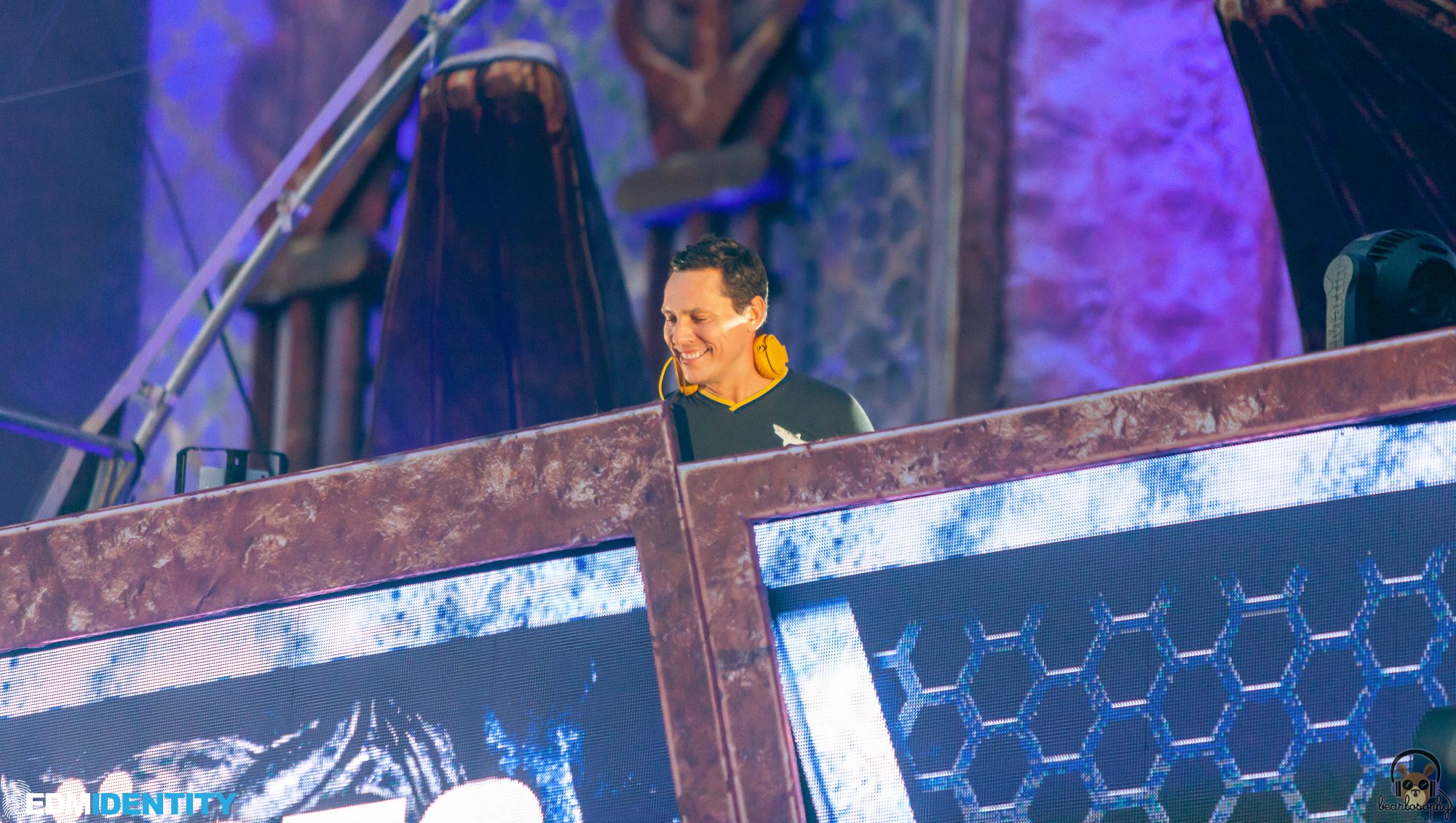 The weekend was closed out in style with Kaskade, who brought the crowd a set that was one for the books.
Kaskade took us through much of his popular discography, a bunch of new tracks and some remixes, including one of Queen's "Bohemian Rhapsody", much to my own pleasure. His sets are always high energy, full of emotion and love and often accompanied by some stellar fireworks and lasers. This made for some pretty epic photos on my part, see below.
Let's address what everyone has been asking me… yes, EDCO was lit, literally…
Since the final moments of the festival, everyone has been asking me if I saw the great fire of the main stage that happened Saturday during Kayzo's set. Yes, I was present for what was the little bit of his set before an ornament atop the left side of the stage caught fire. It happened because the wind was kicking up pretty hard and during a fire blast I can only assume the wind took some of the fireblast and accelerant that was firing, washing it over the stage, in turn catching it on fire.
The crowd was evacuated and the fire was contained pretty quickly considering how packed the stage was, though I have to point out the intercom announcer had to ask attendees to "back away from the fire, please do not get closer to it," something I figured was common sense. Besides the few nonsensible attendees, the situation was over and done with before anyone got hurt and the party resumed as Alison Wonderland took the stage. I should also like to make a side note that Kayzo set minus the fire was pretty lit (yes pun intended).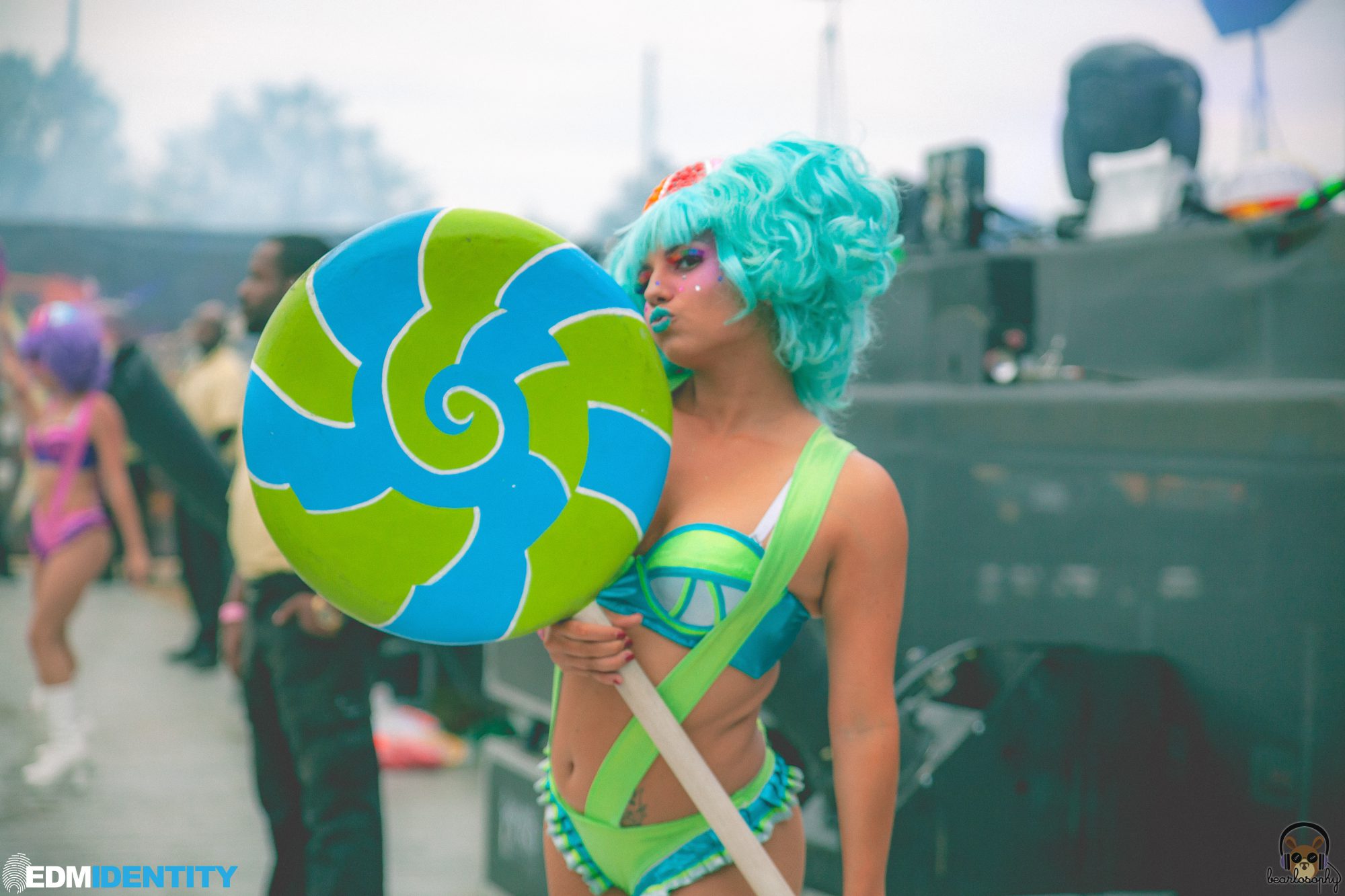 As we close out another epic year, the glitter gets shelved, the rave gear is put away, but my thoughts about what I'd like to see at next year's edition surface.
I had an absolute blast this year, and there really isn't much that I would change for future editions. If anything, I hope to see the festival expand from its current two-day schedule to a full three, which would give headliners more time to explore the grounds and more artists to take the stage. The Orlando rave community and those who travel from other parts of the world have expressed their desire for more, and the expansion could bring a whole new element to the festival.
Although I am currently on a train through the countryside of Japan, the memories from this year's edition continued to hit me hard as I worked through the edits on my photos. I can't wait to attend the next edition of EDC Orlando, but until then check out some of the other beautiful headliners I met during the festival over the weekend below and take a look at our full gallery on Facebook!
---
Follow EDC Orlando on Social Media: