Returning home to the hallowed grounds of Suwannee for another edition of Hulaween was something I looked forward to all year long. 
---
Home, a word that gives us security and warmth. A proper home will bring a smile to ones face. Sometimes we find our homes in a person, or in a place, or even in the memories of time spent with someone special. For a rare group of people, home is found under tall pine trees just north of Gainesville, Florida, tucked away in the Spirit of Suwannee Music Park, a home called Suwannee Hulaween.
It is in this home that we find beautiful, unique people brought together during Halloween with other like-minded individuals. Some are young infants whose awe never stops; others are seasoned veterans looking for their next adventure. Regardless, this home welcomes all. It endorses love, takes any in need, and supports any who ask.
This year, Hulaween became a home away from home for me for four days, underneath the hanging moss, stars, and warmth of the fireside, where many found smiles, memories, and connection that will resonate for years to come.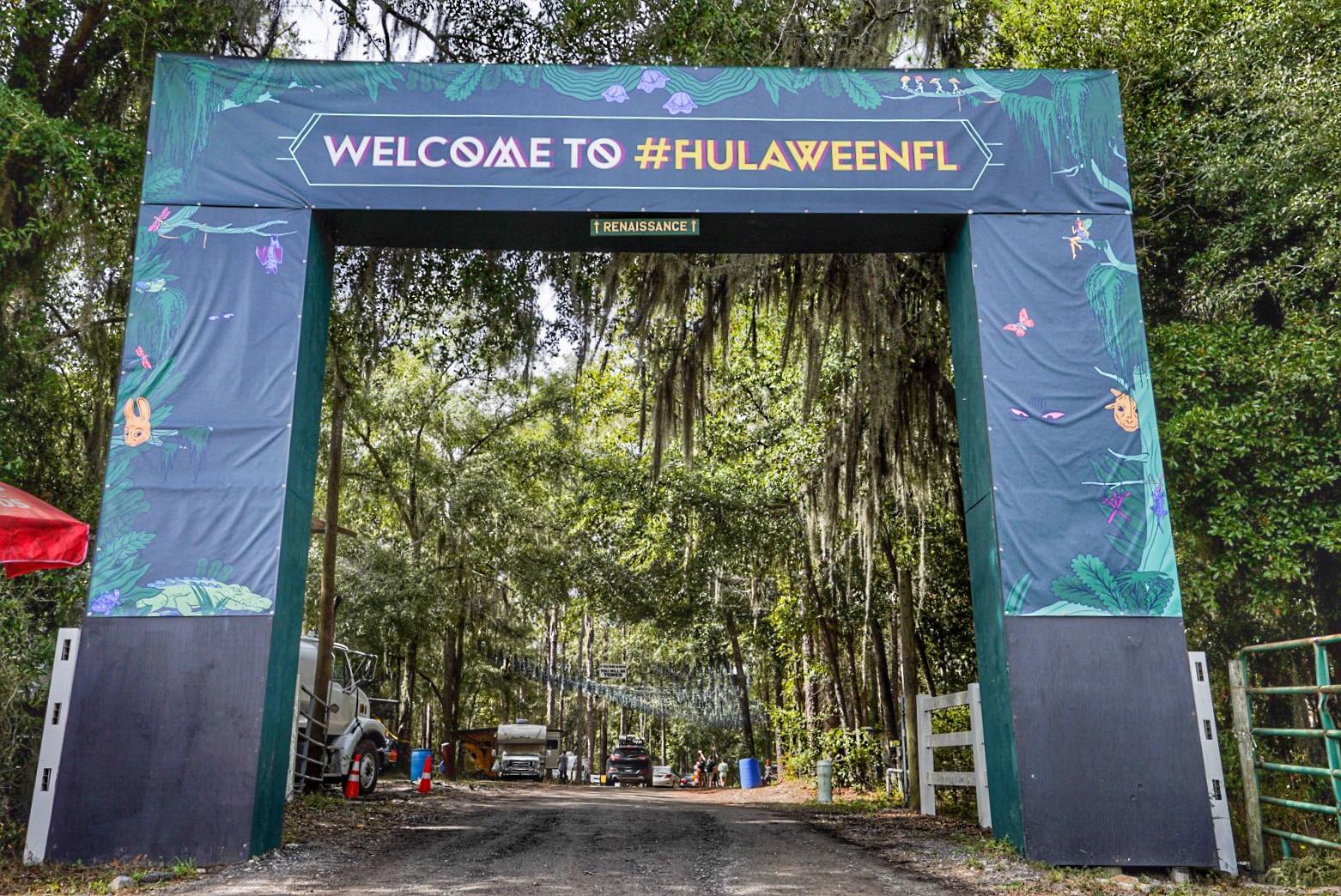 The journey was short for some, long for others… but for all, still worth it…
As the weeks leading up to the sixth installment of Suwannee Hulaween came upon us, costumes were made, food was bought, prepped and stored, and more importantly, positive dreams and expectations were put forth into the universe. People traveled from all across the United States to North Florida seeking a weekend that promised to be the highlight of the end of the year for many. Personally, I only had to travel a few hours north of Orlando, where I currently call home.
I am an avid and veteran Suwannee goer. I have been attending, enjoying, and, this time, working at Suwannee for close to a decade. I am well versed and in tune with the grounds; I have walked miles upon miles around the Suwannee, creating some of the best memories which I carry with me today.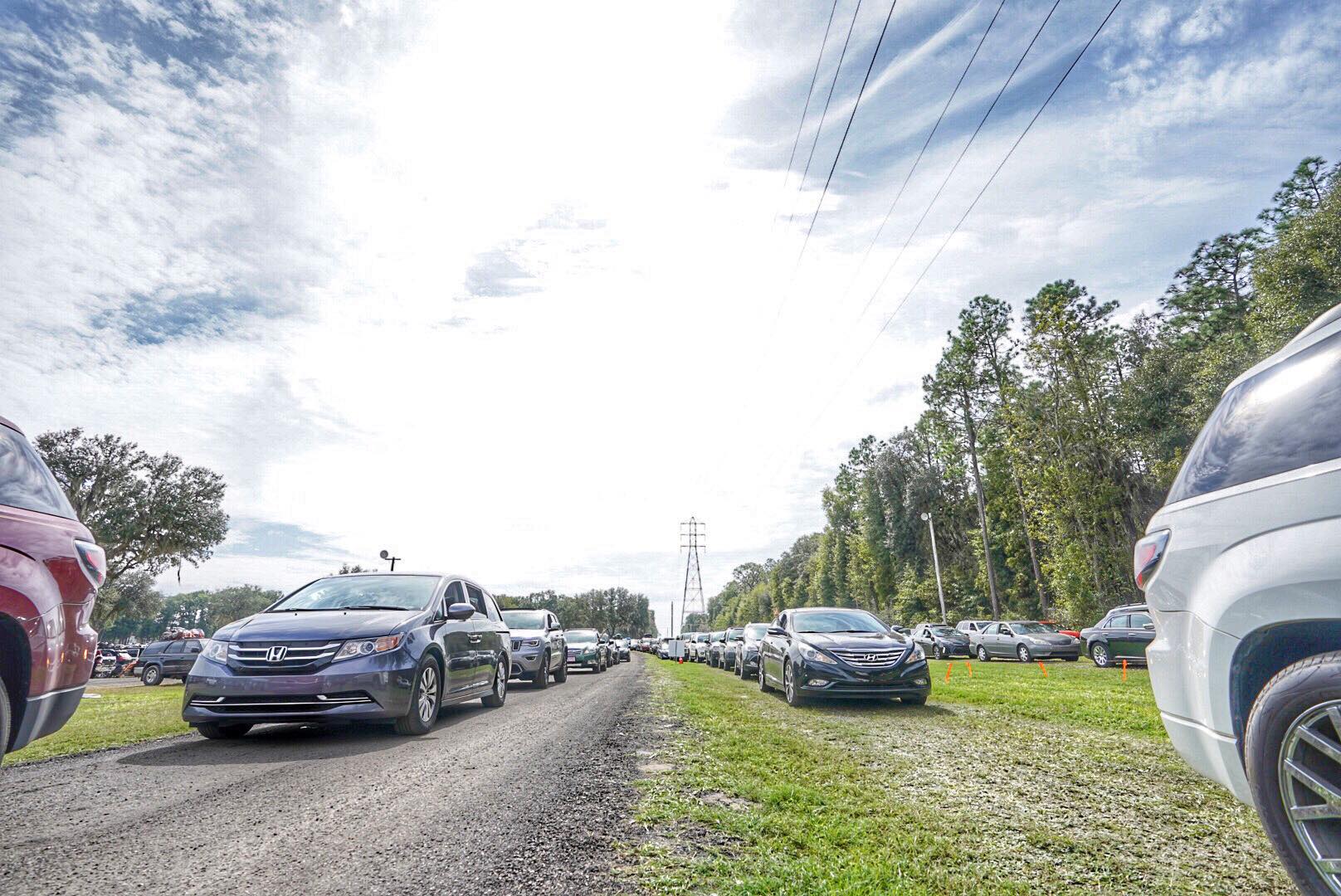 This year, I had the pleasure of evolving my Suwannee experience by attending this festival with an RV Camper.
Easily the height of luxury for me at Suwannee, the temperature controlled RV had a full kitchen, shower, toilet, and queen size bed that really took my experience to the next level. Keep in mind, several of these amenities could be found throughout the campgrounds, as well–Spirit of Suwannee Music Park has installed showers, well-maintained bathroom facilities, and power hookups (for a price) throughout the grounds.
I have always camped at festivals like Hulaween and it is something that I love to do. Camping is a unique part of events that take place at the Suwannee. The ample trees provide shade, cover, and oftentimes make a great post to string up lights and decorations. From what I saw, campers were showing up the Monday or Tuesday before Hulaween with decoration in tow, setting up some incredible looking campsites full of Halloween lights, blow ups, lasers, and even fog machines.
The party began with a great act of kindness…
Hulaween runs for a total of four days, from Thursday to Sunday, during Halloween weekend every year. Attendees have been known to show up as early as the Sunday prior, something which I'd recommend against as many of the crew members are hard at work and deserve a space to work free of prying eyes and the interference that can come with attendees arriving so early. All the artists and workers that are on site and setting up are there to create a dreamlike experience, and with attendees running around so early, it becomes more of a hindrance than an advantage.
As many of you know, our state was ravaged by Hurricane Michael not weeks prior to Hulaween.
Much of the West Coast and Panhandle of Florida was destroyed, leaving thousands at a loss of all their possessions. Hulaween, in all of its infinite love, came together to put together a pre-pre-party that brought together the community for a Zach Deputy concert, where all proceeds went to the victims of Hurricane Michael. It gave Hulaween-goers an extra day to come in, set up, and enjoy some good music and do a good deed, and it was a pretty epic way to start off the entire expierience.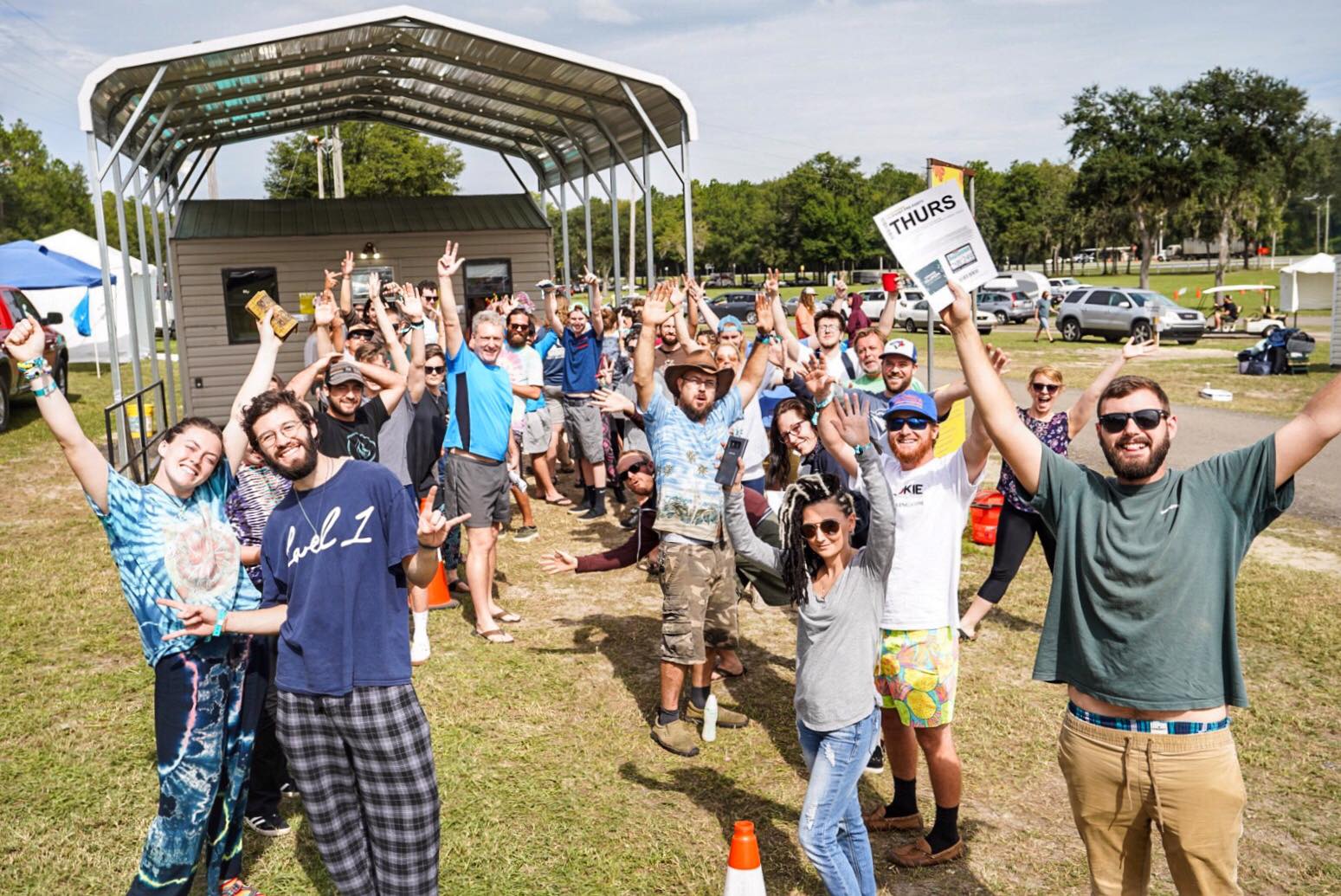 Thursday rolled around, as did the masses.
Seemingly the majority of the festival attendees made their way to Suwannee on Thursday for the pre-party. Lines reached a lengthy two-hour wait for entry from what I was told. My compliments go out to the staff on hand for getting everyone situated and into the park because there are few things worse than an agitated patchouli oil smelling wook who just "wants to see the music bro."
I witnessed first-hand this type of wookery when I went to collect credentials; a boyfriend, or so I assumed him to be based on his way to comfortable whiny, pacing, dramatic attitude towards his female counterpart being told to "calm down" over and over again. Chill out, people; there are 20,000 attendees coming in, which is why you came early on Thursday.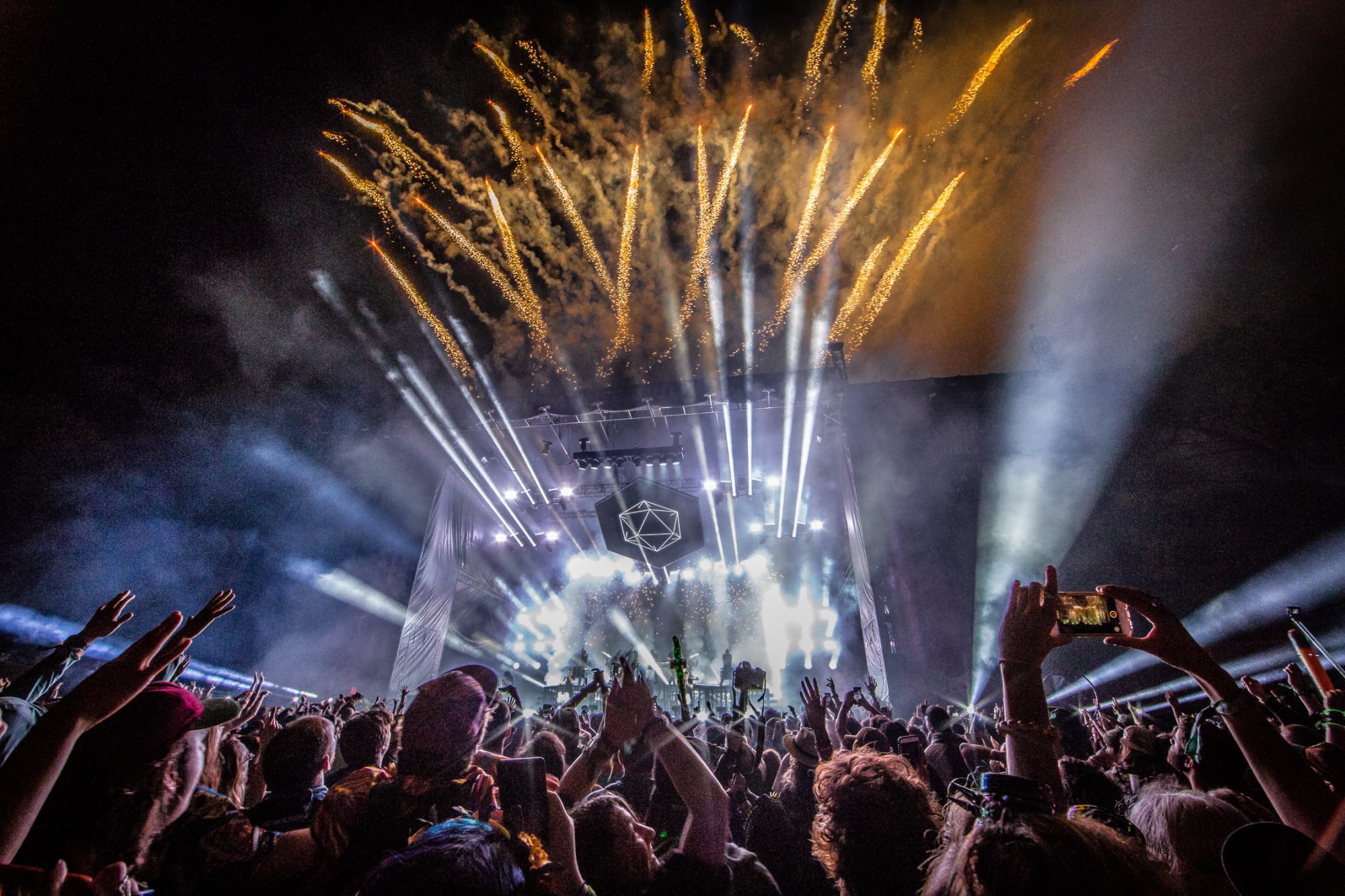 Hulaween continues to ascend to higher heights musically…
Every year, Hulaween outdoes itself more and more as far as production goes. Through the years, we have seen LCD screens added to the amphitheater, bigger and better fireworks, aerial silk artists, bubble parties, and giant blow-up dice and hearts. This year, the main stage played host to ODESZA, who gave us a live show that tops the charts. Pyro effects, fireworks, confetti showers, and an incredible drumline were the tricks and treats given out during the performance.
Covering much of their new album A Moment Apart, we were regaled with fireworks while ODESZA and the drumline took us through "Bloom"; confetti showers during "Late Night"; an onslaught of fire surrounded the boys during "Sun Models" and "If There's Time"; all wrapped up by onstage and off stage firework during the finale of "It's Only." The ODESZA Team and drumline set a precedent during this set for the rest of the weekend.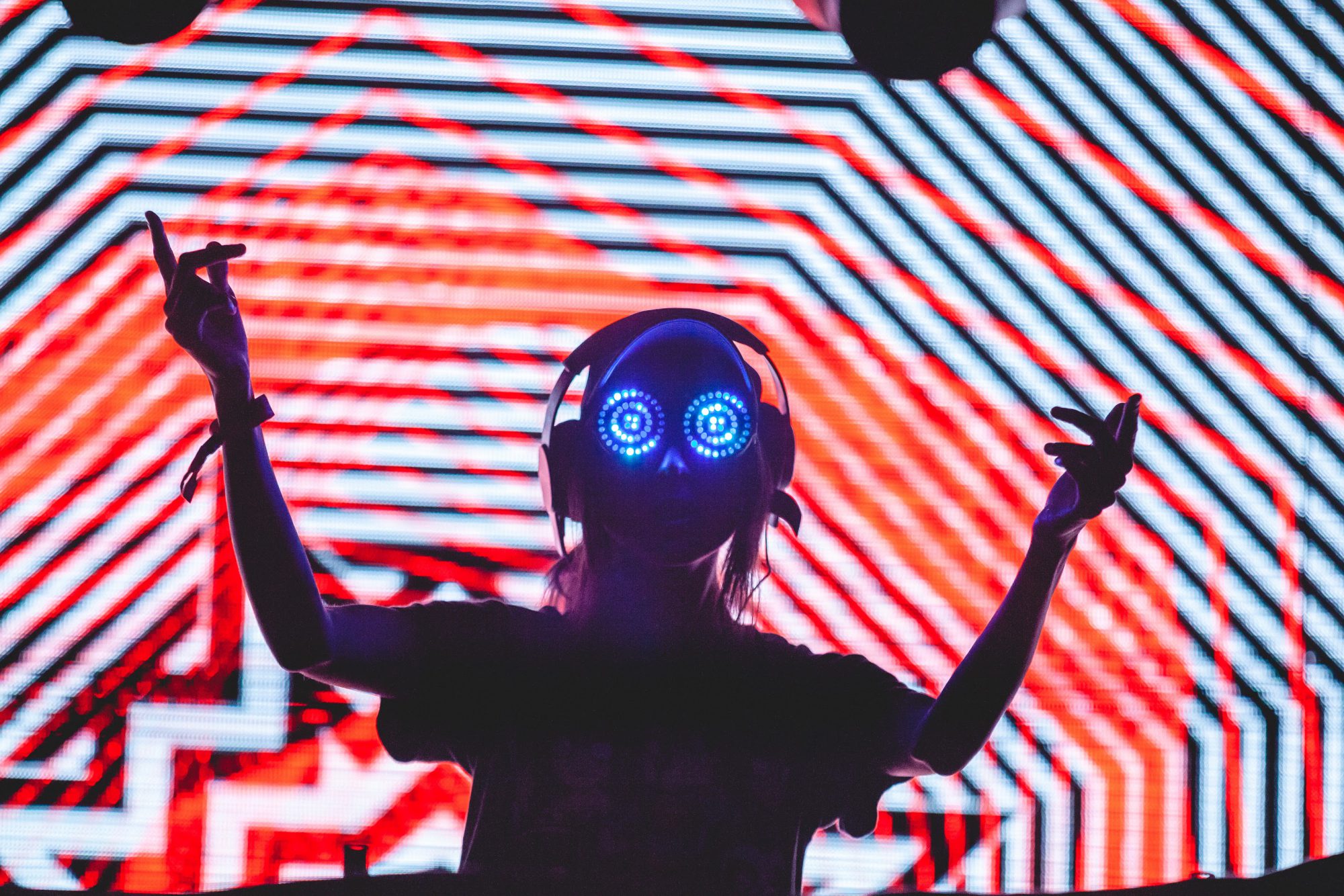 On the other side of the spectrum in regards to production, I would love to give the lots of credit to REZZ.
REZZ recently put on her own self-titled event dubbed REZZ Rocks at Red Rocks Amphitheatre. It was complete with stage firework mines, pyro, and one hell of an LCD screen behind her that depicted some incredible visuals. Fast forward to her Hulaween performance and REZZ brought much of this to my favorite stage: The Amphitheatre Stage.
This stage is an incredible space to witness music–a place surrounded by trees where everyone can see the stage. Over the years, we have seen it evolve as more and bigger LCD screens are added. With all that being said, the number of trees and size of the stage cannot hold the production that The Meadow can, as we saw with ODESZA.
This was not an issue for REZZ, as she took the stage and basically tore the crowd's face off and ripped through tracks from her album, A Certain Kind of Magic. She was by far my favorite person to photograph–she just knows how to provide the photography team with the proper stances and stage presence.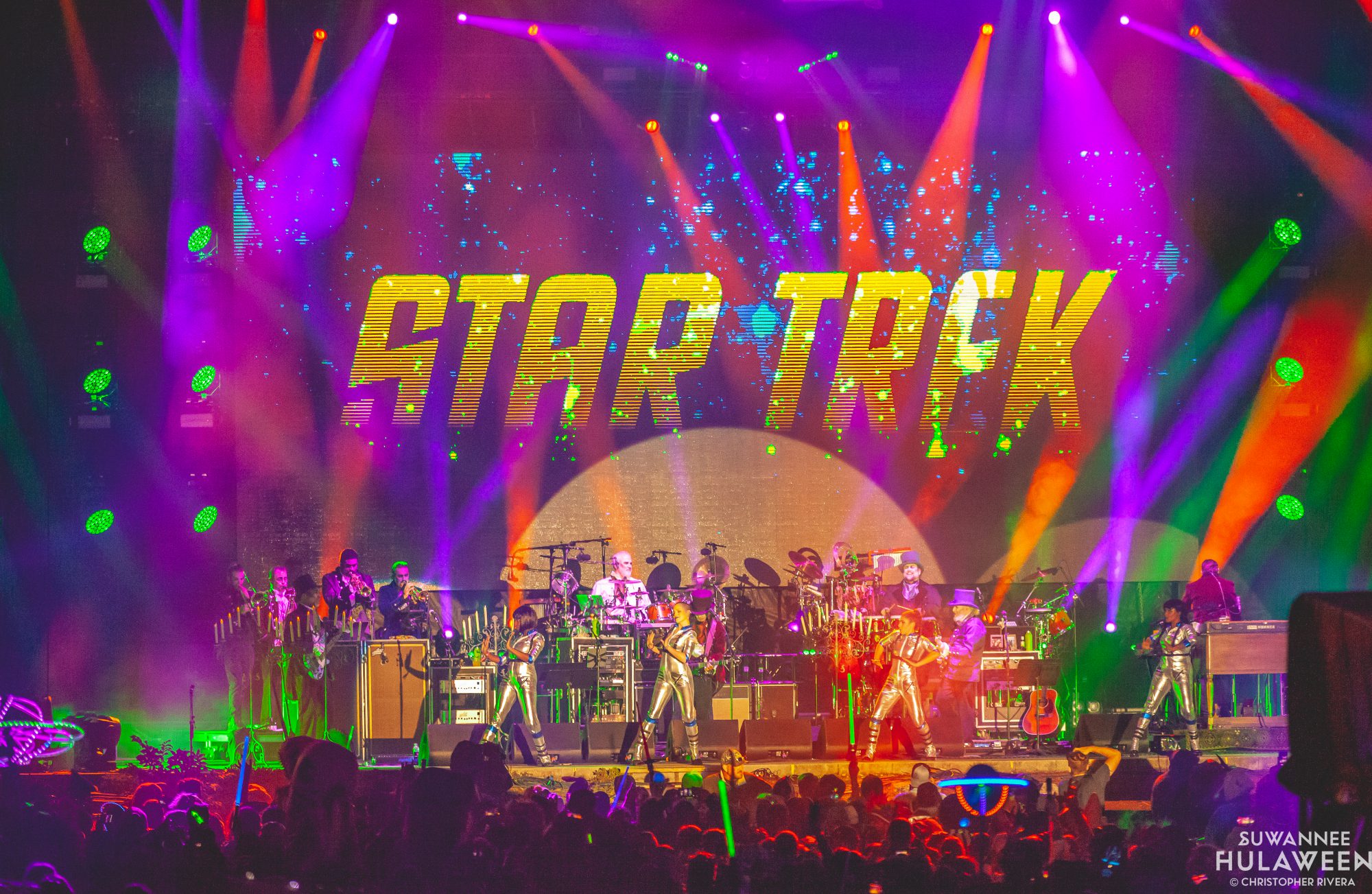 I headed back over to The Meadow Stage on Saturday for the annual Halloween performance by The String Cheese Incident, a set I look forward to every year.
The theme this year was Extraordinary Women of the Galaxy and it was out of this world! The String Cheese paid tribute to all the women of the galaxy and their contributions to music. They hinted about the current administration's seeming lack of respect for women and urged the importance of voting. They covered "Gimme Shelter", "Rock Steady", "Proud Mary", and "Killing Me Softly With His Song", featuring various female bombshells like Lisa Fischer, Jen Hartswick, and Rhonda Thomas as they paid tribute to all the amazing, incredible female musicians out in the galaxy past present and past.
My personal favorite was their tribute to Amy Winehouse covering "Valerie" and also when they brought out Ann Wilson of the band Heart to sing "Barracuda". After a brief pause that left a few confused as to why the set was so short (some people actually left), the band returned to take us through the galaxy as part of the Creatures of the Galaxy theme. We visited the famous cantina on Tatooine for Star Wars; we went on the Voyager as they paid tribute to Star Trek, complete with blow up spaceships making their way through the crowd; we had some close encounters and even met Vader himself; it was a sci-fi nerd's dream brought to you by The String Cheese Incident.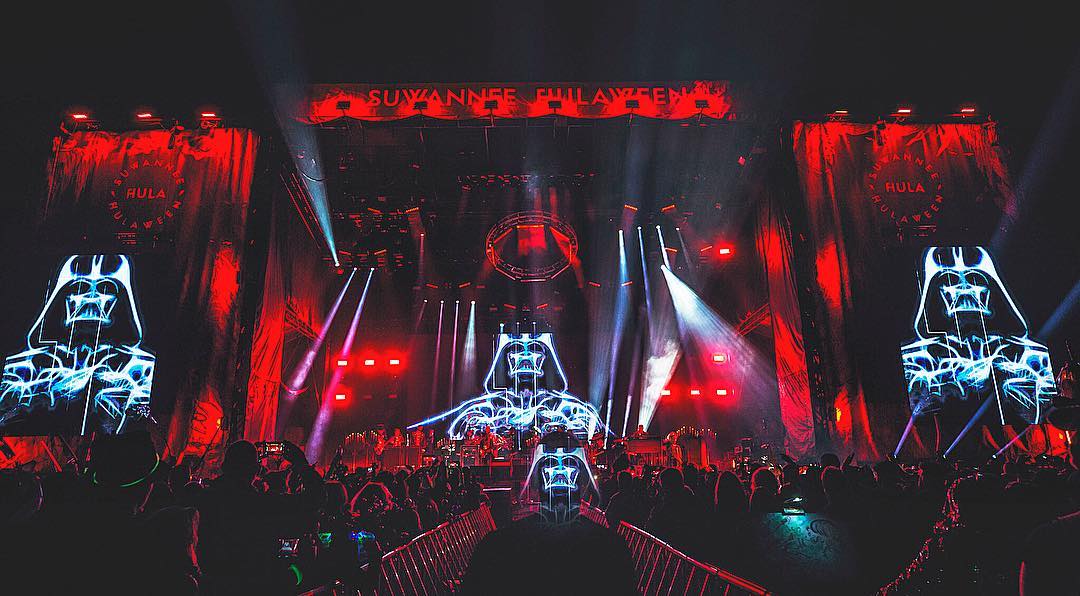 The weekend was stocked full with plenty of amazing experiences we all shared.
For those who came to the Suwannee for the first time, and for those who were making a return, the summation was all the same: we spent the duration of Hulaween and leading up to it making memories that would resonate with us for years to come. Year after year, I pour out my own personal appreciation and love into this festival for every bit of impact it has on me. Hulaween represents a light in all of us that shines brighter than any firework set off that weekend.
The love that Suwannee Hulaween attendees, workers, and founders have for this place is not insanity; it's honesty. An honesty that is found is the realness of every precious moment we create with one another, and in every single smiling face in the crowd.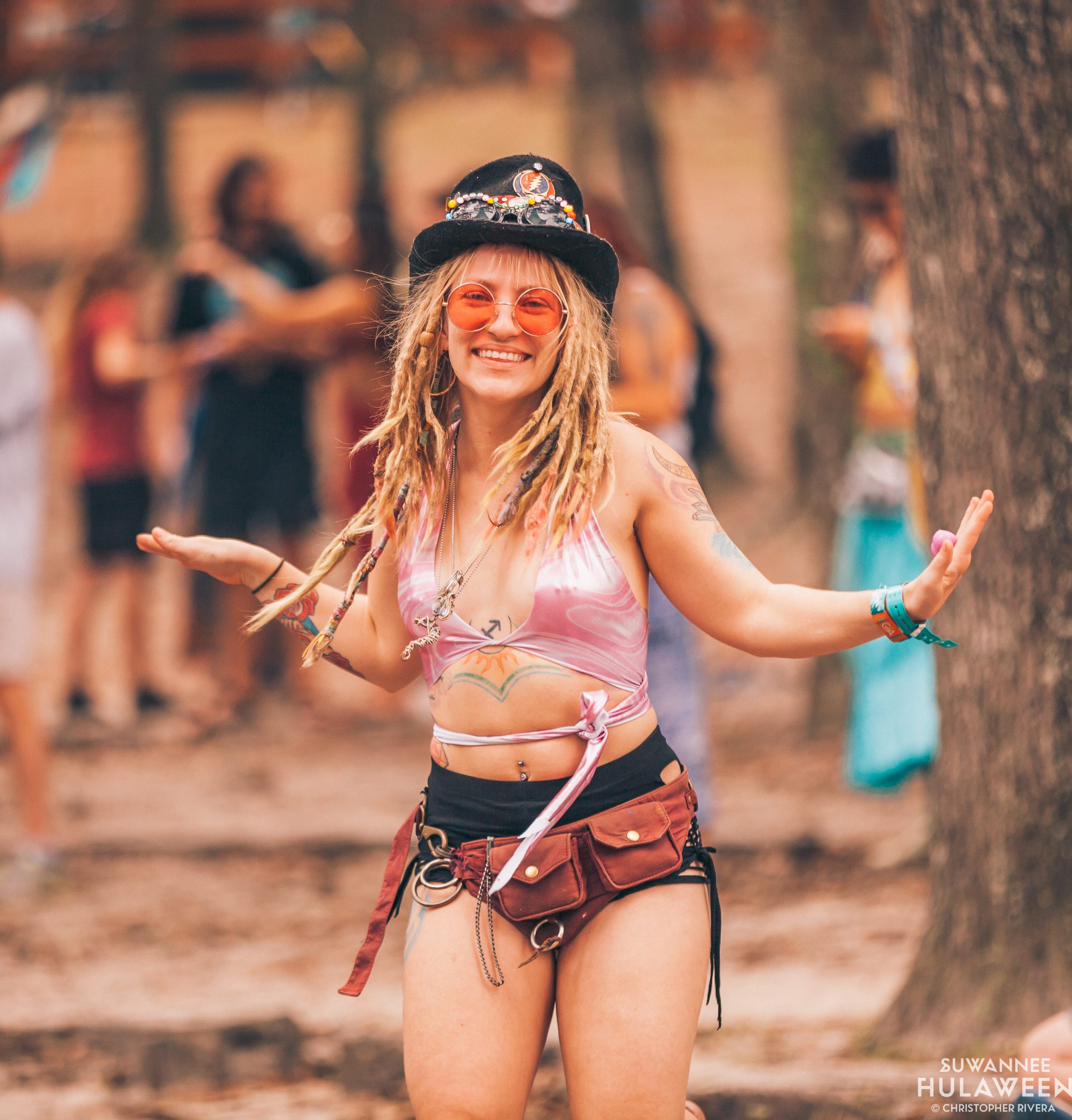 When we are there, we receive a constant reminder to one another why we should love one another.
We are separate from the world outside yet so together with those around us. It is a feeling that we are part of a bigger family–a feeling much bigger than the heartbreaks we've felt, the breaking points we've reached, the hurt and anxiety we feel on a day-to-day basis.
When we are at the Suwannee, we are home. We are home with our friends, our loved ones, and our friends we have yet to make. I cannot wait to see you all next year for another installment of Suwannee Hulaween!
---
Connect with Suwannee Hulaween on Social Media: