Halloween is inevitably one of the biggest holidays of the year as far as music is concerned–and this year, I was beyond excited to pack my bags and head to SoCal for Escape: Psycho Circus.
---
It's been years since I first heard about Escape: Psycho Circus, Insomniac's yearly Halloween festival. Back then, of course, it was called Escape from Wonderland, but the principle remains the same outside of the removal of a few key Alice in Wonderland-themed elements: all the things you love best about a music festival, but twisted into a horrifying fantasy world from which you might never, well, escape.
Halloween has always been one of my favorite holidays. I mean, seriously, who doesn't love the opportunity to don a spectacular getup and spend the night as someone else for a change? After seeing the eye-popping photos from past years of Escape and hearing rave reviews from friends (no pun intended), it was clear that this was an event that needed to be on my short list. And then the lineup dropped, and that basically sealed the deal.
So, I decided that 2018 would be the year that I'd make the trek back to Southern California to spend Halloween weekend in epic fashion alongside some spooky ghosts, grotesque Ghouls', and a fantastic lineup of artists.
Logistically speaking, Insomniac gets it right most of the time, and Escape was no exception.
We arrived a little after six on Friday and breezed through parking and security before hopping into the ID check line, which was probably one of the most disorganized things I encountered all weekend. There was a massive line at the booth, but there were also several people taking IDs outside of the booth, which led to confusion on all sides. I was glad to see that resolved the next day, at least on the VIP side of things, by putting an ID check right by the entrance. That kind of course correcting is something I've come to expect out of Insomniac, and it was nice to see it happen there.
Having already been to NOS Events Center once before for Countdown 2017, I was familiar with the layout of the festival. With the addition of the Ghouls' Graveyard stage at the front of the venue and Corona Electric Beach behind The Chopping Block, it actually looked and felt quite different in spots. The flow between stages was well-controlled, and it never felt like there were too many people trying to move from stage to stage, either, which was nice given the number of stages.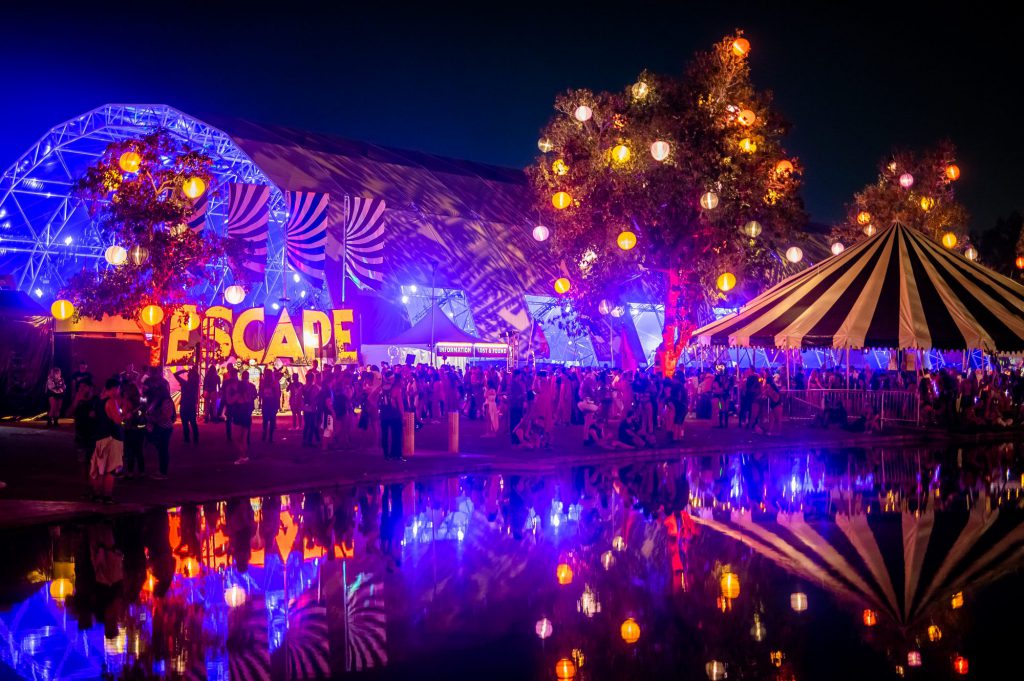 But that wasn't what caught my eye. The first thing I really noticed was the impeccable attention to detail that had gone into transforming the venue into a warped wonderland befitting the holiday.
From the off-kilter, carnival-themed tents of the Psycho Circus itself to the eerie exterior of the Asylum to the numerous performers adorned in a variety of costumes, there was no shortage of spooky scenery inside the venue. The performers were particularly eye-catching and wandered the grounds in troupes of creepy clowns, undead fish on stilts, and my personal favorite, a spectacularly horrifying baby being pushed around in a carriage.
As we made our way to the Cannibals' Tea Party, I couldn't help but be transfixed by the soft light emanating from an array of beautifully colored lanterns in the venue's trees. And then, to top it all off, there was even a fire-breathing Medusa, which has to be one of the most spectacular decorations I have ever seen at any festival.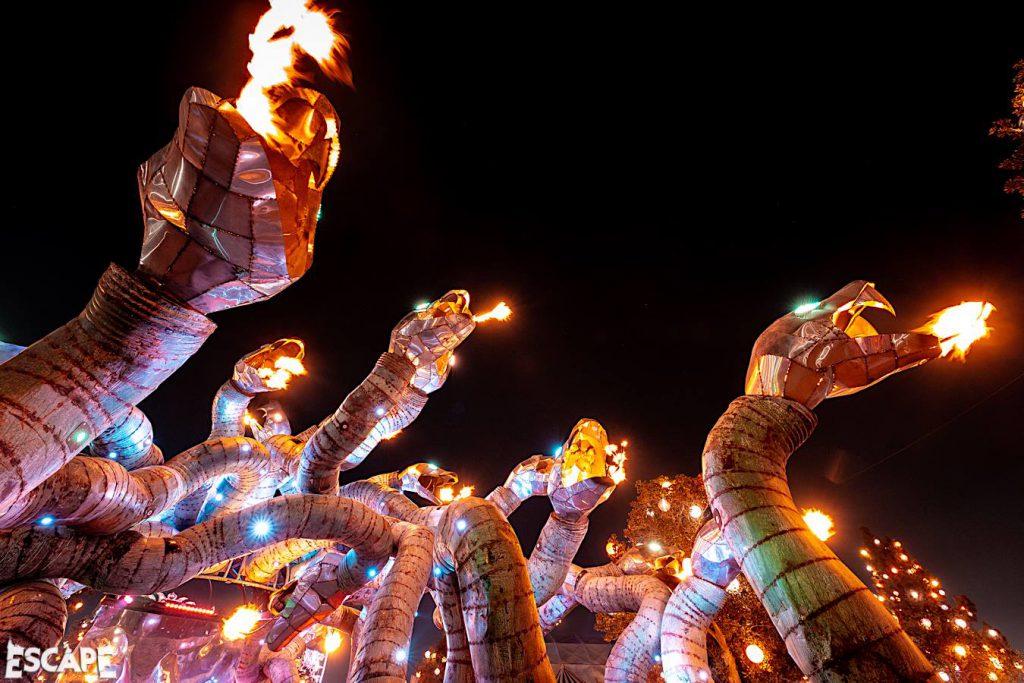 One thing I did not really account for when packing for Escape was the heat, and Friday night was sweltering until about 10 pm when it finally cooled off.
Insomniac always does a good job with harm reduction at their festivals, and I was happy to see quite a few Ground Control team members roaming the grounds. I also received a number of push notifications from the app reminding attendees to drink water, to take breaks, and even about consent. Assuming you had enough cell service to get them, it was a nice touch and might have saved a few people from having a bad night, especially given the temperature.
Because it was so hot, I spent more time wandering around the outside areas and exploring than I might have otherwise. I was quite impressed by the variety of food options available, and most of the booths seemed to be moving people through reasonably quickly, as well. There were also shops selling everything from sequined kimonos to clip-on animal ears and decorated fans to balloons covered in lights, which quickly became one of the most ubiquitous items at the festival.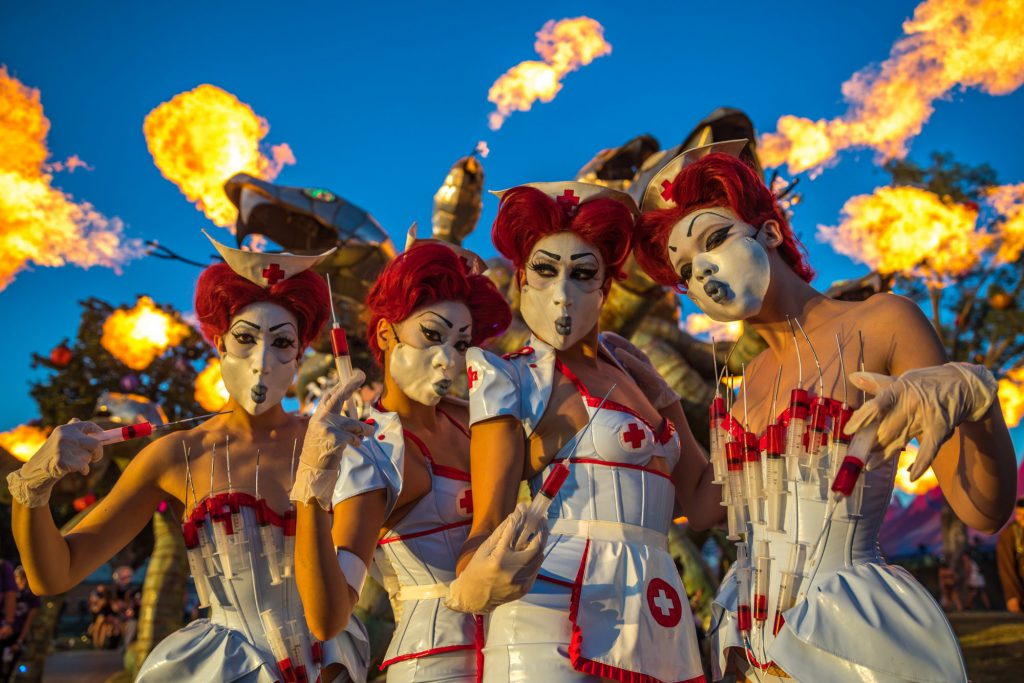 For me, Friday's lineup was all about the house and techno, which meant I was firmly installed at the Cannibals' Tea Party for most of the evening.
One of my favorite aspects of Insomniac's festivals is that some of their biggest brands take over different stages at the events, allowing for a cohesive musical experience that a lot of other events do not provide. This was certainly the case at Escape, and the factory 93 takeover was one of the things I was looking forward to most.
While it was a bummer that ANNA got stuck in traffic and missed the first half hour of her set, the hour we did get was some of the best music I heard all weekend. I've often found that when extremely talented artists take the stage, the entire energy in the venue changes, and that was absolutely the case on Friday night for her set.
Following ANNA was Loco Dice, and while I only caught part of his set, what I did hear was a perfect blend of tech house and a little bit of soul. We capped the night off with solid performances by Joseph Capriati and Jamie Jones before calling it a night around 12:30 to get some sleep for Saturday since we knew we'd be hitting the venue nice and early.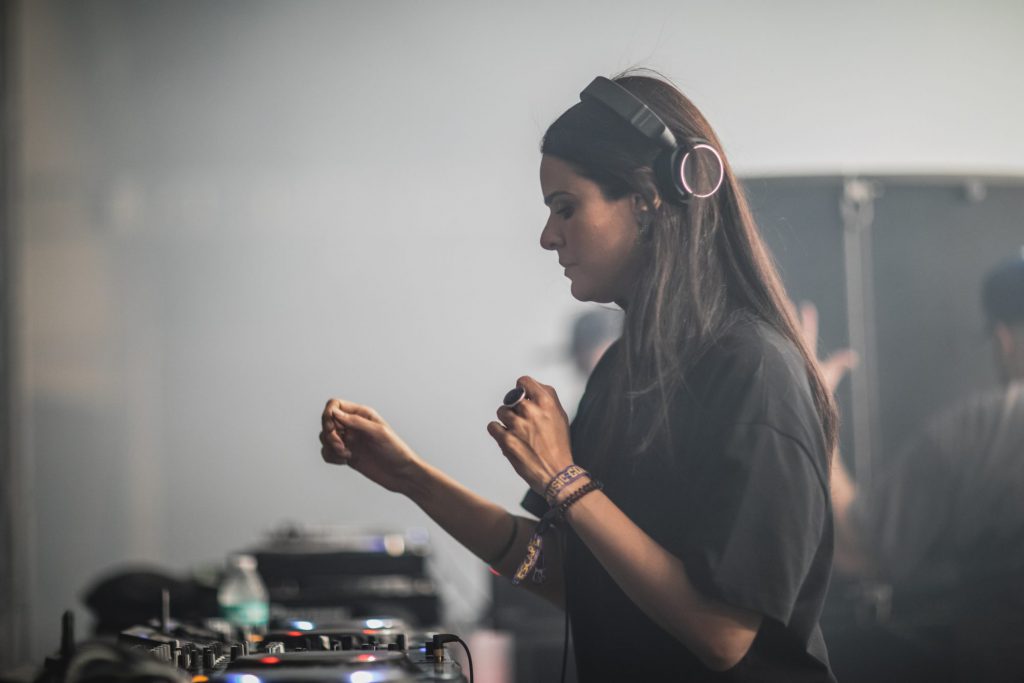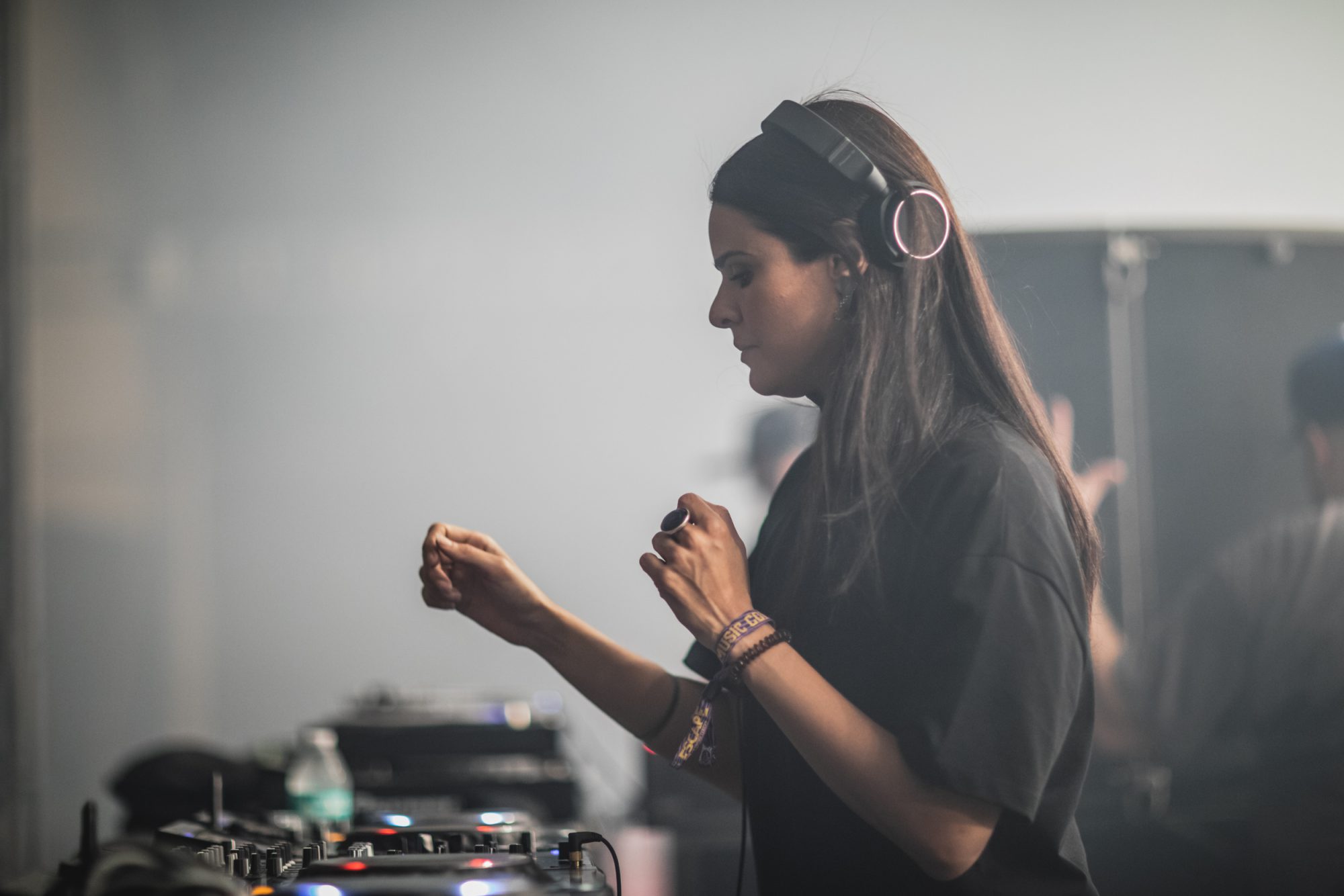 On Saturday, we made it into the venue just past 4 pm to kick things off at the Slaughterhouse, which meant I had a chance to check out the VIP amenities there.
After experiencing the VIP life at my last Insomniac festival, my expectations were pretty high, and Escape's VIP area met all of them and then some. Featuring an assortment of cocktails specific to the Slaughterhouse VIP bar, free hot chocolate and coffee, and even a nod to the circus theme in the form of popcorn, it was a nice little oasis from the madness of the rest of the festival. The Jumanji-themed entrance sported a floor made of video panels and a couple of performers dressed in full jungle regalia, which was an especially nice touch.
After grabbing a deceptively tasty concoction from a bartender dressed as a leopard at the VIP bar, we made our way to the viewing area to catch OMAIR, who was notably the only trance performer playing at Escape this year. Given the early hour, not much of a crowd had yet assembled, but those that didn't see his set definitely missed out on a full hour of trance-fueled bliss that was a nice way to ease into the second day of the festival.
Surprisingly enough, my favorite set of the weekend happened not long thereafter when Tinlicker took the stage.
I've been listening to a lot of Tinlicker over the last year, so when I saw their name pop up on the lineup, I was pumped to finally have a chance to see them perform. Transitioning effortlessly out of OMAIR's set, Tinlicker took us on a journey through some truly gorgeous melodic house, and watching the entire crowd get into the flow of the music so early on in the day was evidence enough of just how good it was. The only thing that was kind of weird about it was the bizarre visuals of teeth projected on the screen behind him, which, I have to say, didn't really go with the music at all.
We returned to a state of euphoria with the Anjunafam at Lane 8, who pulled out all the stops for his set. I was pleasantly surprised to hear a number of dazzling remixes in the mix, including deadmau5's iconic "Strobe," Cubicolor's feel-good anthem "I Got This Feeling," and RÜFÜS DU SOL's gorgeous "Innerbloom." The only complaint I have is that, at 75 minutes, it simply wasn't enough. No Lane 8 set should ever be less than 90 minutes.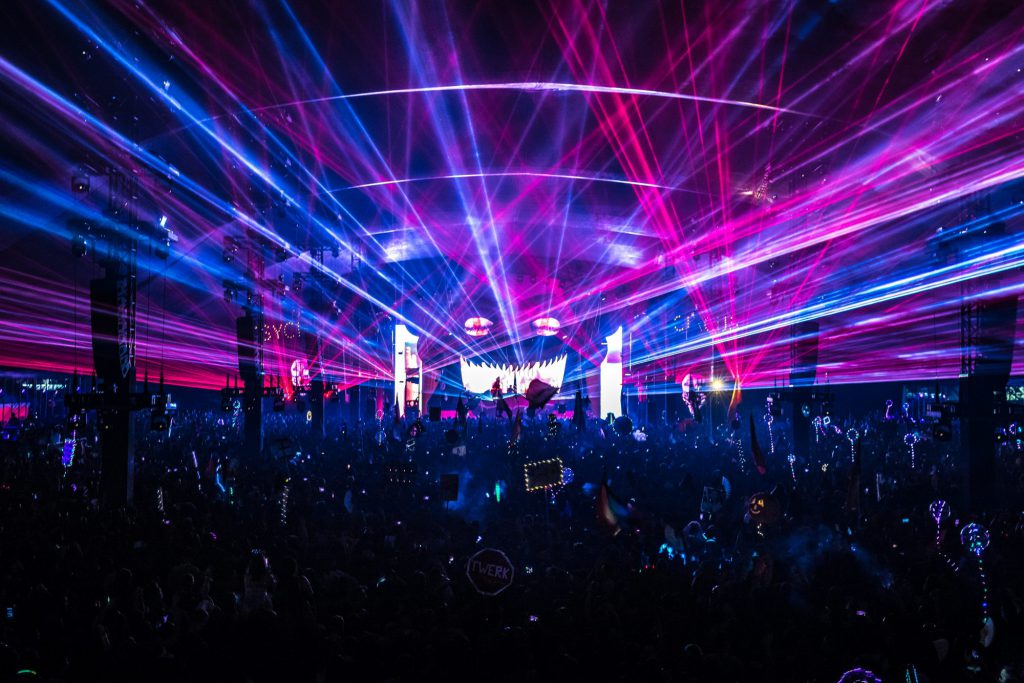 The night took a drastic energetic turn when we headed back to Cannibals' Tea Party for Claude VonStroke and Green Velvet.
Having spent the majority of the day getting our melodic house on, it was time to bump up the energy level, and there was no better way to do that than to head back to the factory 93 takeover for Claude VonStroke, who had been added to the lineup not long before, much to my delight. Having just seen one of my favorite Claude sets ever at this year's Dirtybird Campout West, I wasn't sure how this one would fare by comparison, but the raucous energy coupled with some deeper cuts made it yet another one of my favorite sets of the weekend.
With just over an hour to go until we had to leave the stage, we enjoyed the first 45 minutes of Green Velvet. He kept the energy high with a mix of cerebral tech house and a number of some of his better-known productions, including his track with Chris Lake, "Deceiver," which is probably one of the biggest tunes of 2018. My only regret is that I couldn't stay for the whole thing, because the biggest set conflict of the night was the end of Saturday, much to my dismay.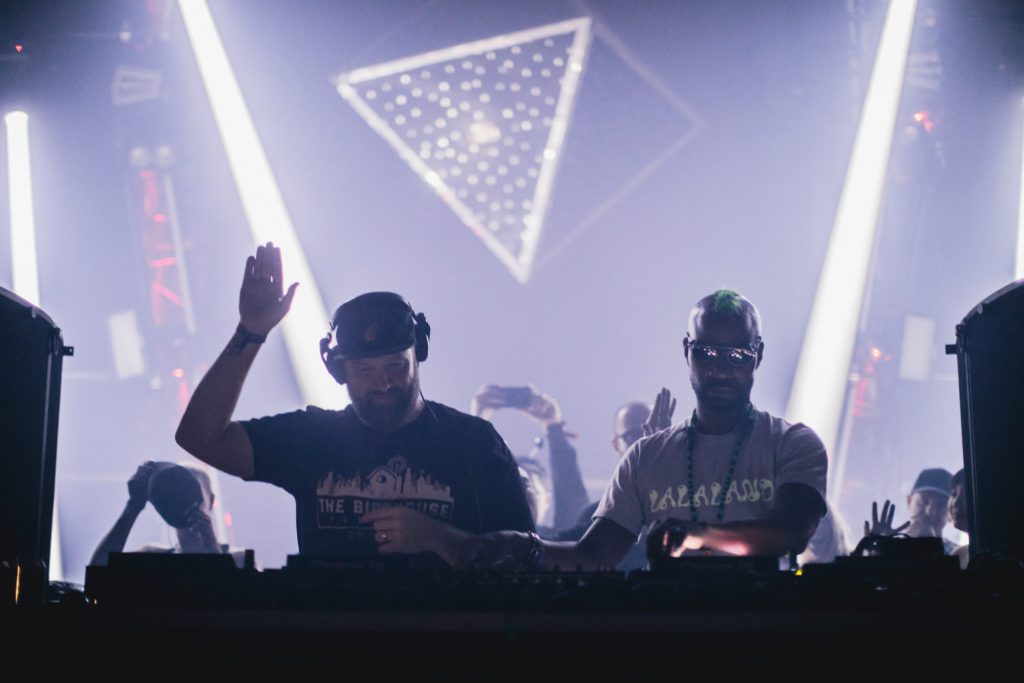 We raced over to the Ghouls' Graveyard for one of the most anticipated sets of the weekend: Eric Prydz.
I'd be a liar if I said I didn't plan my trip to Escape in part to see Eric Prydz, as in all my travels this year, I'd not yet had a chance to see him play. We were treated to a show filled with a lot of what I have to assume was new music, as I didn't hear much in the first hour or so that I recognized aside from "Rebel XX" and a handful of others. By about 75 minutes in, we were looking for something a little higher energy, so we headed back to the Cannibals' Tea Party to finish our night with Get Real.
We arrived just in time to hear Green Velvet drop "Voicemail," which is probably one of my all-time favorites, and the massive crowd was alive with kinetic energy from one side of the tent to the other. With under an hour until the end of the festival, we danced our hearts out with the Dirtybird fam until there was no more dancing to be done. It made for a perfect ending to the festival.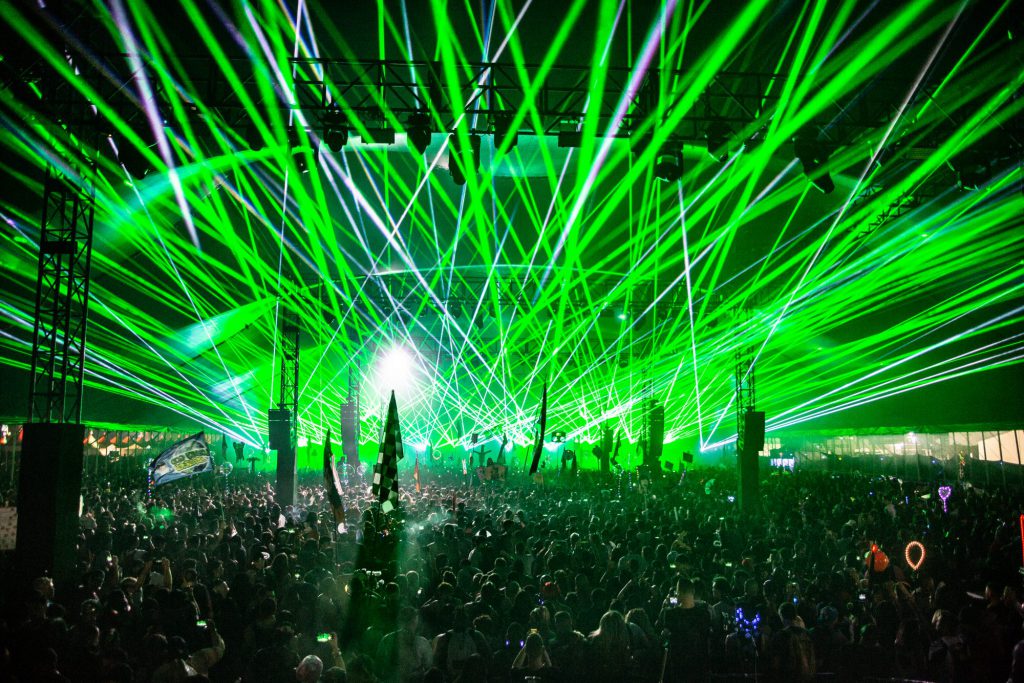 Between the unreal sets, the dazzling visual spectacle, and the spooky twists and turns, Escape: Psycho Circus lives up to the hype.
With a masterfully curated lineup, careful attention to detail, and flawlessly executed logistics, Insomniac Events has long had a reputation for putting on some of the best events in the business, and Escape: Psycho Circus was no exception. And while you may have many choices as far as where to spend your Halloween, one thing is for certain–if Escape is one of the options, you're a fool if you miss it.
---
Connect with Escape: Psycho Circus on Social Media: