Stephanie Piedrahita chats about her first moments in the electronic music scene, her favorite artists, and more!
---
Name: Stephanie Piedrahita
Rave Name: Pebbles
Age: 23
Hometown: Miami, Florida
Current City: Valencia, Spain
Occupation: Masters Student [Global Entertainment and Music Business – Live Events] at Berklee College of Music (Valencia, Spain Campus) | Manager of Black V Neck | Former Promotions/Marketing Manager at Revolution 93.5FM | Former Creative Director at Raver Magazine
Facebook: Stephanie Piedrahita
Twitter: @m00dtune
Instagram: @stephanief00
---
What was your first electronic music event?
I guess you could say my first electronic music concert would be Kaskade in 2012 when he headlined alongside B.O.B and Cobra Starship for the Florida International University Homecoming Concert.
What/who influenced you to attend your first event?
Homecoming at FIU is the biggest event of the year so I decided to attend even though I didn't really know who Kaskade was. It was a pretty big deal for me because that's when I got more interested in attending concerts and live events instead of being satisfied with my musical digital crate digging.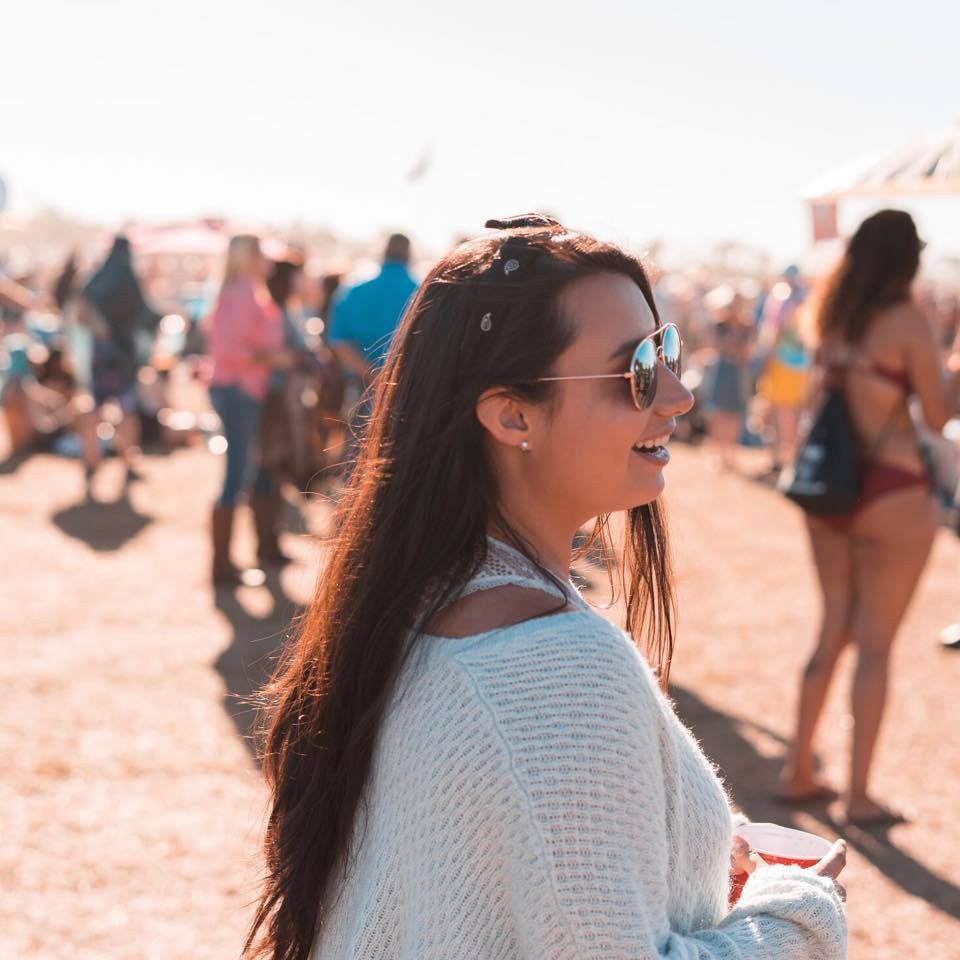 What is one moment from an event that was special and why?
This past year at Dirtybird Campout East, my best friend and I met up with a group of people we've only met once before because they had two extra spots on their RV and they seemed reliable enough. That weekend turned out to be the best weekend of my life because I'm now best friends with that whole campsite (shout out to the Dark Shades crew/ OG Shuffle Squad) and met my adorable rave bae. I went as media as well so I had to ability to see the behind the scenes aspects for a smaller scale festival, which just made me want to pursue a career in event production more…especially after seeing the legendary bounce back Dirtybird had first hand.
What is your favorite festival or event?
It's a definite tie between Electric Forest and Dirtybird Campout. Both are perfect in different ways, one being a massive event and the other being a more intimate environment. Any festival that doesn't look like a blueprint to me ranks super high on my list.
What is your favorite electronic song and why?
This is such an impossible question! I think we all have favorites when we're in different types of moods and settings. My all-time favorite tracks (in no particular order) are "Red Alert" by Basement Jaxx, Lane 8's "No Captain", San Holo's "They Just Haven't Seen It" (feat. the Nicholas) and Seven Lions' "Where I Won't Be Found".
Who are your favorite artists?
Right now I've been listening to a lot of Chris Lake, MK, really anyone on Dirtybird's roster, Drumcode artists in preparation for ADE, and more underground artists like AWAY and my own artists Black V Neck.
What are your favorite genres?
House music! I dabble in tech house, future bass, trap, and trance though. I enjoy discovering new music without worrying too much if it fits in a pre-determined bubble though.
What do you feel your "Identity" is in the electronic music community?
I am but a humble servant. 🙂 Kidding, but I do consider myself a fan first who just wants to give back to a community that has given me opportunities, memories and friendships I'm truly grateful for. I'm definitely a problem solver so I've learned to juggle many roles: graphic designer, photographer/videographer, digital media manager, public relations, artist management, editor, event production…the list goes on. I just hope to be someone people could rely on.
Is there anything else you would like to add about yourself for the readers?
If you're scared to do something, do it anyways. My biggest obstacle has always been myself but I found that just "going for it" helps me realize my potential and current abilities.
---
Do you want to be featured in our weekly ID Spotlight segment? Click HERE for the submission form!