Dirtybird Campout East Coast nearly turned into the saddest event of 2018, but due to the ceaseless dedication of the on-site staff, instead, we got a festival experience we will never forget.
---
If you haven't heard about what happened last weekend at Dirtybird Campout East Coast, you've either been living under a rock or you're probably just not that into tech house. But for those of us who made the trek down to St. Cloud, Florida, last weekend was one that we will never, ever forget.
I'm set to write a review about this experience, but reviewing it is difficult given that what ultimately happened was by no means what the organizers intended. So instead, I'll give you my perspective on how it all went down, how it could be better in the future, and if you ought to consider going to Dirtybird Campout East when it returns to Florida in 2019.
When we pulled into the venue on Thursday right as the gates opened, it was clear that this was no West Coast Campout.
As we got out of the car to walk out of the box office, I was immediately struck by two things: the scenery was absolutely beautiful, and there were definitely some seriously vicious fire ants in this place. My sandals were apparently a miscalculation of epic proportions, but I quickly forgot about it as I watched a flock of egrets soar over a pond.
We quickly acquired our tickets and made our way to the campground, which had little shade but was wonderfully intimate and so close to the venue that I could actually see the DanceSafe booth from my camp chair. As we set up camp, we met our neighbors, all of whom were fantastic and beyond excited to start getting down to some music.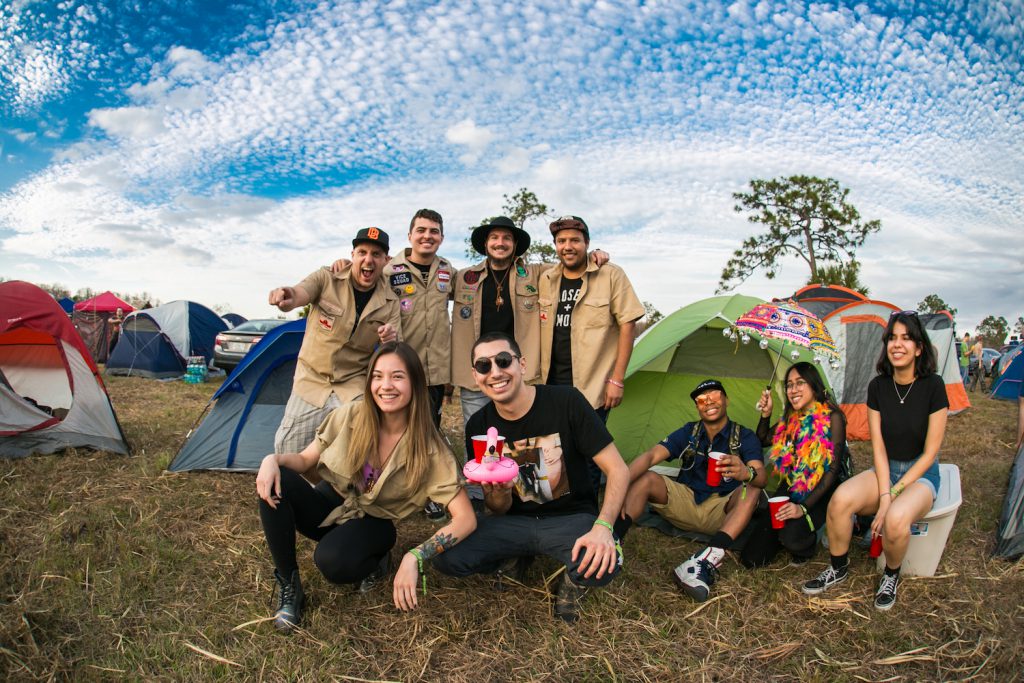 We got to the campground, set up our space, and got ready for what was about to be a party so lit that the cops got involved. Literally.
Head Counselor Claude VonStroke started us out with a lovely deep set that set a fairly chill tone to start the party off before Seth Troxler turned the sound up to 11 and I think basically broke the knob off. The party was wild, and there were far more people than I expected dancing, checking out the bar, and grabbing their color team bandanas (and free RedBulls!) at Games HQ, which was located next to the Bass Lodge stage.
Having gotten our first glimpse of the campgrounds, it was clear that this was the next phase of evolution of Dirtybird Campout. With several dedicated areas for activities spread out across the grounds and two stages with absolutely killer sound, it was everything I've always loved about this festival, but even better than before. It was a fantastic beginning to what looked like it was about to be the best edition yet.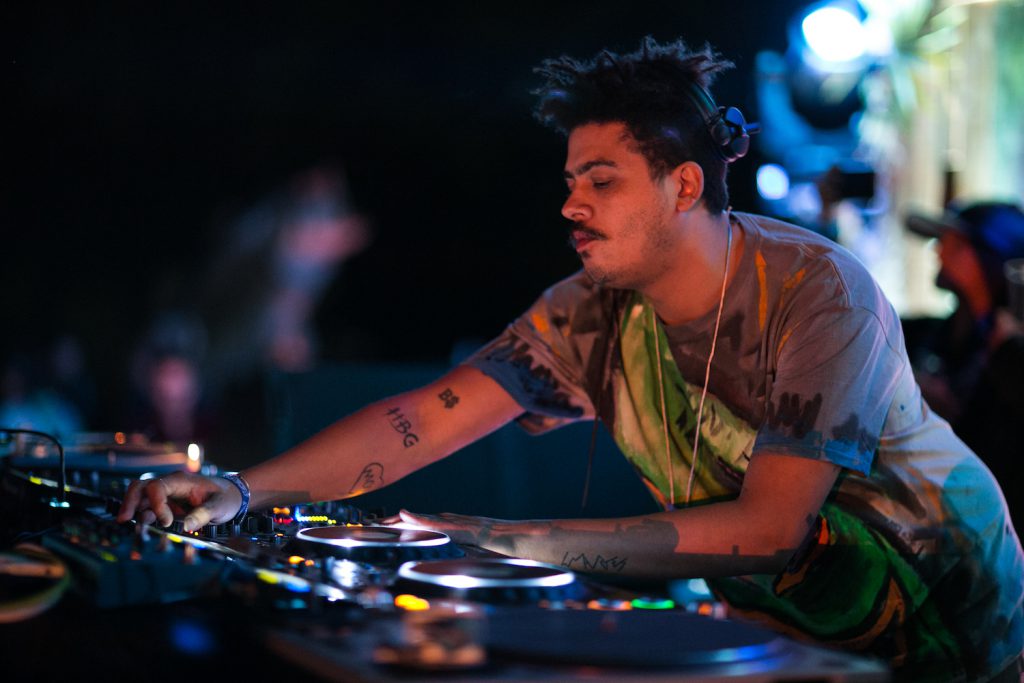 When we woke up on Friday morning, we were all amped to see the day's incredible lineup of artists, from Get Real to Prok & Fitch to DJ Tennis and so many more, we couldn't even wrap our brains around it.
As the day progressed, however, it started to become clear that something was horribly, horribly wrong. Our campmate Chris popped over to check out the Dirtybird Campout East Opening Ceremony and when he returned, he said that nothing seemed to be going as planned. And then when 1:30 rolled around and Deron Delgado was supposed to take the decks at The Birdhouse, there was no sound emanating from the venue – and we started to wonder what was up.
With little information available through the middle of the day, speculation ran rampant, and when the news came via the event's Twitter that campers were no longer being let into the venue, the entire campground started buzzing. After I received a text from a friend in San Francisco about the event's permit being pulled, it seemed to confirm what we had all feared – the event was shut down, and it was unlikely that we would get any music that day at all, and maybe not for the rest of the weekend.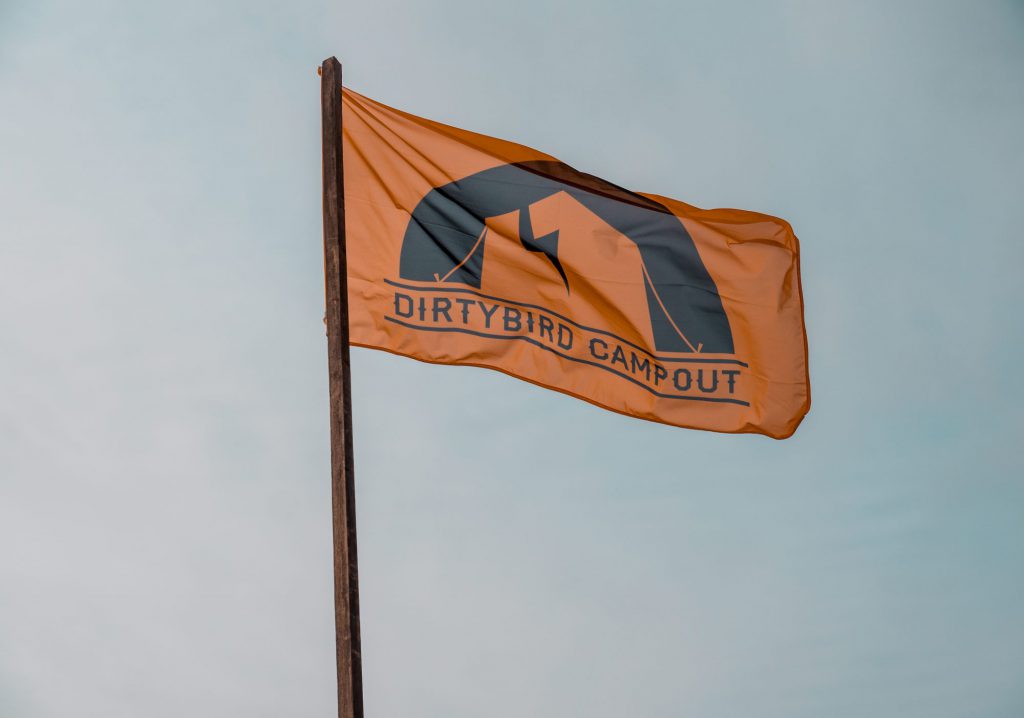 It's not like the event wasn't going on at all – there were still activities happening inside, and although it wasn't exactly what we'd had planned, the Dirtybird fam made the best of things.
As we waited, hoping against hope that we would get some good news, it seemed obvious that the best choice for the evening was to wander into the venue itself to see what was going on. With no music to speak of, the entire event had turned into… well, basically a summer camp! Three-legged races, archery, Bunkhouse activities, and plenty more filled in the schedule, and I would guess that more than a few people found themselves involved with activities they might not otherwise have experienced that day, myself included.
As night fell, Claude informed us that there would be no music on Friday, and I'd be a liar if I said that there wasn't a wave of sadness that went through the whole crowd upon hearing that news. But just as quickly came a startling jolt of positivity – we were going to make the best of it, and we were going to play games with the best of them. And you know what? I'll be damned if it didn't make for one of the most wonderful days of a festival I've ever experienced, even without the music. Call me crazy if you want, but it's true.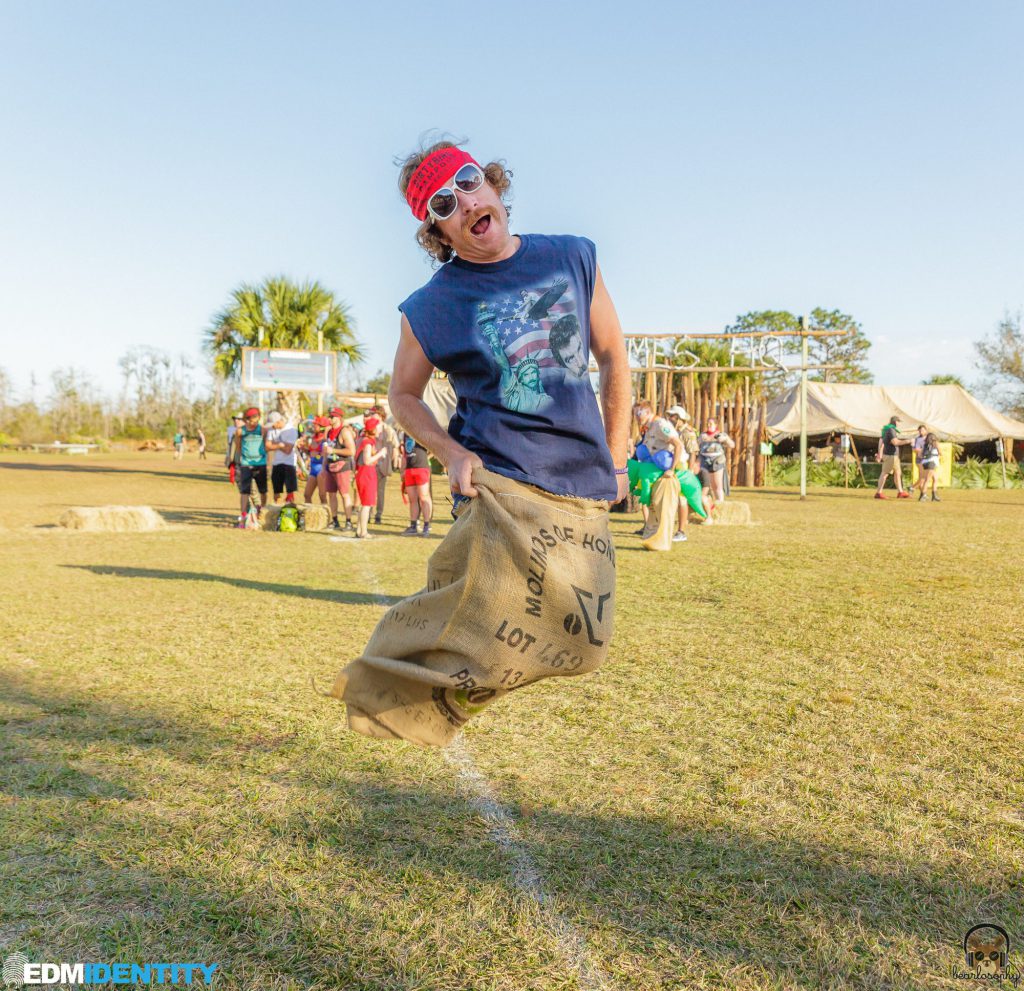 As I wandered around the empty stages, I marveled at the attention to detail that had been put into the whole production at Dirtybird Campout East.
Gone were the relatively minimalist production values of the first Campout I'd attended, and in their place were dazzling, brilliant lights of every color saturation you can possibly imagine, lighting up The Birdhouse and casting shadows over the abandoned dancefloor. Even the palm trees were lit up in a vast array of colors, making the whole place look like a high-end resort instead of a summer camp.
Even the ancillary areas, like the SuperB Owl bar, had been flawlessly executed, all the way down to the gingham and burlap pennant flags cheerfully adorning the rafters and the old-timey sports memorabilia that graced the walls. The sports field had an abundance of hay bales placed around the perimeter for seating, and sets of bags were strewn from one end of the venue to the other for casual pickup games like you had in college.
They'd thought of everything – except, it seems, for the matter of that pesky Thursday night permit.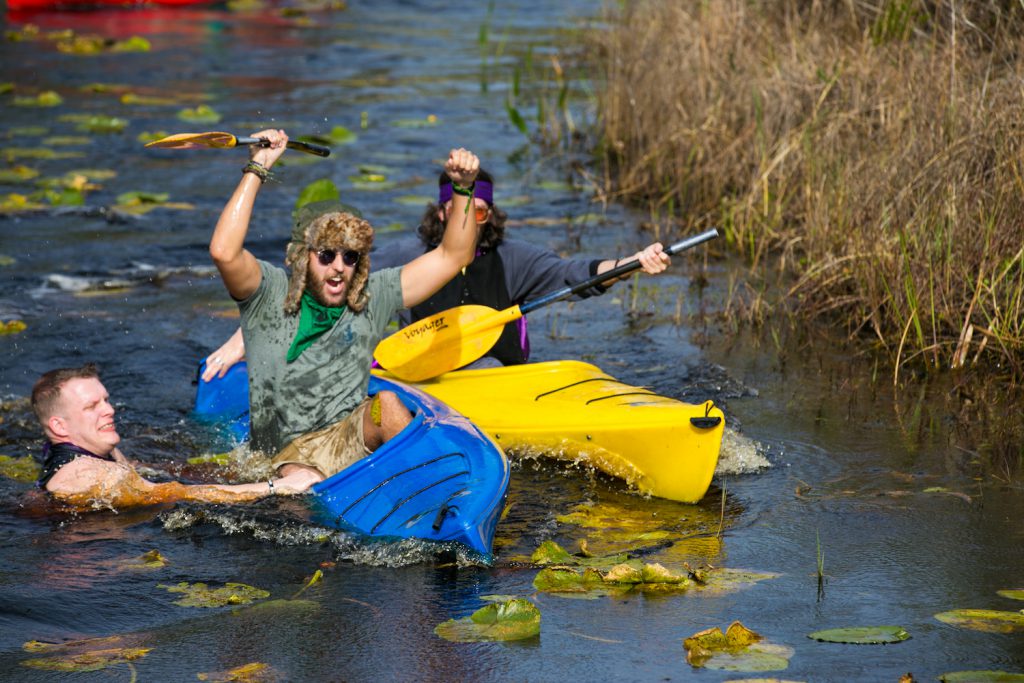 Now, I'm not here to cast any stones. Mistakes happen, and although it was a huge bummer to miss out on Friday's lineup, the experience we got in its place at Dirtybird Campout East was something that I doubt will ever be replicated.
As we made our way over to The Bunkhouse for some late night programming, we arrived just in time to hear possibly one of the weirder things that I've ever heard over an official channel at a Campout – "Who's ready for late night drunk soccer?"
This would turn out to be one of the best things I could have possibly borne witness to, because in addition to being a pretty gnarly pickup game in its own right (seriously, those Brazilians were some incredible soccer players), Claude VonStroke himself took the field, drink in hand and raccoon hat on head, and played goalie for the first match. With a running, soccer-on-TV-esque commentary by probably one of the funniest people in history to ever be given a megaphone, we were all laughing so hard we were crying and somehow, we completely forgot about the fact that there was no music.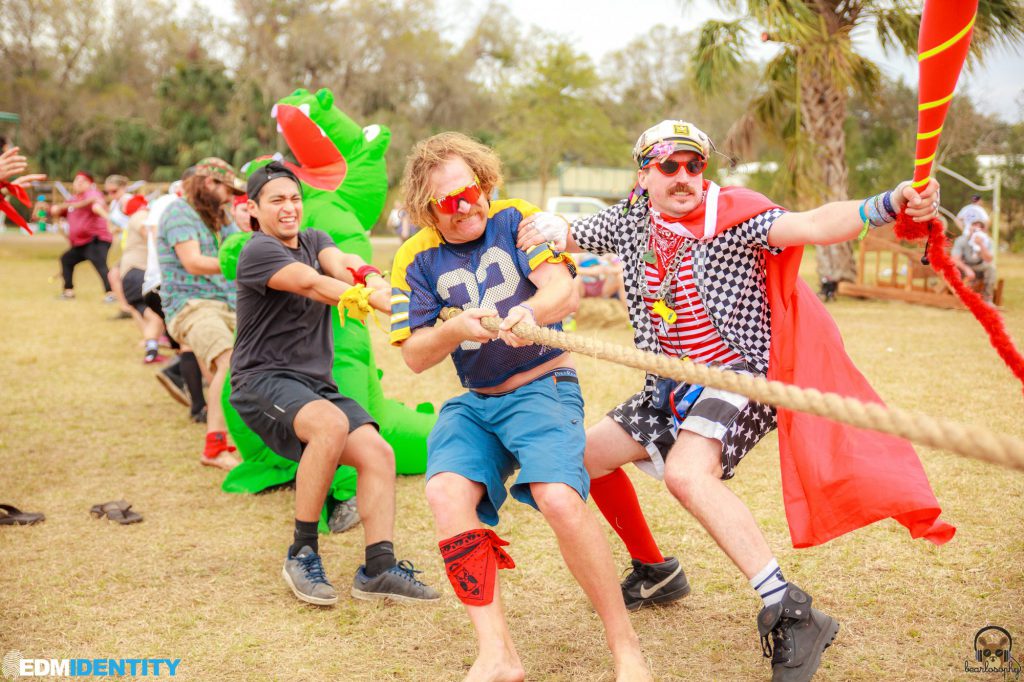 As I watched Claude saunter off the field after his second game, I was struck for just a moment by how this day had to have gone for him and the other people putting the festival together.
With dozens of artists flying in from all over the country, thousands of fans gathered in the campground in anticipation, and a festival that looked like it was on the brink of a permanent shutdown, I have to think that Friday was one of the crappiest days of Barclay Crenshaw's life – and in that moment, my heart broke for him a little bit.
It's easy to take for granted the unique experiences we're afforded by coming to this singularly amazing festival, from playing camp games with artists to Claudespotting in the crowd – but the thing that's easy to overlook is that when the shit hits the fan, he's the guy who has to stand there and be the face of it all. And I have to say, he made it look a lot easier than I'm sure it ultimately was – and he deserves all the credit in the world for that.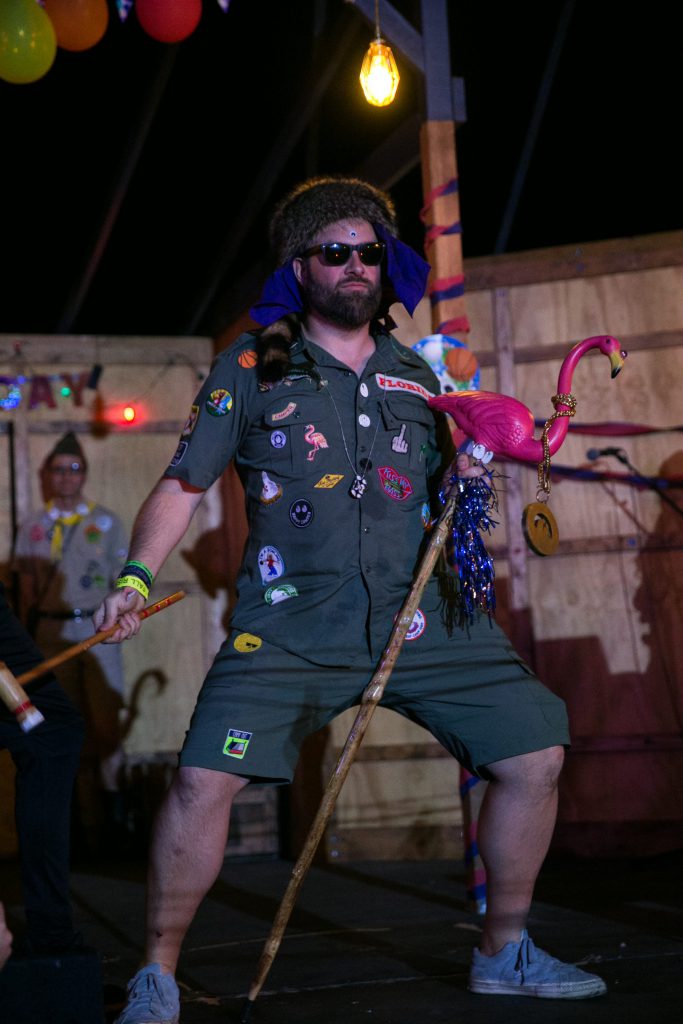 After spending an inordinate amount of time raging out at some renegade sets on Friday night, Saturday morning came bright and early, and the tension in the campground was palpable.
Unable to sit still, we made our way over to the 10am yoga class, which I would never have made it to had I been up all night dancing – and I am so glad we did that because it was absolutely fantastic. With fellow campers in various states of disarray on all sides, we were led through a wonderful flow that kept my mind off things, even if only for a little bit.
As I lay in shavasana, I couldn't help but notice the dozens of buzzards circling overhead, and I had to wonder if this was some kind of an omen. Were we sitting on the precipice of a festival extinction that would bring those vultures to pick our bones clean like the carrion in the venue's boneyard? Thinking that perhaps that would have been too on the nose, we wandered back to the campsite and were offered free swamp tours and zip lining along the way, which was a nice touch given the events of the previous day.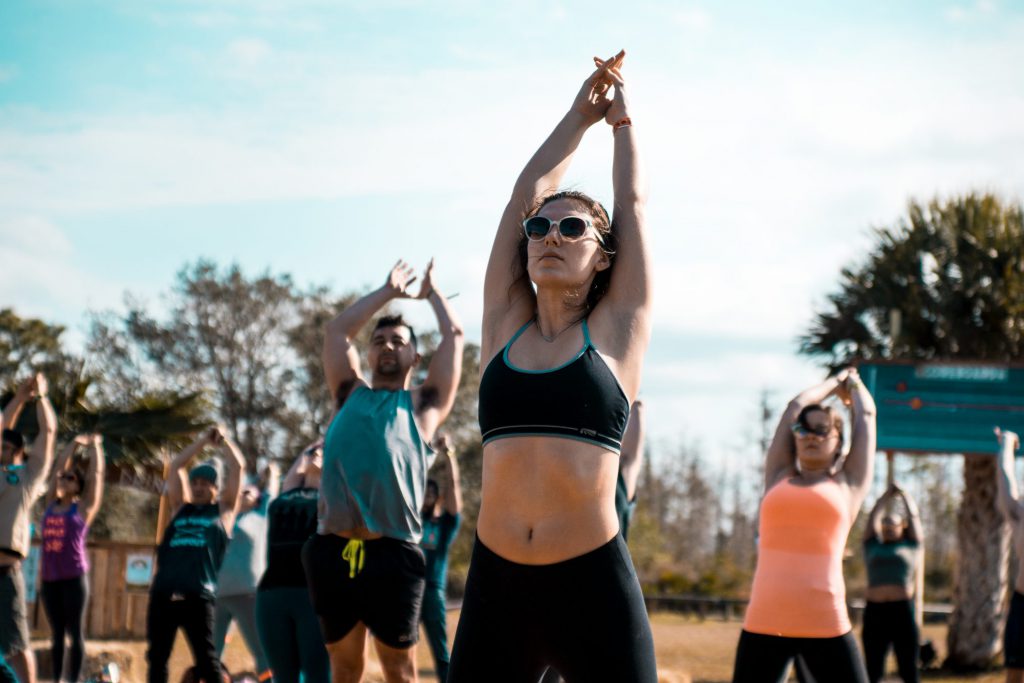 As time passed and we still had no update, I had to think it was a good sign – after all, the last thing the festival organizers wanted was a bunch of drunk hippies trying to drive down state roads because they didn't inform us soon enough.
When I got back to home base, I sat down in a chair and heard what I thought was an insane story – our neighbor, Joe, had gone to the medical tent early that morning, and the person working told him that Pitbull had called a senator and that the festival was back on. I laughed so hard I had tears rolling down my cheeks, but it didn't stop us from yelling "Thank you, Pitbull!" for the rest of the festival.
And wouldn't you know it – it turned out to be a true story.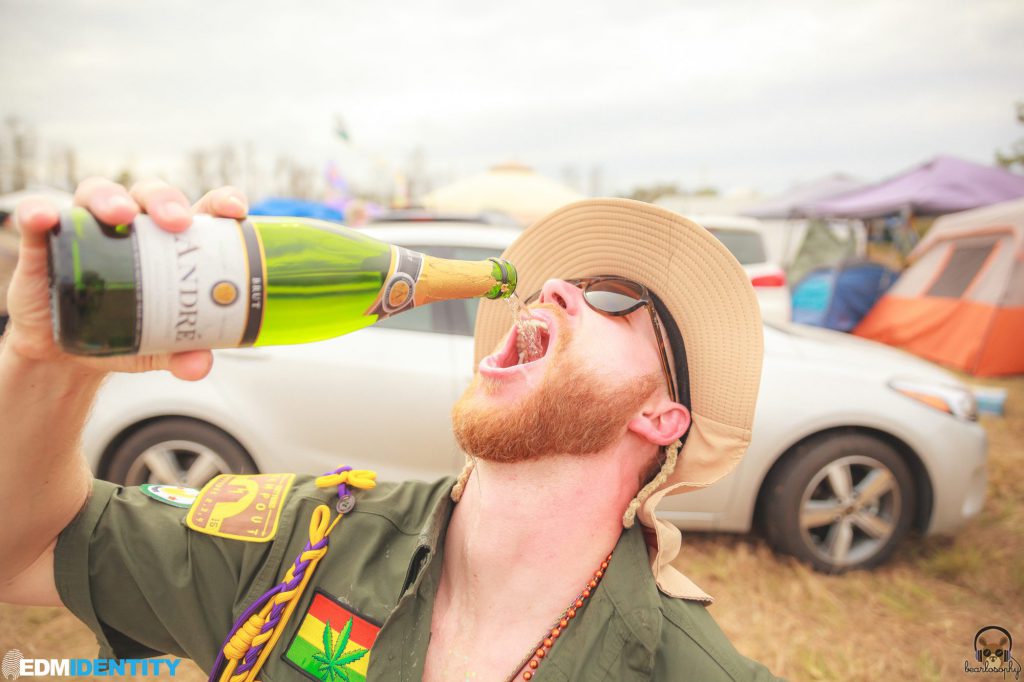 You never really know the strength of your team until everything goes completely awry.
Well, judging by the fact that Dirtybird, the DoLab, and JOOX, along with a team of ardent and vocal supporters, managed to turn what was almost certainly set to be a disaster into an unforgettable festival experience that amazingly did not get canceled, I'd stack them up against any adversary. For her part, the fantastic Aundy Crenshaw was reportedly on the phone all day and night, and still found time to wander the grounds on Friday and interact with campers somehow. It was nothing short of incredible.
As for the fans, all that patience and positivity paid off a thousandfold – not long after I heard that crazy story, a thunderous, visceral cheer rose up through the whole campground – the music was back on! Not long thereafter, Christian Martin took the decks for the very first set on The Birdhouse stage, and in all my years of going to music festivals, I have never seen an opening set so packed with wildly gyrating bodies and expansive, infectious energy as I did at Dirtybird Campout East.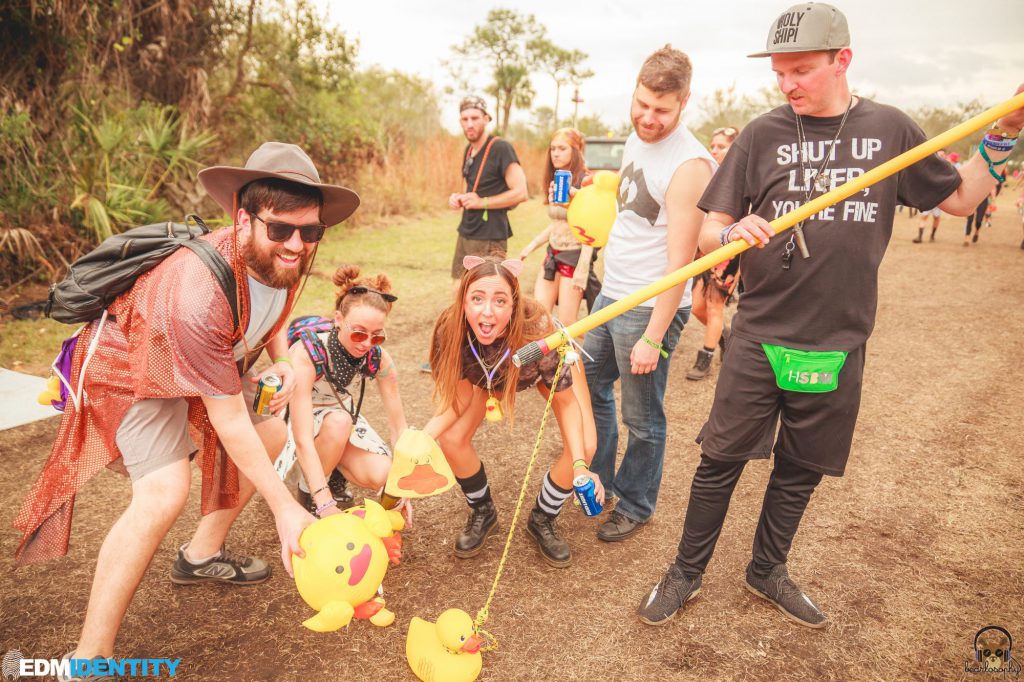 One unfortunate side effect of the shutdown was a shortened timeframe for music during the day, but that had a few side benefits that I would never have experienced had it not been for the changes.
Most of the time, when I go to a music festival, I have a pretty specific idea in mind of what I want to see, and I spend more time than is probably necessary getting my life together at the campsite. Well, with fewer hours to enjoy music and shorter sets from the performers at Dirtybird Campout East, I was incentivized to make the most of every single minute available and dance as long as I could while the stages were still running.
With that in mind, I don't think I saw a performance that wasn't of absolutely superlative quality, and I caught a few artists that I might never otherwise have seen, like Marshall Jefferson and Hector Romero, who I would argue were two of my very favorite sets from the day. We also got a next-level daytime set by DJ Tennis, a fantastic performance filled with quintessential bangers (and a few wicked IDs) by one of my new favorites, Fisher, and a dreamy, pop-dappled confection by MK, highlighted by his amazing track, "17". They exceeded every one of my expectations.
And that's all before Walker & Royce and Claude VonStroke went b2b for an unexpected closer that would have blown the roof off The Birdhouse if the speakers were pointed a different direction. Dropping tracks like VonStroke & Bruno Furlan's "The Book is on the Table" and a VIP edit of "Take Me To Your Leader," they brought the heat for a full hour and closed out Saturday in epic fashion.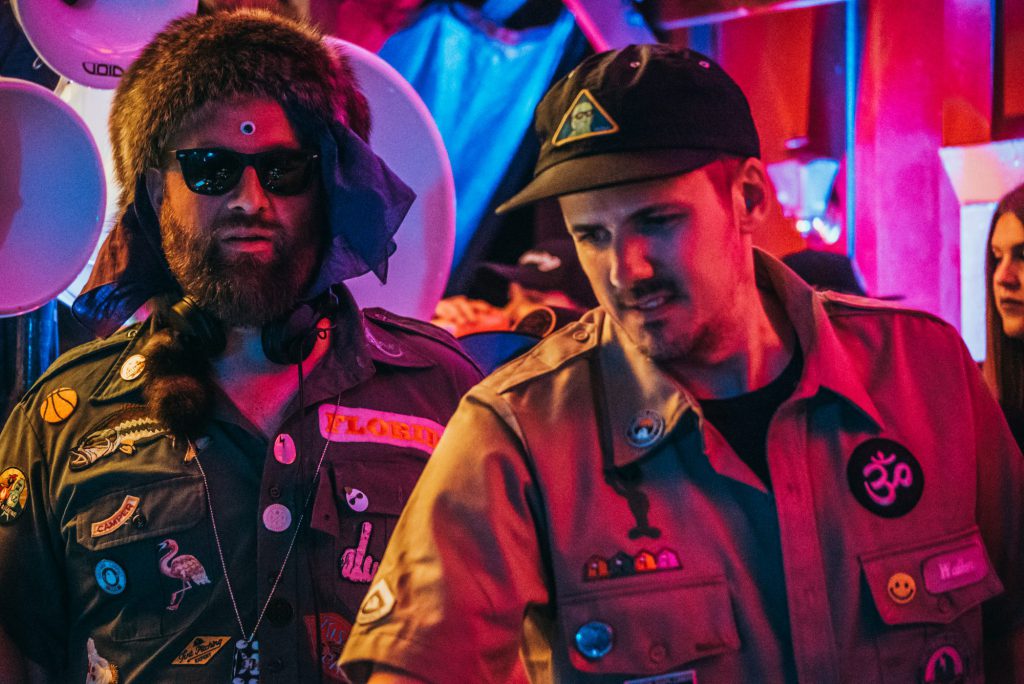 Consistent with the Dirtybird ethos, many of the performers made their way out to the renegade stages and kept the party going long after 10pm, much to the delight of the crowd.
I was continually surprised when we'd walk over to the various campground stages by who it was that popped up there, and although I can't say that I caught every set, we were treated to performances by a variety of artists from Mija to Ciszak to Billy Kenny and so many more.
It's a huge testament to how amazing the Dirtybird family of artists is that they kept things going past curfew, and although this is certainly something that has happened at other Campouts, I don't think it's ever been quite like this (probably in part by a matter of necessity).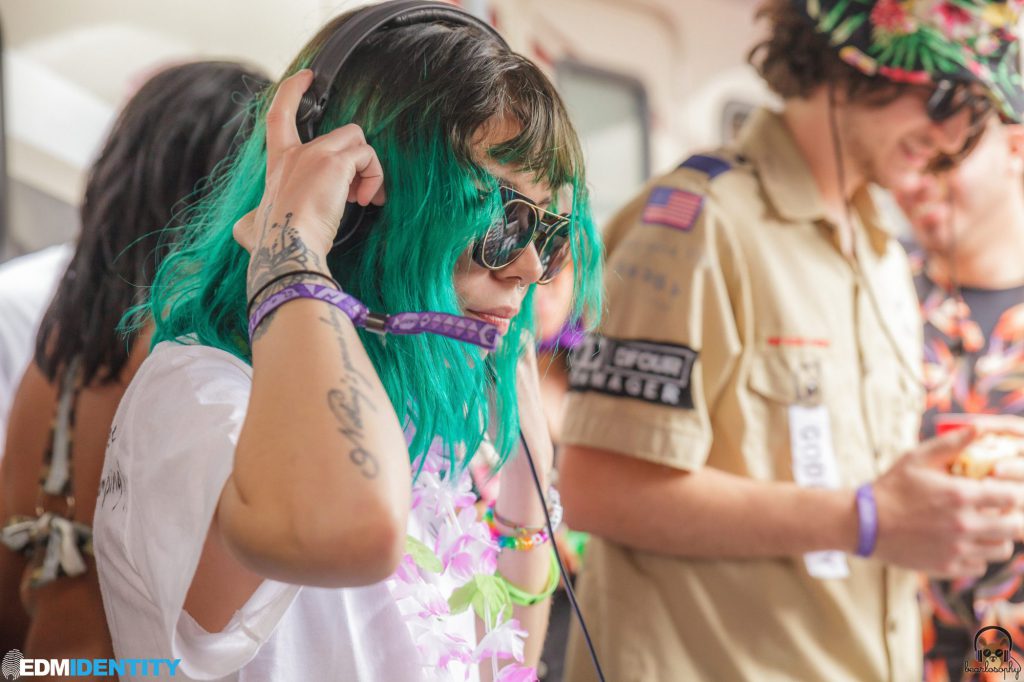 Even though the music ended early, on Sunday, everything started up bright and early at 7 am. I don't know which of you birds made it to the early sets at Dirtybird Campout East, but hats off to you.
The performances that I saw on Sunday were all once again absolutely phenomenal. There were a ton of surprise b2b sets, with both the Brazil Team and Crew Love showcases turning into b2b's. Even DJ Tree (a.k.a. Barclay Crenshaw's drum & bass alias) and Justin Martin played a surprise b2b drum & bass set at noon, much to the delight of campers.
I was thrilled (and a bit surprised) that ZDS was rescheduled from Friday to Sunday – given that he was one of the performers that I rarely have a chance to see in the States, I was certain we would miss him, and it was great that we didn't. And we were treated to a great set by Justin Jay with pal Benny Bridges rocking out on guitar for the back half, setting up an irresistible groove that would carry us through the evening.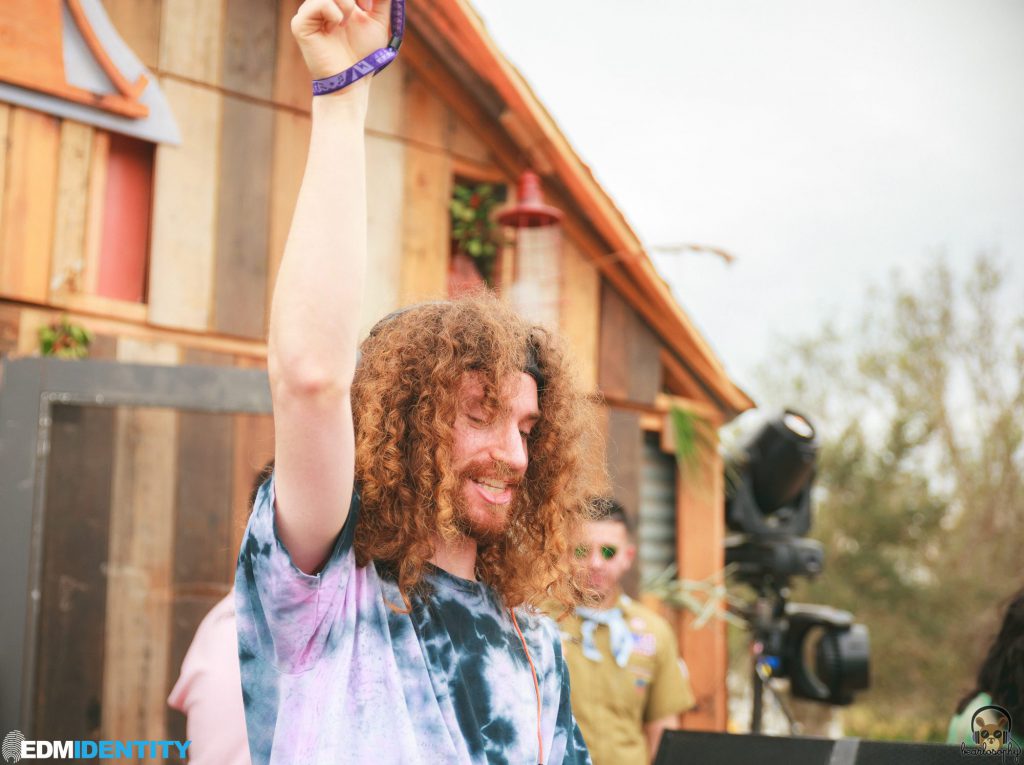 But the real party started when Shiba San took the stage, and it never stopped after that. Sliding in after a slightly extended and super technical set by J.Phlip, the entire place dropped two octaves as soon as he took the decks. The highlight came at the very end when he played "Okay" and scratched over it for a mind-blowing finale before Claptone came onstage and performed what was probably one of the best sets of the weekend.
With only two and a half hours left, we got an extended set by Justin Martin, who always brings one of the best to Campout with his uniquely melodic take on tech house. By this point, it was pouring down rain, but you'd never have known it by the crowd assembled. JMart flawlessly blended his music with the atmosphere, playing tunes like RÜFÜS DU SOL's "Innerbloom" and his gorgeous mashup of Four Tet's "Angel Echoes" and Bjork's "Anchor Song." At the end, Claude joined him onstage to go b2b a second time and dropped "The Rain Break" – and the crowd went wild.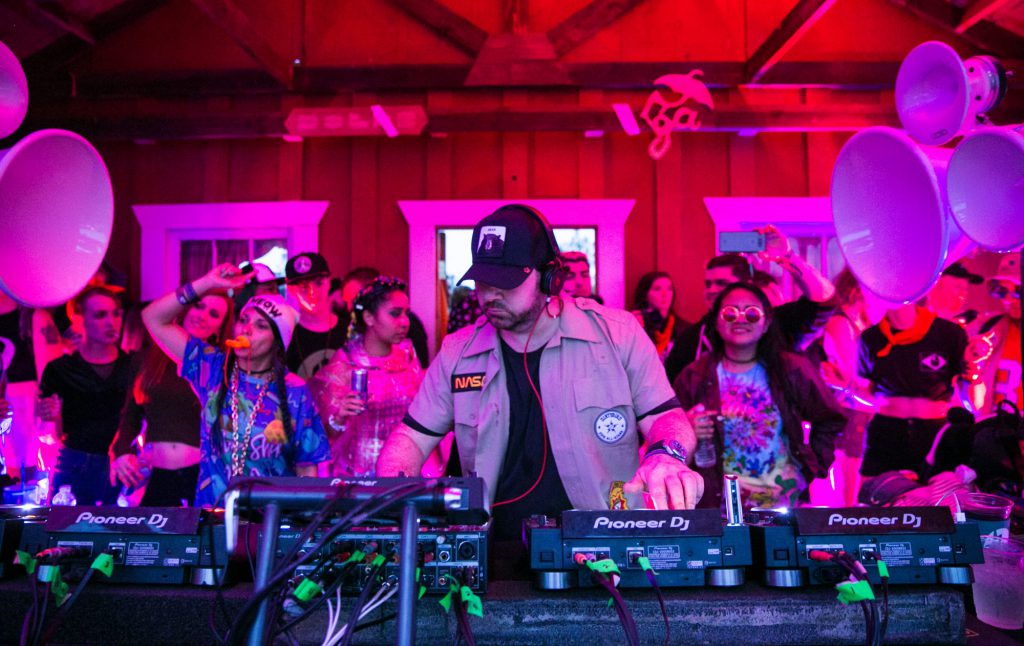 If there was only one real complaint, it was that the whole thing was over too soon – but we all know it wasn't planned that way.
As the artists began the Family Set, there was an unusually large number of DJs still standing given the early hour, probably setting a record at Dirtybird Campout East. Miraculously, they made it through everyone. The Family Set is always one of the highlights of the festival, and with fantastic tracks being dropped left and right, from Justin Jay's edit of "Take Me To Your Leader" to a remix of "We Like to Party" from Ciszak and an absolutely next-level drum & bass rework of Henry Krinkle's "Stay" from Justin Martin, this one was no exception.
The night closed out with some heartfelt words from Claude VonStroke, including a thank you to Ketan Rahangdale, the CEO of JOOX and arguably one of the people who was most instrumental in saving Dirtybird Campout East. And then he thanked the fans, and said something that I think probably sums up the festival better than I ever could – "Everybody was a real G for this one, I gotta say."
Maybe it wasn't the Campout we were expecting – but the incredible thing is that somehow, it didn't seem to matter. And if I'd known this was what I was in for, I'd still do it all over again.
Were there things that could have been better about Dirtybird Campout East? Of course, and failing to acknowledge that wouldn't be exactly accurate. The fact of the matter is, that permit was pulled on Friday, significantly shortening the amount of music all weekend long, and that was a major bummer.
But the truth is, music or no music, Dirtybird Campout East still managed to be an incredible experience. Between the madness on Friday and the shortened timeframe on Saturday and Sunday, everyone involved worked even harder to make sure that it was a success. They say you don't know what you've got until it's gone, and never was that more apparent than in this moment.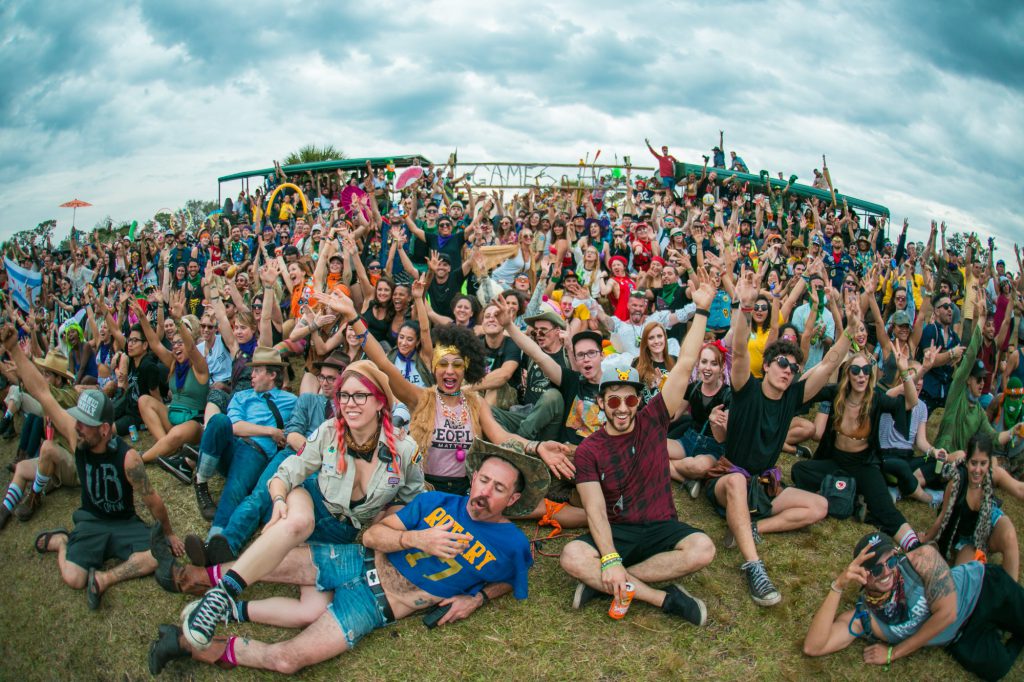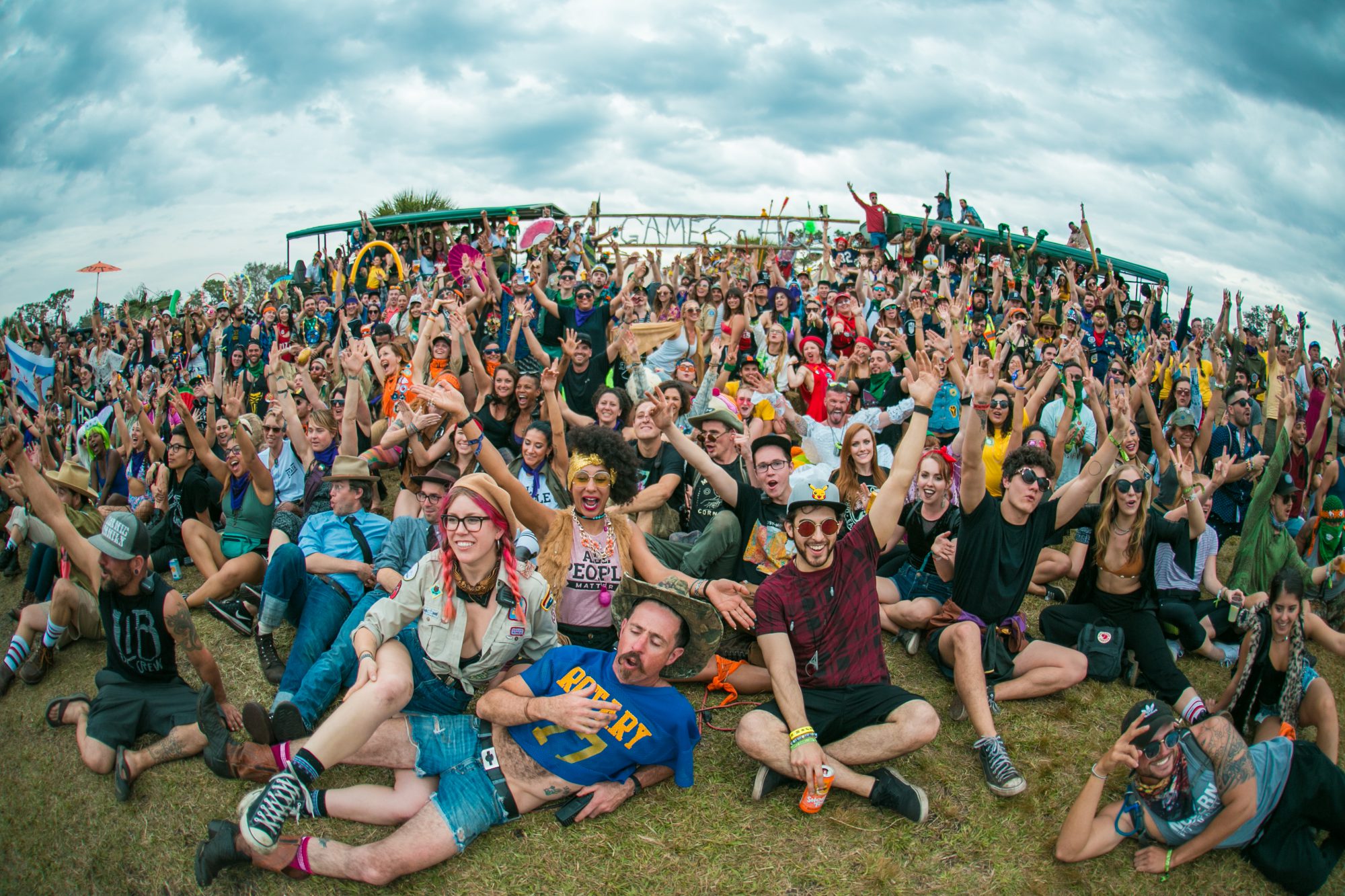 So what can Dirtybird and the DoLab do to make Dirtybird Campout East a better experience in the future?
Obviously, the first question is one of venue. I won't speculate as to whether everything would have been fine and dandy if the permit for Thursday night had been properly secured, or if there would still have been issues with the officials of Osceola County regardless. That's something only Dirtybird and DoLab have insight into, and I'm sure that a good bit of 2018 will be dedicated to ensuring that they figure out the best possible solution for next year's event.
Permit issues aside, the venue was lovely, intimate, and the wildlife scattering the grounds was a great touch. My only two complaints would be the preponderance of fire ants and the sulphur-meets-rotten-egg onsite water, both of which are Central Florida staples, so it might be a bit tough to avoid that without moving significantly – and moving north means moving to later in the season, and that starts becoming a tough sell with Ultra in March. I'll leave that one to the experts.
Aside from that, as we posted yesterday, Dirtybird and the DoLab provided us a full explanation for the shutdown, an apology, and discounts for next year's edition of Dirtybird Campout East Coast – which is the best that I think we could have asked for, given the circumstances. And although I'm sure there are still people who aren't happy with the resolution, that level of transparency isn't something you see every day, and it gives me confidence that 2019 will be the year they get it right.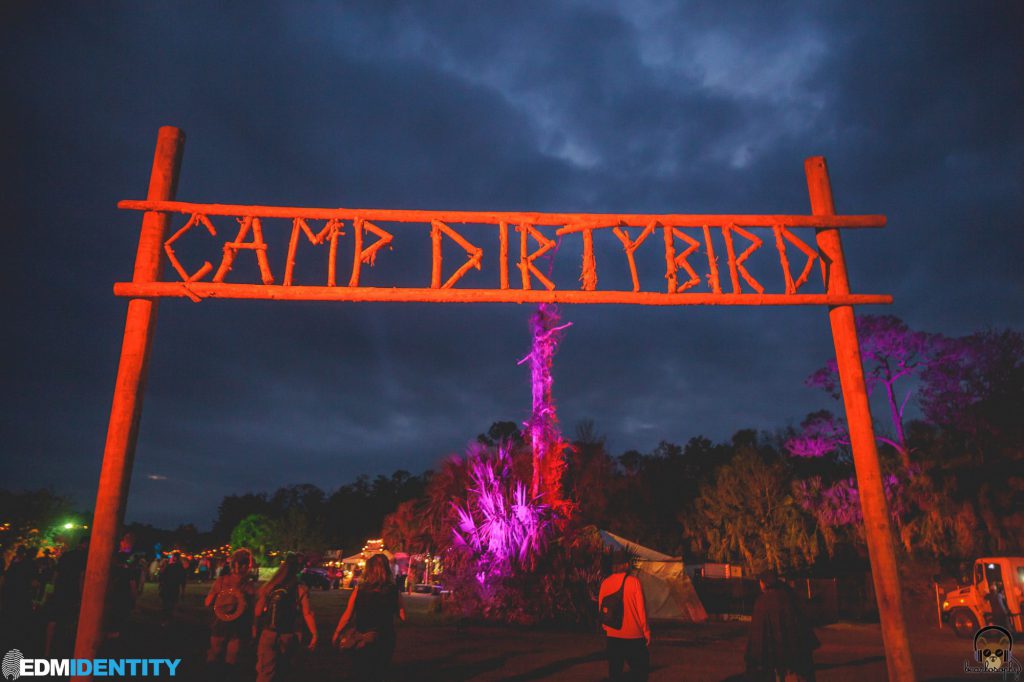 Should you spend your hard-earned cash to attend Dirtybird Campout East in 2019 given what happened this year?
I think so, and I'll tell you why – shutdown or no shutdown, I have never seen a group of individuals work harder to get something back on the rails and make sure that their fans had the best experience possible in light of the situation. And with that kind of dedication to the festival experience and the love of music, you know that you're in the right hands.
As Claude VonStroke said, "You can take our speakers and you can take our permit and you can even put us in jail but you can never take our spirit." And that is why you will see me in Florida for Dirtybird Campout East Coast 2019.
---
Connect with Dirtybird Campout on Social Media:
Website | Facebook | Twitter | Instagram | SoundCloud