Welcome to The Landing, EDM Identity's weekly post highlighting fresh tracks you may have missed!
---
In each edition of The Landing, we intend to highlight some tracks that have landed in our inbox each week that you may have missed, or perhaps shine a light on new music for you to fall in love with.
This week's edition of The Landing features fresh tracks from Black Tiger Sex Machine & YOOKiE, Alex Di Stefano, SampliFire, Qrion, Kinnerman, Tinlicker, and more!
Listen to some of our favorite tunes from this week and past editions in our playlist and read on for more details on the tunes added below!
The Landing || Volume 086
---

We're living in "Mysterious Times" with Bobina & Christina Novelli!
Covering a classic tune is not easy. Sash!'s "Mysterious Times" ft. Tine Cousins represents a classic of an era lost; 1998 represent! The original peaked at #2 in the UK Singles chart and #2 in the Eurochart Top 100. The bar clearly was set high for Bobina and Christina Novelli. Modern production elements permeate the production, but all those classic melodies ring true even today. Christina's vocals also exude something sweet, and yet there is a touch of melancholy in them. Unfortunately, I hear a touch of auto-tune that takes from her vocals in certain moments.
Still, this tune sounds like it will be a blast to play out. There's something stunning in the mood and what Bobina brings to the classic tune. The rock breakdown in the middle of the track is a fun surprise, so give the track a full listen and rewind the clock to the era of millennial energy! – MyStro
Stream "Mysterious Times" on YouTube and check out the lyric video!

---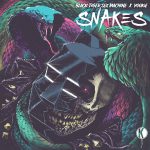 Black Tiger Sex Machine and YOOKiE drop the spine-chilling track "Snakes."
Ahead of Halloween, BTSM and YOOKiE bring us the spooky release "Snakes".  After the successful collaboration released last year, "Lions," "Snakes" is a perfect heavy-duty follow-up. This release was eagerly anticipated by fans after BTSM debuted this during their Lost Lands 2018 set. With a filthy industrial resonance, this track holds true to the darkish, bass-fueled sound that BTSM embraces. This track is a lot of fun, contains some exciting elements. Check it out! – Bill
Stream "Snakes" on SoundCloud or Spotify.
---

Hybrid Minds pull us in closer with "Supernova".
English Electronic duo Hybrid Minds recently released an absolutely beautiful liquid Drum and Bass track with vocals by Catching Cairo, which is the icing on this cake. The duo focuses on melody, rhythm, and energy which you can definitely hear and feel in "Supernova." Liquid Drum and Bass has a very special place in my heart and Hybrid Minds has always been a favorite of mine. From their singles to their full mixes, their music gets me feeling a certain way and takes me to my happy place. "Supernova" is a repeat-worthy track! – Julia
Stream "Supernova" on Spotify!
---
Alex Di Stefano gets the blood pumping with tech trance behemoth "Fast Forward."
Out now on VII, Alex Di Stefano reminds us why he is the master of everything dark, gritty, and deliciously fast-paced. The perfect offering for the witching hour, "Fast Forward" drips in the essence of the underground. As we romp on the dancefloor with our fellow creatures of the night I envision a full-out sensory overload. Our eyes will be kidnapped by the sheer madness of the strobe while our ears are captured by the driving rhythm that unleashes the demons that lie in wait deep within our souls. It has been proven time and time again: when it comes to massive production ability, Alex Di Stefano never disappoints. So turn up your speakers to maximum volume and prepare to get blow away! – Maria
Stream "Fast Forward" on Spotify.
---

SampliFire delivers pure explosive dubstep slaughter with "Mancubus," released on his Mancubus EP.
Released on Never Say Die: Black Label, SampliFire stirs up a murderous brew of squanchy bass slurps and vicious stomps in "Mancubus," the title track of his recently-dropped Mancubus EP. As I've always said, you can always rely on NSD and its sublabel to bring the heat, and this big one from SampliFire is proof of that.
Bringing a new level of fiery aggression and scrap metal filth, SampliFire goes all in with this track. Holding nothing back, he pieces together headknocking bass shrapnel with fierce punches, creating an absolutely insane tune. The three remaining tracks on Mancubus bring just as much firepower, and if you're a headbanging fiend, you're definitely going to want to check them out! – Jayce
Download or stream "Mancubus" and the entire Mancubus EP on your favorite platform!
---

Of The Trees graces us with some low-down weird wubs and hip-hop influences with "Everglade March."
Having collaborated with the likes of experimental bass brothers Yheti and Toadface, Of The Trees has claimed a name for himself in the wide and wonderful world of freeform wobbles. He recently released his Harvest EP, and already it's one of the slickest collections I've heard this year. "Everglade March" takes the cake for the wildest tune on the EP, and if you love bass even the slightest bit, you're going to want to check this one out.
There are some tracks that literally take my breath away because of how good they are and how hard they hit, and "Everglade March" is one of them. There are absolutely no words that can do this track justice, so you're just going to have to listen to it yourself, but make sure to check out the entire Harvest EP! – Jayce
Download or stream "Everglade March" and the entire Harvest EP on your favorite platform!
---

Crankdat & Tisoki bring the energy with "Wobble"!
Both Crankdat and Tisoki have made a name for themselves for having a certain energy behind their tracks. On their collaboration for Monstercat, they bring this exact energy and then some! "Wobble" is hype from the moment you turn it on and it doesn't let up until the very last seconds of the song. This is guaranteed to be one of those tracks played out at every festival! – James
Download or stream "Wobble" on your favorite platform!
---
Chill out with Qrion on her wavey "IMYSB"!
The queen of laid-back, indie EDM jams, Qrion is back with a fresh cut off her new GAF 2 EP. "IMYSB" builds off of a classic four-to-the-floor beating, layering on new elements as the song progresses. Anchored by a haunting vocal sample and a noodling synth, "IMYSB" feels like a hug to the brain, a perfect break from the stress of everyday life. – Erik
Stream "IMYSB" and the entire GAF 2 EP on SoundCloud!
---

Headbang to Trivecta's newest smash single, "Axis" out on Monstercat.
While I love Trivecta's more melodic dubstep tracks, "Axis" takes us in a new direction with heavier beats and synthy goodness. I love the ominous sounds piquing our interest at the beginning of the track before fading into something more melodic. As the song builds into a dramatic sound of clashing cymbals, it's the two-minute mark where Trivecta lays down major Excision-esque bass headbanger drops. That particular breakdown stunned me the first time I heard it and was extremely memorable. With Trivecta experimenting more with different sounds, I look forward to hearing more of his new "heavier" tracks he has coming soon. – Lisa

Stream "Axis" on SoundCloud!
---

Dabin x Fytch collaborate for an edgy new song called "Altitude."
Since seeing Dabin rock out at EDC Las Vegas, I've become a huge fan of him. Right at the beginning of "Altitude," Dabin's strumming guitar sounds pull me into the song immediately, followed by the gentle tenor of the vocalist, whose voice sounded like the perfect balance of rock and melodic dubstep. The more I listen to this track, I am in awe of all the various hidden sounds in the track. This song encompasses the rock elements of guitars and drums tied in with the glitchy sounds and bass drops of electronic music, all of which makes for an interesting but easy listening song that you can just enjoy its calming atmosphere. – Lisa
Check out "Altitude" on YouTube!
---
Kinnerman injects some old-school vibes to take us to the "Promised Land."
With releases on notable brands like elrow and Glasgow Underground, Kinnerman has been making some serious waves in the dance music scene as of late. His latest offering to the music gods dubbed "Promised Land" blends elements of the old-school rave sound with modern day tech house grooves. Adding in vocal samples that pair perfectly with the wavey retro-synth, you'll be seeing stars when you hear this tune on the dancefloor this fall and winter. – Grant
"This track came about so fast to me – well, to be honest, the actual melody I wrote last year when my manager was pushing me for lots of new material but I forgot about it, then I came back to it a few months ago and the track was produced in a couple of hours. It happened so fast and naturally, but I couldn't stop playing it over and over again, every producer has one of those magic days where anything you do just works perfectly and that was one of those days! Everywhere I play it the crowd goes crazy!" – Kinnerman
Download the track on Beatport or stream it on SoundCloud!
---

Tinlicker fills us up with a delicious remix of Lane 8's "Clarify."
The remixes for Lane 8's Little By Little just keep coming, and the latest is this gorgeous rework of "Clarify" by Tinlicker. Taking one of the most deeply emotive tracks on the entire album and giving it an atmospheric twist, Tinlicker's version is in constant motion, like grains of sand in an hourglass. Listen to it, and you can feel the wind on your face and see the stars in the sky. Tinlicker was one of our artists to watch this year, and they never cease to impress with their exceptional productions. This is no exception. Give it a listen, and prepare to be transported to a different time and place. – Erin
Stream "Clarify" on SoundCloud.