Two of bass music's finest have come together for a massive track "Magnets" that will have you out of your mind! 
---
Who knew the grimy sounds of Snails and the dually beautiful and hard-hitting sounds of Zeds Dead could come together in such a perfect way? Released today on Deadbeats & Slugz Music, their all-encompassing collab "Magnets" is the perfect banger to close out festival season.
Zeds Dead and Snails have really pushed boundaries with "Magnets," showing that dubstep can be just as sweet as it is heavy.
The track begins in classic Zeds Dead fashion, slowly opening up with some mellifluous piano chords and soft vocals. Beat after beat the track builds, accompanied by synthy chord progressions and some drum & bass kicks getting things heated up. Akylla belting out "We areeee" starts to get all distorted and choppy when finally the drop comes in and takes you on a whirlwind of Snails' signature vomitstep, with grimy slug growls coming in every few seconds.
The drop vaguely reminds me of Kill The Noise and Dillon Francis's "Dolphin on Wheels." It has a similar reverberating clicky dolphin noise, yet takes it to a whole new level. "Magnets" is sure to get any crowd going wild; its out-of-the-box drop and pleasing synth progressions bring something new yet also integrate sounds that we know and love.
Stream Zeds Dead X Snails "Magnets" on SoundCloud: 
As always, Akylla's vocals are absolutely killer!
Her voice brings in tangible passion that the track needs to marry the ethereal verses and the manic, high-energy drops, carrying it through until the end in the best way possible. You might recognize her from other massive bass bangers like Excision's "Drowning" and Snails and NGHTMRE's "Only Want U." Her voice is truly perfect for portraying the emotion and heaviness of bass tracks such as these.
While putting out bangers such as "Magnets," Zeds Dead and Snails have also been killing it at countless festivals this summer, and they aren't slowing down anytime soon. Snails will be smashing Red Rocks in just a few days, kicking off his Shell 2.0 Tour at the iconic venue this Wednesday, October 5th.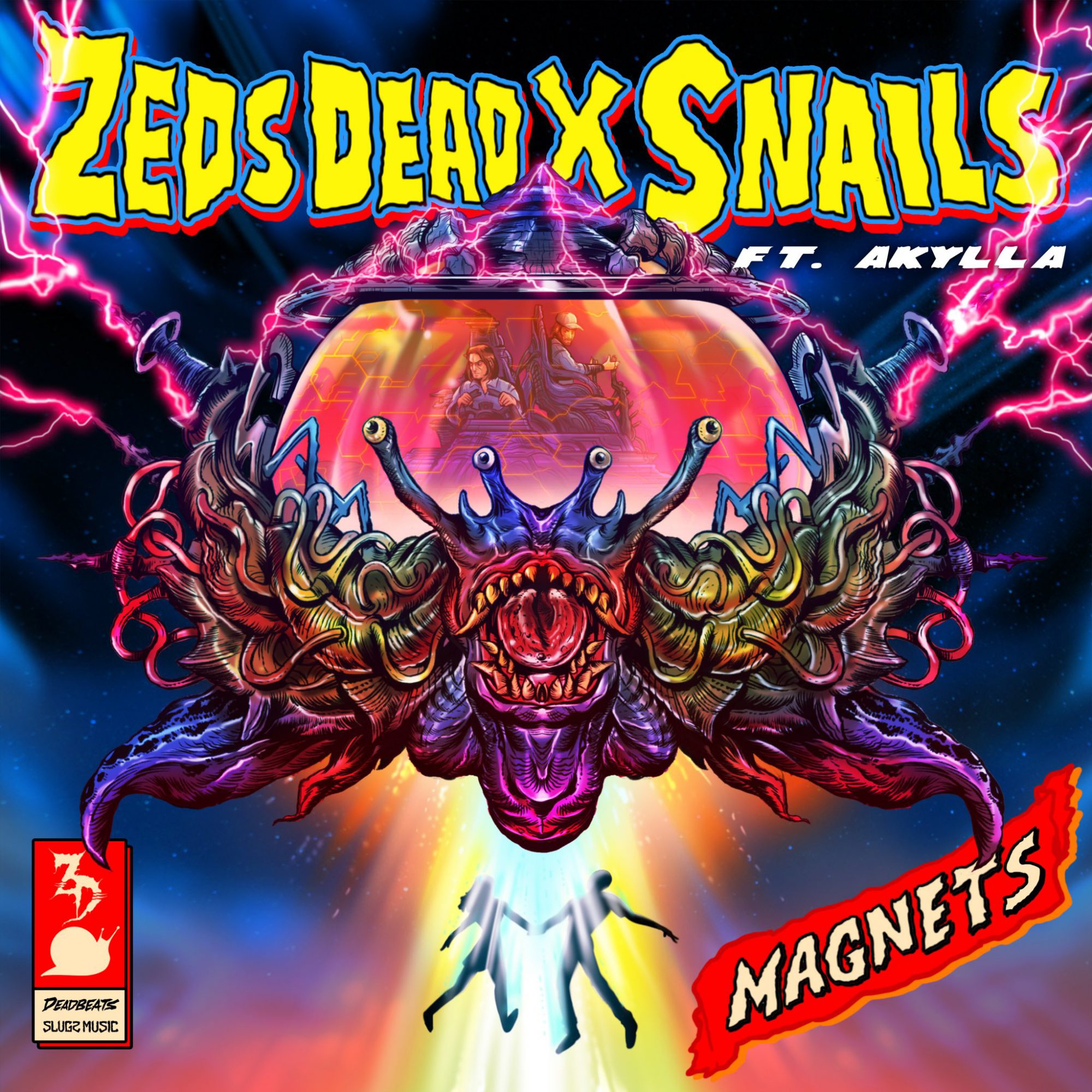 ---
Snails The Shell 2.0 Tour Dates: 
10/05 – Denver, CO – Red Rocks Amphitheater
10/08 – Des Moines, IA – Wooly's
10/09 – Omaha, NE – Sokol Auditorium
10/11 – Missoula, MT – The Wilma
10/13 – Seattle, WA – WAMU Theater
10/15 – Reno, NV – Cargo: Whitney Peak Hotel
10/16 – Boise, ID – Revolution Center
10/17 – Chico, CA – El Rey Theater
10/18 – Fresno, CA – Rainbow Ballroom
10/19 – San Jose, CA – City National Civic
10/20 – Los Angeles, CA – Hollywood Palladium
10/21 – San Luis Obispo, CA – Fremont Theater
10/24 – Tucson, AZ – Rialto Theatre
10/25 – Albuquerque, NM – Sunshine Theater
10/26 – Las Vegas, NV – World Market Center
10/27 – Phoenix, AZ – The Van Buren
10/30 – Columbia, MO – The Blue Note
10/31 – Fayetteville, AR – Fayetteville Town Center
11/01 – Tuscaloosa, AL – Druid City Music Hall
11/02 – New Orleans, LA – Republic NOLA
11/03 – Atlanta, GA – Buckhead Theatre
11/04 – Birmingham, AL – Iron City
11/07 – Greenville, SC – The Firmament
11/08 – Norfolk, VA – The NorVa
11/09 – Richmond, VA – The National
11/10 – Charlotte, NC – Fillmore Charlotte
11/12 – Mobile, AL – Soul Kitchen Music Hall
11/14 – Tallahassee, TN – Bajas Beachclub
11/15 – Tampa, FL – The Ritz Ybor
11/16 – Orlando, FL – House of Blues
11/17 – Miami, FL – The Hangar
11/20 – Syracuse, NY – The Westcott Theater
11/21 – Pittsburgh, PA – Stage AE
11/23 – Montreal, QC – Telus
11/24 – Toronto, ON – Danforth Music Hall
11/26 – Portland, ME – State Theatre
11/28 – Buffalo, NY – Town Ballroom
11/29 – Boston, MA – House of Blues
11/30 – Washington, DC – Echostage
12/01 – New York, NY – Terminal 5
12/02 – Columbus, OH – The Bluestone
12/03 – Louisville, KY – Mercury Ballroom Box Office
12/04 – Cincinnati, OH – Bogart's
12/05 – Grand Rapids, MI – The Intersection
12/06 – Royal Oak, MI – Royal Oak Music Theatre
12/07 – Chicago, IL – Aragon Ballroom
12/08 – St Paul, MN – The Myth
12/11 – Cleveland, OH – House of Blues
12/12 – Indianapolis, IN – Old National Centre
12/13 – Kcmo, MO – Arvest Bank Theatre at the Midland
12/14 – Dallas, TX – South Side Ballroom
12/15 – San Marcos, TX – The Marc
---
Connect with Zeds Dead on Social Media:
Website | Facebook | Twitter | Instagram | SoundCloud 
Connect with Snails on Social Media:
Website | Facebook | Twitter | Instagram | SoundCloud