If you can't catch Hooks and DC at Deadrocks, have no fear: Zeds Dead has officially announced dates for their Deadbeats North American tour!
---
Though it's only the end of March, this year has already been a colossal year for Zeds Dead, the dynamic duo who won bassheads' hearts everywhere in 2018 with the release of "Samurai" with Ganja White Night. If you haven't heard this wobbly masterpiece live yet, now's your chance. Zeds Dead announced the dates for their 2018 Deadbeats Tour and we couldn't be more excited!
It wasn't just "Samurai" that put Hooks and DC back at the top of everyone's radar: the boys' Okeechobee set was one of the most talked-about sets I've seen this year. Playing a mix of old-school classics and some newer creations, Zeds Dead showed us once again why they'll always be one of the best in the game.
Just last week, Hooks and DC put on a hell of a show at their label showcase in Miami, FL, with support from bass heavyweight 12th Planet as well as Jauz, Eprom, and more. If you thought Deadbeats Miami and Deadrocks were your only chances to catch Zeds Dead outside of a festival this year, we're happy to prove you wrong! With 19 dates in locations spanning from Hawaii to New York, you're going to want to make it a point to hit this tour.
Tickets for Hawaii, Deadrocks, and Canada are on sale now with the rest of the tour dates being made available soon. You can snag your tickets via the Deadbeats website.
---
Deadbeats Tour Flyer: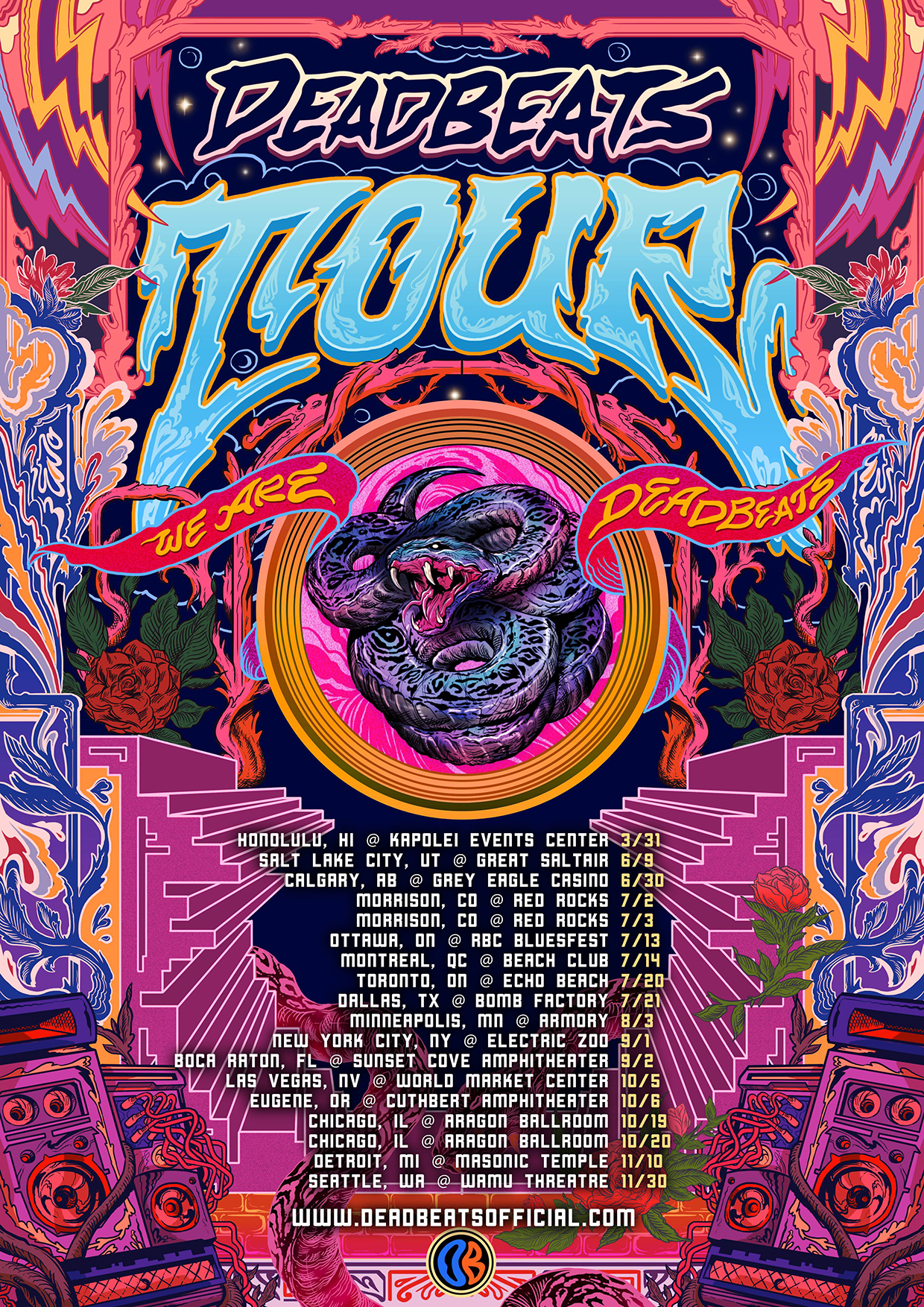 ---
Deadbeats Tour Dates:
March 31 – Honolulu, HI @ Kapolei Events Center
June 6 – Salt Lake City, UT @ Great Saltair
June 30 – Calgary, AB @ Grey Eagle Casino
July 2 – Morrison, CO @ Red Rocks
July 3 – Morrison, CO @ Red Rocks
July 13 – Ottawa, ON @ ABC Bluesfest
July 14 – Montreal, QC @ Beach Club
July 20 – Toronto, ON @ Echo Beach
July 21 – Dallas, TX @ Bomb Factory
August 3 – Minneapolis, MN @ Armory
September 1 – New York City, NY @ Electric Zoo
September 2 – Boca Raton, FL @ Sunset Cove Amphitheater
October 5 – Las Vegas, NV @ World Market Center
October 6 – Eugene, OR @ Cuthbert Amphitheater
October 19 – Chicago, IL @ Aragon Ballroom
October 20 – Chicago, IL @ Aragon Ballroom
November 10 – Detroit, MI @ Masonic Temple
November 30 – Seattle, WA @ Wamu Theatre
---
Connect with Zeds Dead on Social Media:
Website | Facebook | Twitter | Instagram | SoundCloud | YouTube
Connect with Deadbeats on Social Media:
Website | Facebook | Twitter | Instagram | SoundCloud | YouTube