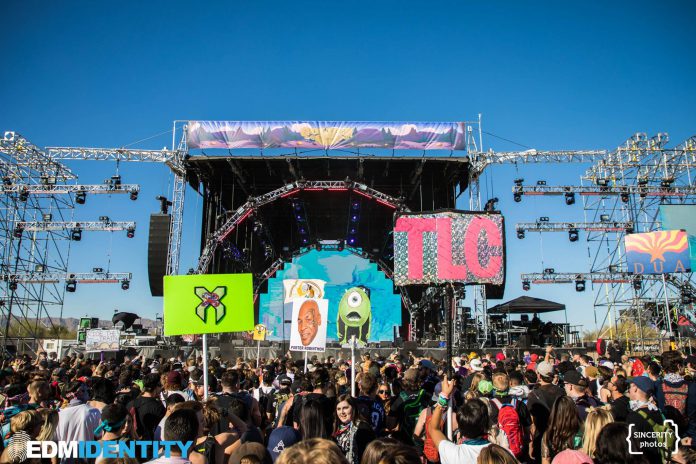 The second edition of Goldrush Music Festival is just days away and if you want to stay in the know we've got your essentials right here!
---
My first adventure out to Arizona for Goldrush Music Festival was a great experience and I can't wait to return this weekend for another adventure on September 29 – 30 at the Rawhide Western Town and Event Center. This year's lineup for Goldrush Music Festival shed away the hip-hop and instead has included some of the biggest names in the dance music scene. We're sure that notable sets will come from Deadmau5, Illenium, Steve Aoki, and so many others who are set to take the stage over the weekend!
It's important to make sure you're informed before you head out to the festival, so below you'll be able to find everything you need to know for this weekend at Goldrush AZ. If you need help choosing which ones to catch, be sure to check out my top picks for this weekend. The weather is looking pretty warm with temperatures in the high 90's and scattered showers on Sunday, so dress accordingly and get ready to rage!
---
Goldrush Music Festival 2018 Essential Info:
Date: September 29-30, 2018
Ages: 18+, 21+ to drink or for Platinum VIP
Hours: 4pm both days
Venue Address: Rawhide Western Town & Event Center – 5700 W North Loop Rd, Chandler, Arizona 85226
Tickets: Purchase HERE
Facebook Event Page: RSVP HERE
Acceptable Forms of Identification for Entry
Arizona Driver's License
Arizona Identification Card
Passport
Military ID
Resident Alien Card
US Driver's License
*Patrons under 18 who do not have an ID will need to accompany an adult to enter.
---
Goldrush Music Festival 2018 Set Times: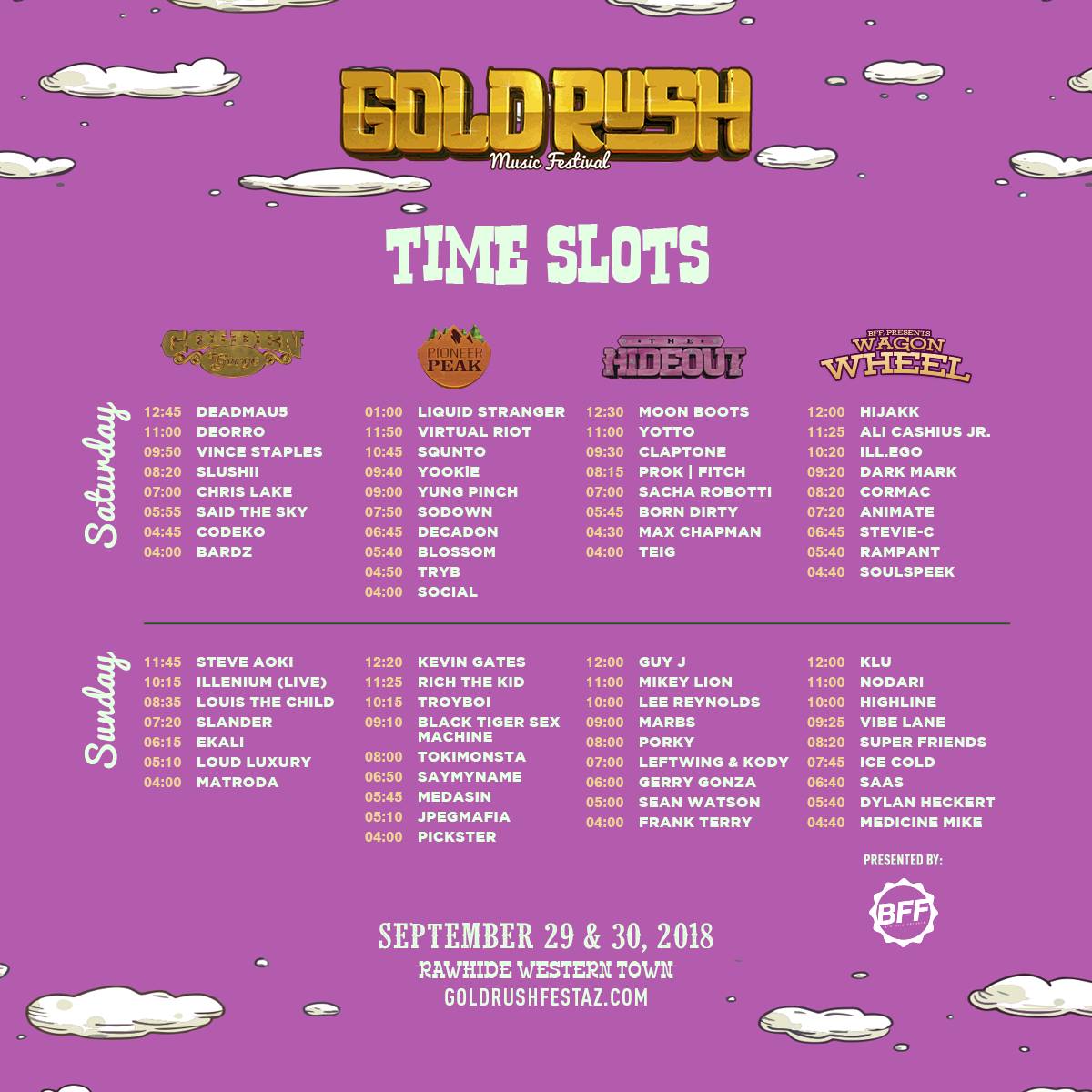 ---
Goldrush Music Festival 2018 Festival Map:
COMING SOON!
---
Goldrush Music Festival 2018 Do's & Don'ts:
Prohibited Items
NO Illegal Substances
NO Drugs or Drug Paraphernalia
NO Pets
NO Massagers
NO Laser Pens / Pointers
NO Eye Drops
NO Glass, Cans, Cups, or Coolers
NO Markers, Pens, or Spray Paint
NO Large Chains or Spiked Jewelry
NO Stickers or Flyers
NO Tents, Large Umbrellas, Chairs, or Blankets
NO Large Purses or Bags (Anything over 10×10 inches)
NO Open Cigarettes, Lipstick, Chapstick, or Tampons
NO Outside Food, Beverage, or Alcohol
NO Professional Cameras – SLR or Detachable Lens
NO Video or Audio Recording Equipment
NO Knives, Firearms, Pepper Spray, Fireworks, or Weapons of Any Kind
NO Toy Weapons or Real Weapons of Any Kind
NO Open Sunscreen
NO Balloons, Balls, Frisbee, and/or Any Other Projectile
Permitted Items
OK Small bags, purses, and fanny packs
OK Empty water bottles, including reusable and disposable water bottles
OK Empty CamelBak-style water bladder systems
OK Fanny Packs
OK Non-professional cameras incl Go Pros
OK Cell phones
OK Lighters
OK Sealed: cigarette packages, tampons, packs of gum, and chapstick/lip gloss
OK Festival Totems
OK Glowing / Illuminated Costumes or Jewelry
OK Inflatables (deflated upon entry)
OK Flags / Banners or Handmade signs (no corporate or company-branded ones)
OK Sunglasses and hats
OK Sealed Liquid sunscreen and cosmetic products
OK Disposable E-cigs / Nicotine Vaporizer pens, but none with refillable chambers containing visible liquid
OK Guide dogs for people with disabilities and other service animals with current rabies certification
Totem Guidelines
Decorated festival 'totems' are okay to bring
Maximum 10ft tall
Must be made from lightweight material (eg foam, PVC / no solid metal)
Collapsable camera telescoping extenders that follow the above guidelines are OK (lightweight/hollow aluminum/polycarbonate)
PVC, Light Wood, Aluminium poles must be no thicker than 1″ diameter
Decorated pool noodles work great for easy entrance through security
Inflatables attached to totems must be deflated upon entry.
Please note that any items that are deemed dangerous may not be admitted into the event.
---
Reminder To Mind Your Belongings:
Unfortunately, many people have reported pickpockets, bag slashings, and theft of wallets, smartphones, purses and other valuables during this festival season. While this small number of bad apples in the bunch doesn't define an entire crowd, there are opportunistic people who come to these events to take advantage of unsuspecting partygoers and it's important to be mindful of your valuables while at Goldrush Music Festival.
Looking for tips to keep your belongings safe? Check our post highlighting some ideas!
---
Connect with Goldrush Music Festival on Social Media: