These two Circus Records head honchos brought the heat to bassPOD at their EDCLV B2B set – hear about their thoughts on the set, the label, and more! 
---
If you're into bass music, you've definitely heard of these two legends out of the UK. Flux Pavilion and Doctor P have both built a hell of a name for themselves in the bass world with their individual careers as well as their co-founded label, Circus Records. While Doctor P errs more on heavy dubstep and Flux Pavilion prefers the heavy dancey electronic, both of them have made huge waves in the dance community within their respective genres and beyond.
In the decade since they created the Circus Records label they've helped the bass scene evolve to where it is today, giving ample guidance and opportunities to artists like Funtcase, Wooli, DISKORD, and so many more.
We got the chance to sit down with the legends before their ridiculously insane B2B set at EDC Las Vegas. Read on for their thoughts on riddim restoring the dubstep scene, their new tracks "Call To Arms" and "Somebody Scream", and their upcoming sets at this year's edition of Lost Lands.
Watch Flux Pavilion's EDC Las Vegas 2018 Recap Video on Facebook:
---
You guys are just about to play a B2B set at the bassPOD stage of EDCLV, how will this B2B be different from B2B sets the two of you have done at other festivals or events? 
Doctor P: I don't know if it will be different, honestly. We just go out there and have some fun and play some tracks!
Over the years you've taken the stage here at EDC LV what has been your favorite moment from a past edition?
Flux Pavilion: I once played the closing set on a Sunday and the sun was coming up, and the Ferris Wheel caught on fire. So the whole crowd was looking at me, and I could see over the crowd the Ferris Wheel just caught on fire. No one else realized what was happening, so yeah that was pretty cool. 
You're sharing the bassPOD stage with a some of the most renowned artists in bass music, are there any other artists' sets you're hoping to catch?
Doctor P: No, I don't really stick around and watch. I've seen many, many other performances. I don't know, I just I never get into watching. I just go back to the backstage – I never venture out and watch. I hear enough of it.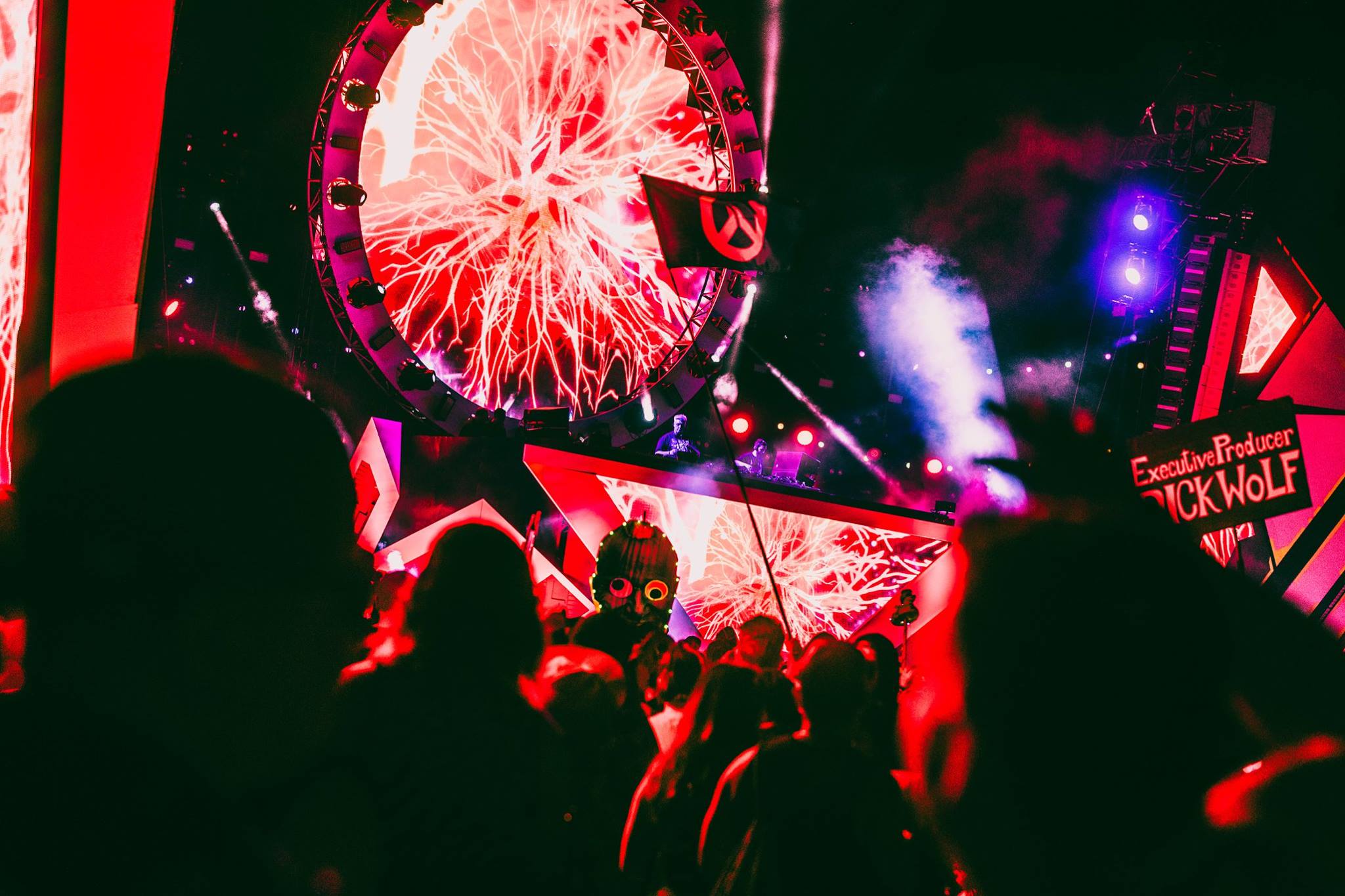 The two of you are going b2b with Circus label partners FuntCase and Cookie Monsta at Dancefestopia this fall. In what ways does your b2b style contrast that of FuntCase's and Cookie Monsta's?
Doctor P: Funt and Cookie they tend to play a lot more of the riddim-y stuff. But I think Josh especially plays more musical and a little bit more dancey. Like FuntCase and Cookie Monsta is a lot more riding the rail the whole time. 
Flux Pavilion: I was always the weird one, even when we first started. Everyone else played dubstep and I played weird two-step garage, kinda strange, dancey – stuff I wanted to dance to basically.  And it's still like that really, even though it's changed over ten years. It's why B2Bs between us are always so fun because we're quite different. 
How do you feel Circus Records has evolved since you first cofounded it in 2009?
Doctor P: I feel like we've expanded the branch to that a lot, to begin with, it was very much just one style of dubstep that was it. But now every year we've relaxed a little bit more with what we've put out. At this point we just put out good music that we like, not worrying too much about different styles or what not. And it's just grown year after year, its kind of out of our hands now – it's massive. It's grown beyond our control at this point.
The dubstep scene has changed greatly since its earliest days. Is there anything that you miss from the original scene that has been lost over time?
Doctor P: Yeah, but it's all come back with riddim. We really missed this – we felt like everything just got way too loud, and way too complex, and with riddim coming in it's just gone way back to everything I like. Just the simplicity of it. I feel like everything that was lost has come back.
Flux Pavilion: It got really messy for a while, where for me it was the attention to the beat. It was a period where the attention was all on on-beats, that's where you get the people who are just always smashing on the on-beats. But dubstep for me was always about the off-beat, which is why when you see someone like 12th Planet play, he's always dancing twice as fast as the music sounds. Because it's on the implied off-beat, and that's the dub in dubstep essentially. That was lost for a period but riddim has brought that back.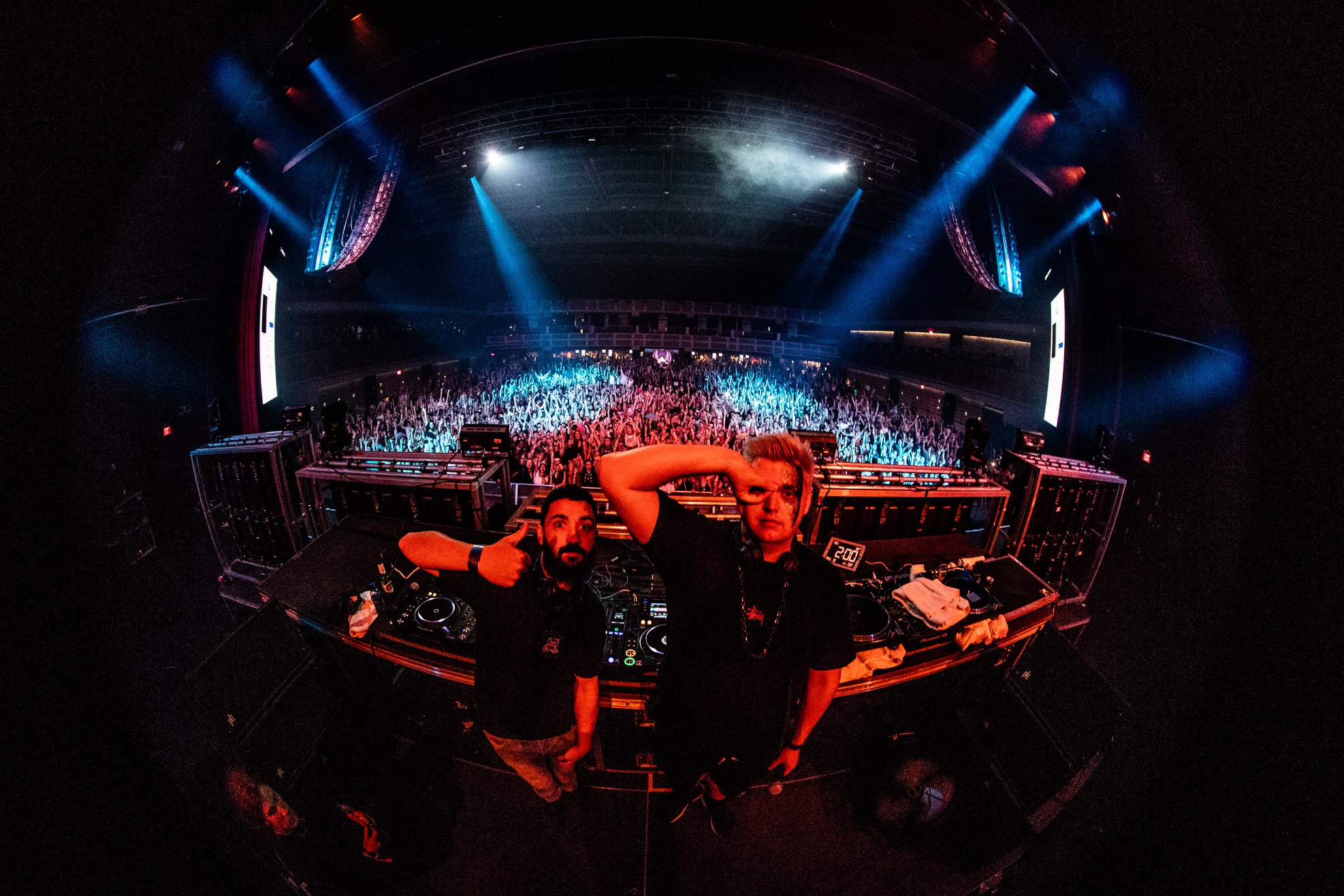 Are there any up and coming artists or new sounds on the label that you're particularly excited about?  
Doctor P: I'm really into Wooli at the moment. He's got a couple of things out and a couple more coming, I'm just a big fan of him. 
You're both on the Lost Lands lineup for this upcoming September, what can we expect from those sets apart from the possibility of Flux going b2b with Excision in a suit as promised on Twitter?
Flux Pavilion: Tux Pavilion! 
Doctor P: I don't know, I haven't got any plans yet. We're just going to try to have some fun. I mean everyone there is a dubstep fan, so it kinda feels like we can do anything we want, play any dubstep we want and people are going to have a good time. We don't have to try to make it accessible or anything like that, so I'm sure I'll try to pull out some old classic. I plan to do that. 
Flux Pavilion: Yeah we should probably do a classics of Doctor P and Flux Pavilion.
Doctor P: Definitely will play a lot of classics. 
Flux – your new single with Meaux Green "Call to Arms" has been getting a lot of love, how did that collaboration arise and what was your creative process when making that track?
Flux Pavilion: Meaux Green sent me a half-made idea and was like "do you have any ideas for this?" When we signed him to the label, we signed a bunch of his stuff to label, so its kind of like me and P and the label kind of act like a creative sort of thinking platform I guess. Which I think is a good thing about the label because producers who are signed to us they send us stuff and go "what do you think, any ideas?"
But that particular track, the melody was too good and I was like, this has to be a collaboration now, I don't want to give you this because I am the melody and stuff. So it was like "yeah let's do this one together". I kind of had too many ideas I was like, let's do this together, basically, and then yeah the track happened.
Doctor P – your newest single "Somebody Scream" just dropped a few weeks ago, can we expect another EP on the horizon or more singles on the way?
Doctor P: Yeah I've got another single coming, I think in about a month or something like that, mid-June, and then I've got the next two lined up after that. So yeah I'm back on a roll again. Didn't really get on a roll last year but I'm back on a roll this year. Planning to put out tunes every six weeks for the rest of the year, and it's all just going to be banging dancefloor dubstep. I'm not complicating it. 
Finally, Flux Pavilion – we know you're a huge Star Wars fan. If you could choose one character in the series to be, who would it be and why?
Doctor P: Jar Jar Binks, I already know the answer. Everybody's favorite.
Flux Pavilion: Someone asked me this before and I can't remember what I said – I think it was an Ewok. Feel like I'm more a mix of Jar Jar Binks and an Ewok. I'm the worst characters in the star wars universe – I embody that in an unfortunate way. I'm quite eccentric so I think Jar Jar Binks is a good one. 
---
Connect with Flux Pavilion on Social Media: 
Facebook | Twitter | Instagram | SoundCloud 
Connect with Doctor P on Social Media: 
Facebook | Twitter | Instagram | SoundCloud