Dial in your weekend at Life is Beautiful in Las Vegas with this essential list of information including set times and more!
---
The wait is finally over! Crews from all over will assemble in Las Vegas this weekend for a fantastic time full music, art, food, comedy and more at Life is Beautiful. There will countless experiences to get lost in while adventuring the city blocks so we have organized the most essential information to make your weekend a breeze.
Whether you'll be riding the rail for your favorite artist or following your nose to the tastiest food truck be sure to check out the set times, after parties, and new security rules to be prepared for the weekend!
Don't forget to check out some of my top artists to see, as well as the picks from Carlos as well. Tell us who you're most excited to catch in the comments below!
---
Life is Beautiful 2018 Essential Info:
Dates: Friday, September 21 – Sunday, September 23, 2018.
Hours: Festival gates will open at 2 PM and close at 1 AM daily.
Venue Address: The festival encompasses 18 city blocks in Downtown Las Vegas, extending from 7th to 11th Streets and from Mesquite to Carson avenues. The entrance is located at Fremont and 7th street and Fremont & 11th Street.
Tickets: 3-day tickets are sold out, purchase single-day tickets on their website!
Facebook Event Page: RSVP HERE
Stay up to date with the latest information, set times, and more by downloading the Life Is Beautiful app on iTunes or Google Play!
---
Will Call & Box Office Information:
The Life is Beautiful Box Office and Will Call/ Guest Check-In are located at the Downtown Grand Hotel which is located at 206 N 3rd St, Las Vegas, NV 89101.
You must pick up your wristband(s) before entering the festival. Valid photo identification and the credit card used for the purchase are required at the time of pickup at the Box Office. Passes (if available) can also be purchased at the Box Office during the following dates and times.
Hours of Operation:
Wednesday, September 19: 12 p.m.–8 p.m.
Thursday, September 20: 12 p.m.–8 p.m.
Friday, September 21: 12 p.m.–11 p.m.
Saturday, September 22: 12 p.m.–11 p.m.
Sunday, September 23: 12 p.m.–11 p.m.
---
Life is Beautiful 2018 Set Times: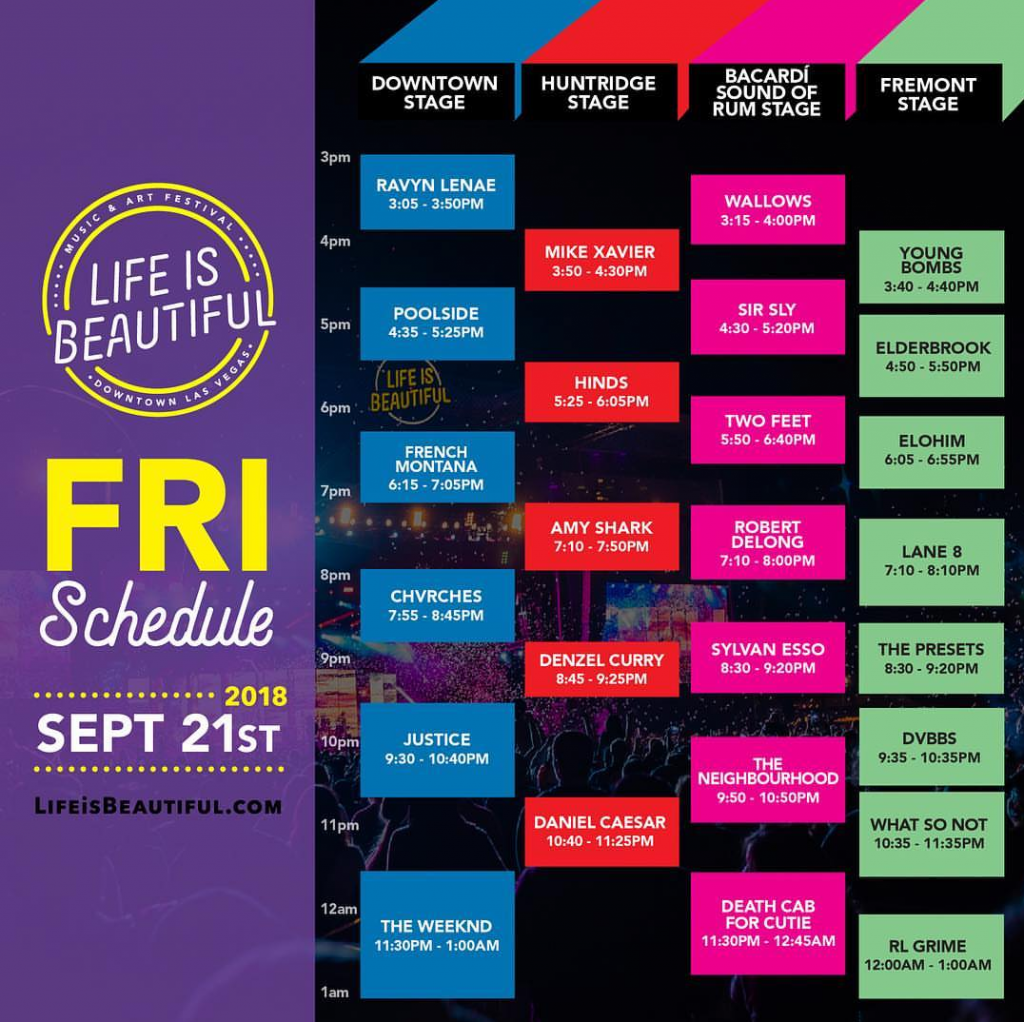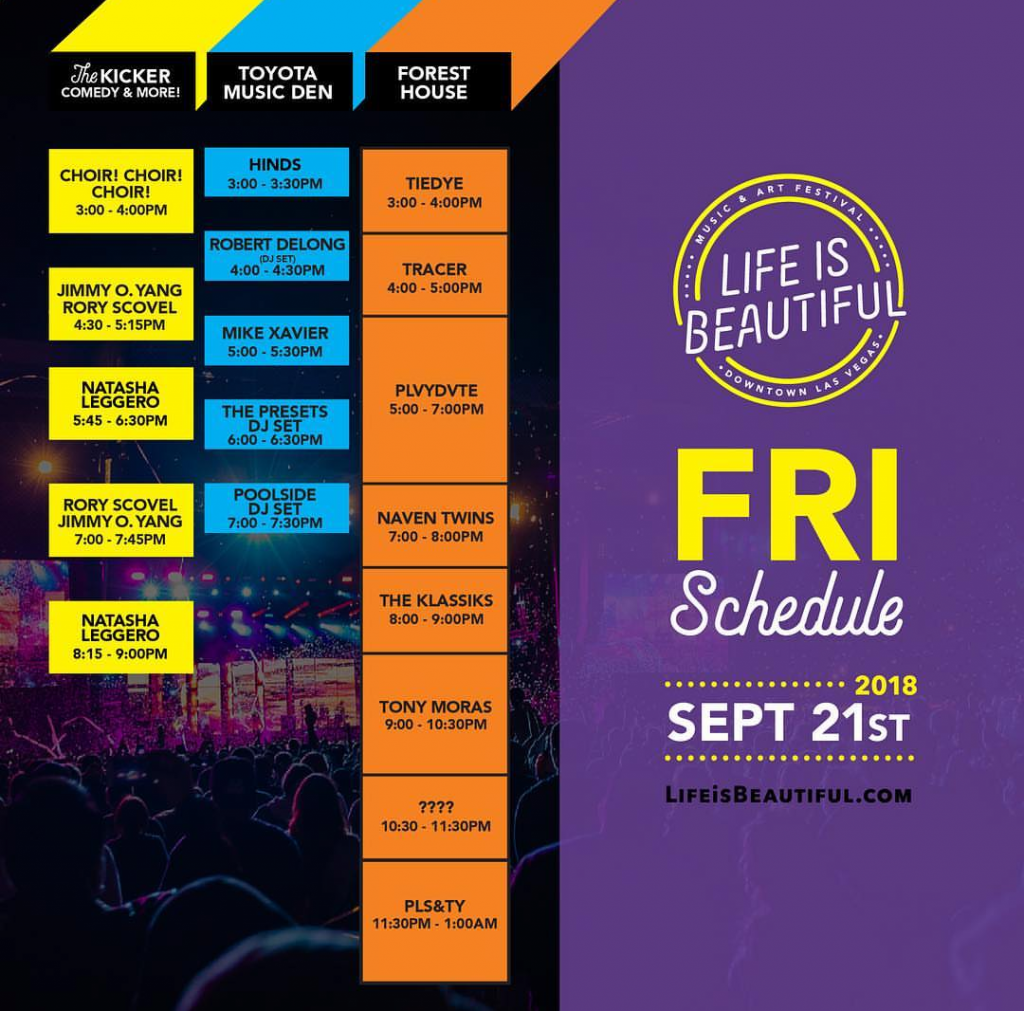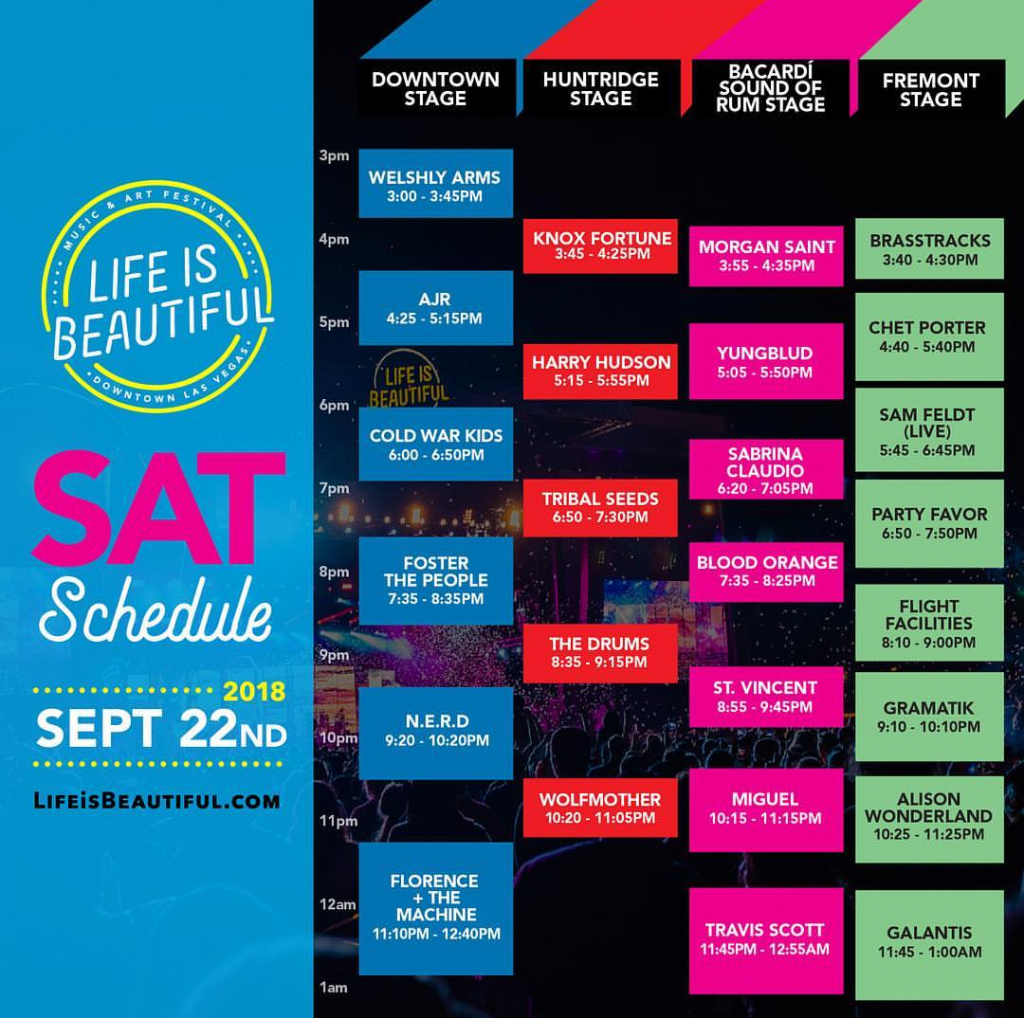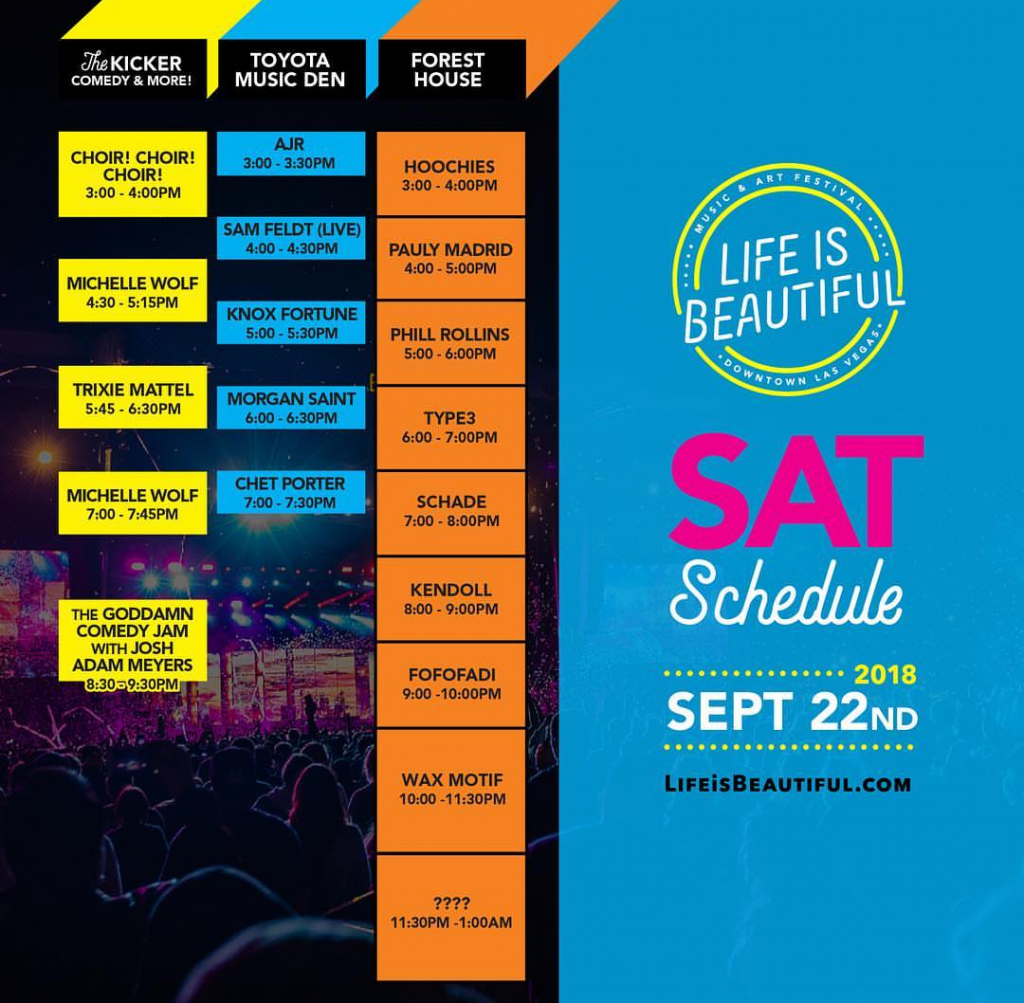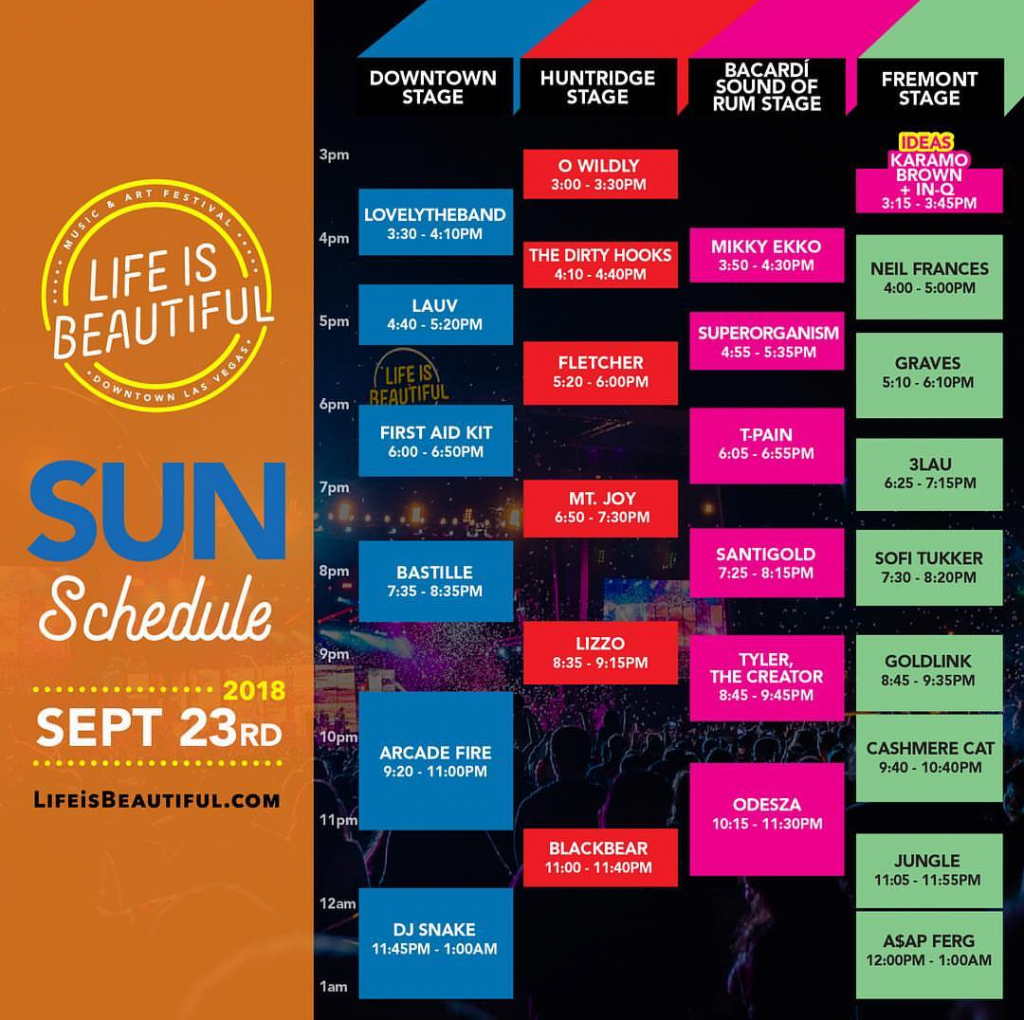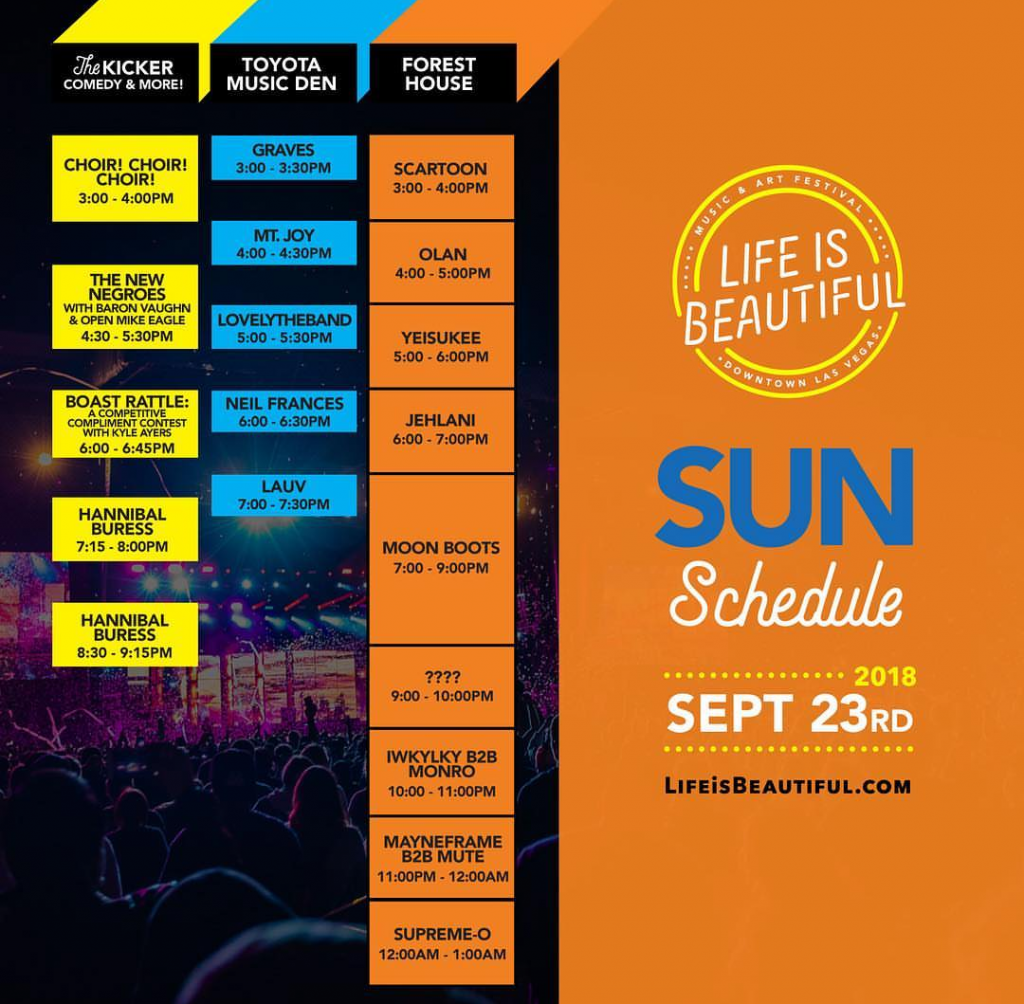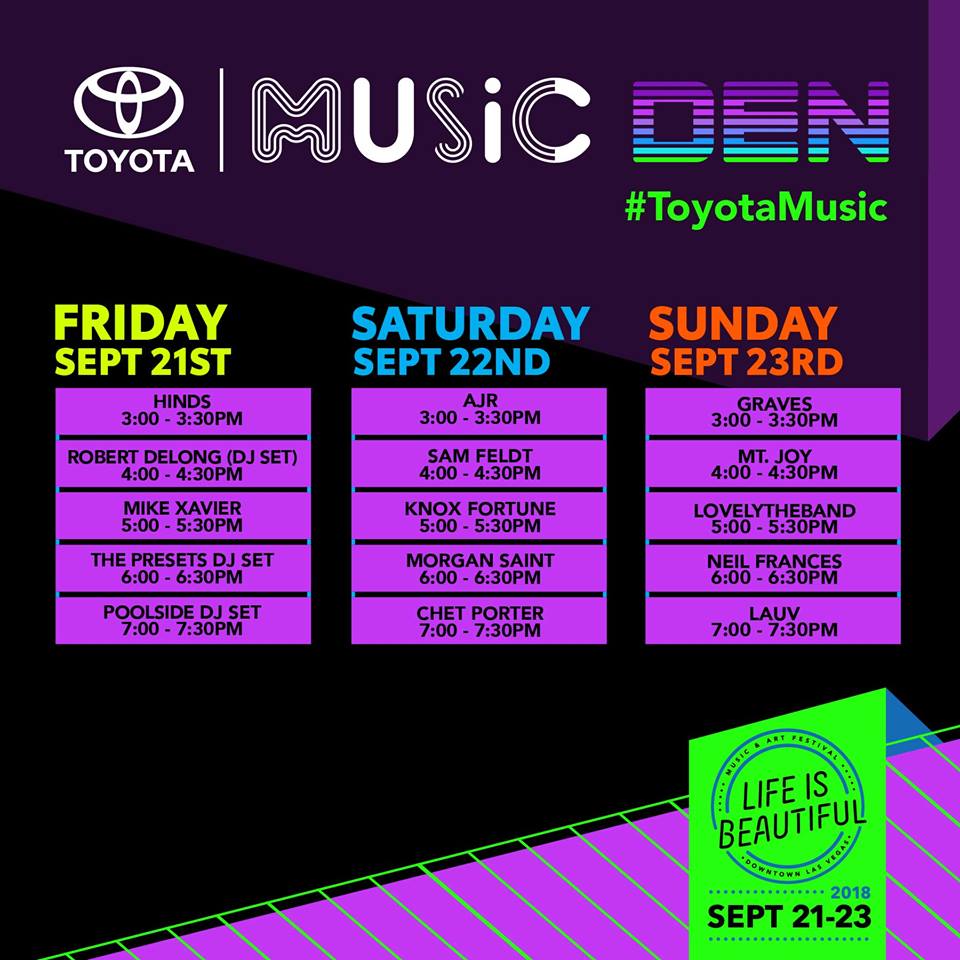 ---
Life is Beautiful Art Cars & After Parties: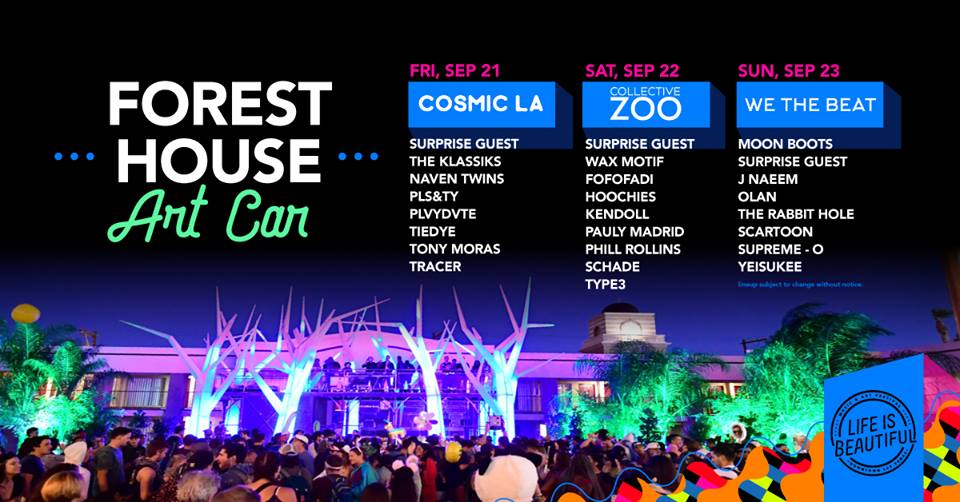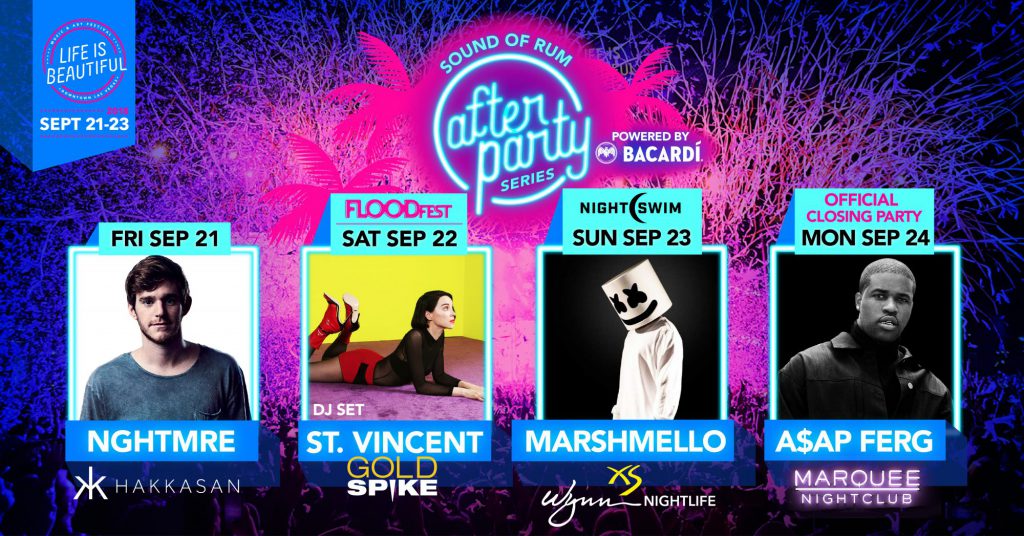 ---
Life is Beautiful 2018 Festival Map:
Currently the map can only be found in the app!
---
ADA Information:
Life is Beautiful is accessible to all guests with disabilities. If you have any additional questions about accessibility, please contact us via email at [email protected]
---
New Bag Restrictions for 2018:
Life is Beautiful is implementing new bag restrictions for the 2018 edition of the festival. This is meant to enhance safety, security and entrance efficiency for attendees.
Below are the descriptions of bags that will be allowed into the festival:
Small bags, purses and totes up to 6" x 8" x 3" do not have to be clear.
Drawstring bags and other bags with one singular opening (no pockets) up to 13" x 16" do not have to be clear.
Backpacks and bags with multiple pockets larger than 6" x 8" x 3" must be made of clear plastic, clear vinyl or clear PVC.
Hydration packs emptied of all liquid, that have no more than two pockets in addition to the one holding the water reservoir, and have a gear capacity of no more than 2.5L/150 cubic inches.
---
Life is Beautiful 2018 Do's & Don'ts:
Approved Items:
Two factory-sealed water bottles up to 1 liter each.
Empty Hydro Flasks and Nalgene bottles
Empty Camelbaks, Bota Bags, and Hydration Packs with 2 or less pockets.
Blankets
Portable phone chargers
Binoculars
Personal cameras (no detachable lens)
Sealed over-the-counter medications
Sealed cigarettes
Sealed lighters
Sealed sunscreen lotion (non-aerosol)
E-cigs, Vapes, Juuls, or any type of electronic cigarette (juices and refills must be sealed)
Sealed hand sanitizer
Sealed eye drops
Sealed tampons
Chapstick
Gum
Prohibited Items:
Unsealed water bottles
No glass allowed.
Weapons of ANY kind including pepper spray and pocket knives
Drones or remote flying devices
Illegal substances or paraphernalia
Professional radios or walkie-talkies.
Professional video/audio recording equipment
Strollers
Any and all camera accessories, such as selfie sticks, tripods, monopods, GoPro mounts and attachments, detachable lenses, or other commercial equipment
Professional still camera equipment with a detachable lens longer than 2 inches, big zooms or commercial-use rigs
Aerosol cans and sprays (including sunscreen and personal beauty products)
Bicycles inside festival grounds (bike parking will be provided)
Skateboards, hoverboards, scooters, Segways, wagons, carts or any other personal motorized vehicles
Lawn furniture, chairs, tents, canopies, or shade structures of any kind
Picnic baskets and Coolers (exceptions may be made for medical use)
Pets
Air horns, fireworks, sparklers, and explosives
Musical instruments
Laptop computers or Tablets
Laser pointers
Glass or can containers of any kind
Markers, sharpies, paint pens or spray paint
Sharp objects, large chains or spiked jewelry
LED Poi, LED Whips
Face masks
Hula-Hoops
Totems or flags
Umbrellas or parasols
Outside food or beverage of any kind, except 2 factory sealed bottles of water   (up to 1 liter)
Unauthorized/unlicensed vending
Promotional items, samples, giveaways, flyers, stickers.
Water guns, water balloons or any other kind of water projectile
Soccer balls, footballs, frisbees, or other projectiles
Large Inflatables or inflatable pool toys.
Native American headdresses or any disrespectful signs or apparel
---
Reminder To Mind Your Belongings:
Unfortunately, many people have reported pickpockets, bag slashings, and theft of wallets, smartphones, purses and other valuables during this festival season. While this small number of bad apples in the bunch doesn't define an entire crowd, there are opportunistic people who come to these events to take advantage of unsuspecting partygoers and it's important to be mindful of your valuables while at Life Is Beautiful.
Looking for tips to keep your belongings safe? Check our post highlighting some ideas!
---
Connect with Life is Beautiful on Social Media: