Snails brought the best in bass music together on The Shell (Remixes)!
---
Artist albums give way to a new experience in dance music, and they allow the listeners to get an in-depth look at an artist's production skill through the album. While albums are great, what's even better are the potential remix albums that come maybe 6-12 months after they drop. These remix albums take already popular tracks from the artist's original album and give them a new spin. I was thrilled when I heard Snails' The Shell album was being completely remixed, and it's finally out today!
For me, The Shell was a masterpiece, especially in the world of bass music. The way Snails was able to make each and every song stand out in its own way was incredible. The entire twelve tracks went cohesively together to give the listener a great experience. When I heard The Shell was being remixed by some of the best guys in bass music, I was dying for the entire package to be released.
The Shell (Remixes) is finally here! It's ten of his best tracks remixed by some of the best in the scene right now. Below are my highlight remixes from the album.
Stream Snails The Shell (Remixes) on Spotify:
Stream or purchase Snails – The Shell (Remixes) on your favorite platform!
---
Here are a few of my favorite tracks from Snails – The Shell (Remixes).
The minute I heard Kill the Noise was remixing a song on the EP, I knew it was going to be amazing.The "Only Want U" remix completely exceeded all of my expectations when I heard it. While the original track was a standout from the album, Kill the Noise's remix does it justice and brings so much energy from start to finish!
"Smack Up" might be my number one favorite off of the remix album. SVDDEN Death has been making a name for himself in the past few months and every single one of his releases pushes the boundaries of dubstep. On his "Smack Up" remix, you can hear this young producer's incredible talent along with his signature synth. You'll be headbanging from the beginning to end on this one!
Soltan might be one of my favorite dubstep producers right now. While he is yet on major festival bills, his recent releases are always top-notch. His remix of "Into The Light" brings his trademark sound to the track, and the result is a heavy hitting bass tune that will be a huge hit for the upcoming DJ!
All ten producers that were invited to remix the album did a killer job. There's not one remix that is simply just "okay" — everything is superb! If you're a Snails or bass music fan, you want to check out all ten of these amazing tracks!
---
Snails – The Shell (Remixes) Tracklist:
Snails – Smack Up (ft. Foreign Beggars) (SVDDEN DEATH Remix)
Snails – Feel The Vibe (ft. Big Gigantic & Collie Buddz) (Space Jesus Remix)
Snails – Into The Light (ft. Sarah Hudson) (Soltan Remix)
Snails & Wacka Flocka Flame – WFSU (Virtual Riot & Snails Remix)
Snails – To The Grave (ft. Hytyd & Max) (Kompany & Ivory Remix)
Snails & NGHTMRE – Only Want U (ft. Akylla) (Kill The Noise Remix)
Snails – The Anthem (feat. Liam Cormier & Travis Richter) (UBUR Remix)
Snails – Russian Roulette (ft. Panther Matumona) (Megalodon Remix)
Snails – Forever (ft. Dion Timmer & KLP) (FuntCase Remix)
Snails – King is Back (ft. Big Ali) (Mastadon Remix)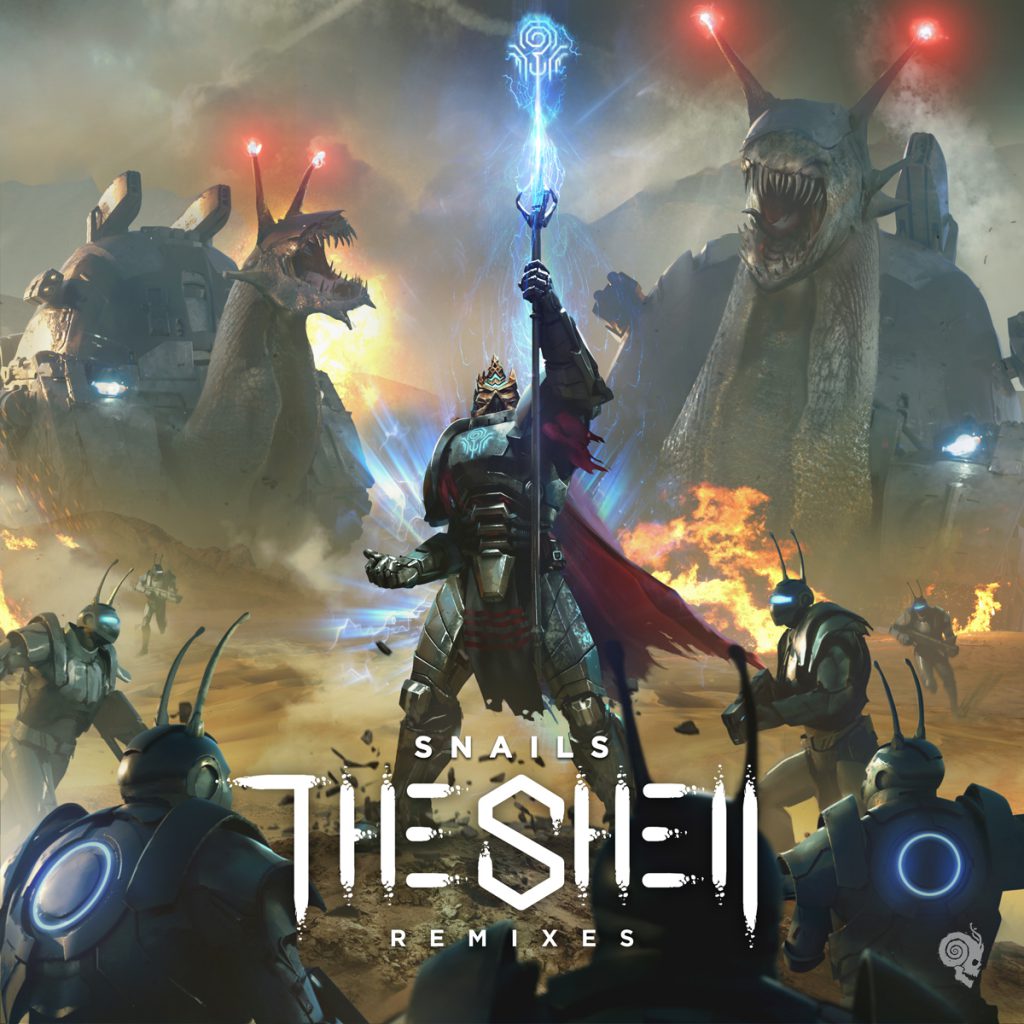 ---
Follow Snails on Social Media: