Will you be dancing the night away to a set from Dirtybird's own Justin Martin this fall? Check out the dates for his 'Set It Off' North American tour below!
---
If you're a die-hard Dirtybird fan or have been paying attention to the house music scene over the past few years, it has been hard to deny that Justin Martin has been dropping some serious tunes that keep dancefloors grooving well into the night. With notable performances everywhere from Electric Zoo and Shambhala to Club Space and Sound Nightclub, his sets have become sought-after by many.
This fall, Justin Martin will be taking the North American continent by storm with a three-month-long Set It Off tour that will coincide with the release of the two-track EP of the same name. The EP, which is due out on October 12 via Dirtybird Records, has been sampled by some notable names in the music scene and blends his unique stylings that appeared on Ghettos and Gardens and Hello Clouds.
The Set It Off tour will see Justin touch down in cities like Philadelphia, Dallas, Vancouver, Miami, and Denver. He'll also be spinning sets you won't want to miss at Brooklyn's Output as well as Dirtybird Campout, so don't sleep on those shows! Select dates will also feature a range of special guests like Latmun, OMNOM, Justin Jay, and more, so take a look for the symbols on the flyer below!
Tickets for the 'Set It Off' Tour are on sale now via dirtybirdrecords.com! Check out the full list of dates below, grab your tickets today, and let us know which stop you'll be shaking your tailfeather at! 
---
Justin Martin's 'Set It Off' North American Tour – Flyer: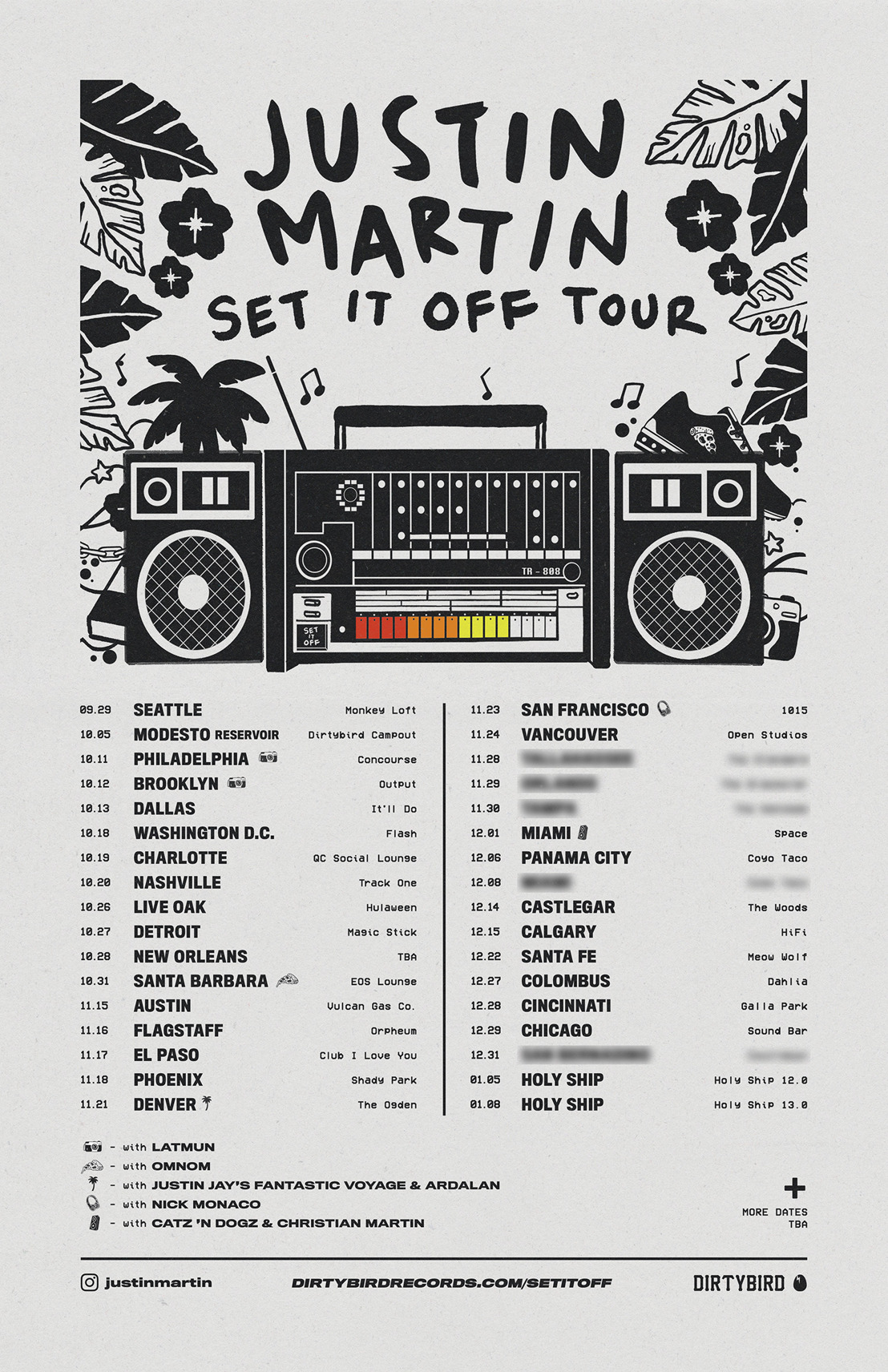 ---
Justin Martin's 'Set It Off' North American Tour – Dates:
Sep 29 – Seattle, WA @ The Monkey Loft • 

Tickets

Oct 5 – Modesto Reservoir, CA @ Dirtybird Campout • 

Tickets

Oct 11 – Philadelphia, PA @ Concourse w/ Latmun • 

Tickets

Oct 12 – Brooklyn, NY @ Output w/ Latmun • 

Tickets

Oct 13 – Dallas, TX @ It'll Do • 

Tickets

Oct 18 – Washington D.C. @ Flash • 

Tickets

Oct 19 – Charlotte, NC @ QCS Lounge • 

Tickets

Oct 20 – Nashville, TN @ Track One • 

Tickets

Oct 26 – Live Oak, FL @ Hulaween • 

Tickets

Oct 27 – Detroit, MI @ Magic Stick • 

Tickets

Oct 28 – New Orleans, LA @ Dragons Den

Oct 31 – Santa Barbara, CA @ EOS Lounge • 

Tickets

Nov 15 – Austin, TX @ Vulcan Gas Company

Nov 16 – Flagstaff, AZ @ Orpheum • 

Tickets

Nov 17 – El Paso, TX @ Club Here I Love You • 

Tickets

Nov 18 – Phoenix, AZ @ Shady Park • 

Tickets

Nov 21 – Denver, CO @ The Ogden w/ Justin Jay's Fantastic Voyage and Ardalan • 

Tickets

Nov 23 – San Francisco, CA @ 1015

Nov 24 – Vancouver, BC @ Open Studios

Dec 1 – Miami, FL @ Space • 

Tickets

Dec 6 – Panama City, Panama @ Coyo Taco • 

Tickets

Dec 14 – Castlegar, BC @ The Woods • 

Tickets

Dec 14 – Calgary, AB @ The Hifi Club • 

Tickets

Dec 22 – Sante Fe, NM @ Meow Wolf

Dec 27 – Columbus, OH @ Dahlia • 

Tickets

Dec 28 – Cincinnati, OH @ Galla Park • 

Tickets

Dec 29 – Chicago, IL @ Sound Bar • 

Tickets
---
Connect with Justin Martin on Social Media:
Facebook | Twitter | Instagram | SoundCloud