I love Electric Forest and here's why you should too…
---
It was business as usual this year in Rothbury, Michigan as Electric Forest came together from all around for eight days of music, art, love, friendship, and acceptance. Electric Forest and the #ForestFam hold a special place in my heart and, despite traveling the world to chase music, I have yet to find a better festival. With another year in the books, that remains unchanged!
While I have been attending Electric Forest since 2011 (except for a couple years in the middle), this is my first time putting words together to try to explain something that I love so much. It's tough. It's like I have six years of experiences and stories, packed with emotion, that I have to try to convey to you via a screen… but here we go!
I attended both weekends so I didn't have to choose, but the two lineups for each weekend offered very different experiences for me.
You would expect that two lists of artists that are fifty percent (or more) the same to be fairly monotonous for those of us going both weekends but that couldn't be further from the truth. I'll speak to some of my favorites later on in my review but first I want to set the table and help you understand how the schedule is laid out at Electric Forest.
First off, the Curated Event Series (i.e. stage takeovers) created day-long experiences featuring artists that were hand-selected by some of the biggest names in the game: deadmau5 as TESTPILOT and the mau5trap takeover, Green Velvet presents tech house-heavy LaLa Land, Forward Thinkers like Mr. Carmack and TSURUDA, and bass-fueled madness brought to you by Bassrush and friends. Offering a consistent vibe, the Curated Event Series brings a great deal of flow and structure to the festival.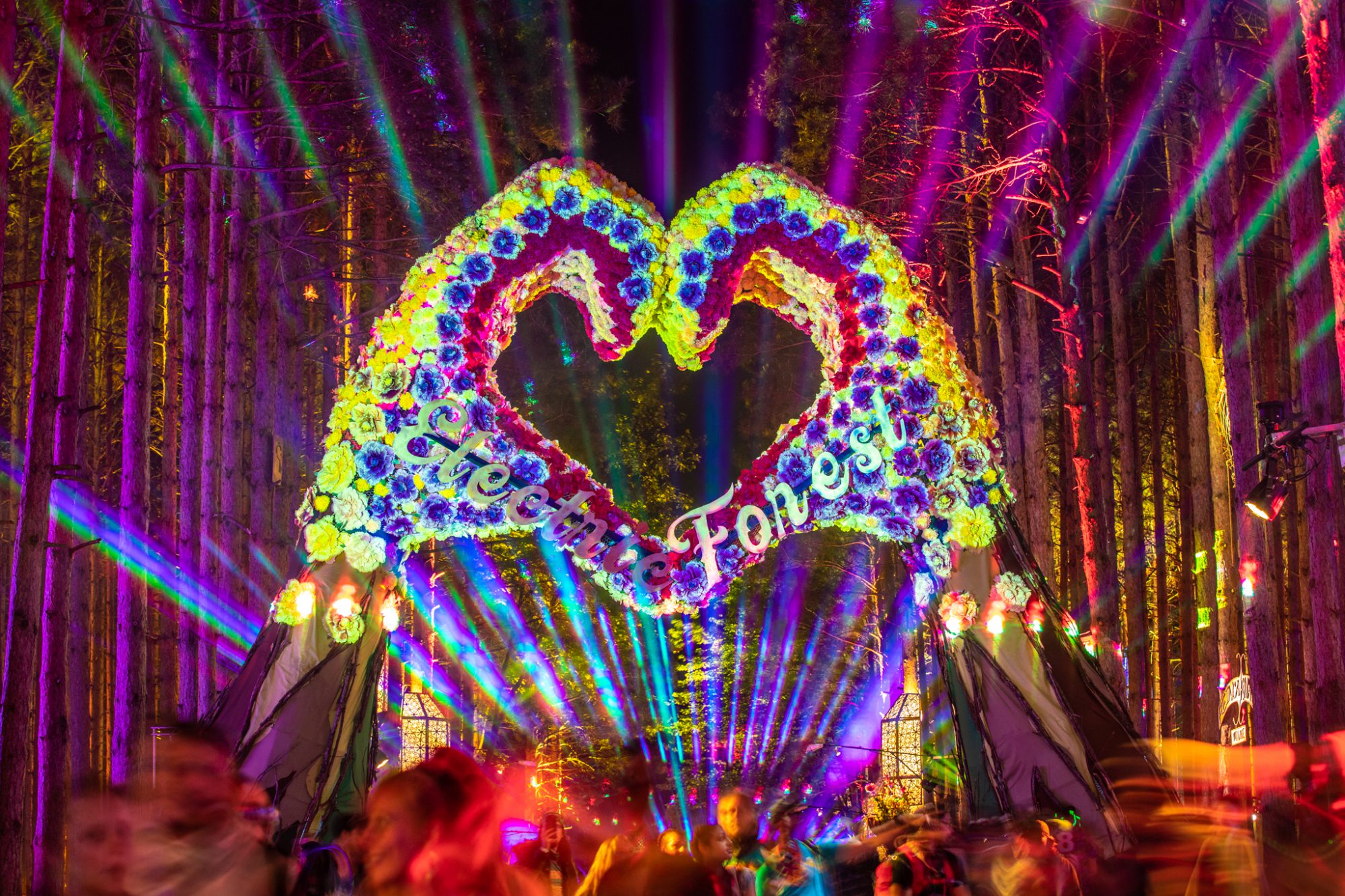 While many artists performed at least twice across the two weekends, I honestly cannot say that I heard the same set twice from anyone.
Bassnectar obviously brought the noise with two completely different, crate-digging sets. Mija, a top pick of mine, performed four times across the two weekends and while I only caught two of her sets, I am sure that she didn't repeat a single track because, c'mon, it's "FK A Genre" meej.
Finally, you can count on The String Cheese Incident to pull out all the stops since it's their festival and just about any artist would love to join in on their epic jam sessions. I particularly enjoy "Cheese" since they always fill out the Ranch Arena for the sunset sets from around 8 PM to midnight; besides getting to mingle with the hippie jam crowd (who are AMAZING), these elongated sets offer a nice way to bridge the gap between normal daylight hours and the beautifully weird nighttime hours.
Having attended last year, I was curious what would be changed and what would remain the same.
While the infrastructure and major stages remained largely unchanged, Forest HQ added (or continued) lots of the little goodies that I think make the festival so unique and special.
While the TWLOHA payphone project was the talk of the forest last year, this year everyone seemed to be obsessing over the little fairy homes found at the base of different trees across Sherwood Forest; while not new in 2018, there was a new "game" associated with these fairy homes, as each held a clue that collectively solved a puzzle with a great reward. Personally, I do not know what that reward was, but rumor has it that an underground speakeasy exists in Sherwood Forest that can only be accessed with a secret password!
The biggest change from last year was actually within the campgrounds: the addition of Main Street, which was a Shakedown Street of sorts that hosted lots of the food (with a focus on breakfast) and merch vendors. While there has always been a vendor presence in the campground, Main Street formalized it by adding art installations, places to hang out, and more to draw the #ForestFam in during the off-peak festival hours.
Weekend One highlights for me consisted of Kayzo, Zhu, Mija, Jauz, Hotel Garuda, and of course Bassnectar.
I seem to be chasing Kayzo around since first seeing him last fall in Tokyo before Ultra Japan. Since then, I have seen him perform in Chicago on his Doghouse Takeover Tour and then multiple times at both EDC Las Vegas and Bonnaroo. He always plays an uptempo set and blends bass music with hardcore flawlessly.
On the other hand, I had somehow never seen ZHU perform until Electric Forest and my timing couldn't have been better, as he has announced that the infamous LED board and associated production will be retired and that the two weekends of Electric Forest served as the final two shows of that style.  As a fan of Porter Robinson and other live acts, I loved ZHU's interpolation of live instruments, live vocals, and recorded beats.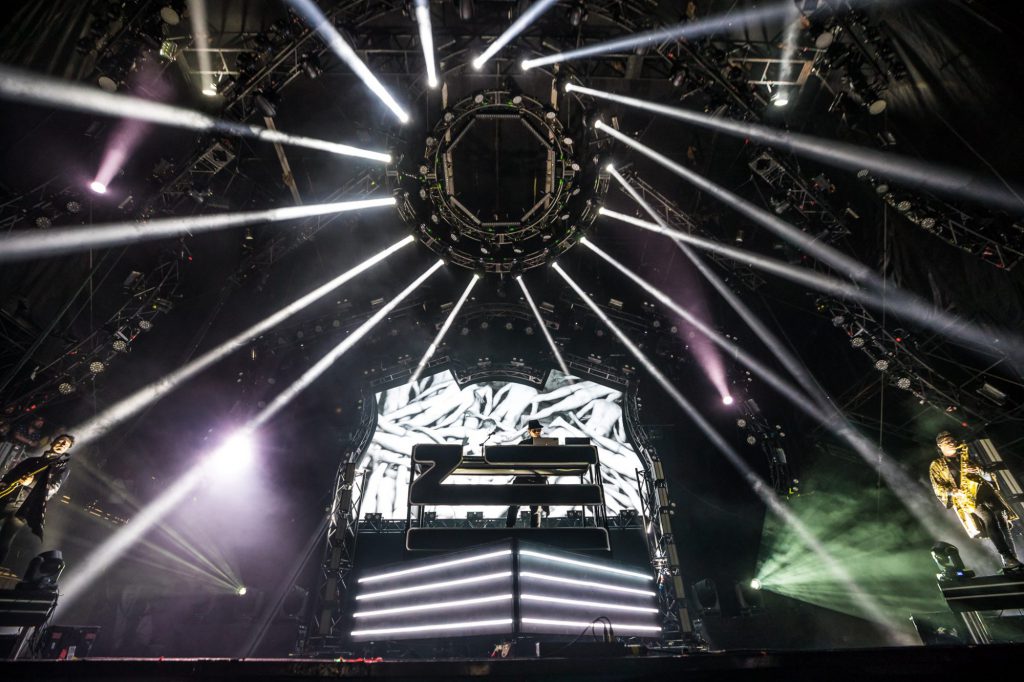 Time for another Mija shout out!
I really loved Mija's set at Tripolee, where she delicately blended lots (and I mean LOTS) of different genres with a heavy dose of drum and bass. While she didn't play my favorite in this set (her remix of Darren Styles' "Coming Running"), I recall a VIRTUAL SELF remix, the original mix of "Float On" by Modest Mouse, and probably my second favorite song of hers "that one time", which is off her 8-bit inspired soundtrack to her own short film, Time Stops. If you love happy hardcore and/or video game music then I highly recommend you check out this mini soundtrack.
Next, let's talk about Jauz… *evil grin*
So, for those of you that read my top picks post, you know that I said to expect a different type of set from Jauz, who would be closing down the dubstep-heavy Bassrush stage both weekends. With his sights set on offering a fun show while proving the haters wrong, Jauz absolutely annihilated Tripolee each time with very different but very filthy sets. While I may be getting ahead of myself, it's worth noting that he opened Weekend Two with "Pure Evil" and that had #SharkSquad freaking out!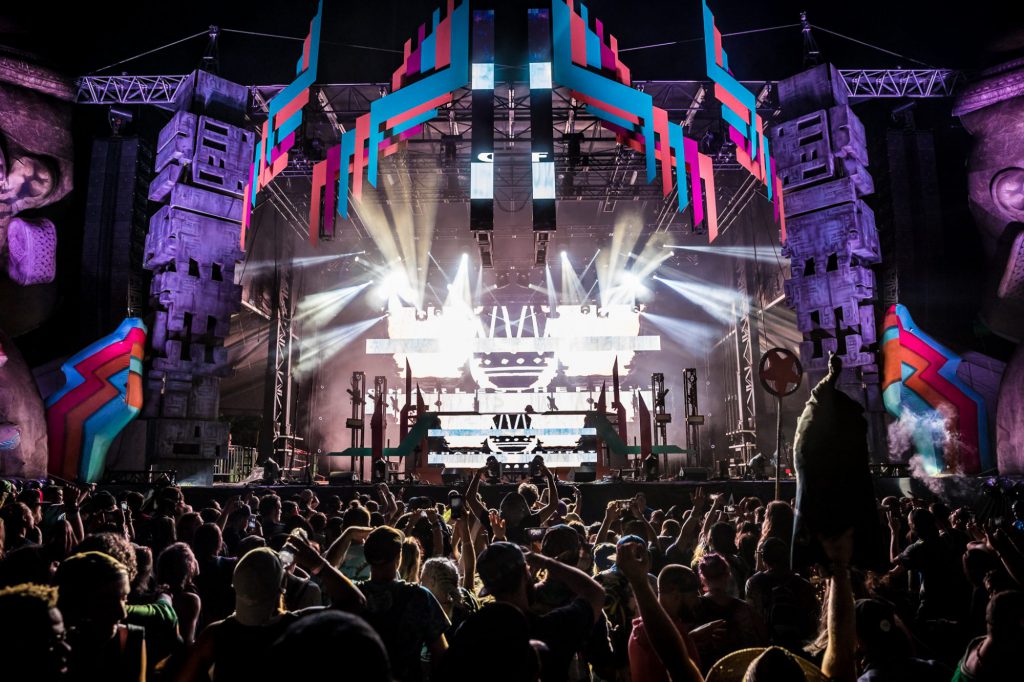 My next shout out goes to Hotel Garuda, who played their last show together during Weekend One after four years of producing and touring as a duo. Formerly composed of Manila Killa and Candleweather, Hotel Garuda will live on as a solo act at with Candleweather taking the reins. You could tell that it was an emotional moment for them at Tripolee and I really enjoyed the flow of their set. All that said, fear not HG fans, as they've stated that, "The book on Hotel Garuda isn't nearly over, this is just the beginning of a new chapter."
Finally, to cap off my review of Weekend One, it should be noted that Bassnectar is called bass god for a reason. He is. I lost track of my wook count quite a long time ago but I've seen Lorin perform somewhere in the neighborhood of seventy times and his set during the first weekend was seriously one of my favorites of all time. Oh, and a word to the wise, you'll enjoy Bassnectar exponentially more if you listen to Lorin's advice and leave the expectations at home.
That's all for the Weekend One! Now, let's fast forward to Weekend Two…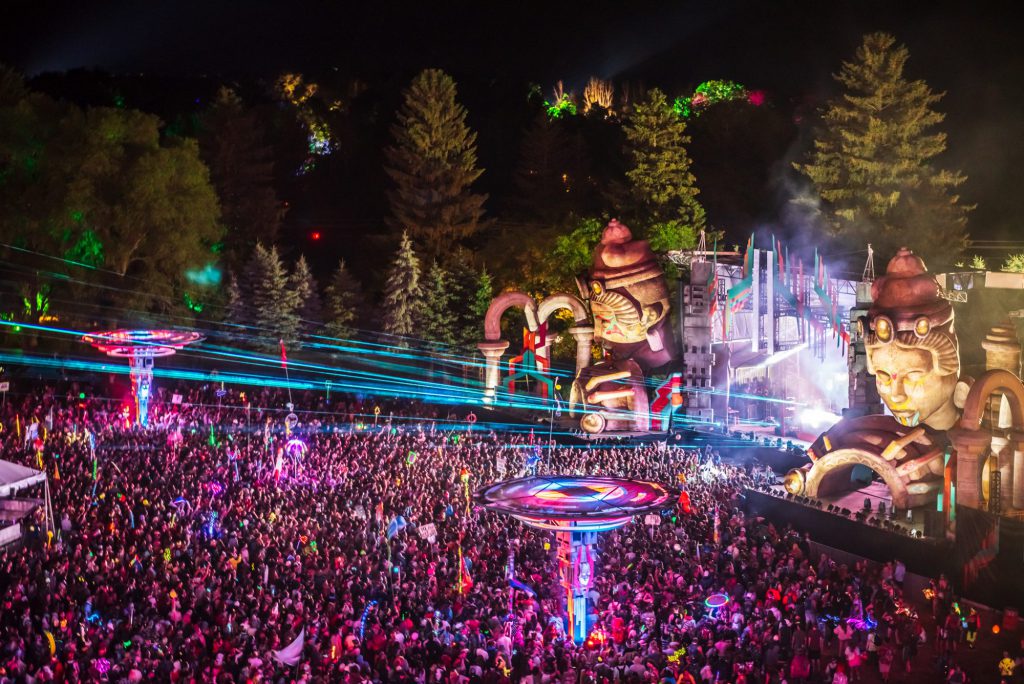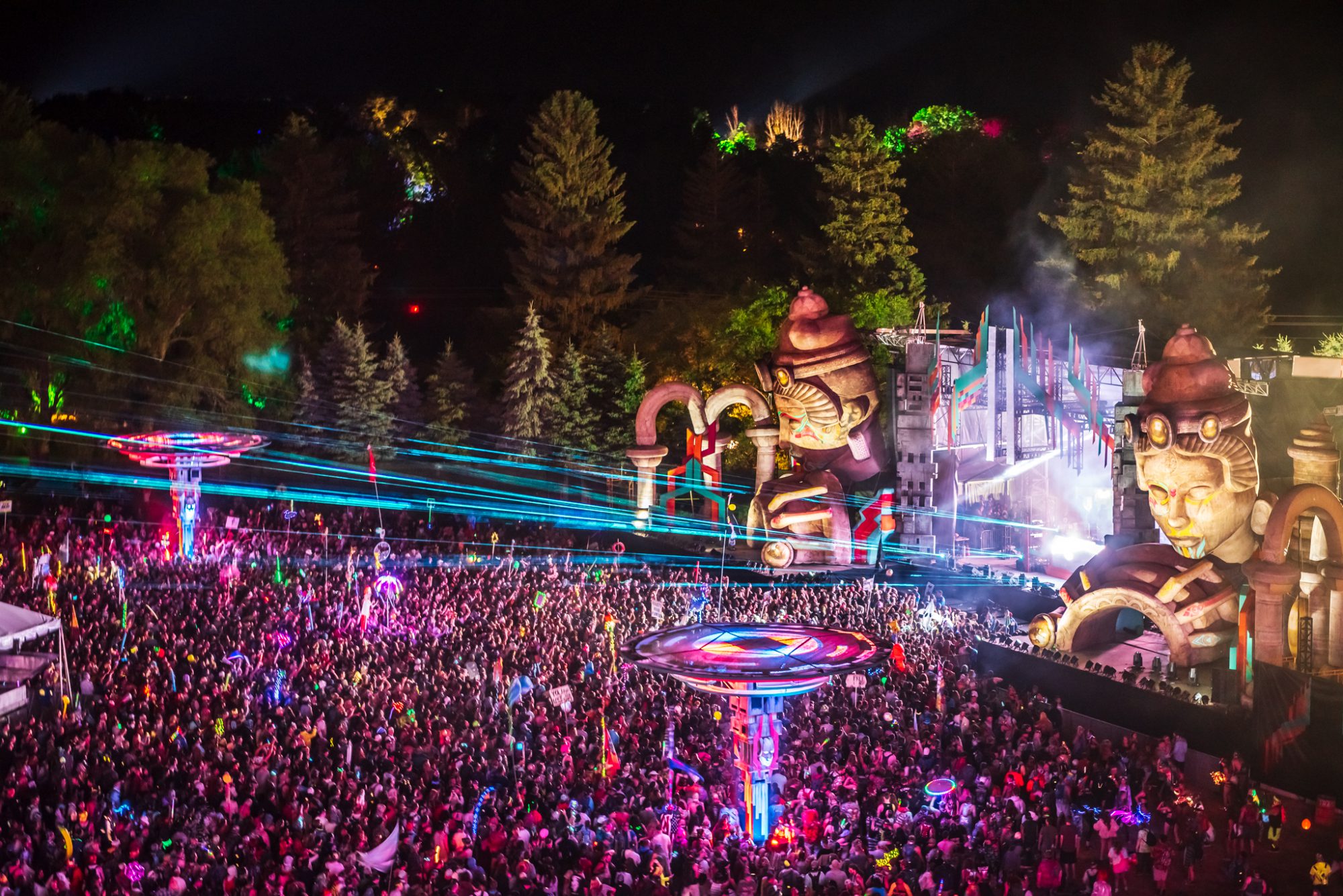 Weekend Two highlights for me consisted of Get Real, San Holo, Netsky, Lane 8, and TESTPILOT.
While Weekend One was cool and wet, Weekend Two was a sweat box 24/7 and that brings a certain wildness to things. That being said, I'm rapidly approaching a decade of festival experience so I decided to tailor my Weekend Two schedule to minimize the walking and maximize the vibes… aka catch me at the house and techno takeovers!
I love me some Claude VonStroke and Green Velvet so combine them into Get Real and you're in for a treat. The dynamic duo closed down Tripolee on Thursday with a fun set filled with booty house and tech-yes. I sincerely hope these two remain on the Electric Forest lineup in some form for years to come because they are a perfect fit for the festival.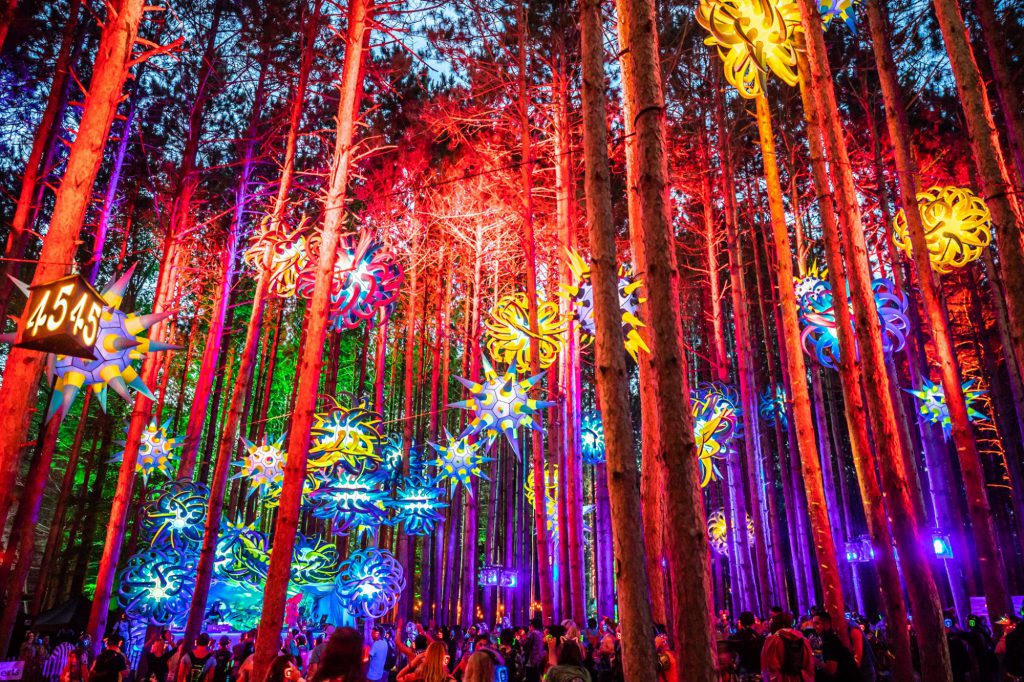 Time to talk about #PorterFam favorite, San Holo!
After not seeing him perform live since opening up on Porter Robinson and Madeon's Shelter Tour back in the fall of 2016, I was excited to see his name on the lineup for both weekends. I went to both of his sets and enjoyed each of them but his set during Weekend Two absolutely blew me away.
Maybe it was my spot (closer vs in the back during the first weekend), maybe it was the stage (Sherwood Court vs Tripolee during the first weekend), maybe it was the time (early evening vs closing during the first weekend), or maybe he was simply feeling it more during Weekend Two… regardless of the reason, I was in weeb electronica heaven! Plant!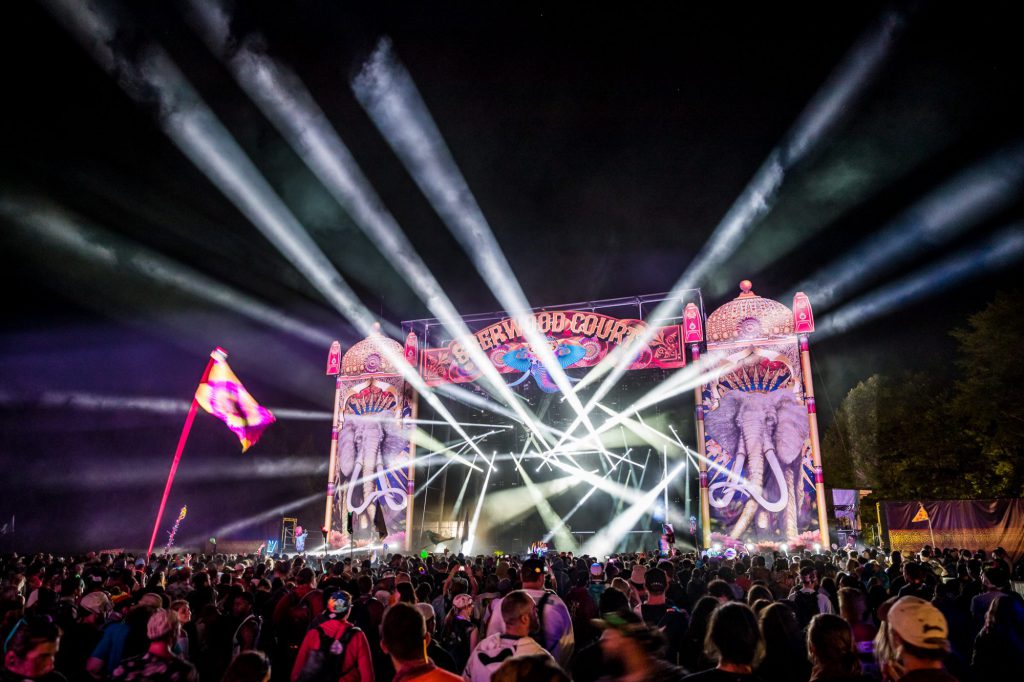 I think the award for most under-appreciated set goes to Netsky, who played an insanely good DJ set during the Bassrush takeover to mark his first time at Electric Forest.
I say under-appreciated simply because Netsky is a legend, up there with names like Nero and Noisia, and the crowd was simply too young to understand just how important his music is to modern drum and bass and dubstep. I appreciated the extra space, and after he dropped a drum and bass remix of VIRTUAL SELF's "Ghost Voices" that I had never heard, I took to Twitter asking for help with the ID, only to get confirmation from Netsky that it was his unreleased remix!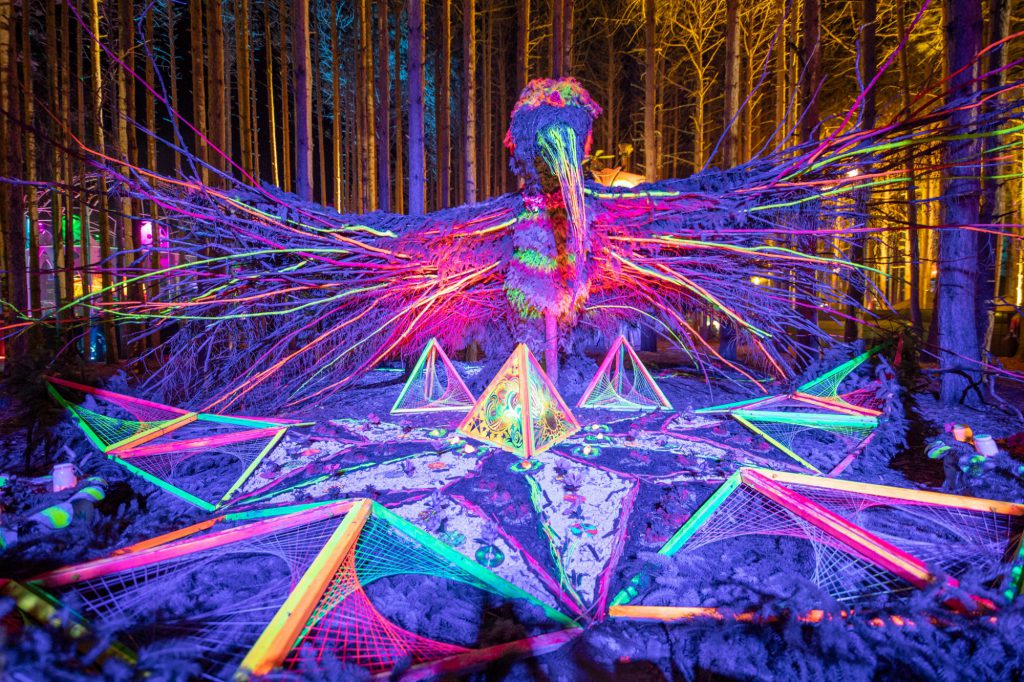 Okay, next up I just to give a quick shout out to Lane 8!
Nearing the end of two weeks of Electric Forest, my legs were spent and I was saving energy for TESTPILOT's closing set on Saturday, so I laid on my trusty flag and enjoyed Lane 8's set from my back. This man is a genius and I love his approach to blending elements of house and trance, which was obviously a huge hit with the EDM Identity team who are a bunch of #AnjunaFam regulars. Needless to say, I will not be missing him again in the future!
For my final highlight, I want to introduce Joel Zimmerman aka deadmau5 aka TESTPILOT! This man literally performed for two hours and did not say a darn word until his set was over ("Thanks. Bye.") because he didn't need to. I love deadmau5, I have a mau5head that I made way back in 2010, but man, it's hard to say that I enjoy his deadmau5 alias more than TESTPILOT after this set.
Hopefully I've inspired you to check out some new music! Dance music is a beautiful spectrum and there's a genre for every mood. Please try something new!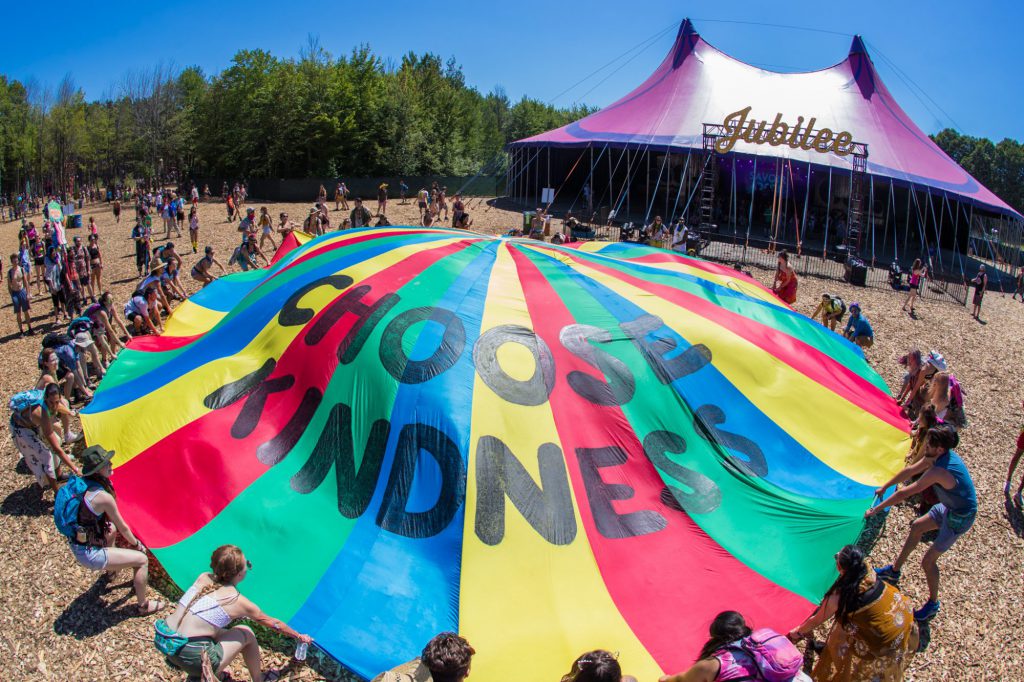 While my heart never truly leaves the forest, this year's edition of Electric Forest was something special and made my heart feel particularly full.
I walked away from this year's celebration feeling strangely refreshed and rejuvenated, despite conquering the cold rain during Weekend One and the abnormal heat during Weekend Two. I suppose that's a testament to the mental impact that this beautiful community can have on a person. I love you all so much!
my final video, and i saved the best for last…

this is a random #forestfamily member, playing a beautiful piano rendition of @bassnectar at @Electric_Forest

these are the kinds of things that make this festival and community so special

i love you all so much <3 pic.twitter.com/hjpcqMwYC2

— reporter robinson ⏩ edco (@djfoxxtrott) June 25, 2018
Big ups to Electric Forest, Forest HQ, and of course the #ForestFam! I cannot wait to see you all again next year in beautiful Rothbury, Michigan! 
---
Connect with Electric Forest on Social Media: