Borgore sat down before his b2b set with Getter at HARD Summer to chat about his latest track "Elefante", history with jazz, and love for dogs.
---
If you're at all familiar with dubstep or trap, odds are, you're more than familiar with Borgore. DJ, producer, record label owner and founder, Asaf Borger's done it all. In addition to running Buygore Records, he's also worked with artists from all parts of the music spectrum, from Miley Cyrus and G-Eazy to Getter and GG MAGREE.
Most recently, the Israeli DJ released his debut jazz album Adventures In Time and his single "Elefante", the latter of which's streaming proceeds will go directly towards the Sheldrick Wildlife Trust. Both releases give fans a taste of the diversity that Borgore brings to the table, all of which translates to his performances at clubs and festivals around the world that are full of energy.
We had the chance to sit down with Borgore ahead of his set at HARD Summer to chat with him about his latest album and single that dropped, what preparation for a live jazz show entails, and more! Make sure to listen to "Elefante" for yourself below and read on for more on this multi-talented artist below!
Stream Borgore – Elefante on SoundCloud:
---
Your latest track, "Elefante", is a big room banger and the proceeds of the music video actually go towards the Sheldrick Wildlife Trust. Can you tell us a little more about your process creating this track and how you chose this noble cause?
When I write music I like to sometimes play it to my Instagram live, see how people feel about it, whatever. Everyone said that it sounds like an elephant; I decided to call it "Elefante".
What I do a lot of the time is instead of trying to look for people to sing or whatever, I just go to people who I know and just ask them to do shit. So I called my manager who's Argentinian. I was like, "Yo, my dude. Listen. How do you say 'elephant' in Spanish?" He's like, "Elefante." I was like, "Hell yea. So, say it really quick, record it on your phone, and send it to me." So, he did. We put it on the record and then we were thinking about what to do with it.
If you actually check what I follow on my Instagram, it's mostly animal accounts. Dude, I don't care for anyone's, whatever the fuck they're doing, I just care for cute dogs and cute whatever… and some skateboard. There's a little bit of skateboard and tons of animals. Oh, and shit loads of memes. So my whole team knows that I'm super into animals and we were thinking maybe we help them if we can. So we decided that the proceeds would go to that.
Also, I was really on their ass to find the right place. Because a lot of these charities just take 90% for their pocket and like, 10% goes to whatever the cause is. I think that this charity is the one that takes the least percentage for themselves and mostly it goes to the elephants.
That's really cool. Your latest album Adventures in Time is beautifully moving and a departure from your heavy bass sound. When did you conceptualize the idea of a jazz album and have you always loved the genre?
I studied jazz for most of my life, that was the music that I grew up with. I wrote a lot of songs throughout the years and I actually forgot some of them. I recorded the album just so I won't forget the songs and it actually came out pretty good, so I decided to release it.
Following up on that, you also played a jazz night in LA. How does preparing for that show differ from your preparations for today's show?
To prepare for today's show, I need 15-20 minutes. I mean, at home, the thing is, I always listen to music. It's natural. It's not something that I have to step out of my way to do. So I'll listen to music and say, "oh, this is a sick record" and put it in a folder throughout the week. The weekend comes and I'm like okay, these are all the songs I just got. I'll throw them into my set, figure out when I'm playing it. 10, 20, 30, an hour. If I have a specific event – like weird markets or you play a bottle service, all of a sudden you cannot play riddim for two hours. You need six, seven hours maybe to have a completely new set. That's it.
The thing with jazz, you need to goddamn fucking practice. Eight hours a day. Practice the fucking piano like crazy. Sit with the other players. Make sure that not only you play all right, they play all right, that you play all right together. A lot of it is improvisation, it's not like written music. So, you need to learn their body language, learn their musical cues so you know where they are in the song, where we're going, you know? It's complicated – it's fucking complicated! It's not pressing play on a CD.
Today you're playing a b2b with Getter. How do you approach b2bs like this? Have you chatted with Getter prior to the set?
We just sat for 20 minutes and were just like, "Oh, I have this right here!" "Oh, sick, I have this right here!" "Oh, yeah, sick, I have this right here!" "Oh, yeah?" "Oh, yeah let's play this!" I think the approach to that is to just go there and have fun. We did a couple of them before, it was always unofficial. It's a little bit more serious now that we're officially doing a b2b, but before we begin, we had a couple opportunities. We'd be at the same house party, whatever, you know? So, I'm not really nervous. Also, we're really good friends, so it's not like I'm going onstage with a complete stranger.
That makes sense. So, your performance today kicks off the BGU tour that will take you across the North American continent. Are there any specific cities on the tour that you've never played in or that you're excited to return to?
There is a shitload of places I've never been before, but at the same time, I've been in some places you'd never imagine. Like once every two years we go on this smaller market tour, I really like it. Some of the cities in America, you cannot imagine. It's sick, dude. All of a sudden you're in a small town, like three streets with super cool stores and super cool restaurants. I like it, it's like a vacation almost.
This summer has seen you take the stage at major festivals like EDC Las Vegas, Parookaville, and here you are at HARD. Compared to club nights where there are more intimate vibes, is it more difficult to read the crowd? And of the two settings, which do you prefer?
Man, it's hard to tell. It's a different thing. I love both. Reading the crowd… the only thing is that at a festival, the people at your stage are not necessarily people who came to see you, which kind of plays a part in it. You need to consider this and you need to have a more open-minded set.
When I play club shows, aside from what I told you like bottle service, when I play my own shows, I tend to explore a little bit more. I'm thinking that the people here paid to see me, therefore I'm going to try to have fun and try to go to some different places with them. In a festival, it's a little bit safer. But safe again, what is safe? 'Cause you know when you play HARD, safe is to play as heavy as you can. [Laughs] So, that's safe. The decision, the safe choice. I wouldn't necessarily play more musical records. More, I don't know, there would be fewer breaks. When I play my own sets, I can try to do some more weird shit, throw in more sequences.
I played a show in Germany a couple of days ago that was super underground. Found myself playing a half an hour of old school dubstep, shit from like 2009, and then I went straight to drum & bass. Yesterday I played three drum & bass songs and everyone was like staring at me like, "What the fuck is this music?" [Laughs] "What is this genre? Is this you?"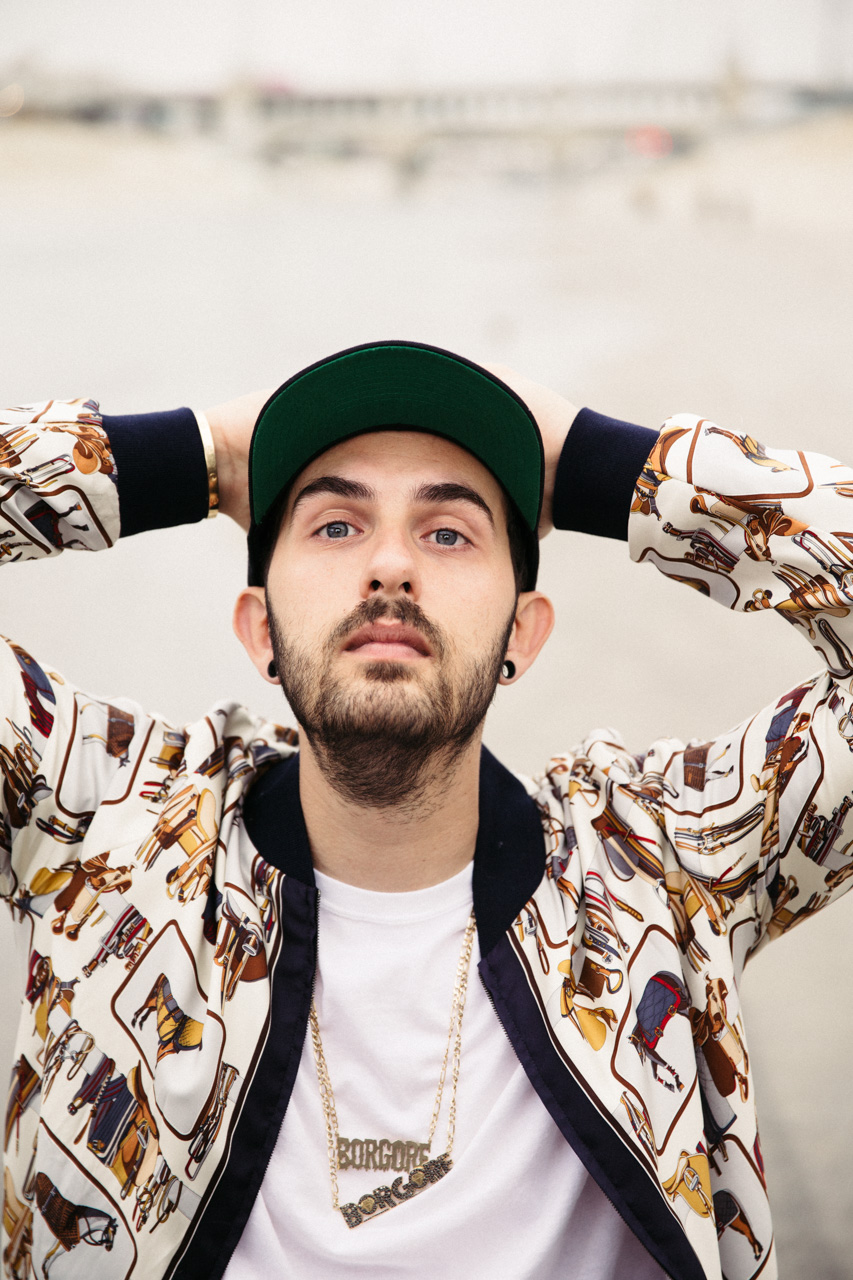 You just flew in from Romania and played in San Francisco before coming down to SoCal today. It's such a busy schedule. What are some things you do to stay healthy on the road?
I don't do drugs. No nicotine, no weed. You know, I probably need to not drink as much alcohol but even with alcohol, I'm not going excessively. There's no alcohol outside of the show and even during the show I never get super drunk.
So, in general, the one thing is I have a beautiful girlfriend that supports me and keeps my mental health strong. I have a beautiful family in Israel that I talk to every day. They keep me healthy. I surround myself with good people. [Points to management team] That's all you need.
These past few weeks, you've seen a few producers create tracks for video games and I know that in your personal time you like to enjoy video games as well…
Yeah, we tried that shit. [Laughs]
…Is creating a track for a video game something you'd like to do?
[Laughs] Most of my records are too explicit or too aggressive and the thing is… it's a really weird thing. When I write music with a purpose, it comes out pretty shitty. When I say at home and I just explore, like when I wrote "Decisions" or "Forbes", I wasn't thinking about making a mainstream record, a crossover record. I wasn't thinking about these things, I was just writing music, you know? And somehow it crossed over. When I wrote it, I didn't think Miley Cyrus. I didn't think G-Eazy. If you tell me right now to sit down and write a record for Miley Cyrus or G-Eazy, it's gonna suck. [Laughs] You know? It's not going to be good! So, I have that issue. So, maybe one day, one of my records will go into a video game.
But as of right now, no?
Right.
So, we know you have a love for puppies. If you were to get a dog, what breed would it be?
There are like three or four breeds that I wouldn't get because there's one breed that I hate.
What's that breed?
Doberman Pinschers. The small Doberman Pinschers. The thing is, if I were to see a Doberman Pinscher right now, I would play with it. We're gonna fucking roll in the mud together. He's my dude. But, I wouldn't purposefully go and get one. And then there's a couple that I don't necessarily love. But again, if I see it, it's game over. You cannot get me concentrated.
But breeds I want to get… dude, French bulldog, regular bulldog, pit, Ovcharka, Shephard, Dogo Argentino, Golden, huskies. I don't like the miniature one, I like the full size one. Yeah, I don't like the small ones. Also, everything mixed with Poodles. Shipoo, Labradoodle, Golden Doodle, all the doodles. And the Poodle! And the Golden! And the Labrador. Dude, I just want all of them. All the dogs my dude. [Laughs]
---
Connect with Borgore on Social Media:
Website | Facebook | Twitter | Instagram | SoundCloud | YouTube