Rising star Pluko sat down to chat with us about his debut album 'Sixteen', working with Odesza, his current dream vacation, and more!
---
There are not many 18-year-olds who can say that they've played major festivals like Coachella, been signed to ODESZA's Foreign Family Collective label, and released an album, all within two years. Sam Martinsen, better known as pluko, has done all of this and more, quickly going from "bedroom producer to mainstage act," wasting no time doing so.
He may be relatively new to the scene, but pluko has already caught the attention of fans nationwide and garnered support from big names in the industry, proving just how impressive this young artist is. Most recently, Martinsen released his debut album Sixteen, following his explosive HARD Summer performance on Sunday of the festival. Beautifully haunting and raw, pluko's music is both refreshing and familiar and if one thing's for sure, it's that the future is bright for this impressive up and comer.
We got the chance to sit down and chat with pluko after his set at HARD Summer to learn more about his debut album Sixteen, what it's like working with Odesza, his current dream vacation, and more. Read on for the interview and grab Sixteen on your favorite platform today!
Stream Pluko – 'Sixteen' on Spotify:
---
You've been making music professionally for two years, yet you've already seen support from many players in the industry. What emotions have you felt on your journey so far, and what would you say has been one of your main keys to success?
Probably when I first started the tour with ODESZA just seeing how interested they were in what I was doing and they were such a huge inspiration on top of the industry and the fact that they would come to my dressing room and sit down and talk to me about my music and not their music, that was really wild.
I love ODESZA.
They're the nicest people too. People always wonder if they're actually nice, and they're so fucking nice.
They always seem like it!
They're so fun to be around, it's cool.
In the short time that you've been making music, you've already taken the stage at major festivals like Coachella and here at HARD Summer this weekend… your set was great by the way. How have you dealt with the jitters of getting on stage to perform in front of thousands of people?
I think they've gone away because I've just gotten used to how I perform. Every time I do something new though I get a little bit of stage fright. Like with Red Rocks, one it's Red Rocks and two, it was a whole new set. It was crazy, but now its really like… I don't get too many nerves unless it's like a super big deal or there's a lot of change in my live set. But lately I've kind of gotten used to it and now I just have fun.
You recently released "Love", the final single off your upcoming album Sixteen. Can you speak to the production of the track and what it means to you as an artist?
So it really just started off as this cool little ambient thing that I built, and I've said a couple of times it's just about what love feels like and not only loving someone but feeling love too. So yeah, I was just writing this ambient thing and then I just got this idea to change it up and make it super fun, like the plucky thing. That's how it is with every track, however, I'm feeling or whatever I'm thinking about, it just kind of comes out. It's really cool.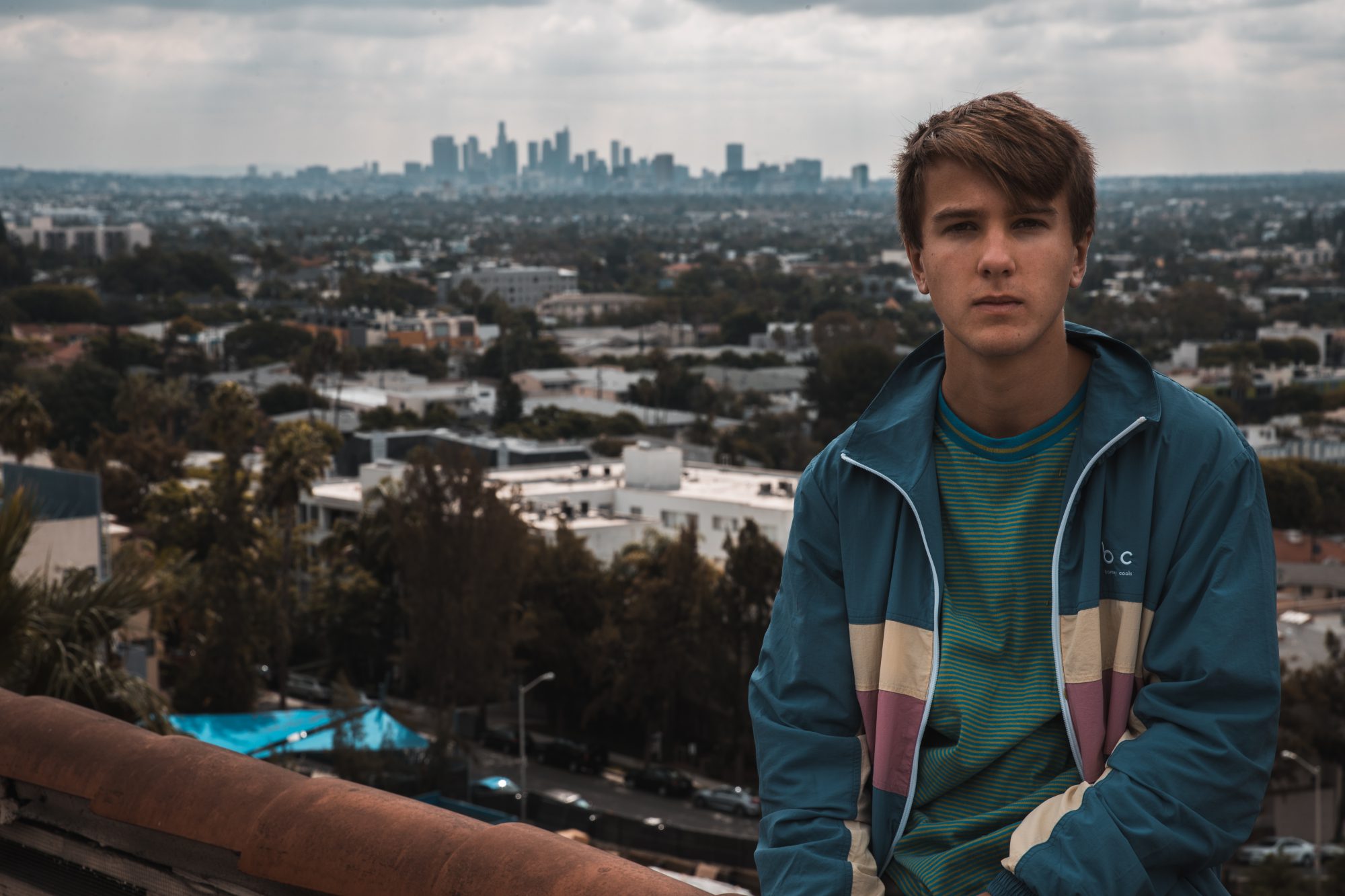 When speaking about Sixteen on social media you mentioned it was less about the drops and more about the emotion in each track. Do you ever feel that the industry puts pressure on artists to churn out bangers?
I think that the whole culture has made people just want hard-hitting bangers. I totally get it and I love shit like that but it's not all about that. There are enough people out there that get that too to where it's not like a concerning thing. There are just some people who are into the hard-hitting stuff and some who really appreciate everything, it just really depends on the person. But yeah I think I love hard music just as much as anyone else does.
I mean, I love both, it's a good balance.
Yeah, that's why my music is so diverse. It will go from super hard and super fast to super slow, ambient, emotional stuff. And then sometimes I'll meet myself in the middle, like I'll go hard but at the same time, it's an emotional, melodic thing. It would be boring if I just sat up there and played ambient stuff all day long.
If you could have listeners take one message away from your album, what would it be?
Probably that they can relate to it. I think its hard to relate to something with no lyrics, but what I've been trying to do, which is so difficult, is trying to get my point across without saying anything. So it's just cool. I really hope that people can get what I put in there out of it, and to be able to connect and relate emotionally to the song.
Yeah, that's important.
And take the time to listen to it from start to finish because it's a whole body of work. It's meant to be listened to that way.
Aside from your original releases you've also put your touch on tracks from artists like Hayden James and ODESZA. What drew you to remix these releases and do you approach them differently than original works?
Yeah, that was actually my first hint of ODESZA, was doing the remix and I was chatting with them about the Foreign Family thing and they were like "do this remix." But yeah with remixes, the Hayden James one my management showed it to me and I was super interested in it.
I've been focusing on original music obviously, getting the album out, I'm just always writing new stuff, but my favorite thing is to work with a vocal that's already done and then put my own touch on it. So like, I'll keep my original stuff that started as demo vocals by themselves, and then I'll completely redo the instrumental. That's my favorite way to work. I like to understand where the vocal is coming from and reflect that with the instrumental, it's kind of hard the other way around to get what I want. So with remixes, I love doing remixes because I can relate to the vocal and pick out what I want to do.
When you're sitting down in the studio and getting ready for a session is there anything specific you do to get in the producing mindset?
When I start writing I usually am inspired by something. I get inspired by 90% things that aren't music like art and film. I love film, short films on Vimeo, I'm always on there. Just seeing people who are passionate about what they do just makes you want to create stuff, and as soon as I see that I just go nonstop.
So if you get writer's block do you go on Vimeo?
Yeah if I can't really write anything I'll either listen to new music or watch video stuff or check out Pinterest and look at stuff.
I love Pinterest, I'm a big Pinterester.
It's great. It's fun to pick a cover for an "EP" that's never going to come out or something like that, or just an idea, and then make something that will fit along the lines with that.
Your Outer Thoughts mix series featured new music from you while showcasing your diverse style as an artist. Can you share your thoughts on the series, and will we be seeing more volumes released now that your album is due out?
Yeah, definitely. I've made so much music and so much stuff that just kind of an idea and I'll forget about it and then I won't build it out so I can put it out as a pluko track. And I think that people should be able to hear the stuff that I write, so for a period there every month I was taking all the stuff that I made and strung it together. Lately, I've been finishing all the album stuff so I'm taking a break on it, but you'll definitely be seeing more of that stuff as soon as I have some time.
Who are three artists that you constantly find yourself listening to?
I'm always listening to and really like Tourist, he's like a deep house, Jamie XX kind of guy. I love Frank Ocean and all of that. And I really like Phoenix, I listen to them a lot, they're so good.
Finally, if you could travel anywhere in the world, where would it be and why?
Lately, for some reason, I've been really thinking I would like going to Greece. There's this place, I forget what it's called, but they have the greatest suites. Each hotel room has its own pool and its overlooking this beautiful view. I just want to go there so badly, it would be like my dream vacation at the moment. I was just in Turks & Caicos, I love traveling.
---
Connect with pluko on Social Media:
Website | Facebook | Twitter | Instagram | SoundCloud