Stay in the know ahead of Das Energi 2018 with this essential info! Will you be dancing the weekend away in Utah?
---
Heading to the Great Saltair for another absolutely stacked edition of Das Energi? Then you'll need the important information below to stay in the know. With the release of the set times and festival map for 2018, you can now plan exactly who you'll be catching at the festival! Read on for all the essential info and let us know which sets you're most keen on catching in the comments.
Looking to get hype for Das Energi? Check out the trailer and Spotify Playlist!
Tickets are still available via DasEnergiFestival.com, get them before they're gone! Join in on the fun and tell the world you're going by checking out their Facebook Event Page!
---
Das Energi 2018 Event Information:
Date: August 17-18, 2018
Hours: 5pm – 2am
Location: Saltair – 12408 West Saltair Drive, Magna, Utah 84044
Age Restriction: 18+ to enter, 21+ to drink
Facebook Event Page: RSVP HERE
Tickets: Register HERE
Acceptable Forms of Identification for Entry
State/Government Issued ID
US or Foreign Government Passport
College IDs with photograph (will not grant you entry to the bar)
High School Identification with a birth certificate (must have both and will not grant entry to the bar). 
Unacceptable Forms of Identification for Entry
Consular Identification
Licenses issued in countries other than the U.S
Expired identification of any kind
Xerox copies of any Identification.
---
Das Energi 2018 Set Times:
Plan your night out. The event is taking place from 5PM to 2AM both Friday and Saturday. I generally try not to keep a rigid schedule, I generally pick 2-3 artists that are a "MUST SEE" and then just let the flow of the night take it from there. Make sure to leave adequate room to take bathroom and water breaks, and meet up with your friends also attending the event.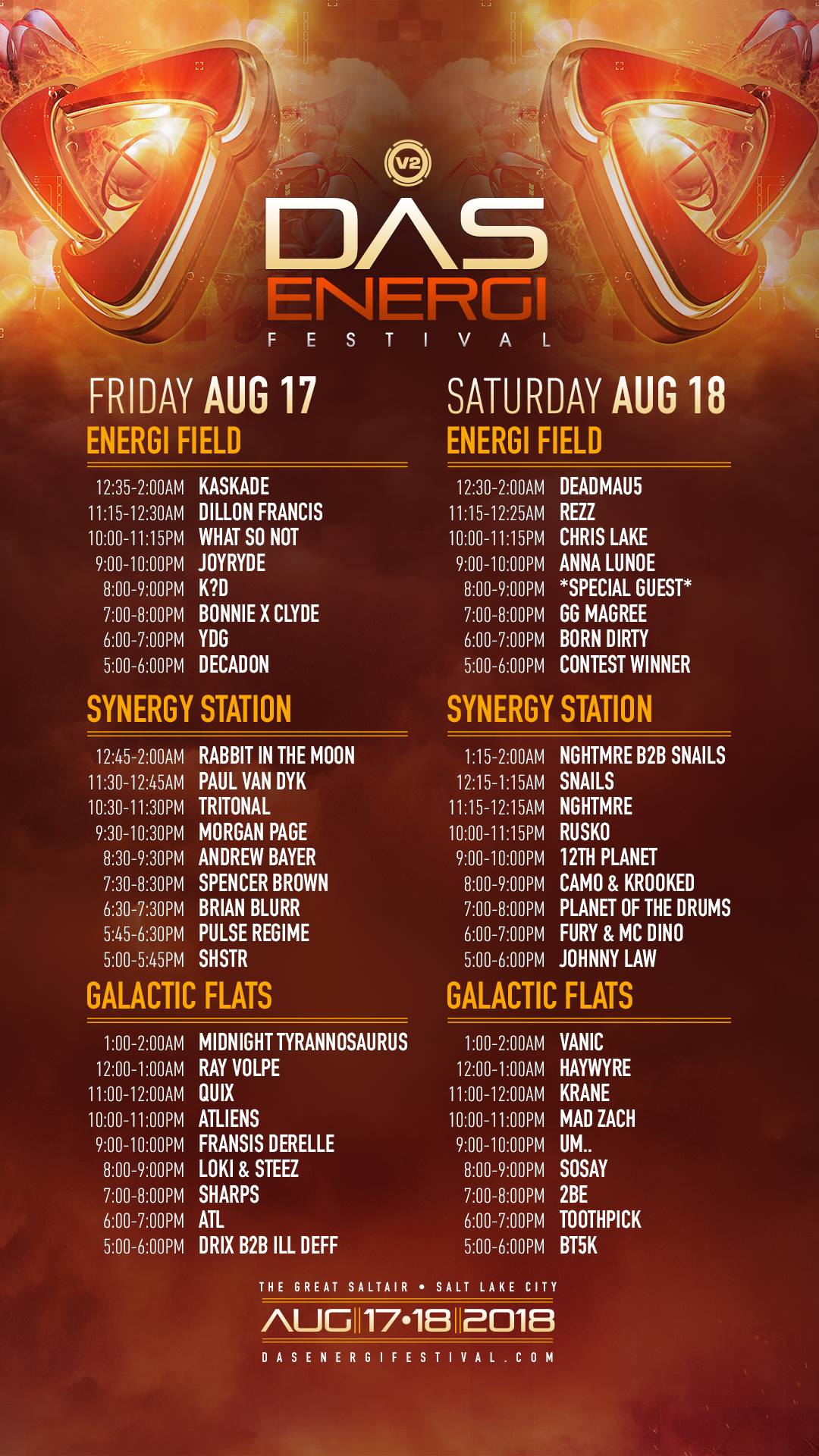 ---
Das Energi 2018 Festival and Parking Maps:
Parking does cost $10 per car, per day. So try to carpool and make sure you have cash when you arrive at the venue. Likewise, driving under the influence is never a good idea. Uber/Lyfts will be picking up/dropping off at the venue.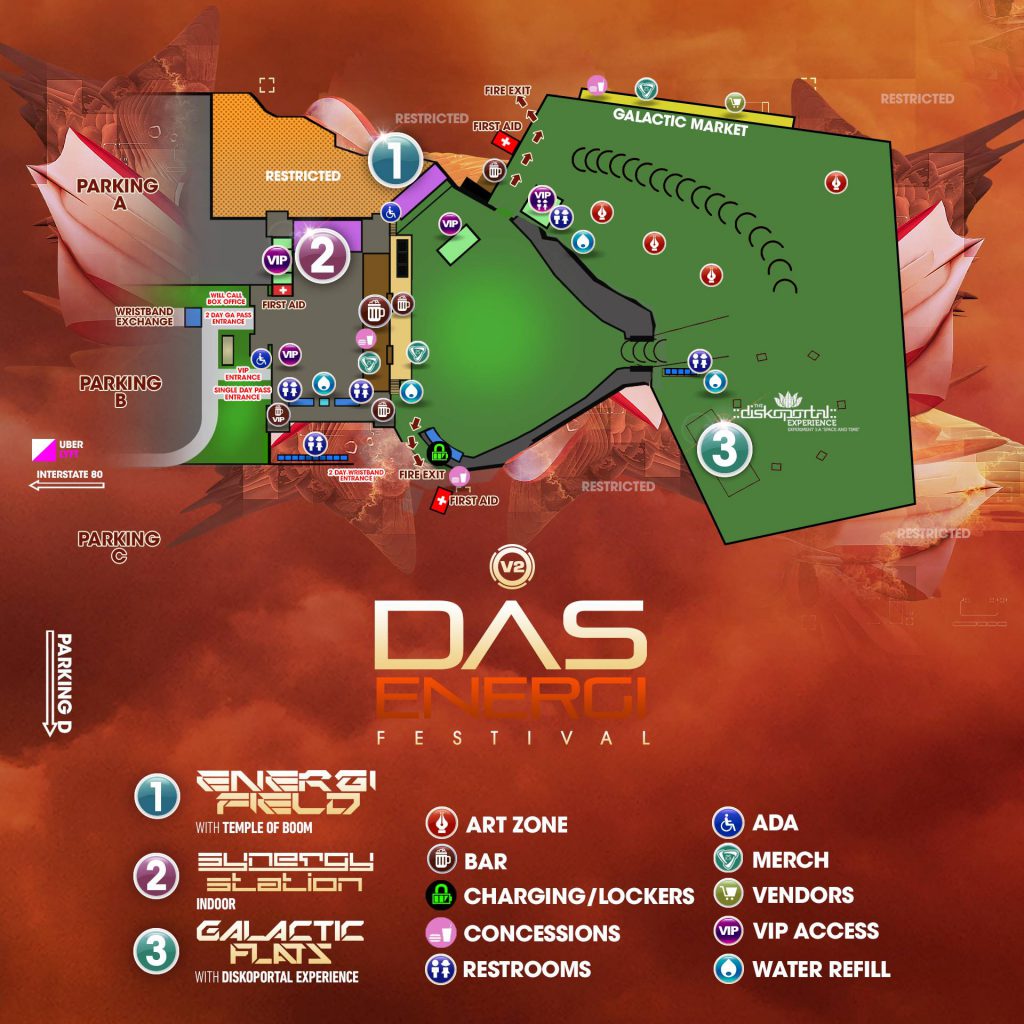 ---
Das Energi 2018 Do's & Don'ts:
Acceptable Items:
Small bags, single compartment backpacks, & purses (Empty String Bags OK)
Empty Camelbaks
Cash and Cards
Non-Professional Flash/Still Cameras
Cell Phone
Sealed packs of cigarettes
Sealed/unwrapped tampons
Earplugs
Valid Identification
EL Wire
Mechanical Mods (E-Cigs)
Vapes and vape juice (Must be sealed upon entry)
Mascot Costumes
POI, Staffs, Hula Hoops & Other Large Flow Toys (Searched upon entry)
Festival totems or decorated pool noodles (see TOTEM GUIDELINES below)
Positive Attitudes
Prohibited Items:
Illegal Substances / Paraphernalia
Backpacks / Oversized Purses
Weapons
Professional Cameras
Video Cameras (Including GoPros)
Markers
Lighters
Bottles, Glass, Canteens, Flasks
Food, Candy, or Beverages
Open Cigarette Packs (Sealed Upon Entry OK)
LED Gloves or Microlights
Bad Vibes
Totem Guidelines:
Must be smaller than 6 feet, and no thicker than 1 inch.
Must be made of light material: swim noodles, foam-type material, cardboard tubes, fabric, string yarn, light plastic, balloons, and/or blow-up items.
Totems made of wood, metal, and/or PVC material will NOT be allowed. This includes flagpoles and heavy sticks.
Any item deemed dangerous will not be allowed.
Security and staff have the discretion to allow and not allow any totems they find dangerous or unsuitable
---
Reminder To Mind Your Belongings:
Unfortunately, many people have reported pickpockets, bag slashings, and theft of wallets, smartphones, purses and other valuables during this festival season. While this small number of bad apples in the bunch doesn't define an entire crowd, there are opportunistic people who come to these events to take advantage of unsuspecting partygoers and it's important to be mindful of your valuables while at Das Energi.
Looking for tips to keep your belongings safe? Check our post highlighting some ideas!
---
Stay Energized with Das Energi on Social Media:
Website | Facebook | Twitter | Instagram
Connect with V2 Presents on Social Media: