Although the summer vibes are still in full swing, we've begun to tune our ears to the sounds that will soon come from Dirtybird Campout West this year with a sick mix from Bell Curve!
---
If you haven't started digging into the lineup for Dirtybird Campout West 2018, then you best start your journey because there is a lot to listen to ahead of the event! This jampacked lineup is set to plenty of house music sounds that will be keeping crowds dancing away, but it is the booming bass coming from the Bass Lodge that we're exploring today with this sick mix from Bell Curve.
Co-Founder of Worst Behavior Records with fellow bass artist Anna Morgan, both have been pushing the boundaries of bass music while also throwing some sick parties as well. Recently releasing tracks like "Good Vibes Only" and "Interlinked", it is clear that Bell Curve is leading the charge with the next wave of quality beats close behind her, you won't want to miss her set this year!
Featuring 44 bass-fueled tracks that range from her original tunes like "FWM" and "Bird Dance", along with G Jones, Skepta, Sully, and more, this mix is one that you'll definitely be listening to from start to finish. The highly curated tracks in this set show off Bell's abilities as a true selector, so make sure you strap yourself in because she'll be taking you on quite the ride with this mix!
Tune in to Bell Curve's Dirtybird Campout West mix below, let us know what your thoughts are on her style behind the decks, and grab your tickets to the festival today via Eventbrite!
---
Stream Bell Curve – Dirtybird Campout West 2018 Mix Series on SoundCloud:
---
Tracklist:
Bell Curve – Interlinked
Noh Vae – Shaka
Proc Fiscal – Who Can't Hear
Konga – Die Die Riddim (Bell Curve Remix)
Itoa – You're the One For Me
Supb Yao – Work (bastiengoat remix)
dBridge, Kabuki, Addison Groove – Dot Hot
Bell Curve – Clothes She Wears (Vibrations)
Bell Curve – FWM
Stranjah – Muerte 808
Bell Curve – Bird Dance
Danny Scrilla & Kromestar – Hive
Redders – No Go (prod Sam Binga & Hyroglifics)
(soon) – Lunar Twist
Samurai Breaks, Dyrekt – Deep N Fast You Know
Skeptical – Freudian Slip
A.Fruit – mybeatlow
Equiknoxx – Last of the Mohicans
Ilk – Space Dub
Thast & Zora Jones – Out Da Kitchen
E3 and Alter Echo – Call Mi Name
DJ PLEAD – M11
Bushido – Gaze Evade
Luke Vibert – 107 Acid
Esa – Blast (feat. Narch Beats & Pendo Zawose)
These Evil Streets – Flames
Ikonika x 45Diboss – Ahright Den
KYO – S14
Corticyte – Modulate
Sully – Let you
Walton – Vectors
Bell Curve – Memory Dropbox
Pearson Sound – Starburst
Cygnus – Iaaafos Blank Mix (TEXTASY Dance Floor Dub)
Bushido – Through The Glass
TMSV – Delet This
Rico Nasty – Trust Issues
DINAMARCA – Holy
Special Request – Simulation
L U C Y – Moths
Skepta – Detox (feat. BBK)
Bell Curve – That 808
Batu – Flash React
G Jones – Help! I Can't Find My Way Out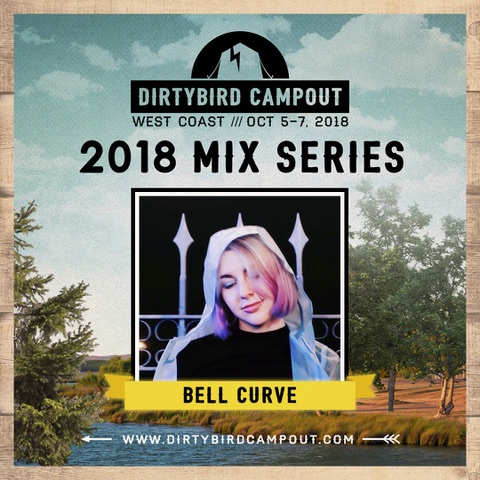 ---
Connect with Bell Curve on Social Media:
Facebook | Twitter | Instagram | SoundCloud
Connect with Dirtybird Campout on Social Media:
Website | Facebook | Twitter | Instagram | SoundCloud