Welcome to The Landing, EDM Identity's weekly post highlighting fresh tracks you may have missed!
---
In each edition of The Landing, we intend to highlight some tracks that have landed in our inbox each week that you may have missed, or perhaps shine a light on new music for you to fall in love with.
This week's edition of The Landing features fresh tracks from DROELOE, Seven Lions & Blastoyz, Herobust, Shlump, and more!
Listen to some of our favorite tunes from this week and past editions in our playlist and read on for more details on the tunes added below!
The Landing || Volume 079
---

Edamame soothes our soul with "Oil"!
Hailing from Chicago, ambient electronic music producer Edamame released a new single from his upcoming Nightlights EP. "Oil" is the type of track you want to listen with headphones on while exploring and taking in the beautiful sights of nature. I've always been a lover of melodic chill ambient style music that makes me feel like I'm floating. It's the type of music that can make me feel happy, sentimental, relaxed, or even inspired. "Oil" is the perfect example of how it feels to be all of those emotions at the same time. – Julia
Stream "Oil" on SoundCloud! 
---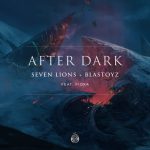 Seven Lions' newest collaboration with Blastoyz takes us on a Psytrance eargasm with "After Dark" featuring singer-songwriter, Fiora.
While "Dreamin" gave us those "honeymoon vibes", "After Dark" is the opposite. The opening track and Fiora's more haunting voice sets a very ominous and dark atmosphere much like that spooky feeling you get walking at night with no flashlight. That eerie opening leads up to a more energetic chorus full of Psytrance basslines.
The track as a whole almost has a gothic psytrance vibe to it. I can do without the gun cocking soundbites that appear on the track. As a whole, I feel this is a solid Psytrance collaboration that I hope opens a gateway for more psytrance tracks for Seven Lions and possible original ones. Like any other Seven Lions fan, it's exciting to hear him expanding his repertoire of music genres in his discography. -Lisa
Save "After Dark" on your Spotify Playlist today!
---
Network X makes his stunning OHM Music debut with "Krypton"!
If you love you trance beats dark, driving, and unapologetically serious then you are going to love what Network X has dreamt up for your listening pleasure! For his very first go-round on OHM Music, Network X illuminates the atmosphere, charged by the elemental power of "Krypton".
Set to take major set lists by storm, "Krypton" provides the perfect auditory escape as the lumbering undertones and supreme melody magnifies your hearts craving, unleashing your body to move in ways like you never knew it could. So turn up the volume as Network X demands your full and undivided attention, heating up all of your nightlife escapades with a spectacle of raw trance mayhem. And stay locked in as the era of Network X has only just begun! -Maria
Stream Network X – "Krypton" on SoundCloud!
---

Released on his latest EP Lazer Beam, Shlump gets deep and dirty with "Top Shotta" ft. Badmon Bishop.
Ever since I heard "FUNK (Beat-Box)" for the first time, Shlump has been one of my favorite freeform bass artists. Combining magical artistry with heavy bass soundscapes, Shlump has never ceased to amaze me with each of his releases. Released on Deadbeats, Lazer Beam is Shlump's insanely wubbly six-track EP. My favorite track is hands down "Top Shotta", a smooth hip-shaking wobbler that's a standout from the rest of the heavier bass on the EP.
Featuring the reggae vibes of Badmon Bishop coated in signature Shlump bass waves, "Top Shotta" has an electric feel that'll surely get crowds going. The mixture of deep vocals and trippy bass bubbles makes "Top Shotta" a grimy yet shockingly smooth masterpiece. Check it out today along with the rest of Lazer Beam! – Jayce
Download or stream "Top Shotta" and the entire Lazer Beam EP on your favorite platform!
---

Herobust's new song "WTF" will have your adrenaline flowing and jaw dropping to the floor.
Hailing from Atlanta, Georgia, Hayden Kramer, better known as Herobust, has found ways to fit his trap and bass infused style into the music scene – and successfully at that! His newest and highly anticipated release "WTF" absolutely swept me off my feet. After learning about this track from his posts on social media teasing the banger, I could hardly wait to hear the full thing.
The track begins with what sounds like a creepy, alien-like bell that shortly after morphs into distorted male vocals saying, well, "WTF". The build-up is heavy, and definitely has me on the edge of my seat. The drop immediately had me imagining myself on a rail headbanging, the thick pounds of bass almost reminds me to Excision, however unique in its own way. This track is absolutely crazy and if you haven't had a listen yet…get on it! – Whitney
Stream "WTF" on SoundCloud! 
---

Feel the good vibes with "Walk Thru Fire" by Vicetone!
Dutch DJs and producers, Vicetone, have released another great track in "Walk Thru Fire," now available on Monstercat Records.  The track features the beautiful vocals of Meron Ryan and features a catchy chord progression that will grab even the casual listener by surprise.
The totality of the track leaves an ethereal, vibey, impression on me and reminds me of quality time spent with dear friends whom would go to the end of the world and back with me.  The track is sure to make the rounds closing out the 2018 festival season.  Give it a listen if you haven't already! -Tim
Stream "Walk Thru Fire" on SoundCloud!
---

Combining Soul with D&B leads to Sublime Beauty on "Every Minute"!
When I heard Brookes Brothers, the drum & bass duo from London compromising of two real-life brothers, were releasing something special on Drum&BassArena I could not wait to share it with you. "Every Minute" wraps the ears in some of the most stunningly pulled back DnB I've heard all year – warm summertime strings, crisp synthesizer chords, a signature deep rolling bass line that brings the production front and center, and a voice in the vocals I can't help but get lost in. Seriously, a tune easily in my top tracks of the year… get lost in the splendid beauty of this one please! – MyStro
Stream "Every Minute" on YouTube!
---

Slander and Crankdat find a way to blend rock and electronic music in a song called "Kneel Before Me" featuring Asking Alexandria!
While I've listened to a fair amount of rock and trap music, "Kneel Before Me" blending both genres in this single worked better than I could ever imagine. The song gives a more instrumental touch than your typical trap or bass song. Even towards the end, I like how the song slows down to the sound of a drum snare and electric guitar. Rather than just using the leader sing of Asking Alexandria's voice, it sounded like several other of the members in the band contributed to the making of the song.
Danny Worsnop's voice never overpowers the track and helps balances out against the harshness of the trap breakdowns. I can picture several bassheads getting down to the track and possibly paving the way for more crossovers for rock artists into electronic music. -Lisa
Stream "Kneel Before Me" on YouTube!
---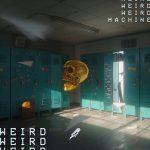 DROELOE and Nevve team up on "Weird Machine"!
A single off their recently released The Choices We Face EP, which dropped on August 10 by way of San Holo's bitbird label, "Weird Machine" is the latest offering from the duo and we couldn't be more stoked on it! Teaming up with the sensual Nevve to bring some insane emotions to the table, this song is one that you should definitely be tuning into.
Speaking about the release, DROELOE stated that it it is intended to evoke the "innocent and almost naive desire to conquer the world by just being who you are, and being proud of that, regardless of what other people think of it."
Stream DROELOE's "Weird Machine" on Spotify!