Pegboard Nerds team up with Knife Party and drop a massive party pumping tune called "Harpoon", revving the engines for their highly anticipated Full Hearts EP!
---
Pegboard Nerds, the masters of bending the lines dictated by those pesky genre constraints proudly present "Harpoon", a collaboration with the electro wonders we all know and love as Knife Party! Out now, "Harpoon" is the latest track to emerge after "Purple People Eater" and "Escape" (a Dion Timmer collab) carried us through what has been dubbed as Nerds Week, and takes its rightful place as the focus track for the Full Hearts EP.
Once Full Hearts arrives on July 27, 2018, it will include the aforementioned as well as a couple more treats by the name of "Steel" and "OSCar" that promise get your dance floor primed and ready for full-on electronic mayhem. With "Harpoon" as the top priority track for Monstercat this year and boasting Full Hearts as their sixth EP release on the label, the Pegboard Nerds and Knife Party would stand up to the pressure, prepared to wow their fans with an out of the box experience in sound you won't ever forget!
Listen to Pegboard Nerds & Knife Party – "Harpoon" on SoundCloud:
---
"You take me higher than love. You makin' me feel some kind of way"…
These are the lyrics that lead us into a fantastic voyage full of quirky Pegboard Nerds character and a drop that reads Knife Party all over it. I don't know about you but I am certainly feeling some kind of way as the lyrics fade and I am drawn into a festive Bollywoodesque (for a lack of a better term, haha) celebration of love.
But my moment of bliss turns into a blast of sheer energy as I am whisked into an explosive about-face turn at the drop. As I let the fantastic power of electro rage through my body from head to toe, I close my eyes and imagine standing at the mainstage as "Harpoon" inspires the masses to lose complete control of their bodies. There is no way you will come out of this one in one piece! And honestly, I don't even care! And as the lyrics would prove, Pegboard Nerds and Knife Party…."You take me there"!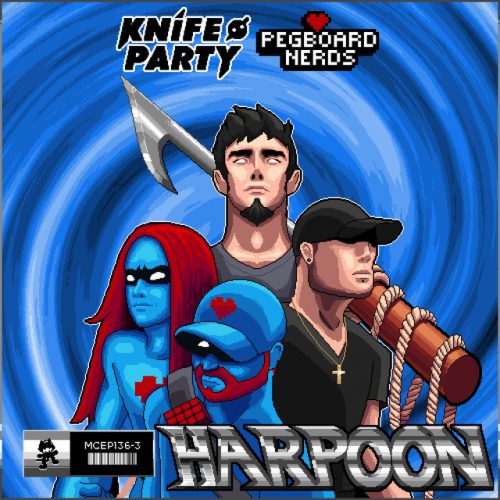 Do you love Pegboard Nerds and want to see them live and in action? Check out the dates for their Full Hearts tour and get ready to experience sheer auditory madness!
---
Connect with Pegboard Nerds on Social Media:
Website | Facebook | Twitter | Instagram | SoundCloud | YouTube
Connect with Knife Party on Social Media:
Website | Facebook | Twitter | Instagram | SoundCloud | YouTube