FIGURE is getting ready to break everyone's necks at Avalon Hollywood and you best be there! 
---
Horror-themed dubstep producer FIGURE is coming to Avalon Hollywood for a spectacular headlining performance on July 27. Having started out creating soundtracks for Universal Studios, FIGURE has become a major player in the dubstep scene with his annual release of Monsters that puts his touch on classic horror movie themes. His heavy hitting bass lines and dark undertones will leave shivers crawling up your spine. His latest EP is titled Heartbeat of Hell and although starts out like the opening credits of a horror film, transitions into a heavy, neck-breaking throw down that you won't be able to get enough of.
Joining FIGURE on this awesome summer night will be Arius and COM3T. Arius is an impressive bass duo that really surprised me at Phoenix Lights Festival earlier this year. Their robotic dubstep is not only unique but Tessa Lizz's finger drums and live rapping combined with Dumbo's wild mashups will have you questioning reality. COM3T is from LA and normally makes up the duo, Master of The People. Starting to branch out on her own COM3T's latest release Habits really showcases her bold combination of playful electro-pop and deep bass.
This 19+ event is set to be one of the best ways to start your weekend if you're looking for a heavy dose of bass! Arrive early and leave late, as Devin Callen, DIIIVA, and Phire will be playing in direct support!
Tickets are still available to catch FIGURE at Avalon Hollywood, so grab yours via SeeTickets or enter to win a pair via the contest below!
---
Enter to win a pair of tickets to catch the show!
Win a Pair of Tickets to Catch FIGURE at Avalon Hollywood

---
FIGURE at Avalon Hollywood – Essential Info:
Date: Friday, July 27th
Ages: 21+
Hours: 9:30pm to 4:00am
Venue Address: Avalon Hollywood – 1735 Vine St, Los Angeles, California 90028
Tickets: Purchase HERE
Facebook Event Page: RSVP HERE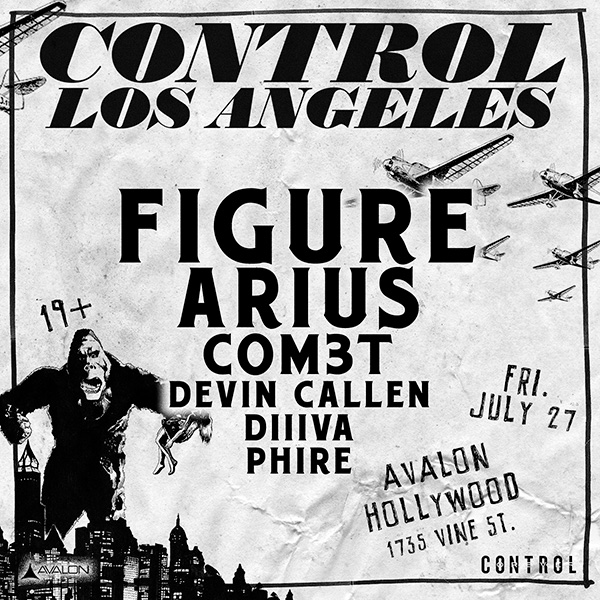 ---
Follow FIGURE on Social Media:
Facebook | Twitter | Instagram | SoundCloud