Are you getting ready to head to Northern Nights Music Festival this weekend? Check out all the important information before you head out!
---
Northern Nights Music Festival is one of the most stunning and insightful events that you can attend in California. This has been accomplished by seamlessly integrating not only music, but also art, yoga, and a cannabis education center into their picturesque setting. Whether you're getting down on the dancefloor or learning more about your inner self, this festival has so much to offer its attendees.
We've already given you some artists that you simply can't miss this weekend, and now we've compiled some important information for you ahead of your adventure. Find all the set times, the festival map, and more below so you can stay in the know!
Are you heading out to Northern Nights this weekend? Let us know what you're most excited about in the comments!
---
Northern Nights 2018 – Essential Info:
Dates: July 20-22, 2018
Gates Open: Friday, July 20 at 10 AM
Venue Address: 83950 Road 442E, Piercy, CA 95587
Tickets: Purchase HERE
Facebook Event Page: RSVP HERE
Parking is available on site for $20 and is designated on a first-come, first-serve basis unless you have previously purchased an RV or Car Camping Upgrade.
There is free drinking water available on site. Fill your reusable water bottle at a water bar or hydration station and enjoy free delicious purified drinking water all weekend.
---
Northern Nights 2018 – Set Times:
---
Northern Nights 2018 – Festival Map: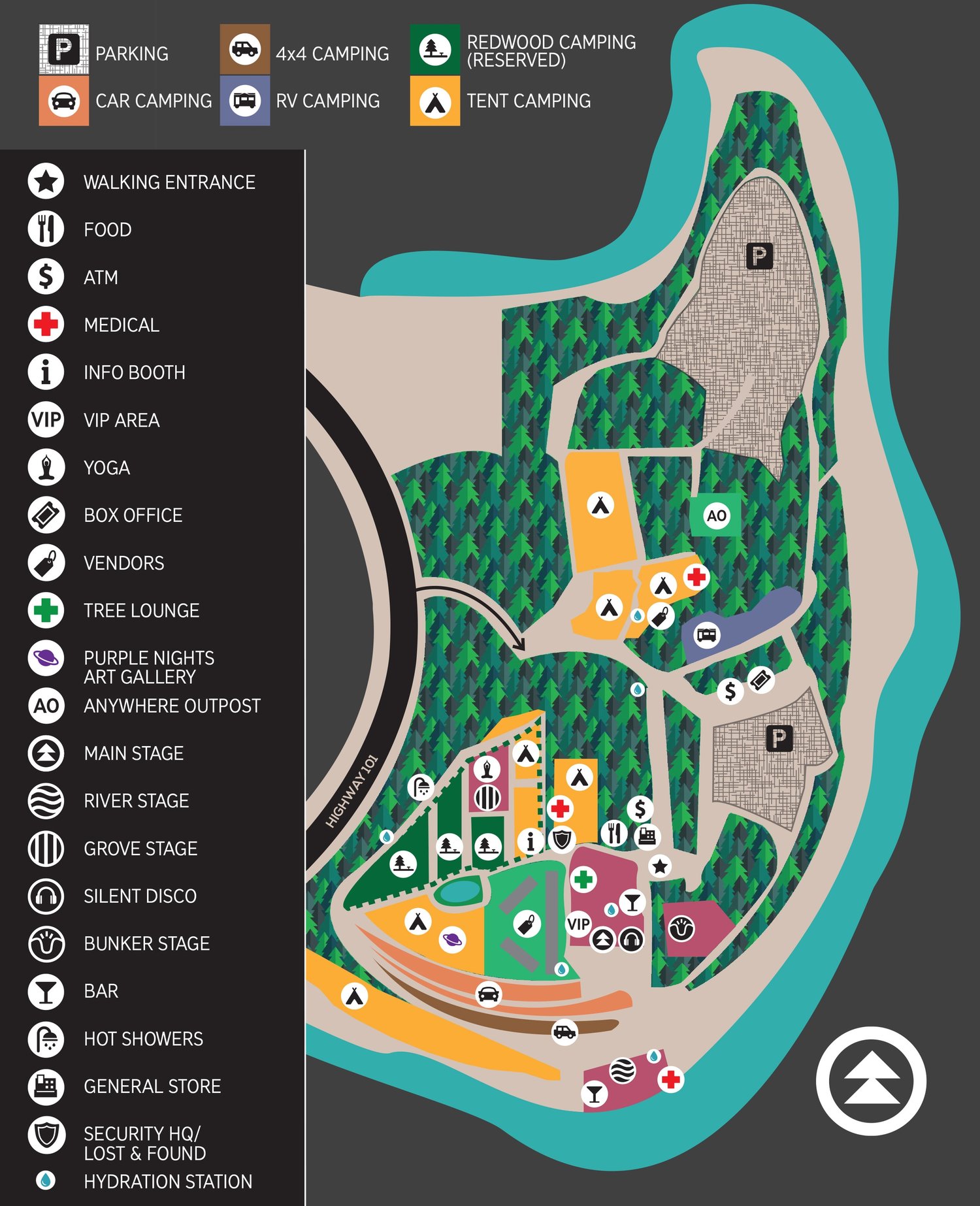 ---
Northern Nights 2018 – Do's & Don'ts:
Do
Buy tickets in advance! Northern Nights will sell out.
Arrive on time! Gates open 10am Friday. There is no early entry.
Pack your ID! Northern Nights is strictly 18+ to attend and 21+ to drink.
Bring camping gear, snacks, and lots of water.
You can cook! You may bring a small portable camp stove to use carefully at your campsite.
Come prepared for changing weather. It might be HOT! It could be cold.
Wear your festival wristband at all times. It is void if removed or tampered with.
Lead by example.
Be courteous to your neighbors!
Clean up after yourself.
Be kind.
Don't
No bad attitudes.
Northern Nights is happening rain or shine! No refunds if it rains.
Don't arrive early. The party doesn't start until Friday and there is no early entry.
All burning is prohibited, including fireworks, fire dancing, BBQs, and campfires.
Fire dancing is not allowed. Please understand this is due to extreme fire danger.
Fireworks create unnecessary fire hazards and are strictly and expressly prohibited.
Pets are not allowed anywhere at Northern Nights.
Unauthorized vending is prohibited. Only pre-approved roaming vendors are allowed.
Guerilla sound systems and unauthorized amplified speakers will be confiscated.
Unauthorized professional recording and photography gear will be confiscated.
Non-motorized bicycles, mopeds, golf carts, vespas, and all other unauthorized motorized vehicles are prohibited.
Glass is not allowed anywhere within the festival and will be confiscated.
If you are caught littering you will be publicly shamed and ridiculed.
Don't bring illegal drugs or drug paraphernalia, fireworks or explosives, weapons, BBQs, laser pointers, dogs, fire, or kids under 18.
Prohibited Items
Amplified sound and guerrilla sound systems will be shut down and confiscated.
Motorized vehicles including moped, golf cart, vespa, and other similar vehicles.
Professional recording and photography gear. Contact [email protected] for the proper credentials.
Outside solicitations including handbills, samples, giveaways, and unauthorized vending.
Please demonstrate respect for everyone participating in Northern Nights by not bringing the following prohibited items:

Weapons are obviously not allowed and not tolerated.
Fire and fireworks create unnecessary fire hazards and are strictly and expressly prohibited.
Due to extremely high fire danger, all burning is prohibited, including fireworks, campfires, BBQs and fire dancing.
Glass is not allowed anywhere within the festival and will be confiscated. Plan accordingly.
---
Reminder To Mind Your Belongings:
Unfortunately, many people have reported pickpockets, bag slashings, and theft of wallets, smartphones, purses and other valuables during this festival season. While this small number of bad apples in the bunch doesn't define an entire crowd, there are opportunistic people who come to these events to take advantage of unsuspecting partygoers and it's important to be mindful of your valuables while at Northern Nights.
Looking for tips to keep your belongings safe? Check our post highlighting some ideas!
---
Connect with Northern Nights on Social Media: