DESTRUCTO unveiled details about his newest project, FRIENDSHIP, along with dates, location, and the boat selected for its first sailing!
---
After his departure from LiveNation, Gary Richards, better known as DESTRUCTO, went on to join Randy Phillips at LiveStyle. Recently Richards, currently traversing the country on his Let's Be Friends tour, hinted that he was curating another adventurous cruise with promotional stickers words and symbols such as "AMF," which stands for All My Friends.
Today, he revealed his newest cruise and concept called FRIENDSHIP, which will set sail on its maiden voyage from December 11-15, 2018.
Unlike his previous cruise, FRIENDSHIP is scheduled to sail for five days, departing from Miami, Florida for Coco Cay, the Bahamas, aboard the Celebrity Equinox Cruise Ship. Excuse us as we Google this cruise ship and start dreaming up what the stages will look like and what madness awaits us on this event's first sailing!
We've already seen posts on facebook of Shipfam looking at the ship's capacity, which according to Wikipedia says 2,850 for passengers, meaning that this will be an exclusive event in comparison to Holy Ship!, which has a capacity of 4,100. In addition to all that, the cruise offers a spa, fitness centers, 13 bars and lounges, and several different themed dining venues.
In his announcement, Gary Richards expressed:
"There is a place where my friends and I go and we do fun things—the kind of fun things that build everlasting memories that I could never put a price on and I absolutely never could because these times are priceless and irreplaceable. At the end when I look back and reminisce about these times I had and the experiences that molded me and watered me enough to grow, I'll think about all the friends I've made along the way and how I am a part of their story and they are more than all my friends. They are all my family."
If you are looking for more information about how to join FRIENDSHIP and the amenities, visit theFRIENDSHIP.com website!
Pre-book Cabins for the maiden voyage are now underway! If there are any cabins available, General Sale begins Monday, March 12 at 9:00 AM Pacific Daylight Time. 
Are you planning on joining DESTRUCTO and friends aboard the epic first voyage of FRIENDSHIP? Let us know in the comments!
---
AMFAMFAMF Presents FRIENDSHIP- Announcement Flyer: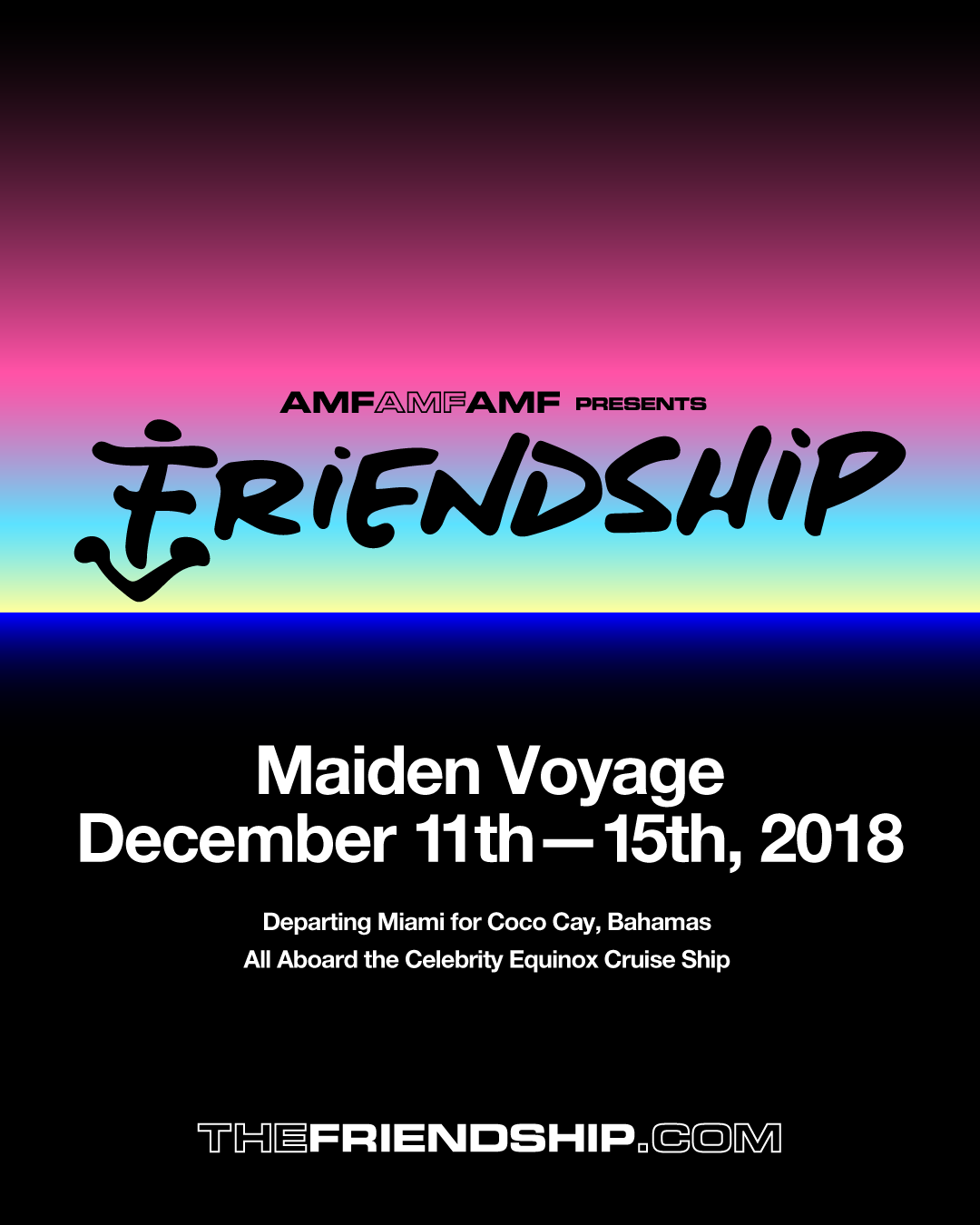 ---
Connect with DESTRUCTO on Social Media:
Website | Facebook | Twitter | Instagram | SoundCloud | YouTube
Connect with FRIENDSHIP on Social Media: