The wait is over for house and techno fans as Loco Dice celebrates the release of Love Letters, a 15-track collection full of unique sound diversity! 
---
Showing off his darkly eclectic production range, Loco Dice has pulled out all the stops on his third studio album Love Letters, which features his latest single "We're Alive", a track met with astounding praise during some his most recent sets.
Out now on Desolat, Love Letters finds its rightful place among the airwaves following 7 Dunham Place and Underground Sound Suicide and sees him dive head first into a pool of nostalgia as he reflects on his musical influences and connections to Dusseldorf and so much more!
Purchase or stream Loco Dice – Love Letters on your favorite platform and read on for our take on the release as well as some insight from Loco Dice himself!
Stream Loco Dice – Love Letters on SoundCloud:
---
Blurring the lines between house and techno, Loco Dice has gone hard hitting and heavy on this one, utilizing the familiar tones that he has become known for with a twist of fresh rhythm and character.
With his keen ear for delivering interesting productions that tease the senses with titillating flair, Love Letters shines brightly as one of the most attention-grabbing albums to hit our scene in 2018. In fact, throughout the album, Loco Dice uses his own vocals much more frequently than on previous offerings, culminating in a personal exploration of sound that represents past and present images of the artist that we simply can't get enough of!
If it is collaborations that you crave, Love Letters has you covered. As Serious Klein offers up the soul & funk on "Selflove", Amsterdam's William Djoko inserts a quirky flair on "Out Of Reach", all of which is followed up by Detroit's Eddie Fowlkes who lends his voice alongside Dice on "D Town Playaz" (a tune that prepares us for future things to come)! With all the pieces in their proper place, Loco Dice invites you to get lost in the sounds of his auditory love letters, an electrified gift that speaks volumes to his unyielding musical prowess and passion!
Want your chance to see the man in action? Catch Loco Dice this coming September as he takes the stage at The BPM Festival: Portugal!
---
Addressing his listeners via special sleeve inside the 3×12" vinyl album edition, Loco Dice writes:
"It's been a while since I've released anything in the form of an album. This time everything happened differently than my previous albums where I had the story or the concept first and where the music was my soundtrack to that story. This time the music came first – making and collecting music, having a good time in the studio without any pressure. It was not clear at all what to do with all this. To release it or not, if I have club 12" singles, or if I should just keep everything… but it felt good.

I looked around me and started to let only positive vibes into my surroundings and after I finished producing the 1st single "Roots", everything came together. The missing link was there. It was clear to me that this is an album that belongs on my label, Desolat. The music on "Love Letters" is filled with the positive energy and love that I have received around the world. Every piece on this album is like a mini letter. A Love Letter."
---
Loco Dice – Love Letters – Tracklist:
It's All Love Right Now
You Want To Be Me
Ohhwhatadoo
Heartache Situation
Mad Luv
Code Feelings
Bob's Kliptown Funk
Selflove (feat Serious Klein)
Under Your Skin
We're Alive
Out of Reach (feat William Djoko)
D Town Playaz (feat. Eddie Fowlkes)
Right On Selecta
Roots
Ouled el Houma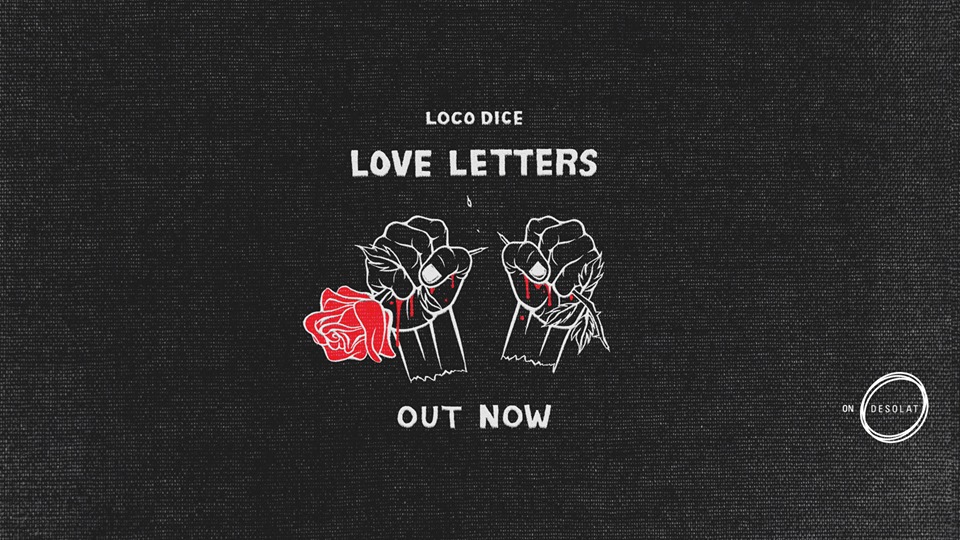 ---
Connect with Loco Dice on Social Media:
Facebook | Twitter | Instagram | SoundCloud