The BPM Festival: Portugal has released more artists for 2018 including Richie Hawtin, Peggy Gou, Jamie Jones, and more!
---
After announcing their return to Portimão & Lagoa and releasing the Phase 1 lineup that was stacked with some of the top names in house and techno, we were already excited as ever for The BPM Festival: Portugal's 2018 edition. Today, they showed us that they had some other tricks up their sleeve with the release of more artists who will be gracing the stage on the Iberian Peninsula over September 20-23.
Joining this year's edition will be some serious names in the underground house and techno scene like Richie Hawtin, Jamie Jones, Alan Fitzpatrick, and Chris Liebing. We were also stoked to see the additions of Peggy Gou, Victor Calderone, and Nic Fanciulli, all of whom will be playing some epic sets.
On top of the additional artists announced today, the first 12 showcases have also been released for those looking to get down and dirty with their favorite brands. Notable showcases for 2018 include MOODZone, Paradise, All Day I Dream, and Circoloco, with more to be announced as well!
Tickets for The BPM Festival: Portugal are on sale now and All-In packages for festival passes plus travel and/or accommodation are available via Festicket! 
The BPM Festival: Portugal 2018 Phase 2 Lineup: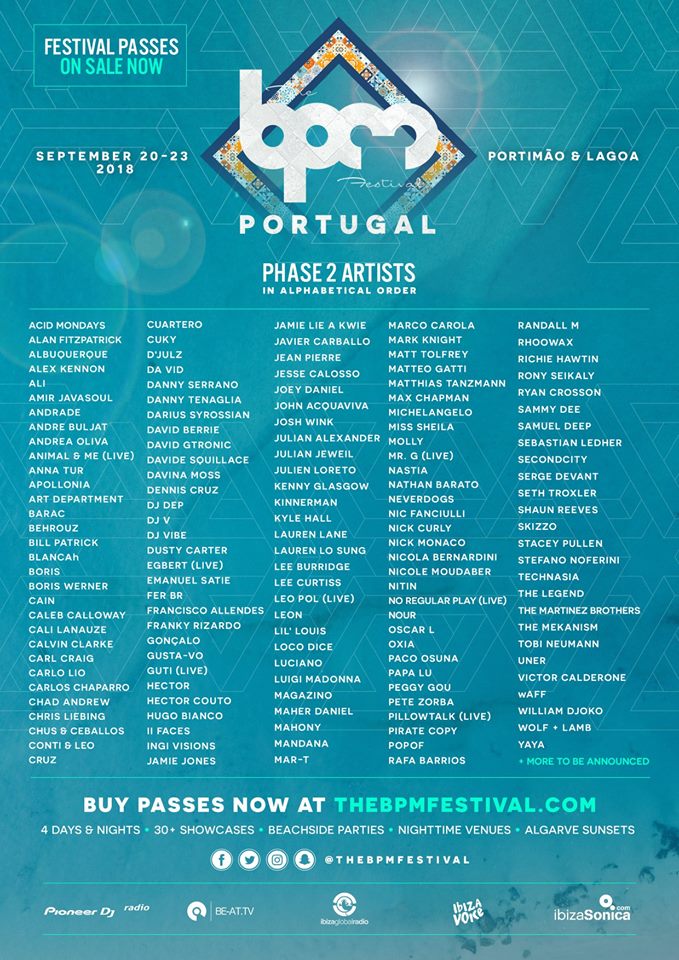 The BPM Festival: Portugal 2018 First Announced Showcases: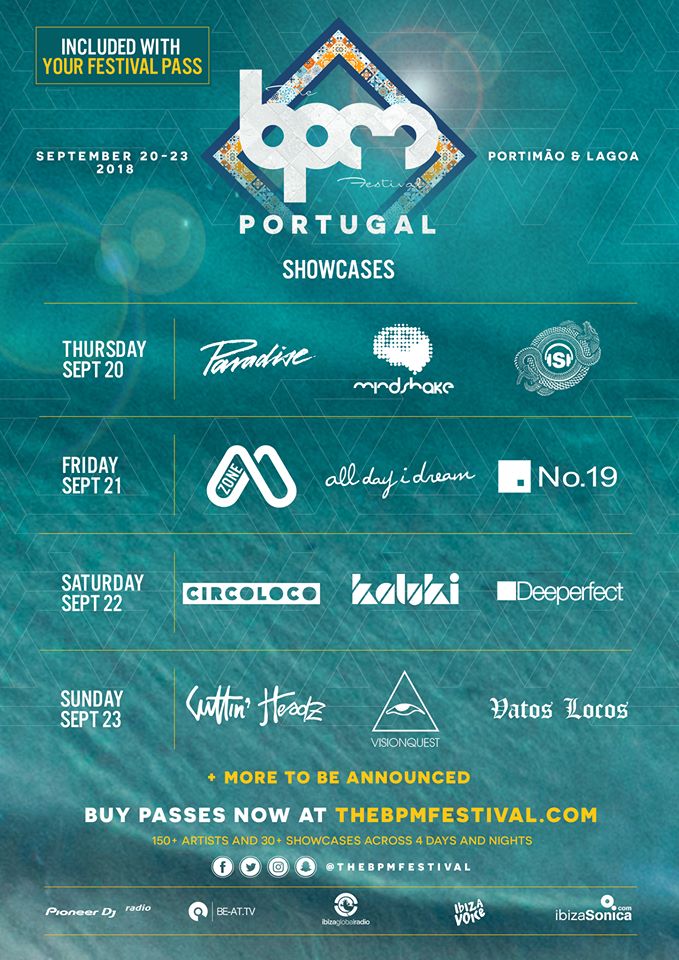 ---
The BPM Festival: Portugal 2018 Phase 2 Lineup By Artist:
(* = New Artist Additions)
*ACID MONDAYS
*ALAN FITZPATRICK
ALBUQUERQUE
ALEX KENNON
*ALI
*AMIR JAVASOUL
*ANDRADE
*ANDRE BULJAT
ANDREA OLIVA
ANIMAL & ME (LIVE)
ANNA TUR
APOLLONIA
ART DEPARTMENT
*BARAC
BEHROUZ
BILL PATRICK
*BLANCAh
*BORIS
BORIS WERNER
*CAIN
CALEB CALLOWAY
*CALI LANAUZE
*CALVIN CLARKE
CARL CRAIG
CARLO LIO
*CARLOS CHAPARRO
*CHAD ANDREW
*CHRIS LIEBING
CHUS & CEBALLOS
CONTI & LEO
*CRUZ
CUARTERO
CUKY
*D'JULZ
*DA VID
DANNY SERRANO
DANNY TENAGLIA
*DARIUS SYROSSIAN
*DAVID BERRIE
*DAVID GTRONIC
*DAVIDE SQUILLACE
DAVINA MOSS
DENNIS CRUZ
*DJ DEP
*DJ V
DJ VIBE
*DUSTY CARTER
EGBERT (LIVE)
*EMANUEL SATIE
FER BR
FRANCISCO ALLENDES
FRANKY RIZARDO
*GONÇALO
GUSTA-VO
GUTI (LIVE)
HECTOR
*HECTOR COUTO
*HUGO BIANCO
*II FACES
*INGI VISIONS
*JAMIE JONES
*JAMIE LIE A KWIE
*JAVIER CARBALLO
*JEAN PIERRE
*JESSE CALOSSO
JOEY DANIEL
*JOHN ACQUAVIVA
JOSH WINK
JULIAN ALEXANDER
JULIAN JEWEIL
JULIEN LORETO
*KENNY GLASGOW
*KINNERMAN
*KYLE HALL
LAUREN LANE
LAUREN LO SUNG
LEE BURRIDGE
*LEE CURTISS
LEO POL (LIVE)
LEON
*LIL' LOUIS
LOCO DICE
*LUCIANO
LUIGI MADONNA
*MAGAZINO
*MAHER DANIEL
*MAHONY
*MANDANA
MAR-T
MARCO CAROLA
MARK KNIGHT
*MATT TOLFREY
*MATTEO GATTI
*MATTHIAS TANZMANN
*MAX CHAPMAN
MICHELANGELO
MISS SHEILA
MOLLY
*MR. G (LIVE)
NASTIA
NATHAN BARATO
NEVERDOGS
*NIC FANCIULLI
NICK CURLY
NICK MONACO
*NICOLA BERNARDINI
NICOLE MOUDABER
NITIN
NO REGULAR PLAY (LIVE)
*NOUR
OSCAR L
OXIA
PACO OSUNA
*PAPA LU
*PEGGY GOU
*PETE ZORBA
PILLOWTALK (LIVE)
*PIRATE COPY
POPOF
RAFA BARRIOS
*RANDALL M
*RHOOWAX
*RICHIE HAWTIN
*RONY SEIKALY
RYAN CROSSON
*SAMMY DEE
SAMUEL DEEP
*SEBASTIAN LEDHER
SECONDCITY
SERGE DEVANT
SETH TROXLER
SHAUN REEVES
*SKIZZO
STACEY PULLEN
STEFANO NOFERINI
TECHNASIA
*THE LEGEND
THE MARTINEZ BROTHERS
THE MEKANISM
TOBI NEUMANN
*UNER
*VICTOR CALDERONE
wAFF
WILLIAM DJOKO
WOLF + LAMB
YAYA
+ MORE TO BE ANNOUNCED!
The BPM Festival: Portugal 2018 – First 12 Showcases (in alphabetical order):
10 YEARS OF NO.19 MUSIC
ALL DAY I DREAM
CIRCOLOCO
CUTTIN' HEADZ
DEEPERFECT
KALUKI MUSIK
MINDSHAKE RECORDS
MOODZONE
PARADISE
STEREO PRODUCTIONS
VATOS LOCOS
VISIONQUEST
+ MORE TO BE ANNOUNCED!
---
The BPM Festival: Portugal 2018 Event Information:
Date: Thursday, September 20, 2018 – Monday, September 24, 2018
Hours: 12 PM Thursday – 8 AM Monday
Location: Portimão & Lagoa, Portugal
Age Restriction: 18+
Facebook Event Page: RSVP HERE
Tickets: Purchase HERE
---
Connect with The BPM Festival on Social Media:
Website | Facebook | Twitter | Instagram | SoundCloud