Packing a punch with two A-Side collaborations, Lane 8 has brought some unreal vibes with Anderholm and Khåen on Bluebird / Duchess.
---
Riding high off an already monumental year that has featured the release of album Little By Little, compilation Root To Branch, Vol. 2, and plenty of shows that have left fans stunned, Lane 8 is showing no signs of stopping anytime soon. Coming off an absolutely massive BBC Radio 1 Essential Mix that was one of our favorites to date, today he has released the tunes that opened and closed the mix in a two-track package dubbed Bluebird / Duchess.
Beyond his skills in the studio or behind the decks, Lane 8 is one of the most renowned curators in the current electronic music scene proved by the artists signed to his label This Never Happened. Hand-selecting artists and working directly with them to further grow their own skills, his roster continues to impress and this release is no different. Having featured Anderholm and Khåen on the first edition of Root To Branch, it is exciting to see these two return with some quality sounds just in time for summer.
Working with Anderholm on "Bluebird" and Khåen on "Duchess", both artists brought their initial ideas to the table with finishing touches coming from the label boss himself. Looking at collaborations like a puzzle or game, Lane 8 does a great job at highlighting the rising artists' individual skills and sounds instead of dominating the track with his own style. Take a listen to the two-track release below and read on for his thoughts on the project!
Stream Bluebird / Duchess on Spotify:
Purchase or stream Bluebird / Duchess on your favorite platform!
---
"Developing the artists I've signed to This Never Happened has been one of the most rewarding projects of my career so far. Every once in awhile, artists send me tracks that have great ideas, but the execution is slightly lacking – they are stuck in a rut, and need an outside perspective to cross the finish line. With Bluebird, Anderholm had the idea of that main piano loop from the intro and some really cool sounding drums – then I added layers of synths and a chord progression to bring it home. With Duchess, Khaen had this absolutely brilliant synth hook, and we both agreed it would be cool to add some Lane 8-tinged elements to the song to bring out that maximum energy. I took his main idea and expanded it into something that really gets a dancefloor moving. It was so fun to do these collaborations, I've always found that working with someone else's audio parts, whether for a collaboration or a remix, is almost more like a game – I really enjoy it and have a lot of fun bringing those great core ideas to fruition."

– Lane 8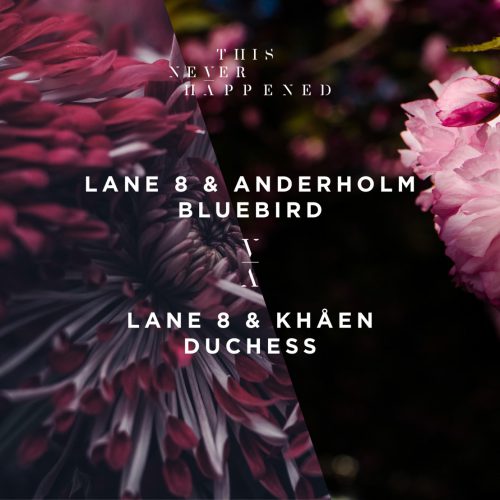 ---
Follow Lane 8 on Social Media:
Website | Facebook | Twitter | Instagram | SoundCloud | YouTube
Follow Anderholm on Social Media:
Facebook | Twitter | Instagram | SoundCloud
Follow Khåen on Social Media:
Facebook | Twitter | Instagram | SoundCloud