Journey through the dark underground psytrance sounds at Pharma-PSY with Christopher Lawrence!
---
Fans of the deep and dark underground trance sounds are in for a treat. Pharmacy Music, one of the top psytrance labels, has teamed up with Southern California's premier psytrance events promoter, PULSAR Music, to bring a night of pure psychedelic trance to Costa Mesa, CA. Not only will the vibes be on point but the music is sure to put attendees in a trance as Christopher Lawrence headlines the nights. Though Lawrence is the headlining artist, the lineup has no weak spot as multiple heavy-hitters in the underground scene will be gracing the stage.
Both Christopher Lawrence and his prolific label, Pharmacy Music, have always had an ear on the underground scene. With a career that has spanned several decades, his ability to create and curate some of the best tech and psytrance sounds and as has garnered respect from many in the industry. In fact, he's considered one of the best exports from the US in the electronic music scene, and his works can be heard in not only on the airwaves but on film, TV and even video games.
Pharmacy Music has exploded over the past few years, becoming a favorite of DJ tastemakers as it consistently saturates the Beatport charts. Pharmacy is home to an immaculate roster of leading producers who continually push the boundaries. Additionally, Pharmacy Music and Christopher Lawrence have taken on and mentored many of the future generations of psytrance stars.
In addition to the legendary Christopher Lawrence are a whole slew of fantastic and well-respected psytrance acts. One such act is Triceradrops, who is fresh off the debut of his mega-hit album, Coalesce. This night he will be going head to head with label-mate No Cliu. Also featured on the line-up are St. Black, Kahn and Mr. PULSAR Music himself, Hanz Dwight. Fan of proper underground psytrance will not want to miss this night!
Grab your ticket to the event via Eventbrite or enter our contest below for your chance to win a pair!
---
Love Christopher Lawrence and psytrance? Enter to win a pair of tickets!
Win a Pair of Tickets to Catch Pharma-PSY with Christopher Lawrence

---
Pharma-PSY with Christopher Lawrence – Essential Info:
Date: Saturday, June 2, 2018
Ages: 21+
Hours: 8pm to 2am
Venue Address: – Tiki Bar 1700 Placentia Avenue Costa Mesa, CA 92627
Tickets: Purchase HERE
Facebook Event Page: RSVP HERE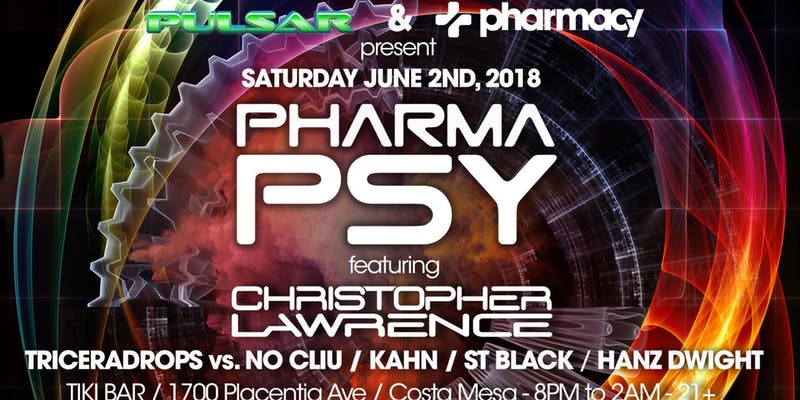 ---
Follow Christopher Lawrence on Social Media:
Website | Facebook | Twitter | Instagram | SoundCloud | YouTube
Connect with Pharmacy Music on Social Media:
Website | Facebook | Twitter | SoundCloud