The wait is almost over as Super8 & Tab announce that Reformation: Part 2 is finally complete and aching to dominate the airwaves with a whole lot of trance power!
---
If you thought Reformation: Part 1 was the defining example of Super8 & Tab's musical prowess, then get ready to be blown into oblivion as Reformation: Part 2 sees the men from Helsinki raise the trance bar higher than ever before! Set for scene dominance via Armada Music on May 25, the seven-track offering leaves no stone unturned as each magical beat inspires an emotional release.
Prepare to come out of Reformation: Part 2 breathless as you are enveloped with a slew of uplifting melodies and thunderous basslines! Boasting forthcoming singles that include "Osaka" and a brilliant Cosmic Gate collaboration called "Noom", it is the recently released introspective sounds of "Burn" featuring the dominating voice of Hero Baldwin that unveils the true uplifting character of Reformation: Part 2.
If this isn't enough to get you chomping at the bit, Miika Eloranta and Janne Mansnerus have confirmed that a bonus single called "Quest" will be included for anyone who pre-orders the album through Apple Music! Or pre-save your copy of Super8 & Tab Reformation: Part 2 on Spotify via Armada Music.
Stream Super8 & Tab – "Burn" on SoundCloud:
---
DJ Tab, one half of the iconic Super8 & Tab dream team had this to say about the move from Reformation: Part 1 to Reformation: Part 2:
The last 4 months we have been touring around the world promoting Reformation Part 1 and the feedback has mind-blowing! IT's been wonderful to see people getting really emotional on the dance floor when they singalong to True LoVE or Seconds Away or going wild with 'Mega' and 'Pressure'. During the tour we have also had the chance to road test tracks from Part 2, like collaborations with Tom Fall 'OsakA' or 'BurN' with Hero Baldwin and that has been a highlight so far! We are so hyped to share these new tracks with all of you!"

– Janne Mansnerus
With those words, we are thoroughly pumped and ready to get lost in Super8 & Tab euphoria! So, it would only make sense to clear our plans and pack our bags to catch these guys live and in action! With the 25th of May fast approaching, Super8 & Tab are gearing up to continue their quest to spread the sounds of Reformation: Part 2 all across the globe! Will you be present for the magic that awaits?
Check out their tour dates below and make sure to secure your tickets before it's too late!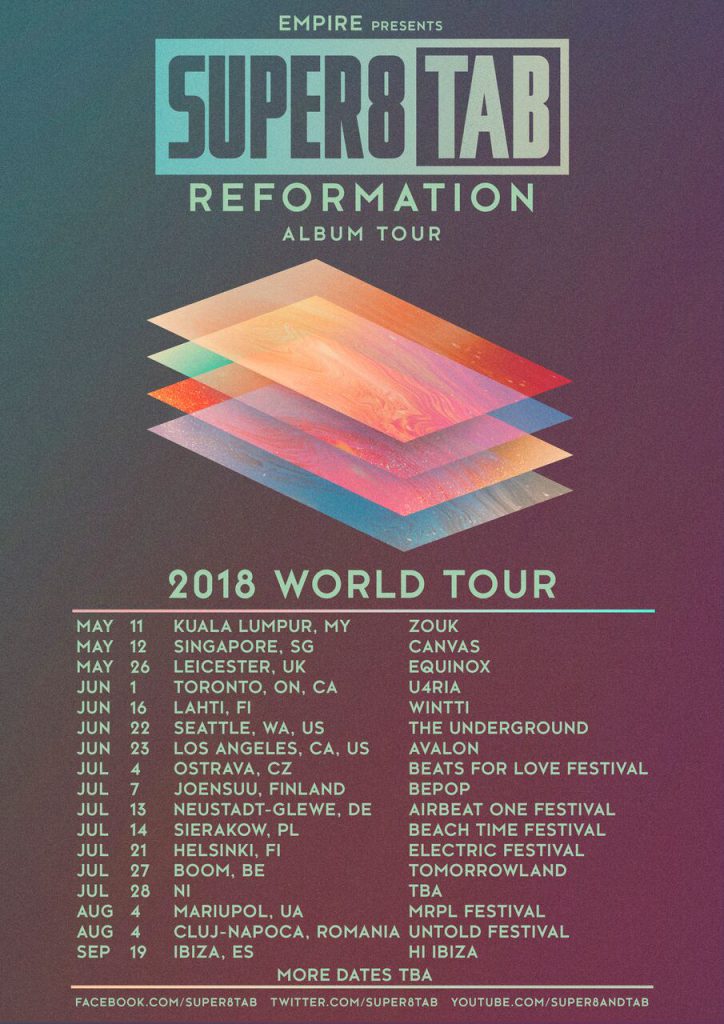 ---
Super8 & Tab Reformation World Tour Dates:
May 11: Kuala Lumpur, Malaysia @ Zouk
May 12: Singapore @ Canvas
May 26: Leicester, England @ Equinox
June 1: Toronto, Canada @ U4RIA Festival
June 16: Lahti, Finland @ Wintti
June 22: Seattle, Washington, USA @ The Underground
June 23: Los Angeles, California, USA @ Avalon
July 4: Ostrava, Czech Republic @ Beats For Love Festival
July 7: Joensuu, Finland @ BePop
July 13: Neustadt-Glewe, Germany @ Airbeat One Festival (Transmission)
July 14: Sierakow, Poland @ Beach Time Festival
July 21: Helsinki, Finland @ Electric Festival
July 27: Boom, Belgium @ Tomorrowland Festival (ASOT)
July 28: Belfast, Ireland
August 4: Mariupol, Ukraine @ MRPL Festival
August 4: Cluj-Napoca, Romania @ Untold Festival
September 19: Ibiza, Spain @ Hï
Before you go, get to know Super8 & Tab a little bit more and check out our featured interview where the guys discuss everything from Reformation: Part 1 to Armada Music and so much more!
---
Connect with Super8 & Tab on Social Media:
Website | Facebook | Twitter | Instagram | SoundCloud | YouTube