Heading to Serenity Gathering's Fifth Anniversary? Stay in the know with this important information about the festival before the weekend!
---
The time is near when people will be gathering in celebration of the full moon in Scorpio at this year's edition of Serenity Gathering. The festival organizers have promised a weekend full of epic beats, art, performances and more for those in attendance. Sunshine and smiles will be gracing the Woodward Reservoir in Oakdale, CA over the weekend of April 27-29 as this festival will be officially turning five!
Knowing how difficult things can be when getting ready to attend a festival, we've compiled some of the most important details that you need to know before heading out. Additionally, if you're looking for some artists to catch at Serenity Gathering this weekend, check out our top picks that you definitely need to see!
---
Serenity Gathering 2018 Essential Info:
Dates: April 27-29, 2018
Venue Address: 14528 26 Mile Rd, Oakdale, CA 95361
Tickets: Purchase HERE
Facebook Event Page: RSVP HERE
Acceptable Forms of Identification for Entry
+21 with Valid State ID or Passport to be able to purchase alcohol
Unacceptable Forms of Identification for Entry
School ID
Temporary License
---
Serenity Gathering 2018 Set Times:
(Click on the picture for a larger image)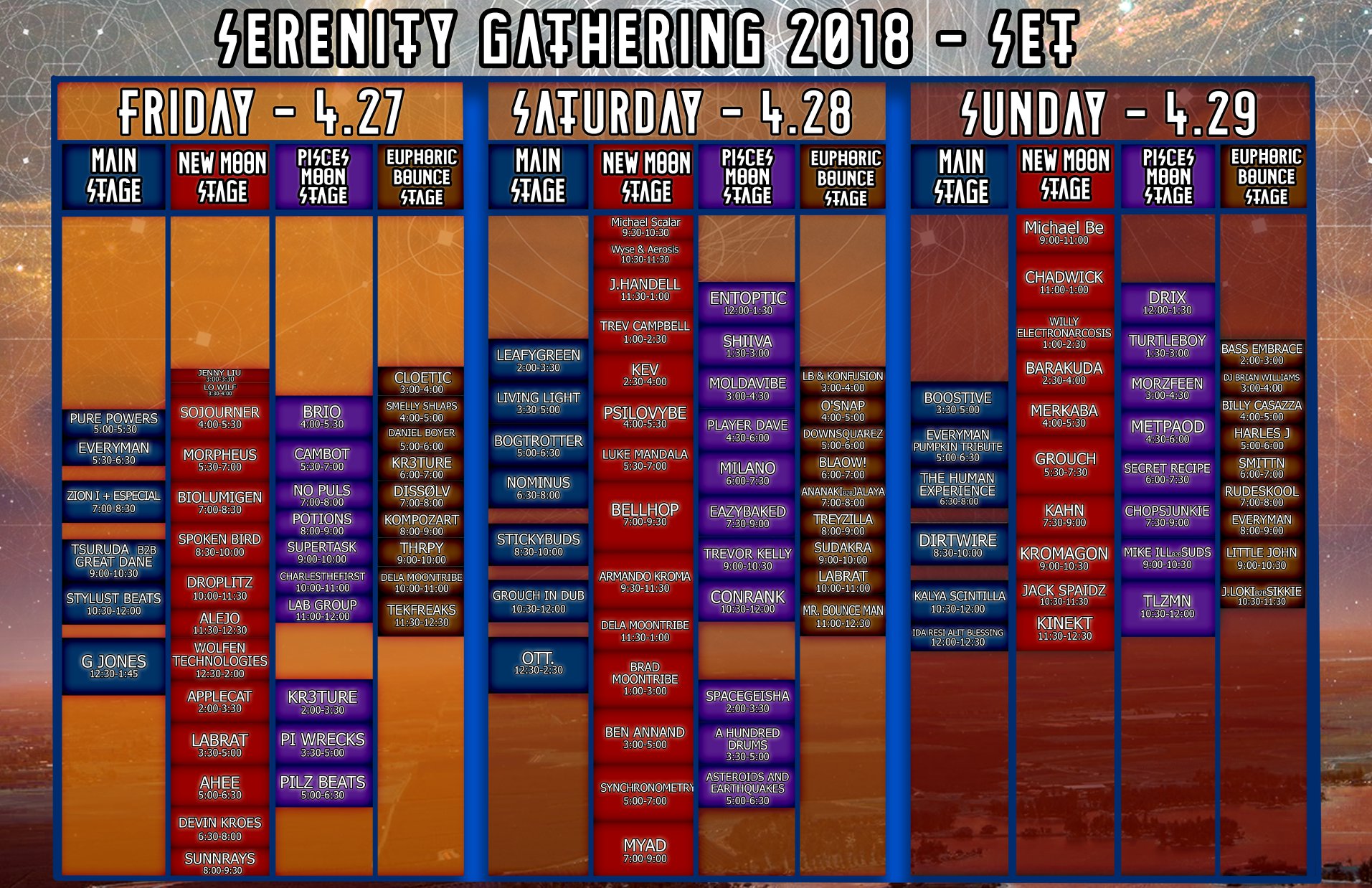 ---
Serenity Gathering 2018 Set Times By Stage:
---
Serenity Gathering 2018 Festival Map:
---
Serenity Gathering 2018 Do's & Dont's:
Rules:
No drug use/sales or illegal activity of any kind.
No re-entry. If you leave the festival you cannot come back.
No renegade sound systems.
No dogs, no pets.
No littering, especially cigarette butts. Bring a container!
Leave No Trace!
Bring your favorite camping gear, food, plenty of water for you and your camp, and plenty of comfortable changes of clothes.
Don't Worry.
Be Happy.
---
Reminder To Mind Your Belongings:
Unfortunately, many people have reported pickpockets, bag slashings, and theft of wallets, smartphones, purses and other valuables during this festival season. While this small number of bad apples in the bunch doesn't define an entire crowd, there are opportunistic people who come to these events to take advantage of unsuspecting partygoers and it's important to be mindful of your valuables while at Serenity Gathering 2018.
Looking for tips to keep your belongings safe? Check our post highlighting some ideas!
---
Connect with Serenity Gathering 2018 on Social Media:
Website | Facebook | Twitter | Instagram | Facebook Event Page