We had a chance to chat with house and techno duo Black Girl / White Girl ahead of the release of their banging new Space Cookies EP, out on Relief Records this Friday.
---
Since exploding onto the scene in 2017, DJ and production duo Black Girl / White Girl have been putting out a steady stream of incomparable club tunes and attracting some serious attention from the industry and fans alike along the way. With releases out on Roush and Resonance and their brand new Space Cookies EP dropping on Green Velvet's Relief this Friday, if they're not on your radar already, they definitely should be now.
Priding themselves on staying true to their musical vision and not chasing the trend of the moment to attract notice, their music manages the rare feat of being impeccably produced while not taking itself too seriously, incorporating irresistible percussion and basslines alongside trippy and borderline hypnotic vocal hooks and sounds for an effect that can only be described as otherworldly.
Black Girl / White Girl's new Space Cookies EP is perfectly representative of their signature style, containing three excellent dancefloor-ready tracks that embody their own energy and feel.
The first track on the EP, "Loopholez", is arguably my favorite tune of the three. It centers around a slightly downtempo, bass-driven groove that incorporates a variety of Space Invaders-esque sound effects for a cheeky peak-hour track that will have you simultaneously dancing and floating through outer space.
"Rumble Rubber" increases the tempo and the intensity just a skosh, with a tight, tribal-inspired percussion line. Layers upon layers of eerie vocals, siren-like synth tones, and some discordant and seriously disquieting chords call to mind scenes of a mad scientist's laboratory in a 50's monster movie. The whole thing is weirdly captivating in the best way possible.
Rounding out the EP is the frenetic "Tapped Out", which turns up the heat for a supremely danceable track that's packed full of energy. Between the unapologetically hype vocal hook and the pounding, bossa nova-inspired beat, we dare you to listen to this one and not be on your feet!
Check out Black Girl / White Girl's Space Cookies EP below or pre-order it on Beatport, and read on for our full interview with one of the house and techno scene's hottest duos of the moment!
Stream Black Girl / White Girl Space Cookies EP on SoundCloud:
Pre-order Black Girl / White Girl – Space Cookies EP on Beatport!
---
First things first – congratulations on your new EP! You have been seeing a ton of industry support, from plays on BBC Radio 1 to scene heavyweights like Green Velvet, Jamie Jones, Latmun, and Detlef dropping some of the tunes in their sets. What has it been like seeing your music take off like that?
Thank you! Definitely, the support has been breathtaking. The feelings attached to this phenomenon are pretty hard to describe. It's a combination of pride, fulfillment, extreme joy and an ever-growing hunger to keep doing what we're doing. While carving out our own sound, we have tried to stay far away from trends and what is deemed commercially successful, so to see our music that we've worked so hard on to make our own, to see all the support… It means a lot.
It seems people finally 'get' us and our sound, and these people you mentioned are definitely inspirational folks. To have them supporting our music, we absolutely feel that we're heading in the right direction.
The entire EP is absolutely banging from start to finish, and each track has its own unique feel to it. Can you talk to us about how the tracks came about, and some of your inspiration in creating them?
Awesome, sweet that you noticed that! One way to explain each track's unique feel is that we actually produce tracks one at a time. We've heard about a lot of producers that work on several tracks at a time, switching between them when they see fit. Doesn't work for us at all So, here's how it went down, chronologically…
We made "Loopholez" first, and we really wanted to go for a sound that we felt wasn't represented out there yet. We laid out the percussion and bass first and from there everything just clicked, although we didn't really have a leading vocal yet. It all came together when we added the trippy vocal loop, it sounded like one huge mindfuck together with the other parts. And then finally, it was those Microbrute synth blips that just really drove it all home.
For "Tapped Out", which is actually the third track on the EP, we wanted to go for a trippy, high energy Circoloco vibe with a bit less focus on the vocals (but let's make 'em trippy nonetheless!) and way more emphasis on the groove. It was also our first time experimenting with a Moog bassline. Super fun!
The second track off the EP, "Rumble Rubber" was actually made last. We wanted to continue the weird vibes from "Tapped Out", but with a more laid-back feel. Fun fact: that wobbly synth is actually noise generated by a Juno. We stretched it out a bit, processed it to bits and looped the result so we could wrap it nicely around the track.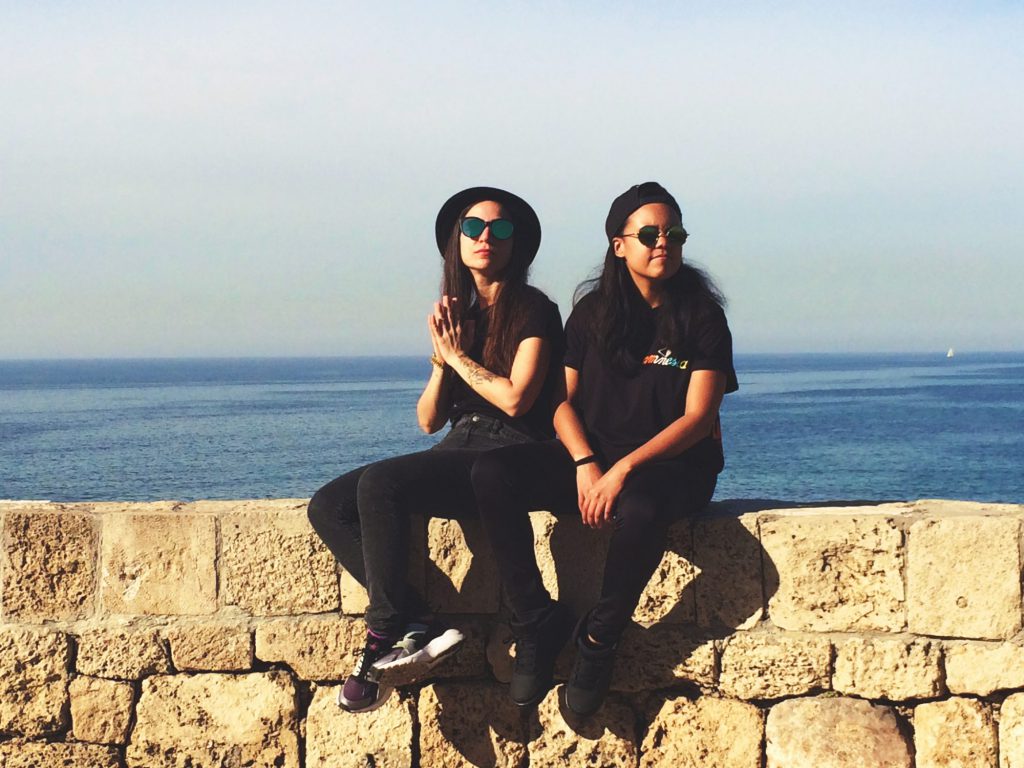 You recently shared with your fans on Facebook that a year ago, you were fighting to get your music signed — and now you've got an EP out on Relief Records, which is arguably one of the most well-respected labels in dance music. What does that accomplishment feel like, and what was the journey like to get to this point?
The accomplishment feels like really, really hard work which is now slowly, but finally starting to pay off. It has taught us that we really need to stay true to our journey. To keep doing what we've been doing in our own way, and not to follow trends just because they're popping off. It's a funny thing to see people get rewarded for being a copy of a copy, but you're out here grinding… And with being so much in our own world, putting in the hours to make our sound unique, it has felt alienating at times.
In the end, it's so incredibly easy to get lost between what's already out there. What's hard is staying unique and true to your own vibes. We are fully invested in doing the latter. Getting our music to where we want it to be has been difficult, but absolutely worth it. And we'll be forever grateful to all the people and labels who've believed in us and our music throughout the years.
With your music, you fuse together a tech house/techno sound with sound effects and layers that are borderline psychedelic at times. How do you figure out what samples you want to blend into your music, and do you usually start with the samples or the other way around?
We always start out with percussion, making sure it's tight and grooving the way we want it to. Once we've got that part going, we write the bassline, add in basic effects and write the melodic hooks and synths. That's usually where the weird shit comes in. We love turning really basic effects samples into super trippy, elongated synth lines, which we then sometimes pitch shift and/or manipulate in some other way (flangers, LFOs, creative delay effects, etc.).
We also use the Microbrute for a lot of weird synth blurbs and effects, as it's got this really gritty sound that we love. We know it's right when the track has weirded us out a bit too much, so we just take a tiny step back and then usually it's good.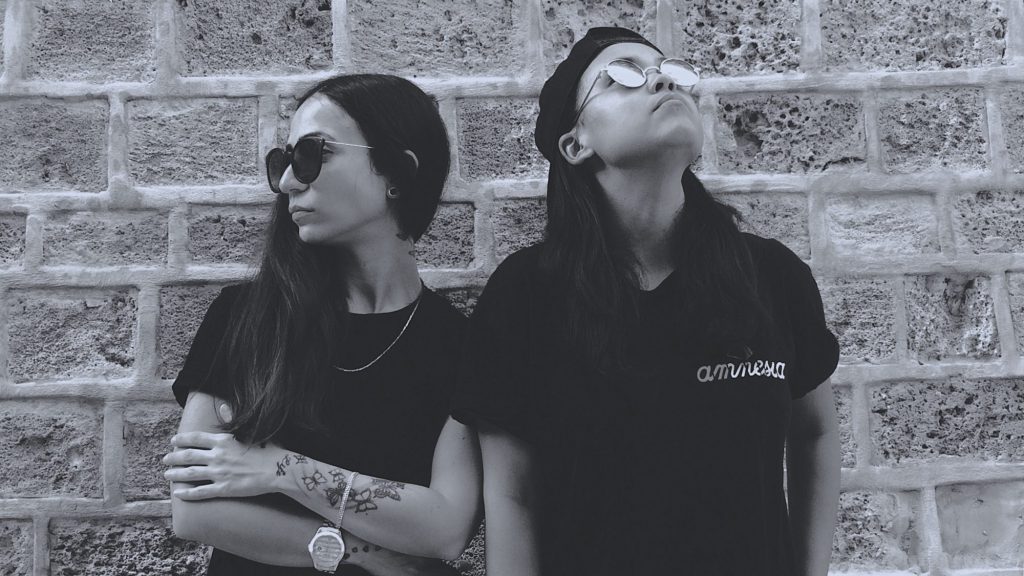 You two are incredibly prolific–the amount of music that you've released in the last several months alone is, frankly, staggering. How do you stay motivated when it comes to producing original tunes, and where do you get your ideas for so much music?
That is true, we do produce a fair amount of music. As much as we can, you know? Especially because we feel like we have so much to give. The ideas keep coming because we try to stay consistent and keep the workflow intact. We also know what we want to hear in terms of style, so that makes it easier. And every time we finish a track – it's like, the best motivation to start working on another. In all honesty, we just really love what we do. There is no magic sauce or formula. You have to be, and stay, fully invested and dedicated to your art.
You two have put together a ton of Beatport charts and playlists. What are your three essential tunes of the moment that you know will always set the room on fire?
Definitely up there is "Loopholez", the first track off our Space Cookies EP. We've seen it go off in clubs from London to Miami, and in the sets of Sirus Hood, Latmun, and Detlef. It just seems to set the room alight. Carloh's "Gaia" is also one of our current faves, as well as Camelphat's remix of Wade's "Boyz In Da Hood", absolute gems.
Looking forward toward the rest of 2018, can you share anything else with us about what you have up your sleeves?
Lots of new music! We're looking forward to announcing a couple of big releases soon, including that of "Fat Soda" and "Skinny Fries", two of our unreleased bits that have been popping up in the sets of Detlef and Solardo. And there are plenty more surprises on the way too, so make sure you're following us on our socials to see it all unfold.
Thanks guys! xx
---
Follow Black Girl / White Girl on Social Media:
Facebook | Twitter | Instagram | SoundCloud