Even a dream job eventually becomes work, and Above & Beyond's Giving Up the Day Job is the story of how one of electronic music's most beloved trios reimagined their dream.
---
Trance superstars Above & Beyond have been hard at work in the EDM scene for sixteen years. While making music is the passion of Jono Grant, Tony McGuinness, and Paavo Siljamäki, the life of a DJ is truly exhausting. Thankfully for their devoted fanbase, the guys didn't respond to the potential burnout by stepping back from their music. Instead, they re-imagined it. The documentary Giving Up the Day Job, released today on iTunes, showcases that journey.
After hundreds of live electronic sets, Above & Beyond learned the drastically different skillset of performing as part of a full, live orchestra. Giving Up the Day Job captures the band's vulnerability and newness while also displaying the band's perfectionism and professionalism. They rehearse and plan tirelessly to achieve an epic run through the greatest amphitheaters of the world.
As any member of the Anjunafam knows, much of the magic of Above & Beyond comes from the love and devotion of its fans.
The Hollywood Bowl was my first live experience with Above & Beyond. That is something I actually regret. When I looked around the Hollywood Bowl, I saw unanimously rapturous, weeping faces. I wished I had had time to form that deep bond with the music before seeing it reformed so powerfully. This spring, I saw my experience played back with two years of admitted super-fandom under my belt and I felt the magic. Nearly every shot of the crowd features a fan dressed to the nines, mouthing the words with tears in their eyes.
On the same note, however, I would not recommend this film as an intro to any new Above & Beyond fans. The film assumes a high level of existing knowledge (and love) from its viewers. The guys have distinct voices made familiar over their over 700 editions of Trance Around The World and Group Therapy radio shows, but a new viewer won't recognize them automatically. That would make some of the moments when a disembodied voice describes his personal attachment to a song less meaningful.
However, if you are already well-versed in Anjuna lore, Giving Up the Day Job is peppered with rewarding moments.
A particularly touching scene comes as Jono Grant and his equally talented brother James Grant have their bald heads touched up at a barbershop. The barbers are brothers themselves but aren't familiar with the Grants' stardom. This lets the conversation wander to a heartfelt talk about what it's like to work with your sibling.
The film excels in small moments like these, revealing the off-stage personalities of the guys.
Luckily, they seem just as peaceful and humble as I'd hoped they'd be. And for those who just want to live (or re-live) the Hollywood Bowl in its full form, also released today is a full-length concert film. I know I'll be nabbing that as well, searching the crowd shots for my own fantastically tear-streaked face.
Above & Beyond Acoustic: Giving Up The Day Job is an exclusive release on iTunes and is available for purchase today via apple.co/aboveandbeyond.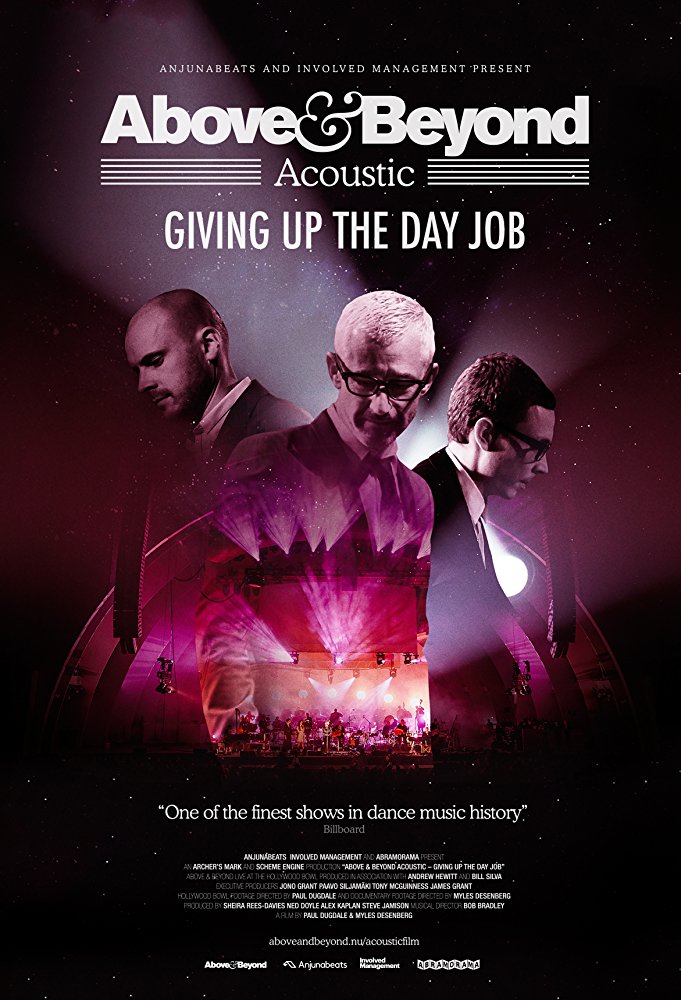 ---
Connect with Above & Beyond on Social Media:
Website | Facebook | Twitter | Instagram | SoundCloud | YouTube