Justin Jay and Thumpasaurus take us to a funk-filled summer wonderland with their latest track, "Wayne's World."
---
Just in time for the weather to start getting warmer, perennial dance party-starter Justin Jay has teamed up with LA-based funk band Thumpasaurus for a track in the form of "Wayne's World," the second single off of their forthcoming collaborative EP. The upcoming release is aptly titled Justin Jay x Thumpasaurus.
The track is 100% pure summer sunshine, featuring a center-stage funky groove that will have you grinning ear to ear. Thumpasaurus takes the lead on the vocals, giving us what I can only describe as a Fraggle Rock-meets-LSD-induced-road-trip vibe that is as unpredictable as it is infectious.
It's truly something different from the curly-haired producer, but "Wayne's World" serves as yet another reminder that Justin Jay is at his very best when he's pushing boundaries. The first single from the EP, "Dance Like It's Your Ooey," has already secured its place as a dancefloor smash, and this one is no doubt headed that same exact direction.
Stream Justin Jay x Thumpasaurus – Wayne's World on SoundCloud:
Fans can expect to see the full Justin Jay x Thumpasaurus EP on May 4, which will be released on Justin Jay's Fantastic Voyage imprint.
Justin Jay spoke to Billboard about the new Justin Jay x Thumpasaurus EP, and had this to say about what fans can expect:
"Wayne's World" is an original, sparked by an iphone recording of the bass player, Logan Kane hitting a beer bottle with a drum stick. The rest of the EP is a bunch of edits and remixes that range from a simple DJ edit of "I'm Too Funky" to completely re-imagined versions of songs like "Space Barn" and "Dance Like It's Your Life."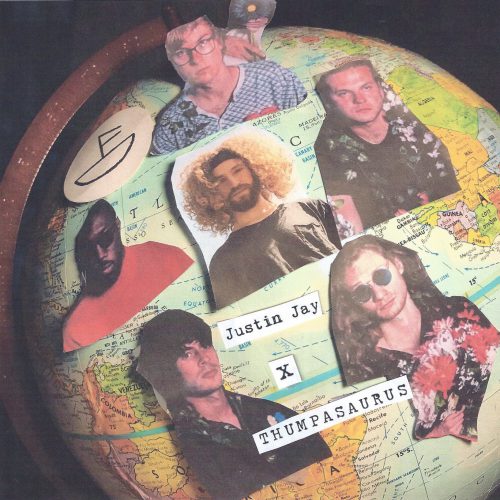 ---
Follow Justin Jay on Social Media:
Facebook | Twitter | Instagram | SoundCloud
Follow Thumpasaurus on Social Media:
Website | Facebook | Twitter | Instagram | SoundCloud
Follow Fantastic Voyage on Social Media: