On Friday, April 13, AutoErotique and King Arthur are heading to Avalon Hollywood for a night full of heavy bass and eclectic house stylings.
---
Toronto natives AutoErotique definitely have taken the electronic scene by storm. The duo who consist of Keith Roberston and David Henderson is known for their heavy bass sounds and numerous collaborations. Any time you attend their set, you'll notice that the pair have a unique understanding. Keith is the face of the group as he tours playing sets while Henderson stays home producing.
This producer/DJ set up definitely works for them as they have been featured in numerous lineups and even caught the attention of major labels. Most of their singles and collaborations are affiliated with the highly acclaimed label, Dim Mak, but they have also released tracks via the prolific Armada Deep label. In 2009, it was through Dim Mak that their debut EP, Gladiator, was released. This EP catapulted the group into the spotlight where they have remained.
Joining AutoErotique on the main stage is the ever-eclectic King Arthur. When the King is on the stage, you never know what you will get. His sets are a grab bag of house, soul, funk, and pop and can be more on the melodic end or deep, depending on the mood. He's truly an interesting DJ to watch as he's known for being very theatrical in his style.
Providing support on the main stage will be Matik, OBIS, and Skot. Additionally, the Pioneer Stage presented by LiveTheNight will also be pumping out some quality beats from artists Matte, OBLIVION, Party Ghost, TESTSUBJEKZ, XPY, and yellowKid, so definitely don't miss this night!
---
Love AutoErotique, King Arthur and more? Enter to win a pair of tickets to the show!
Win a Pair of Tickets to AutoErotique and King Arthur at Avalon Hollywood

---
AutoErotique and King Arthur at Avalon Hollywood – Essential Info:
Date: Friday, April 13, 2018
Ages: 19+
Hours: 9:30pm – 4:30am
Venue Address: Avalon Hollywood – 1735 Vine St, Los Angeles, California 90028
Tickets: Purchase HERE
Facebook Event Page: RSVP HERE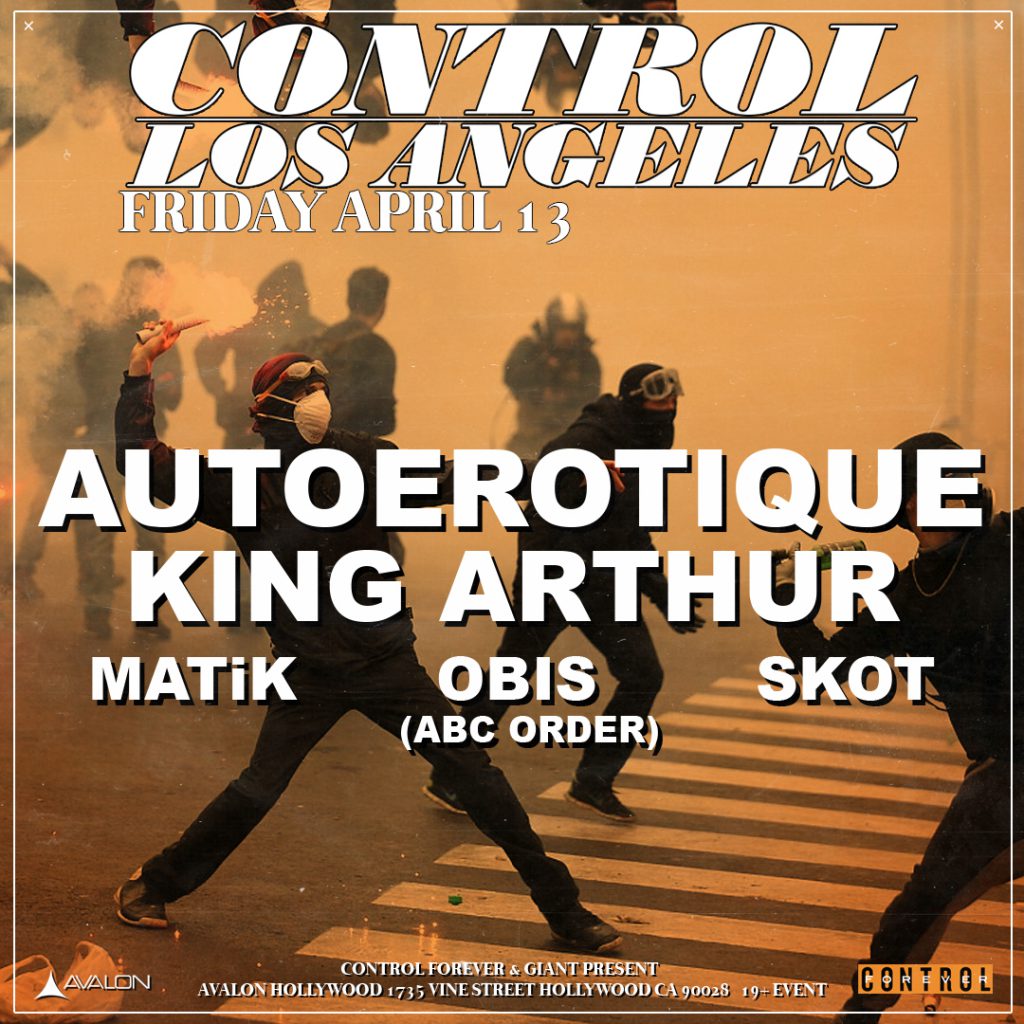 ---
Follow AutoErotique on Social Media:
Facebook | Twitter | Instagram | SoundCloud
Connect with King Arthur on Social Media:
Facebook | Twitter | Instagram | SoundCloud