AutoErotique's creative club house bass lines are sure to bring the vibe to any show. Having just played two shows with Ephwurd in California at Ruby Skye and Exchange LA, AutoErotique are clearly taking the west coast electronic music community by storm. Hailing from Toronto, the duo comprised of Keith Robertson and David Henderson have been riding on some awesome track releases as of late! They collaborated with Major Lazer on "The Sound" and their original track "Count On You" was massive as well. They officially released their latest track "AUH" today on DIM MAK!
Stream AutoErotique – AUH on SoundCloud:
Purchase or stream the track from other sources HERE! Download it for free by clicking HERE!
---
Are you excited to release your new track AUH?
I've never not been excited to release a track, but I'm super excited for AUH and the entire EP! It's all club music, which is what we love. Auto started from club music and if I have my way, that's where it'll end…. one day.
AUH is the first single from our new EP called 'Kids Don't Care', the entire release is a throw back for us, but might be new for some ears. It's bass house, fidget house and like.. speed garage?? I have no idea really.
How did you get your start as an artist, did any artists specifically help you out?
The usual suspects were all involved!! Aoki & Diplo have been in our corner since day 1, which is super equally lucky and awesome. MSTRKRFT were a big inspiration as well..
I was DJ'ing some local parties, people liked what i was playing – Dave was experimenting with some sounds, we came together and formed a group called Python Brigade. It was a 4 man DJ crew and was destined for greatness but personal (now resolved) differences broke us up. Dave and I split off forming 'VNDLSM' and had some success, small tours, mostly drunken mayhem. Unfortunately there was 1 too many groups with similar names. This lead to drama, so we killed the project shortly after its conception and formed 'Autoerotique' on the basis that "No one will ever want or challenge the name". Brilliant.
In retrospect, we probably could have and should have stood our ground and fought for the name – if there's one thing I've taken away from this entire experience it's to never let anyone take something from you that's not their's to begin with.
"The rest is history" – that's usually what people say at this point. The truth is it almost was all history, we scrapped by financially until the release of our first EP and a song called 'Turn up the Volume' which broke us out from the 'underground' to, maybe the 'middle ground'. The releases and remixes between the "Freak EP" up until about a year ago when we released 'Flyaway' feel washed over. Dance music went through a bizarre wave of ideas and ideals, everything changed, we had front row seats on the bow of a giant sinking ship called 'Big Room', it was terrible.
I have to give credit to one of our managers Sami, who initially was and continues to be one of the reasons we were able to correct our direction musically. Sometimes you're surrounded by people and you get put in this bubble… it becomes hard to see whats actually happening around you, both personally and musically.
TL;DR: this EP is fun, and I think we deserve some fun haha!
What has been the biggest high about being an electronic artist right now?
I think the most exciting thing about right now is the ability to reach a large audience, even if you're a new artist. The possibility of catching the right person's attention has never been greater, with the success of Spotify and the boom of dance music there has never been a better time than now to break out.

What as an artist inspires you to keep making and creating new music?
Boobs and butts. Jokes aside, we're weirdly driven to make slightly obscure club music and have been described as 'allergic to success'.
What elements and people have helped you get to the fast track to being an up and coming artist?
We've got a team of people in our corner who have pretty much been there since the start and have been amazing. Management aside we've also had support from some big DJ's and Producers – which never hurts.
If you could let your fans know one thing about yourself not yet previously disclosed what would it be?
My pubes match my beard – thats now public knowledge, full disclosure.
What's the most emotional or intense show that you've played to fans?
Most recently I'd have to say the show in LA at Exchange with Drezo and Ephwurd. I stuck around after my set and talked to a bunch of fans who waited by the stage, I met some people who tweet me regularly and some new friends – it felt awesome.
Most of the time I have a hard time separating shows in my head, everything blurs together… but you know it when you feel it, there's just this feeling that strikes when the moment is just right. I relive a bunch of those moments in my head everyday but I rarely can distinguish them city by city.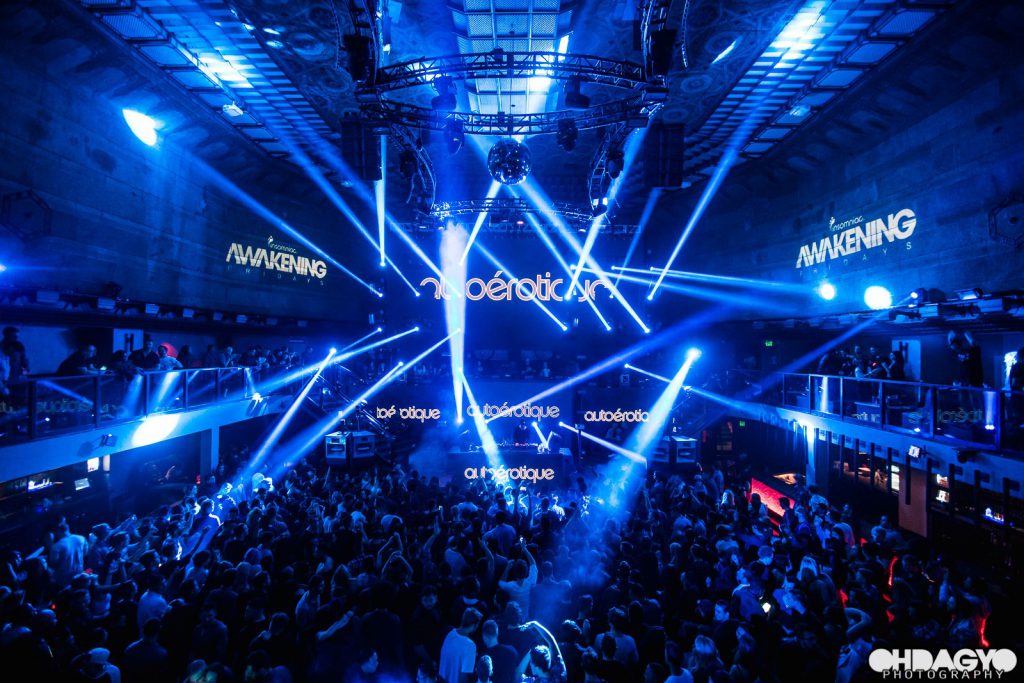 Do you ever have any interesting experiences with fans that have changed your life?
I have had a lot of people message me with inspiring stories over DM or Facebook that are always so cool to hear. They tend to be more than just the usual 'your music changed my life' – as if that's not inspiring enough!! There have been some really personal stories and while some are super emotional, most are positive – which I'm grateful for because I only wish the best for friends, fans & family.
What are some of your goals as an artist for the year?
Our annual goal has always revolved around not going bankrupt and trying to keep our heads above water – I think this year the goal is to ignore some of our rules and break some barriers! Try new things, work with new artists and try to figure out a way to get all this music finished and into your hands.
---
Follow AutoErotique on Social Media:
Facebook | Twitter | Instagram | SoundCloud