Bassnectar's Spring Gathering 2018 paved a path of hope and love leading into the season.
---
Over the years I have experienced several concerts, music festivals, and events, yet only a select few have truly left me speechless and in awe. At his recent Spring Gathering in Chicago, Bassnectar stole my heart and the hearts of everyone else in attendance.
Hosted at the Donald E. Stephens Convention Center, I anticipated having to stand in some sort of line to get in considering the size of the venue and popularity of Bassnectar, but I figured it would move quickly. Upon arrival, we saw a line that wrapped around the building and extended two blocks down the street. Once we made it to the entrance, we waited inside for another 20 minutes to go through a pat down, metal detector, and bag check.
The process of getting inside was not ideal, and it was also interesting to see that there were only about ten security lines, granted there were thousands of people waiting in line outside. When we got inside other people told us they had waited for over an hour as well. I wouldn't have minded as much if it was on a summer night, but the temperature was about 35 degrees out which isn't too great.
The Convention Center itself is enormous. There is a vast amount of space where people were dancing, meeting up with friends, and, of course, giving light shows. When I attended Reaction NYE in 2016 at this same venue, they had the main stage which was located to the left and then a smaller, more secluded stage to the right towards the back. The Spring Gathering only the main stage for all artists, which I wasn't a big fan of. Although the stage size and design were awesome during Spring Gathering, I really liked having two stages because it helped spread the crowd out across the venue.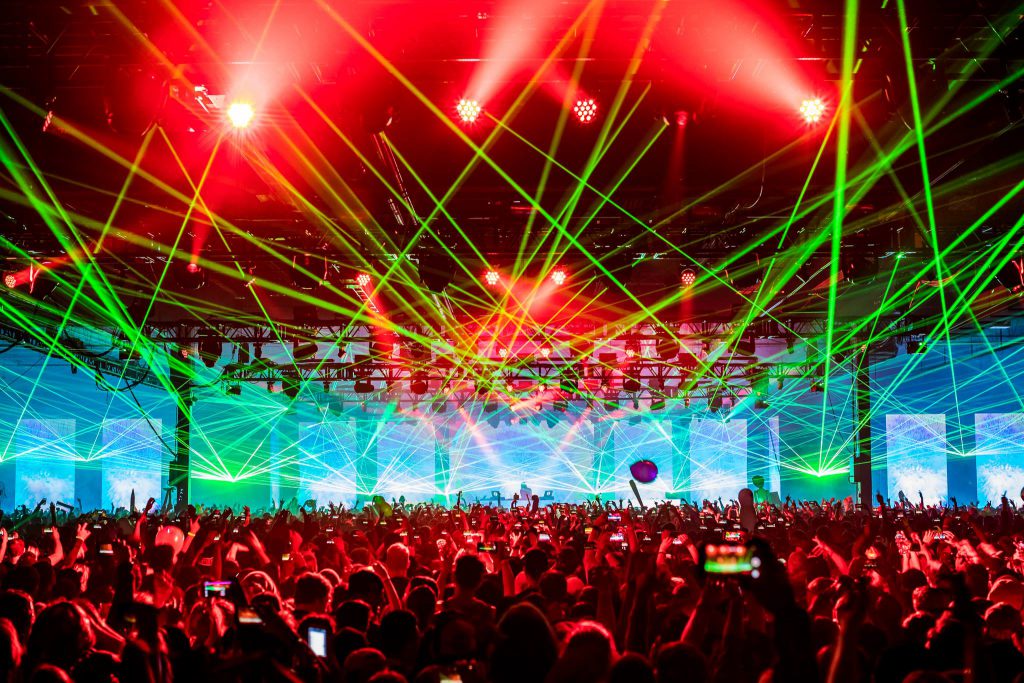 Bassnectar brought talented supporting artists for both days of the show including REZZ, TOKiMONSTA, Danny Corn, TroyBoi, Ivy Lab, and Andreilien.
I was only able to attend the second day of the festival and missed the first two openers, Ivy Lab and Andreilien, due to the long lines to get in. However, after entering and finishing our bathroom run we heard TroyBoi's British accent on the mic saying, "Hello Chicago!" My friends and I had one of those moments where we all looked at each other full of pure happiness when he we heard Ice Cube's voice because it meant we were all about to hear our favorite song of his, "Look At Me", live.
His energy and dancing on stage resonated with the crowd and had everyone on their feet. TroyBoi's performance made for a groovy, funky, and trap-filled experience. I am a huge fan of his music, and his dance moves and signature sound brought out the best vibes in everyone.
Once TroyBoi's set ended the anticipation on everyone's face was priceless. We knew the long line was worth it even before Bassnectar came on because the excitement and love for him took over the room. Finding a spot in the front towards the left, when I jumped up to look at the crowd behind me I saw thousands of smiling faces.
All the sudden it was silent, the most beautiful beaming blue lights appeared, and then the man of the hour took the stage.  
The entire crowd cheered so loud it was as if he came to rescue us. Brilliant colors danced around the screens that extended to all the way to each wall. He started the night with his remix of Sleigh Bells', "Run The Heart", and his own, "Colorstorm".
I can honestly say that his set consisted of some of the strongest production elements I have ever seen. The visuals took you on an indescribable journey with the music, and the lighting consisted of a color scheme ranging across the spectrum. The incorporation of lasers, mass amounts of confetti, and bold visuals worked with the music so perfectly throughout his set.
There was no dull or quiet moment for the music either, each song transitioned so seamlessly with the next. The entire room was engulfed by the bass which made the experience so much more engaging and lively. My favorite song from the night was, "Mind Tricks". It is one of my favorite songs by him to begin with, but due to its popularity everyone recognized it as soon as it hit our ears. The power and intensity of the bass in coexistence with the sharp rhythms of that track made it such an incredible live experience and I was so happy to have been able to exist in that moment.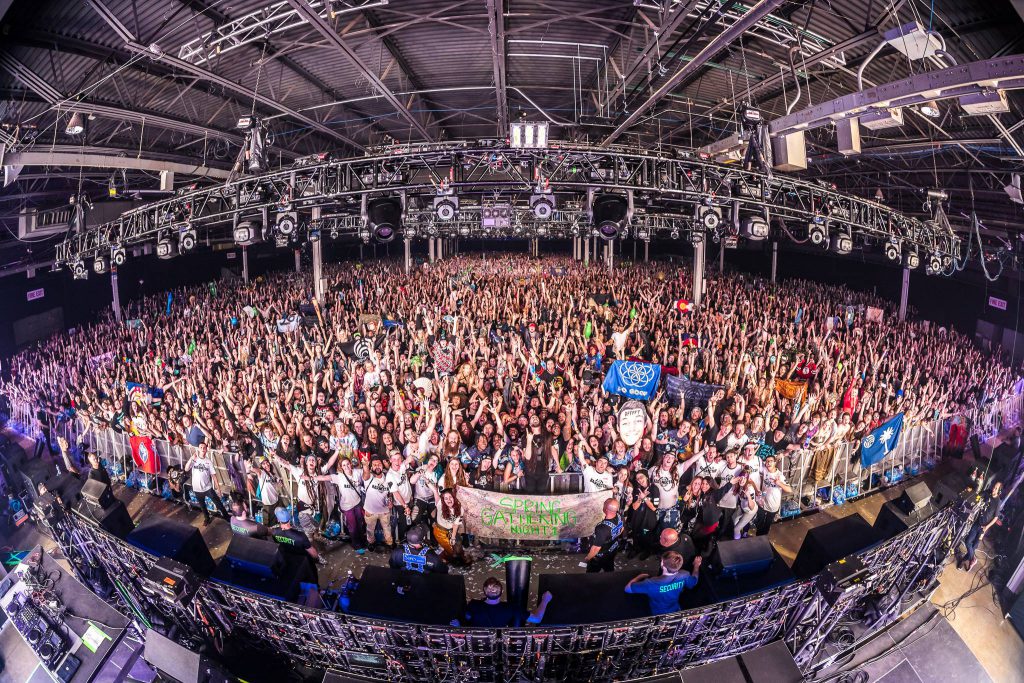 Bassnectar united the crowd and expressed positivity going into the Spring season.
Bassnectar has given crowd control a new and more spiritual definition by putting his emotions and soul into every aspect of the show. He created a journey rather than a concert and you could truly feel the surging love lingering among the crowd.
Something truly unforgettable that I will forever hold close to my heart was when Bassnectar displayed words of encouragement on the screen accompanied by a voice-over. My favorite part read, "Where everything seems hopeless and suddenly this glimmer of life springs up inside of you – you gotta remember what I'm talking about".
All music lovers know that each music experience only makes you grow fonder and more connected to the community, whether you're meeting new people, seeing a performer for the first time, or playing your favorite song aloud over and over. I feel as though I gain a better understanding of the electronic music scene and its community every time I go to an event, but Bassnectar's performance made me feel connected to music in a way that no one else has. Definitely go see him if you get the chance.
---
Connect with Bassnectar on Social Media:
Website | Facebook | Twitter | Instagram | SoundCloud