Going to your first festival might seem daunting, but it doesn't have to be with my tips and secrets.

---
If only I knew then what I know now, my first time would have been a completely different experience. My first festival was Electric Daisy Carnival in Las Vegas back in 2013 and I'll never forget it, but my second visit the following year went even better after I learned some valuable lessons.
They were both unique and beautiful in their own way; my first being with a group and second going solo. I enjoy having a group of friends to share the experience with, but when I was alone, I was truly able to go "one deeper" and have more than a superficial time.
The rave scene is one of the best because people come together to share their energy with each other, and create memories that will last a lifetime. Hopefully my advice will make you feel better prepared, a little less anxious, and excited to make your first festival the best time ever!
Splitting up from your group lets you focus on your own enjoyment.

Pick a meeting spot for your group, and then branch off to go on your own adventure. You will soon discover even when you are surrounded by strangers, you are among friends and never alone. People in our scene tend to look out for each other and will welcome you with open arms into their group.
I was literally welcomed by a group with open arms into a hug circle when they noticed I was alone and insisted I join them, probably because of my smile and dance moves!
Just remember to be safe; it is important to be aware of your surroundings. Download the festival map on your phone, and grab a paper copy as well when you arrive. Make sure your phone is charged, bring a battery pack and check if there are recharging stations as well.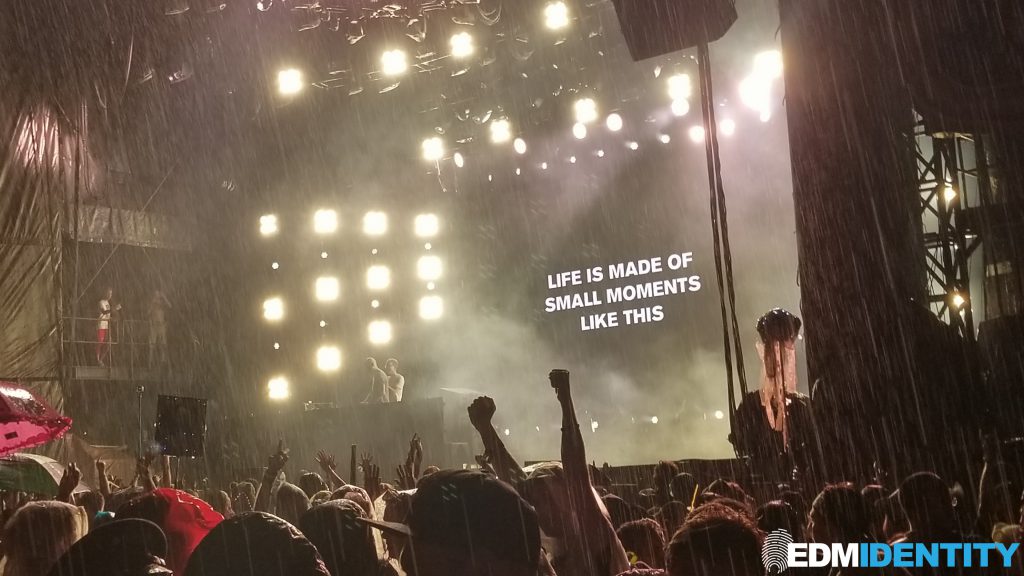 I remember recording "Blue Sky Action" by Above & Beyond on my phone when they played at the KineticFIELD at EDC Las Vegas. If my phone battery would have been dead, I wouldn't have been able to preserve that special memory.
Trust your instincts and ask for help if you need it. The medical staff is there to ensure your safety, and they will help you in any way they can, judgement free. Familiarize yourself with where the first aid tent, bathrooms and water stations are located.
I lost my wallet when I went alone to EDC Las Vegas and immediately went into panic made. It had everything in there, including my ID, credit cards, and hotel key. However, if you put out good vibes, they will be returned to you. Luckily I was able to find my wallet with everything intact at the lost and found before the end of the night.
Don't be afraid to strike up conversations to break the ice and meet new people

Kindergarten rules do not apply here. Making new friends is one of the best parts of a festival. We all don't have to be strangers passing by out on the street.
An easy festival hack for how to "break the ice" is to create kandi to trade because it's an instant conversation starter. However, if kandi isn't your thing, there are plenty of other fun and inexpensive items you can bring.
Grab a pack of diffraction glasses to hand out at your first festival. They provide an amazing visual stimulation for even the most sober ravers. They vary in price and provide different effects ranging from blooming hearts to a kaleidoscope-like experience. If you get the chance to see Eric Prydz play at a festival, you will definitely want to have a pair of these for his epic laser shows.
I have met some of the coolest people through the festival scene. And running into them unexpectedly at an event is the best; knowing the universe brought you together for a reason.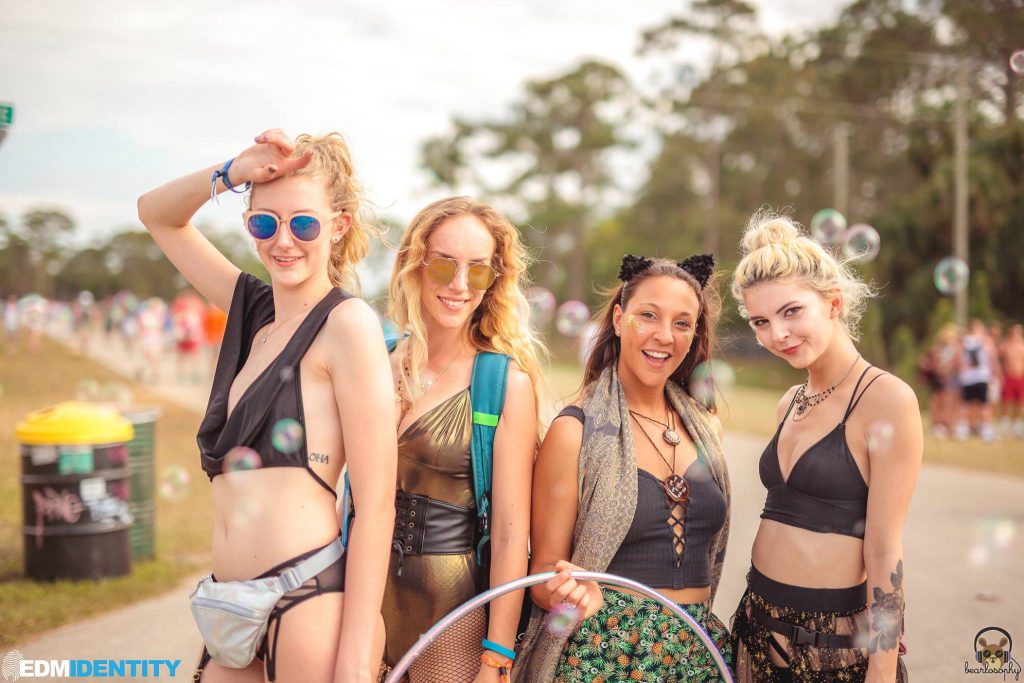 Prioritize comfort over looks so you can dance all night long and avoid pain

Never break in new shoes at a festival and prioritize a pair with good support over the latest fashion craze. Otherwise, your feet will feel a whole new level of pain, and you'll have the worst blisters of your life.
Also, avoid wearing clothing that restricts your movement, so you can break out into your freakiest dance moves. Bring those lucky pair of socks you love, wear your favorite band tee, or put together an entirely new outfit.
Fashion can be functional! Bring a Camelback because you want to, even if your friends aren't, because it "doesn't go with their outfit". Don't forget to be yourself, and if wearing a sparkly onesie with a unicorn puking up a rainbow on it makes you happy, then please oh please, wear it!
Rest and refuel throughout the night so you can make it until the end

"Eat, Sleep, Rave, Repeat" Yes, it's the title of a song, but it's also words to live by when it comes to the festival life. A sort of raver's mantra, if you will.
If you want to last until the end of your first festival, you're going to need to eat and sleep. Food is often forgotten when you are busy dancing the night away. I encourage you find a fruit stand and treat yo' self to a smoothie and a banana. Your body will thank you later!
Remember, a festival is a marathon, not a sprint and you're not weak if you need to sleep. Festivals cost a lot of money and you deserve to be able to enjoy it to the fullest. Most people do not operate at their best with little to no sleep over the course of several days, and a festival is no exception.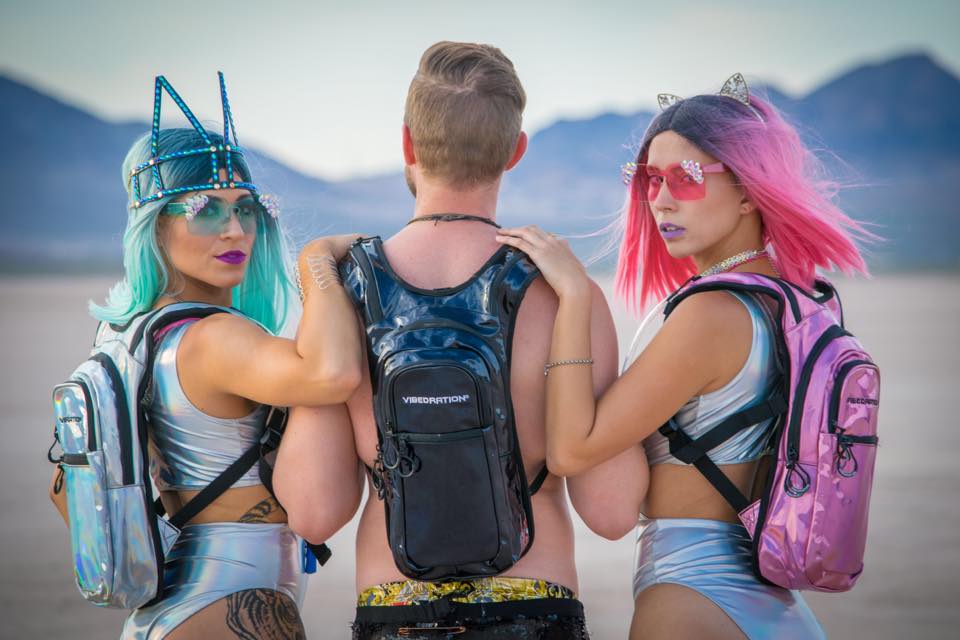 Stay hydrated throughout the night and utilize free water refill stations

Of course this seems like a no brainer, but it might surprise you how little importance some people place on staying hydrated. When you dance, you sweat. When you sweat, you dehydrate yourself.
You need to replenish what you are depleting, especially if you are drinking alcohol. For added hydration, buy some electrolyte packets and put them in your water for an extra boost.
I bring E-boost packets and put them in my Camelback when I fill up at the free water stations. Drinking Pedalyte or Gatorade are also great ways to quickly get your electrolyte and hydration levels up.
Check the event's allowed items and make sure to pack the essentials

There is nothing worse than having to throw out your favorite flow toy because it's too inconvenient to store it and the festival has it on their banned list.
If you know an item is allowed on the list, but the security guard is giving you a difficult time, and telling you need to discard the item, then ask for a team lead. Many times at events, security is not provided by the event promoters themselves, but staff is there to assist and make the final call.
Plan ahead of time by checking the event website or our essential guides for your first festival to be better prepared. Depending on the location, time, and length of the event, you will want to bring some of these items:
Foldable fan
Diffraction glasses
Gum
Chapstick
Baby wipes
Fanny pack
Hydration pack
Deodorant
Hand sanitzer
Sunscreen
Clear plastic sealable bags
Bandana
Inexpensive polarized sunglasses
Ear plugs
Battery Pack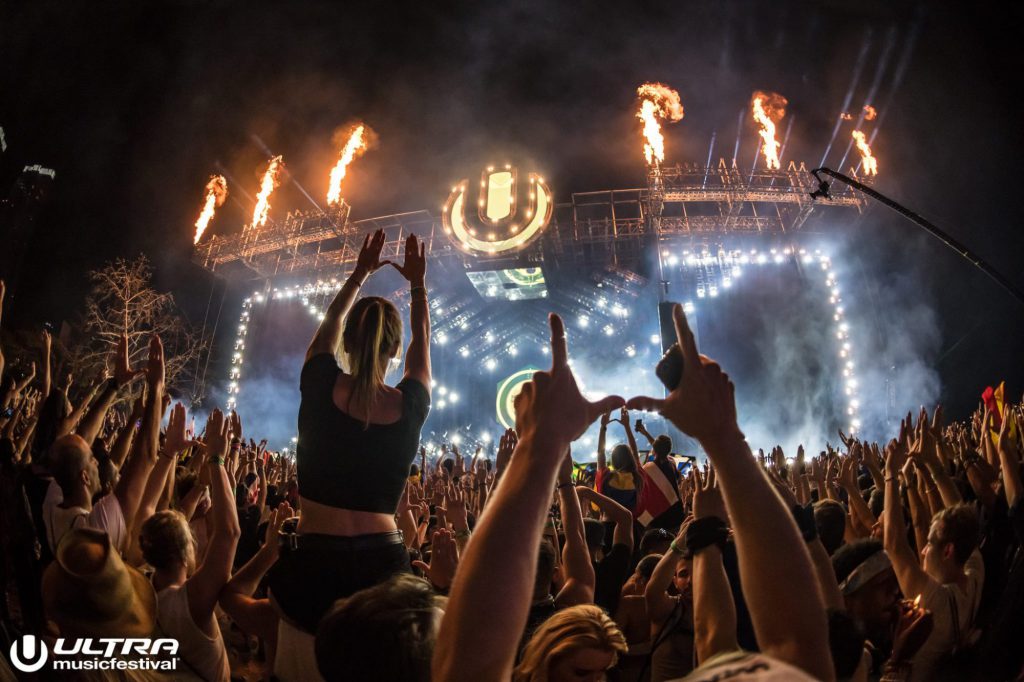 Make a short list of "must see" artists, but allow yourself to roam and explore the festival

There is always something going on and you probably won't be able to see and do it all, especially for your first festival. It's okay to make a list of sets you want to see, but don't let it ruin your weekend if you miss a few.
Festivals are about the whole experience, so be sure to check out the art installations and the performers, walk around and just take it all in. Luckily, festivals tend to be annual and you can always catch your favorite DJ at "the next one". Enjoy the moment, get lost in it, smile, dance, laugh, and have fun!