Tranzfuse has made an impact in the social media world, but how does it stack up to other products like Emergenc-E?
---
Editors Note: We received a box of Tranzfuse in exchange for an honest review of the product.
If you're active on Facebook and have been involved in groups surrounding Ultra Music Festival, EDC Las Vegas, or other electronic music festivals, the discussion surrounding Tranzfuse has grown significantly. The explosion of popularity online in a short amount of time, specifically in the festival community, led us to look into the product further to help inform our readers before they decide to potentially purchase this product online.
For those of you who may not know what the product is, Tranzfuse is a powdered supplement that is produced by TranzLabs which touts it as an "All-in-One All Natural Dietary Supplement". Bucking the trend of proprietary blends and hidden ingredients, TranzLabs has stated that their labels are 100% transparent to give the consumer full disclosure of what is actually inside each packet.
The list of ingredients is most definitely not a short one, but still hits many vitamins and supplements you would find in competitors products like Emergenc-E or Zipfizz. Tranzfuse label lists the following ingredients: Vitamin C, Vitamin B3, Vitamin B6, Folate, Magnesium, Zinc, Sodium, Potassium, L-Glycine, Choline Bitartrate, Raw Coconut Water Concentrate, and Black Pepper Fruit Extract, and the specific quantities can be found in the graphic below.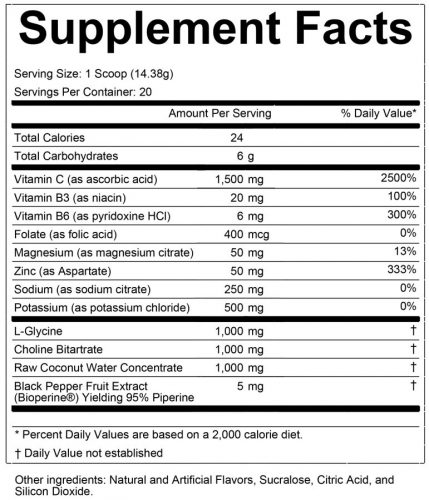 The price point of Tranzfuse seemed a bit steep at $35 on their website or Amazon for a box of 20 packets. When you break it down it comes out to about $1.75 per packet, which isn't too terrible considering this would be replacing something else like coconut water or Gatorade which runs in the same vicinity price-wise. Perhaps a package available in a smaller quantity for those who might be looking to get a feel for the product would be helpful.
Now that we've covered what's inside Tranzfuse and cost, let's take a deeper look at the product itself.
As someone who attends festivals and events regularly, the constant movement and climate changes can do some serious work on my body. Whether I'm at Burning Man, Coachella, or EDC Las Vegas, I typically hydrate myself with plain water during events. Pre and post-event I'll chug some water mixed with a packet of Emergenc-E to help keep my body in check, and that has been my tried and true for years now.
I actually first encountered Tranzfuse back at EDMbiz a few years back, but when I saw the brand making some waves online I figured I'd give it a try and see what it was all about. I needed to know for myself whether or not their claims of it leading to more hydration, immune support, and mental replenishment were accurate for me.
After receiving my box of 20 packets, I tore open a packet and dumped the contents into a standard 500mL water bottle. The powder was somewhat clumpy which made it difficult to pour into the smaller mouthed bottle. Once the contents were inside I shook vigorously to make sure it was mixed well before taking a sip.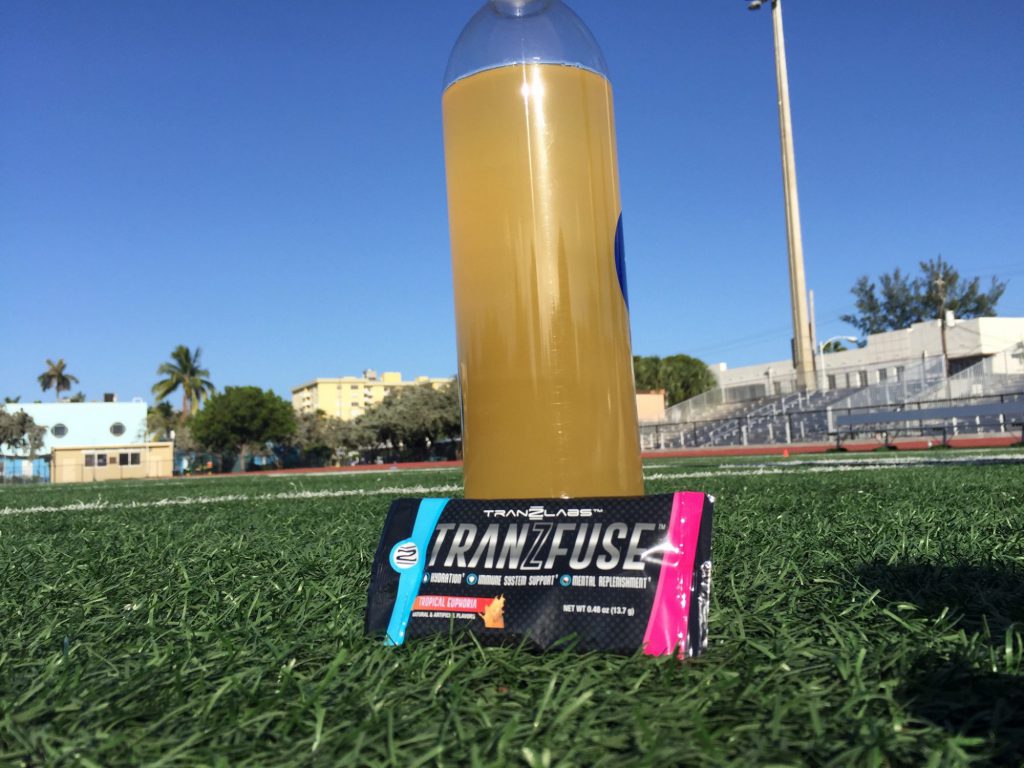 For me, the taste test was a success.
I enjoyed the tropical flavor of Tranzfuse and found that it was far more potent than similar powdered supplements that I have tried in the past. The flavor was vibrant and tasted like a true tropical beverage, so I give major props for that.
However, I did notice that if you don't drink it all at once the contents reappear and settle at the bottom of the bottle. In order to fix this I continued to shake my bottle, but no matter my efforts it never fully dissolved.
The next step was taking Tranzfuse to a festival with me to see how it would help me recover from dancing and hopefully keep the rave flu away.
Drinking it before and after attending both Beyond Wonderland SoCal and Ultra Music Festival, I do think that it did a good job replacing my regular regimen of regular water and a coconut water for hydration purposes. I expected the product to succeed in that area though, as it gives you plenty of potassium, that concentrated coconut water, and of course, the product is mixed with water as well.
With that portion of the success in mind, I find it difficult to determine if it did more than that. While I didn't expect the product to be a cure-all or something that would actively prevent me from getting sick, I did end up falling ill prior to and after attending Ultra Music Festival. I'm not really confident that it would have done any better than Emergenc-E with their claims of immunity boosting, which effectively is just kicking up your Vitamin C intake and hoping for the best.
Additionally, I feel like the claim of mental replenishment is something that there is no real concrete way to prove. Did I feel more "with it," aware, or on the ball after drinking Tranzfuse compared to regular water? No, not really. Perhaps if you're not eating a proper diet you might feel more replenished, I guess, but overall to me, this is a bit of a far-fetched claim.
There were a few things that I thought made this product also interesting when looking at other products marketed in a similar manner. For one, there is no caffeine inside and there is also no 5HTP. Both of these products typically find their way into supplements in the festival scene, and both also can cause plenty of damage to unsuspecting consumers.
The other aspect was the convenience of having a packet or two on hand. This definitely helped me while traveling, as I didn't have to think twice about how I packed my bags and I could just throw the packets easily in my carry on bag or backpack. I can see this being helpful in camping festival environments or for those who are looking to pack lightly.
So, is Tranzfuse for you?
Honestly, it comes down to a personal preference of how you want to hydrate yourself during events or recover in the afterglow of the festival itself. While Tranzfuse has a strong taste and will give you the vitamins and supplements that will help your body recover from a long weekend, it may not be the best solution for you. I personally think it is a good addition to my festival kit and I plan on keeping a few packets around for when I'm traveling, but I also don't see myself purchasing the product for regular use.
Aside from the typical hold-ups like speaking to your doctor if you're on prescription medication or have a health condition, the product itself might just not be something you find yourself falling in love with. Having only one flavor and not being able to easily access the product outside of purchasing online can also avert potential customers from making the jump from their tried and true regimens.
Tranzfuse can be purchased for $35.99 via TranzLabs.com. Use code "EDMIDENTITY" for a discount on your purchase.