Come with us as we venture into the sound of the underground and prepare to be shaken to the core with JOOF Editions Volume 4 mixed by John 00 Fleming!
---
Since 2014, John 00 Fleming has set forth on a mission. The mission was simple: to compile the very best of the underground trance sounds with the hopes of unveiling the true JOOF character with each and every track chosen for the journey. With each passing year, the anticipation builds as we wait to see what John musters up as each compilation is revealed. This month, trance fans have to wait no more as JOOF Editions Volume 4 mixed by John 00 Fleming has officially arrived!
Check out our In-Depth Interview with John 00 Fleming and grab tickets to his Open-to-Close show at Avalon Hollywood on April 7!
Pushing the envelope further than ever before, John 00 Fleming has prepared a 276-minute journey into the depths of his dark domain with a masterclass of 46 trance/techno stunners that stands out as a literal who's who among the dark industry. Artists like Max Graham, L.S.G., Orkidea, and Moshic come out to play, as Jerome Isma Ae & Alastor, Guy J, Tim Penner, and Façade have made the cut as well.
Even the up and comers have been represented, including JOOF Recordings' arrivals like Alex Morelli, The Stupid Experts, Roby M Rage and Robert Elster. But maybe you are looking for some JOOF originals? Well, he has got you covered with "Planet X", "Protected By Karma" and his latest single, "We Close Doors".
Whatever your pleasure, JOOF Editions Volume 4 welcomes you to fall deeply in love with the sounds that call the shadow creatures to come out and play!
Order JOOF Editions Volume 4 mixed by John 00 Fleming on Beatport!
---
It is now time to explore the majesty of JOOF Editions Volume 4 mixed by John 00 Fleming.
"In essence, our music is the only viable bridge between the trance genre as a whole and a swathe of other electronic music areas. By the same token, the opposite end of Trance had to run out of evolutionary road before the shift to progressive could happen. It had to reach a point where it couldn't get any harder, or more uplifting, mainstream, extreme, etc. That cycle's resolved now. Its race has been run. And that's why we're here."

– John 00 Fleming
We open with John 00 Fleming & The Digital Blonde on "Amanitas." Saturated in a tone of dark mystery, the stage is set for a wild rabbit hole experience that will be sure to flip you on your head. In true JOOF fashion, it is the deep techy vibes that lead the journey providing a slow simmer to prepare the body and mind for the insanity that lurks around the corner.
As the intensity builds we land at the standout track "Drps Classic" by Matteo Bruscagin & Visnadi, remixed by the tech house master himself, Guy J. Guy J reworks "Drps Classic" with true elegance, adding some trippy elements that blend flawlessly with the mission set forth by JOOF Editions Volume 4. Suddenly, we fall head first into another dimension as Piper Davis lends her voice, ushering us into the realm of Fausto Fanizza & Thomas Schwartz on "Midnight".
Marking a page turn, the tempo begins to pick up and swell with delicious melody and character.
Trudging forward we land on Golan Zocher and Kamilo Sanclemente's "La Luna", a track with enough quirk and festive kick to marry energized drive with deep tribal undertones if only for just a moment. By the time we reach Jeremy Rowlett's remix of Tim Penner's "Goodbye", one thing stands out more than anything else: the unwavering consistency of progressive techno meets hypnotic melody has created a vortex in which we fall into a literal "trance" as the journey continues to unfold.
Suddenly, we are met with crunchy synth structures as Basil O Glue develops a musical trip session on "Everyone Has A Story", sucking us out of our conscious state and delivering us into the creepy places hidden among our subconscious that have never been explored before. Now that you are fully submerged into the rabbit hole, it is Mark EG Vs Nico Kohler's "Underworld" that holds our subconscious hostage, dropping us low for a techno-saturated romp within the dark psyche that lurks within us all.
John 00 Fleming offers up a brief escape from the madness in the first half of the album, allowing listeners to take a deep breath before they plummet back down into insanity.
It is time for a little progressive action and Dezza has got us covered with the smooth yet driving sounds of "Escapist". Sure, it still holds true to the flavor of JOOF Editions Volume 4, but it delivers just enough solace to allow time to wipe the sweat from our brow, as Paul Thomas lifts us even higher on "Alpha Papa", a tech house masterclass that urges the body to gyrate in excitement and anticipation for what's to come.
Playing off of the more festive vibes, Orkidea's track "Nana" remixed by Jerome Isma-Ae takes us full circle and plops us among a cloud of nostalgia as this is a track that has emanated from countless tracklists at some of the biggest festivals across the planet. Now, that we have had a chance to gather ourselves, JOOF comes flying in like a thief in the night with his original offering called "We Close Doors". It is here that we arrive back into dark wonderment.
There is no turning back as Stigmata calls on the "Witches" and John 00 Fleming & Roby M Rage carries us through to "The Devils Gates of Heaven".
These two tracks provide a defining moment within our journey as rumbling bass hits straight through the soul, offering a glimpse into the twisted minds of the artists that bring us the deepest rhythms on the planet. As if we weren't already taken aback by the raw power that the dark domain provides, it is time once again to break free, and Airwave swoops in to provide the escape.
But, he is not here to take you back to your safe space. No, Airwave has other plans. Instead, we are rocketed into the outer reaches of the galaxy as Blue Alphabet's "Cybertrance" (Airwave's Cyberbreaks) introduces us to an alien race. Holding true to our new found theme, John 00 Fleming appears once again, this time taking us to the farthest reaches of the universe as he unveils the uninhibited wonder of "Planet X". It is here that JOOF lets us run free to explore a brand new world as Allaby & Bedders provide the ethereal soundtrack on "Hollywood".
As we continue our flight through the galaxy, Visua keeps the mood quirky and mysterious as we dance among the stars on "The Time Has Come" and "Dream On".
But don't get comfortable because, with one final swing in album character, The Digital Blonde drops us back down to the underground to dance with the devil himself on "Argo". It is here that John 00 Fleming stands at hells gate as "Protected by Karma" marks the pinnacle of our journey, a wild trip that took us from the darkest depths to the highest heights and back again.
E-Clip Vs Micky Noise brings us further up from the shadows for a much-needed cooldown session on "The One". And we wrap things up with a track that can be considered the album's heartbeat (literally, listen to it and you will understand) by Tim Penner called "The Guardian". Family, we have officially arrived from the depths of dance floor insanity and as we regain our conscious awareness we are left with a thirst to travel back to the beginning and experience JOOF Editions Volume 4 all over again!
A word from John 00 Fleming about future endeavors:
It's official! John 00 Fleming will return with yet more JOOF Editions as the future unfolds. In fact, on finishing the compiling of JOOF Editions Volume 4, John leaves us with a sweet tidbit of information revolving around the morphing character of future of JOOF Editions.
"It won't be coming from trance. Our intake will be from the progressive and techno areas".

– John 00 Fleming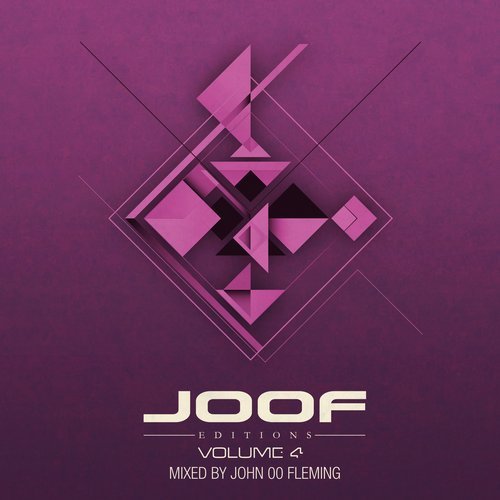 ---
JOOF Editions Volume 4 Mixed By John 00 Fleming Tracklist:
John 00 Fleming & The Digital Blonde – Amanitas
Moshic – Mol-Do-Va
Dmitry Molosh – The Fall (Framewerk Remix)
The Stupid Experts – Night And Day
Matteo Bruscagin & Visnadi – Drps Classic (Guy J Remix)
Fausto Fanizza & Thomas Schwartz Feat. Piper Davis – Midnight (Extended Mix)
Stan Kolev & Matan Caps – Revive
Yunta – Narguile (Subandrio Remix)
Golan Zocher, Kamilo Sanclemente – La Luna
Alex Morelli -Sleeply Nation
Tim Penner – Goodbye (Jeremy Rowlett Remix)
LSG – Netherworld – (Rise And Fall Remix)
Max Graham – Moonchild (Tim Penner Remix)
Basil O Glue – Everyone Has A Story
Quivver – The Rat
Mark EG Vs Nico Kohler – Underworld (Kreisel Remix)
Rick Pier O Neil – Throaty
Dezza – Escapist
Paul Thomas – Alpha Papa (Extended Mix)
Union Jack – Cactus – (Airwave's Dark And Long Remix)
Jerome Isma-Ae & Alastor – Kubrick
Lio Q – A Non Domino (RPO Remix)
Orkidea – Nana (Jerome Isma-Ae Remix)
John 00 Fleming – We Close Doors
Optimuss – Saturn
Paul Anthonee, Haze-M, Inner Rebels – The Love Is Over Feat. Haptic
Kalden Bess – UNDFND Kontrol
Artbat – Wall
Tom Hades ,Irregular Synth – Witches (Stigmata Remix)
Royal Wolf – Crveni Djavoli (Roby M Rage Remix)
John 00 Fleming & Roby M Rage – The Devils Gates Of Heaven
Basil O'Glue – The Mars Project
Aquya – Subsystem (You Are My Salvation Remix)
Airwave – Dancing Desperado
Facade – October
Blue Alphabet – Cybertrance (Airwave's Cyberbreaks)
John 00 Fleming -Planet X
Robert Elster – Straight To Base
Allaby & Bedders – Hollywood
Visua – The Time Has Come
Visua – Dream On
The Digital Blonde- Argo
John 00 Fleming – Protected By Karma
E-Clip Vs Micky Noise – The One
Tim Bourne – Akasha
Tim Penner – The Guardian
---
Connect With John 00 Fleming on Social Media:
Website | Facebook | Twitter | SoundCloud