This year, dreams came true at Okeechobee Music & Arts Festival.
---
Coming off only its third year, Okeechobee can be summed up with words like incredible, organized, enlightening, bumpin', bass-heavy, soulful, and throwback. This festival is only in its infancy in comparison to the plethora of festivals that happen annually, yet there is the heart in OMF that compares to others well in their maturity.
Entering my third year of photographing festivals and entering my seventh year attending festivals, my mind wanders back to all the amazing times I have had at these events. All the people I have created memories with, all the places I have been, and all the experiences I have had which culminated in so many epic memories. All these realizations and memories leave me feeling so grateful and blessed.
Making some amazing memories over the course of Okeechobee this year, here are some reasons why we fell deeper in love with the festival!
Five Things We Loved About Okeechobee 2018
---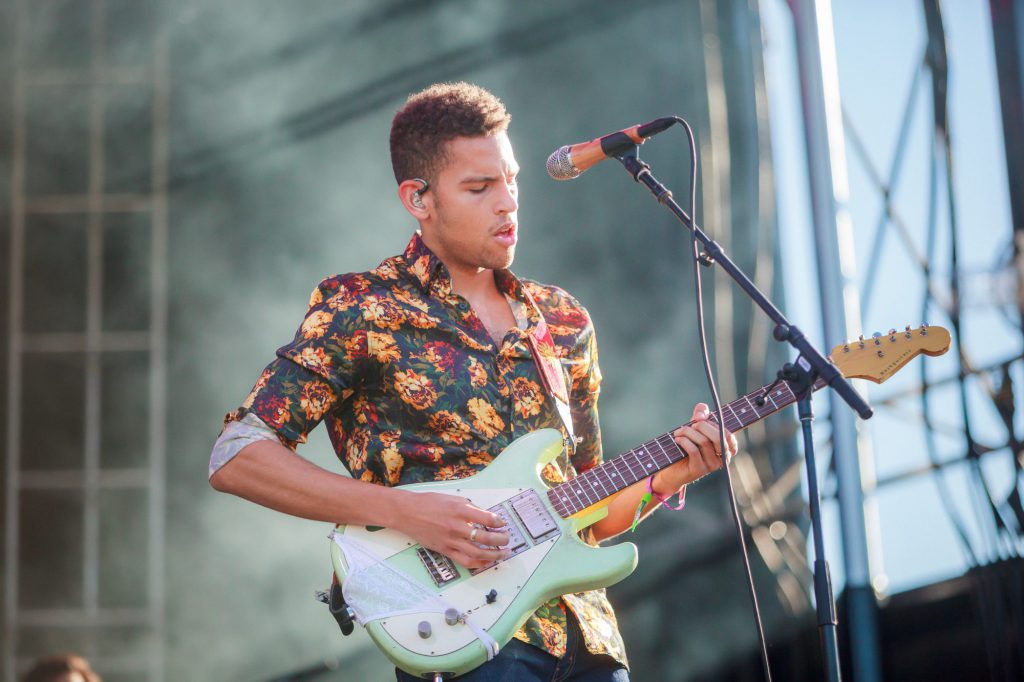 Music from a lineup spanning plenty of genres.
Okeechobee had my musical senses in pure bliss all weekend. You really have to give it to the festival for being how young it is yet still coming full throttle with so many names in music that were featured in the lineup. I remember wondering to myself at one moment during the weekend if there was something in Florida that gives such inspiration to festival creators, maybe there is something in the water. When you have a festival in its infancy as with Okeechobee and seeing it thrive as it does, it is hard to argue to the contrary.
As is with most festivals, each day seems to carry a sort of theme, a sort of arrangement for how the artist appear that day. Okeechobee, on the other hand, seems to follow the beat of its own drum and drum away it does.
The assortment of artists each day followed no particular theme save for Sunday's Aquachobee stage that had all manner of headbanging tunes that had the beach packed. This made for one really fun little Sunday-Funday beach day. I saw head-banging as far as the eye could see, across the rolling sands well into the day and throughout the night.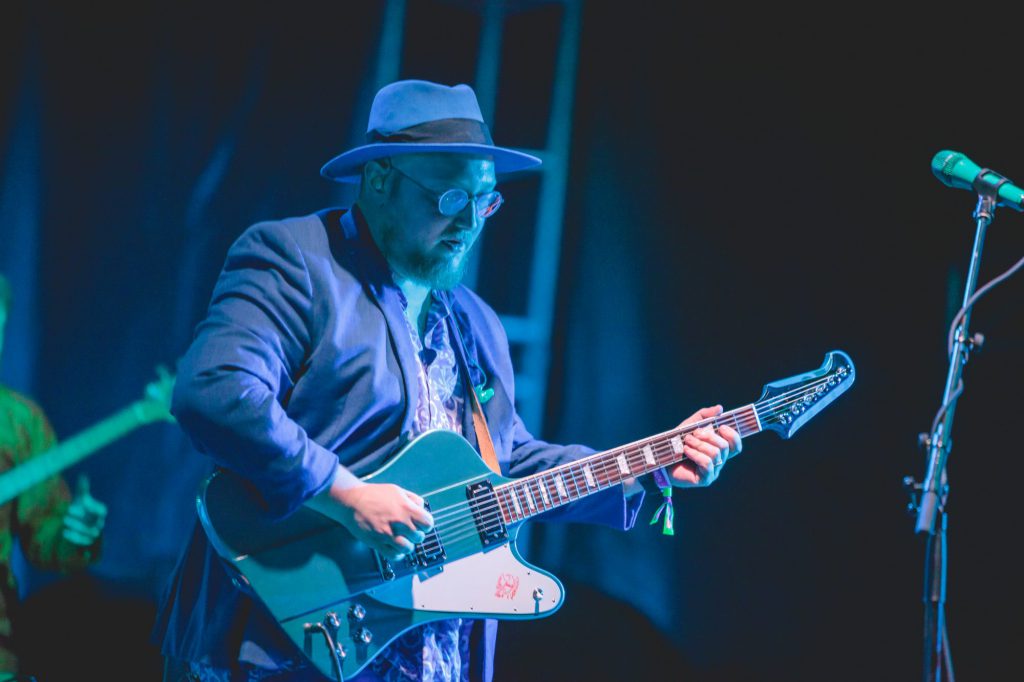 From CloZee's entrancing sunset set to an astounding turnout for back-to-back Blunts and Blondes and Nitti Gritti set, Okeechobee saw some of the best in musicianship and showmanship. Snoop took us through an incredible discography of his work leaving us feeling like we were rollin' down the streets of LA sipping on whatever we had in our hands.
Leon Bridges took us to church in style on Sunday with his array of superbly talented backup singers and instrumentalist. Throughout the weekend I kept remarking to friends about how every act was enjoyable to see, EVEN IF I wasn't a fan of the music itself.
---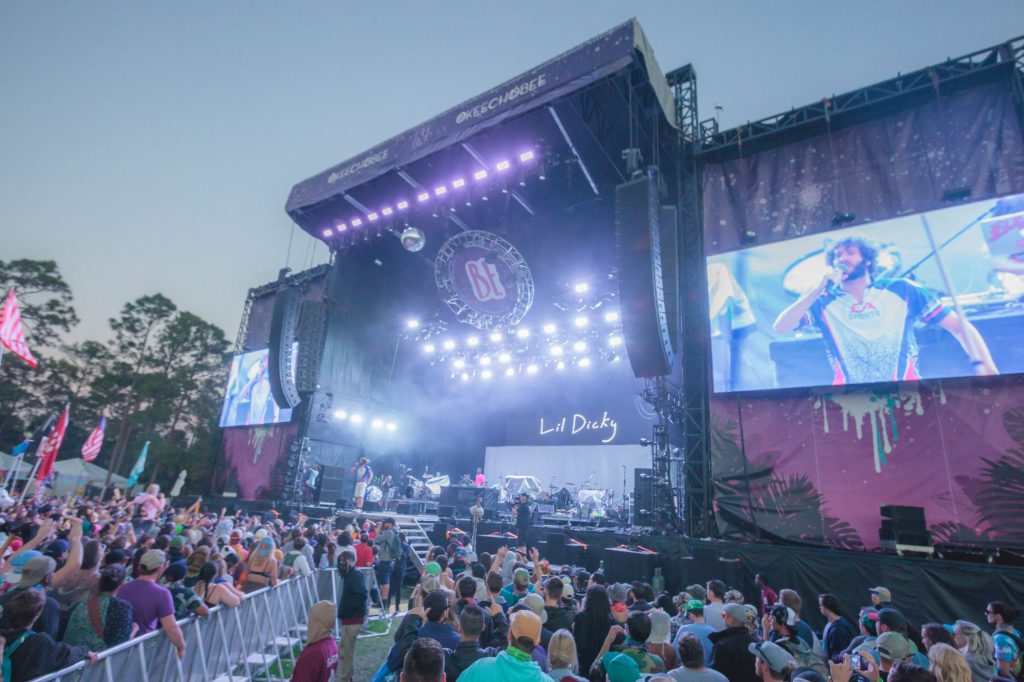 The modifications made to the layout and flow of the festival were great.
It's amazing what a simple rearrangement can do to improve things. You can rearrange your house to allow better energy flow,  or a simple rearrangement of clothes can give your closet a new feel, or even a simple rearrangement of stages to allow for a better festival experience. Okeechobee got smart from last year and did a simple rearrangement of the main stage to give Okeechobians a better feel.
Last year's 2017 Okeechobee saw the main stage acts on the Now Stage, located on the far right side of The Grove, just right to the Here Stage. This posed an annoying problem for the people on the outskirts of both the Now and Here Stage who experienced noise bleed. It made for some pretty disappointing sets from many who'd be watching main stage acts. 2018 improved on this by revamping the Be Stage on the far left and making it the main stage for the weekend.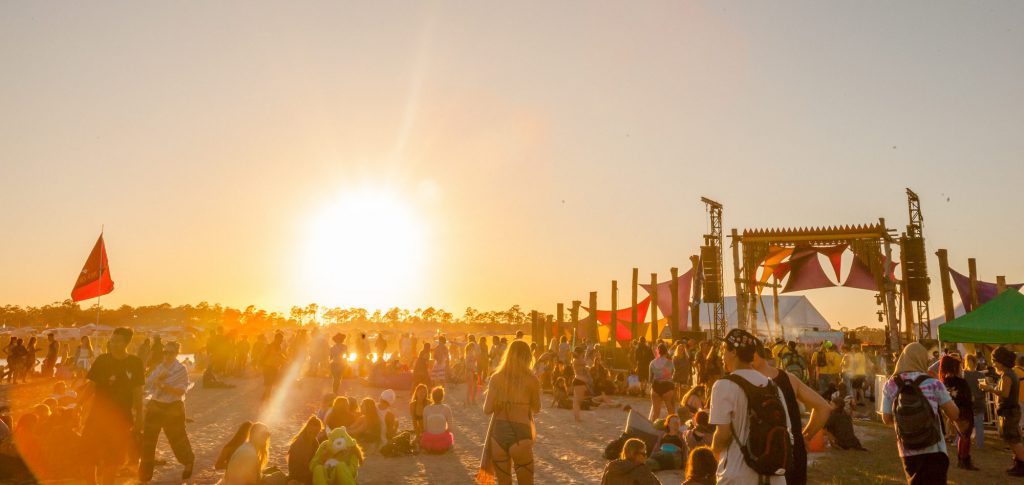 Amazing still was how much the addition of some speakers made Aquachobee all the better. Each evening as the sun set over Okeechobee, the people gathered on the sand of Aquachobee. I have to emphasize how incredible these sunsets were each day; how the light would play across the sand. It danced across people and would accent the performers on the Aquachobee stage.
Easily one of my favorite sets and settings of the weekend, the Saturday sunset set from CloZee, someone I'd be anticipating seeing and who did not disappoint. I wandered across the sands watching the way the light played off the dancing Chobian's. There are so many incredible visual and auditory elements came together that evening just as they would throughout the weekend.
---
Beauty, that took shape in so many different forms this year.
From the ambiance of Thursday's Moonlight sets and the magical sunsets that occurred every day to the outfits of the Chobians and in the embraces of lovers and friends.
Thursday night we bathed in the pale moonlight. We danced under the stars and light of the Ferris Wheel as Bassnectar, Thriftworks, and Opiuo laid down some seriously ambient sounds. Personally,  I would have loved to see them shut down all manner of light, the Ferris wheel, food trucks, and floodlights but none the less the ambiance was maintained.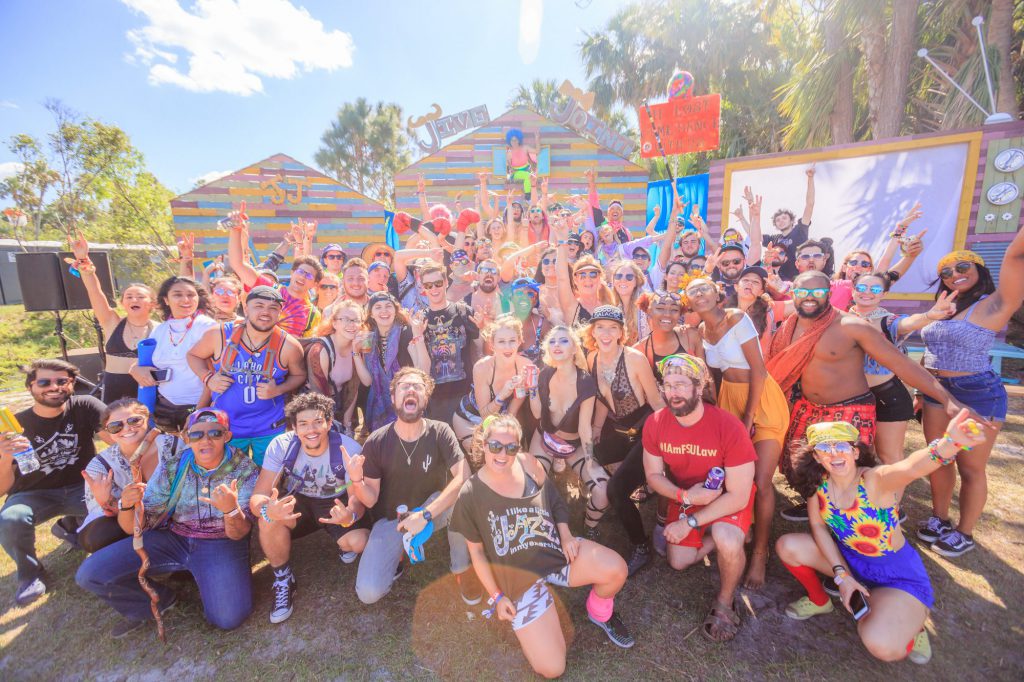 I say it all the time, but I am a sucker for a good love story. I saw so many beautiful love affairs at OMF 2018. I am not sure what it was, maybe I noticed them more this year or there was an influx of festival romance but OMF 2018 had some seriously beautiful love affairs.
My favorite was the few couples who love affair spawned the year prior at OMF 2017. They returned for their second year all the more excited for 2018 with that love painted all over their faces.
---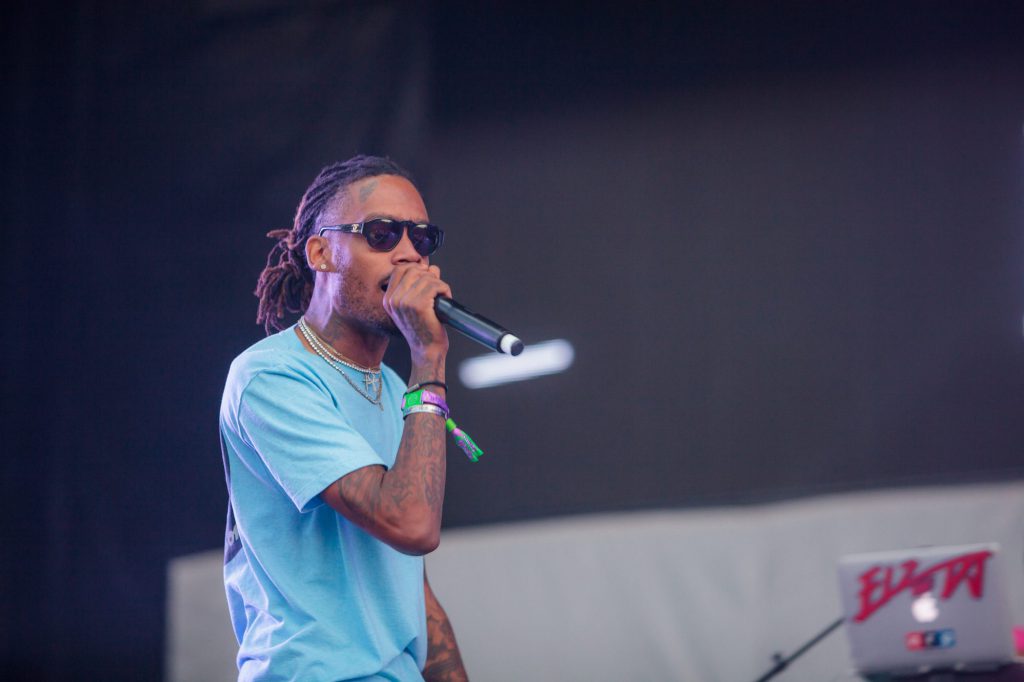 The presence of some quality acts from the hip-hop realm.
Some of the first music I ever listened to was hip-hop. My parents were raised in New York City and though they were not always the biggest fans of hip-hop I found ways to listen to it. I have always been drawn to the way hip-hop artist can tell stories and paint pictures of urban life in some cases pure lyrical genius.
Unfortunately, I have found myself losing faith in this new style of hip-hop that has come to be known as "mumble rap" but I was in for a big surprise this year at OMF 2018. Among the diverse lineup were some of the most epic names in hip-hop; Snoop Dogg, The Roots, and Lil Dicky. They brought such showmanship and style to OMF 2018, I left that weekend feeling really impressed and confident there are still artists out there keeping the heart of hip-hop alive.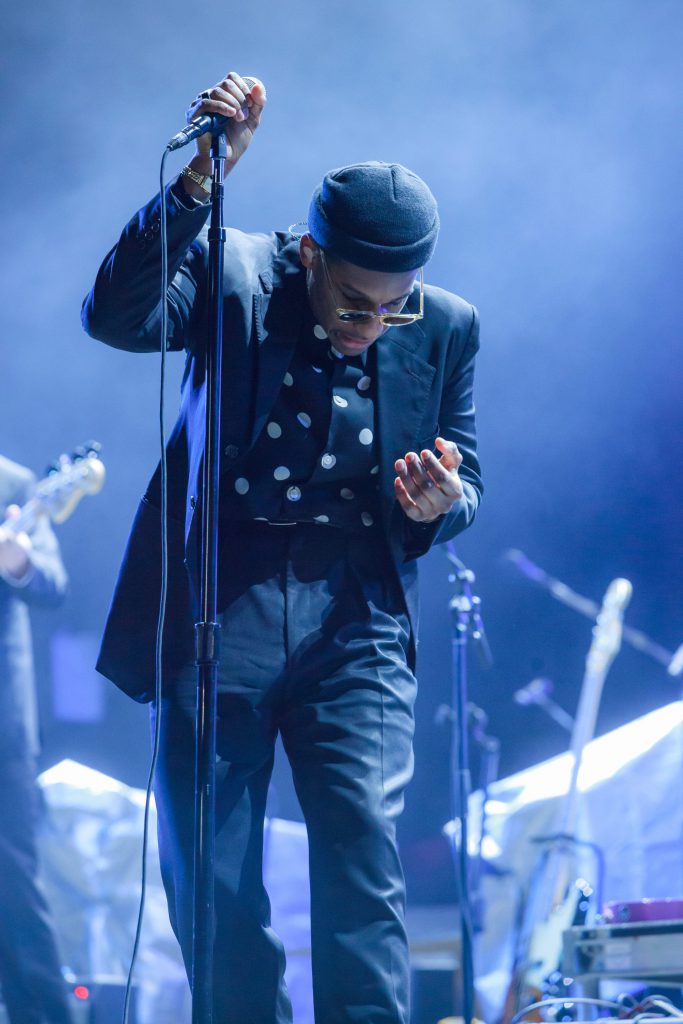 The annual Pow-Wow saw mega group The Roots take the main stage with Chaka Khan, Snoop Dogg, Trombone Shorty, Dom of Big Gigantic, and a few more superb musicians. It was during this set that Snoop took the audience back to the West Coast in complete Snoop Style; wearing his signature blue clothing, his bedazzled mic and even strippers on poles. It was such a cool realization that I was in the presence of a true pioneer of hip-hop.
Lil Dicky was someone I was looking forward to seeing all weekend and months leading up to this event. I had met and talked to many who said his live show was something to behold; they were completely on point. This was Lil Dicky's second appearance at Okeechobee, he played the very first year.
This self-proclaimed "professional rapper" really brings an element to hip-hop never heard before. His live show is one part hip-hop, one part comedy skit and all types of enjoyable. He ended his set giving an audience member a lap dance to his hit single "Let Me Freak" asking her as he gave her a bouquet of flowers "Please don't press charges." This was met with thundering applause and laughs. It was simply amazing!
---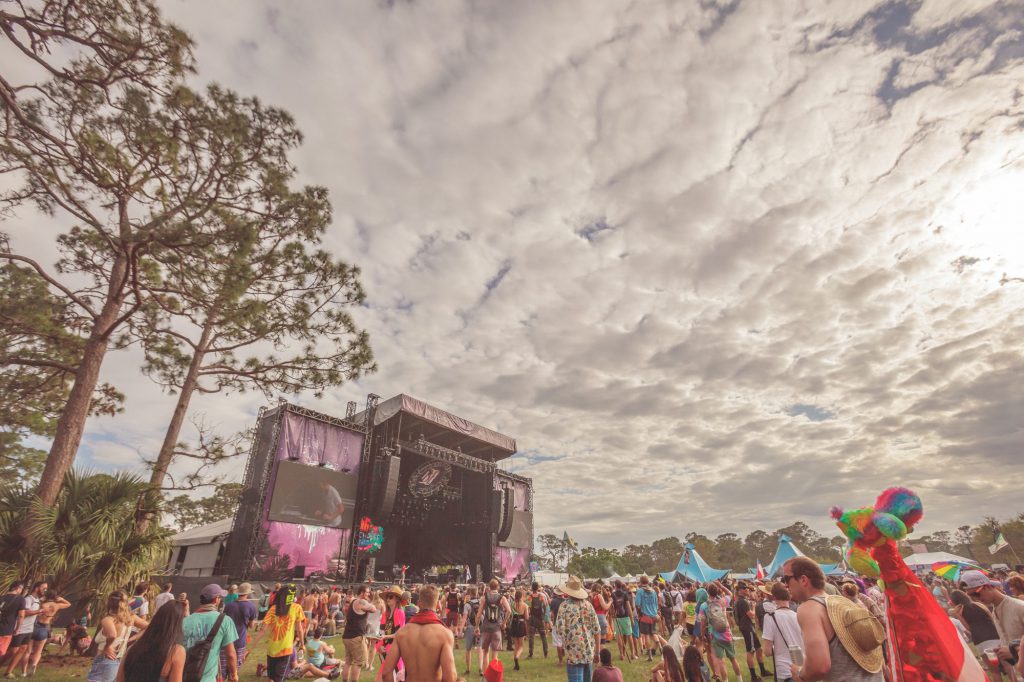 All of the freelance photographers who were shooting away all weekend!
I want to take a moment in my last segment to acknowledge a random group of people that I imagine most would gloss over. To all the people who were GA, who were VIP, who had a camera in their hand capturing the moment that so many found so meaningful. I would like to acknowledge all the freelance photographers I saw at OMF 2018 who stopped me asking me questions about how I got to where to my official credential status?
I remember how I first got my inspiration to pursuit festival photography as a career. I was at Suwannee Hulaween with two of my now mentors and fellow photographers from Dubera.com. They were just coming back from wandering the campsites and venue; I saw them reviewing their photo's and asked I asked them to give me a peek. See the way they could translate what they were seeing to photo inspired me to take a crack at it. I picked up my first camera there and then and began my journey.
So to see so many people at OMF 2018 finding their own inspiration to pick up a  camera and catalog moments that would mean so much to so many; there is a kind of surreal beauty. Now going on three years doing this I am humbled by the realization that I have the pleasure of cataloging moments that would be everlasting to others. It truly is a pleasure.
Be sure to check out our massive photo album on Facebook! 
---
Connect with Okeechobee Music & Arts Festival:
Website | Instagram | Twitter | Facebook | SoundCloud | YouTube