Okeechobee once again united us with music and fostered a community full of love – it is definitely a special festival.
---
People sometimes ask me to describe my experience at Okeechobee Music & Art Festival and in truth, it can be hard to articulate. I've heard it compared to Electric Forest, Coachella, and a number of other festivals, and while it bears some resemblance to those other events, it is most definitely a unique experience. It is almost as if bits and pieces of other festivals have been combined to give Okeechobee a vibe and community that has become a hidden gem deep in the middle of Florida.
Getting to Okeechobee was a journey in itself, and I opted to take the red-eye from California to travel to the East Coast. After landing, picking up my rental car and meeting up with my friends at the hotel, we were on our way.
The hour and a half drive south of Orlando went by quickly, and by the time we arrived at will call most of the rest of our group had already arrived – I was just glad we weren't the last car though. Most of us had beat the rush but the will call lines were growing fast and by the time the last car arrived it took them close to an hour to get through.
Once our passes were in hand, our caravan headed out to Portal 1.
We had been in touch with a number of other caravans to determine which portal had the fastest lines, all of them mentioned the first portal. After security, we arrived at camping placement and asked if we could get a new row rather than being split up. The staff made it happen, and all eleven of our cars were set in a single row, it was going to be a great weekend.
Our camp set up our tents, canopies, and hammocks all with plenty of time before the first set even started. Once we were all set up, we headed into the grounds to explore before the Special Full Moon party.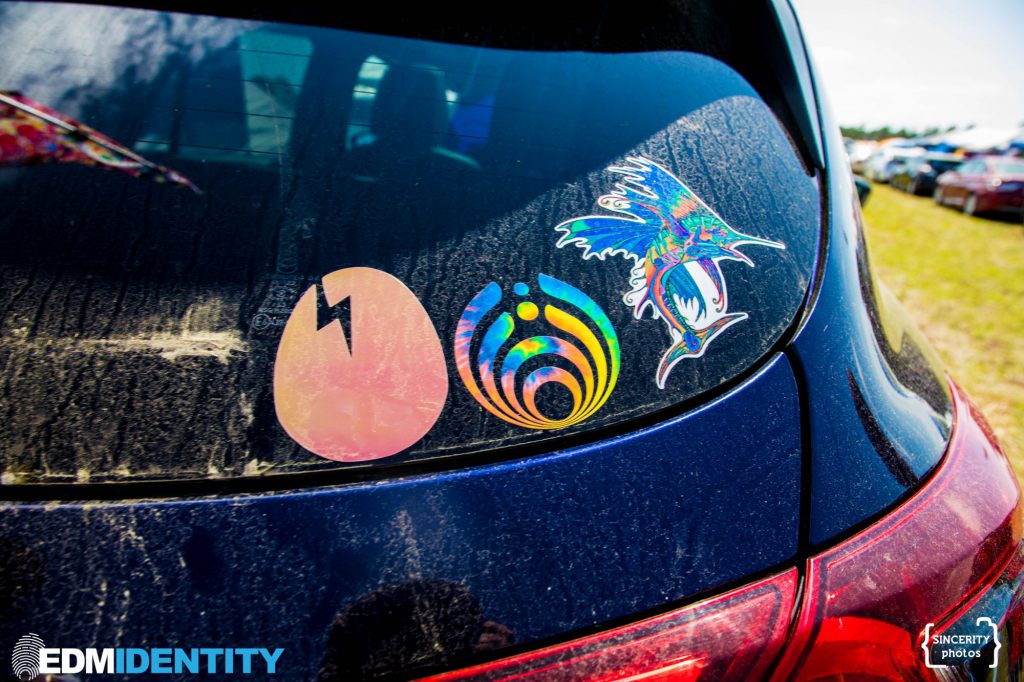 The layout offered nostalgia while the differences made everything seem fresh and new
Much of Okeechobee was similar to the previous year. The Incendia stage design was a little different but still had that pyrotechnic focus. Across the beach was a a sail boat that had split in half which was an interactive piece of art that gave you a solid birds eye view of Aquachobee.
Aquachobee's speakers had definitely improved from last year but still not as loud as we all would have wanted. The whole stage area was intermittently shaded last year, but this year all those coverings had been removed. As we passed the sand, the familiar Ferris Wheel stood at the end of the long row of food vendors. It was the primary place for food and drink inside the campground.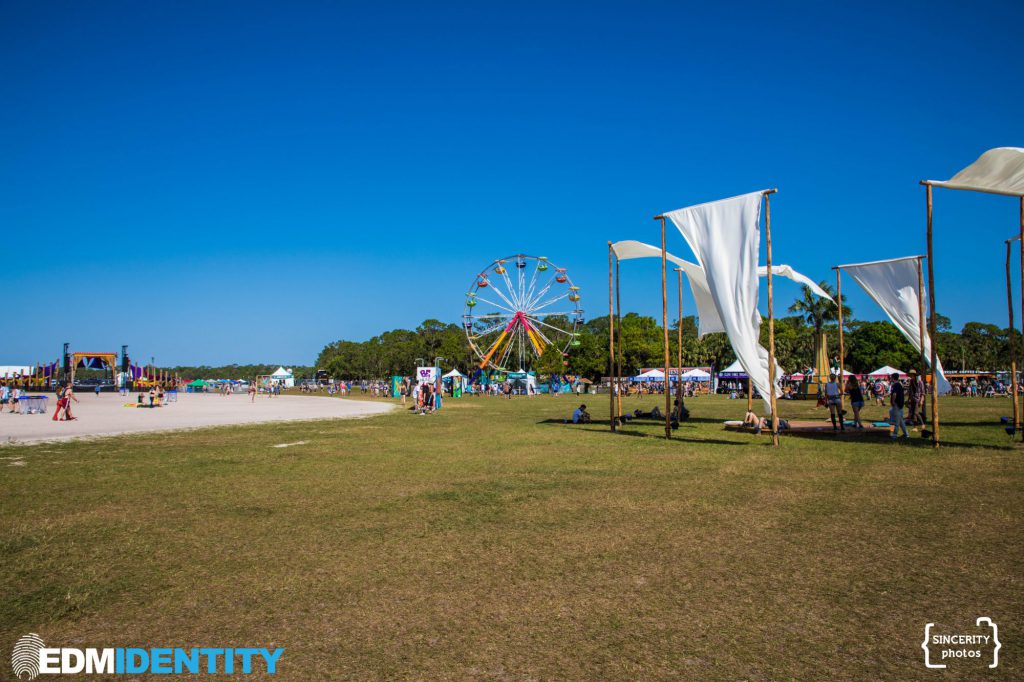 The variety of food options were also similar to last year with a large area set up with picnic tables.
The selection ranged from vegan wraps and barbecue to ice cream and fresh fruit. As we continued over to Chobeewobee Village we found tacos, two smoothie trucks, and a couple of coffee places. Then it was on to the vendors that sold physical products. Whether you wanted a hammock, jewelry, or even wanted to pay for somebody marbling there was a wide range of vendors available.
Across the way still stood a small stage where live bands would perform and further still was the Jive Joint, which is a comedy and variety show stage. Beside that was the tea lounge a small grove where you could go and enjoy tea or lay in a hammock, either the ones provided by Eno Hammocks or to set up your own.
The pre-party was the perfect way to prepare ourselves for the weekend ahead and embrace the present without distraction.
As we circled back to the Full Moon Party, Thriftworks was already playing. The production was minimal this first night. No stage lights and many of the beach lights were off. We had heard they were embracing the ambient light of the moon and they truly did. As Opiou and Bassnectar played their sets well into the night, it was the perfect introduction to the weekend. The sets were bass heavy and vibey, downtempo, and the perfect start to the madness of the weekend.
After we regrouped at camp it was time to head back out for Jungle 51. The entrance was flipped from where it was last year and they had more security checking bags as we went in. Compared to last year the Jungle was packed. There were definitely more people enjoying the house and techno artists this year and we loved it. The stage was minimal, like the production but it was the perfect environment for what we needed.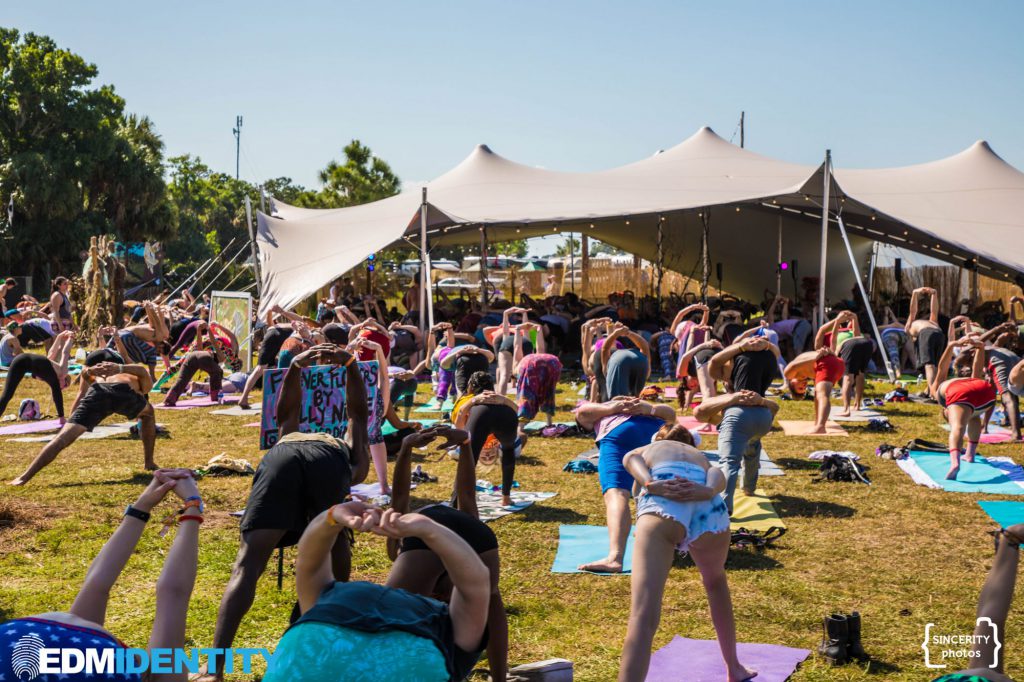 Stretching is important before participating in any type of exercise and that includes dancing or headbanging.
The next day we were all up with the sun and the excitement was mounting. Since we were on the far side opposite the Ferris Wheel, we were blessed to have vendors and showers right next to us. The showers were reasonably priced at $6, and the food vendors offered breakfast burritos, grilled cheese, and noodles.
A large portion of our group went to yoga that morning so I went out in search of them. When I found everyone, yoga was just wrapping up. The instructor was repeating wonderful mantras of self-love and peace. Reminding everyone to take time for themselves, be present, and embrace the journey.
Quite a few people were sweating in the sun but they all looked so relaxed. It was as if time had stopped in this little corner of the campground. She said, "namaste," and then time seemed to resume. It was now time to get ready and head in for Pouya's set.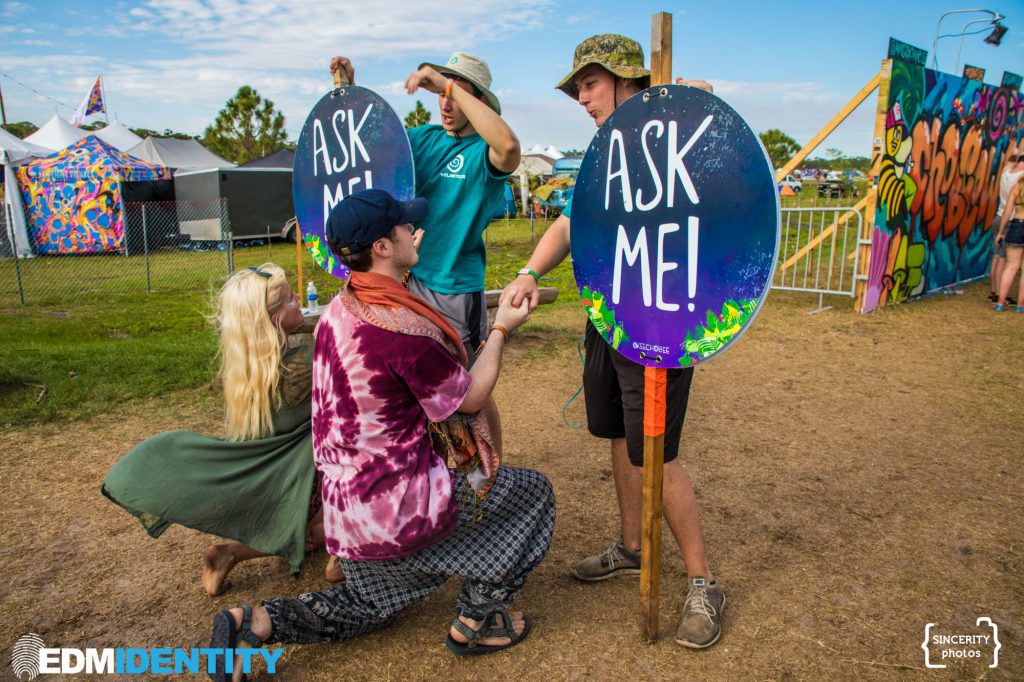 Everything happens for a reason and sometimes it's just a hint of what's to come.
While on our way, my friends Danielle and Cameron, and I came across a couple of staff members holding "Ask Me" signs. They looked to be about the same age as most of the festival goers. Cameron leaned over to me, "maybe I should ask him to marry me," I laughed and told him it would be a grand gesture and before I knew it he had knelt, took the guys hand and said he had a question. Barely missing a beat Danielle did the same thing to the other staff member. Little did I know that our day one joke would become a foreshadowing of the following day.
The entrances to The Grove were the same as last year, spanning the small forest area with three entryways.
As we approached there were a large number of lines leading first to metal detectors and then the ticket scanners. Last year the scanners didn't work all the time, so much so that frequently the staff gave up and just let everyone in. This year they had expanded network coverage which allowed us to use our phones but also allowed a consistent system for scanning, props to them for fixing that issue!
Within The Grove itself, not much had changed. Some of the installations were different, the Stillhouse and Corona experiences were more prevalent than I remembered but there were still three stages: Be, Here, Now. Sound booths were located in the center of each stage and made for the perfect meeting marker.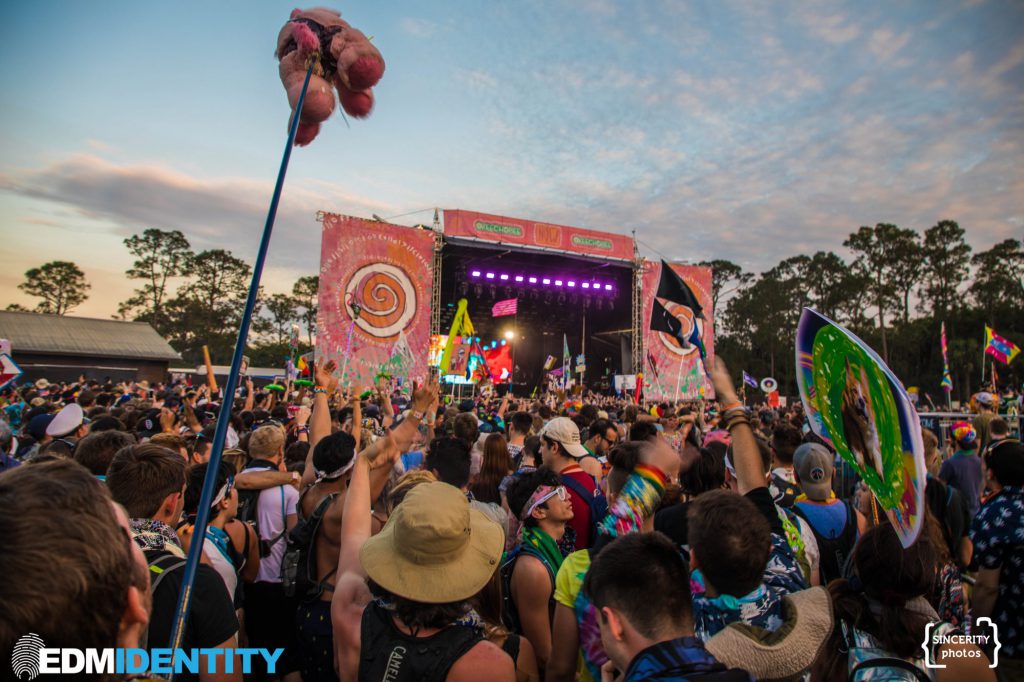 The layout was both convenient and simple which is something that all other festivals should take note of.
Every vendor also took card or cash at Okeechobee, and since there were so many options the lines were never really that long. Dissecting the lineup, it was clear our group would be posted up for quite some time at the Now stage. We stayed for Jai Wolf and then Tycho and STS9. All the sets were very chill, relaxed and we honestly spent much of the day just laying on the ground enjoying the music, atmosphere and each other's company.
It was never extremely crowded and there's something very special about listening to the melodic sounds of Tycho as the sun set behind the line of trees. After STS9, we knew our group would split up. Some of us wandered over to Halsey while the rest stayed for Tipper. I decided to head to Halsey, finding my friends who had a totem with two Bassnectar flags that made them easy to locate.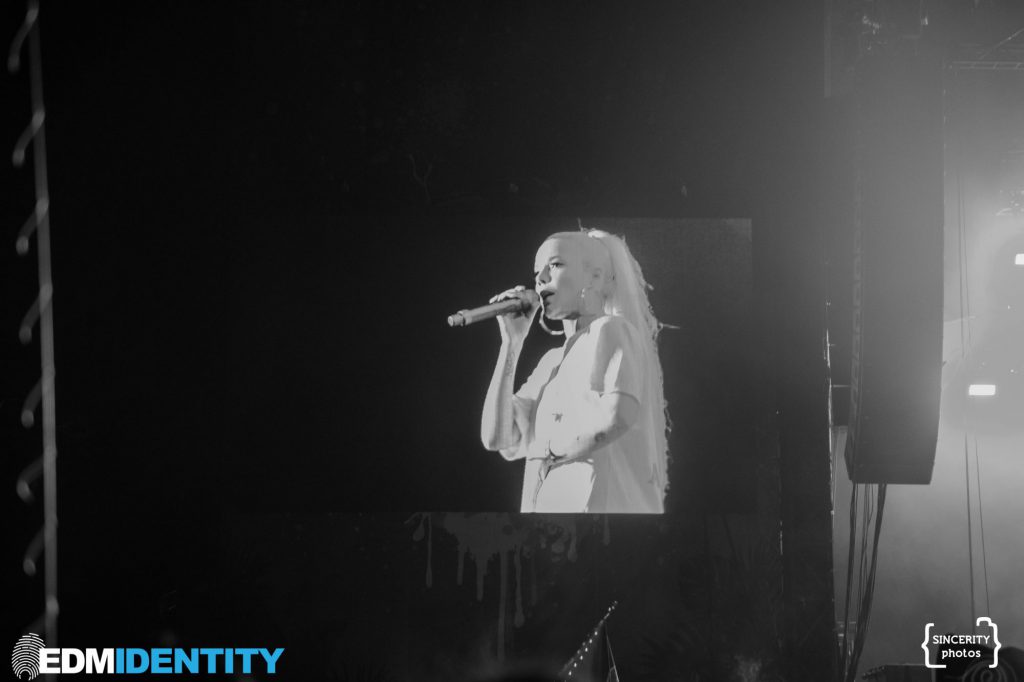 Halsey took the stage and completely put me in awe.
I had seen her at Coachella two years ago and to say she had grown as an artist would almost be an understatement. She was commanding in her presence on stage and her smooth vocals literally brought me to tears. It was incredible and one of my favorite sets of the weekend. Halsey has provided vocals for Zedd, Audien, The Chainsmokers and so many others but hearing her belt out the lyrics was a different experience altogether.
Have you ever had that feeling when you think you know where you are but turns out you're completely lost?
I left my friends to try and find the rest of the group at Lettuce and catch Bassnectar after. I called my friend Bailey and like a comical scene from a movie, 20 minutes and half of Foster the People's set later we discovered we were not talking about the same vendor place markers.
Feeling very defeated I finally met up with her at the Corona Beach House and she led me back to the group. I would later hear about how amazing Tipper's set was for the rest of the weekend, and while content with the set I saw, I still wish I could have been in two places at once.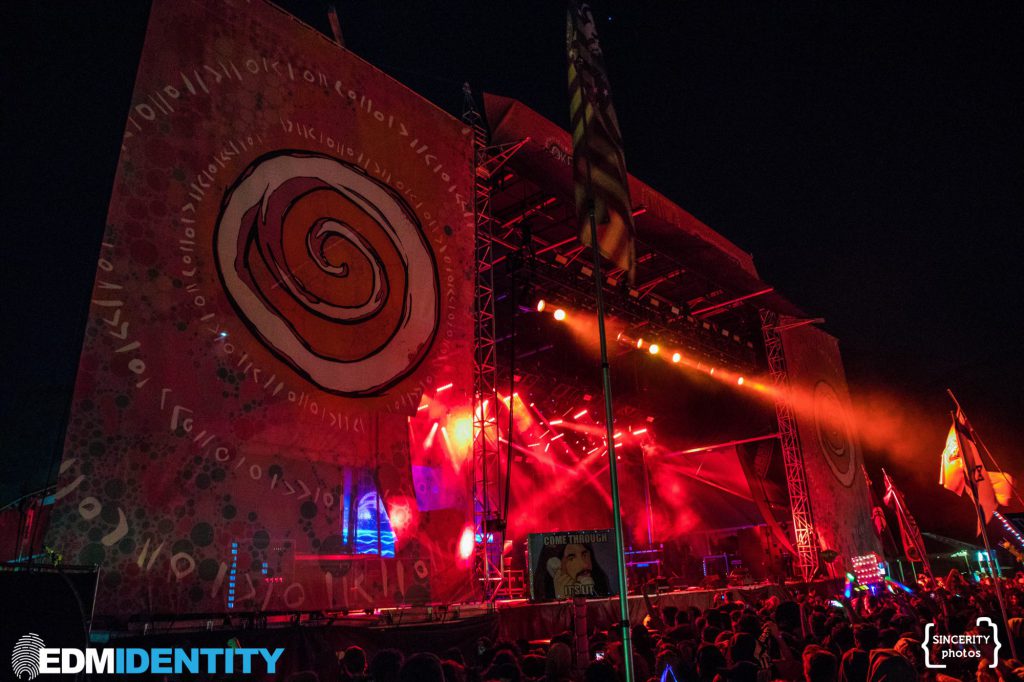 The production at Okeechobee is just the right amount of lights, smoke, and lasers.
Moreover, each stage is just large enough that you feel like comfortable from almost any location. As the final bassline dropped into silence we wandered out of The Grove, stopped by the campsite, bundled up a little more – we headed to Jungle 51.
When we arrived at Jungle 51 the line was longer than I had ever seen. We hit a wall of people and I was stunned by how many adventurers were ready for Honey Dijon's set. I honestly hadn't heard much about her but the hype from the crowd was real. My friend Cameron would later describe the set as "wild" and that he "didn't know the crowd could move like that." Honey Dijon's set was groovy, funky, and gave the crowd those heavy house beats that make you smile. This was the perfect way to end our day.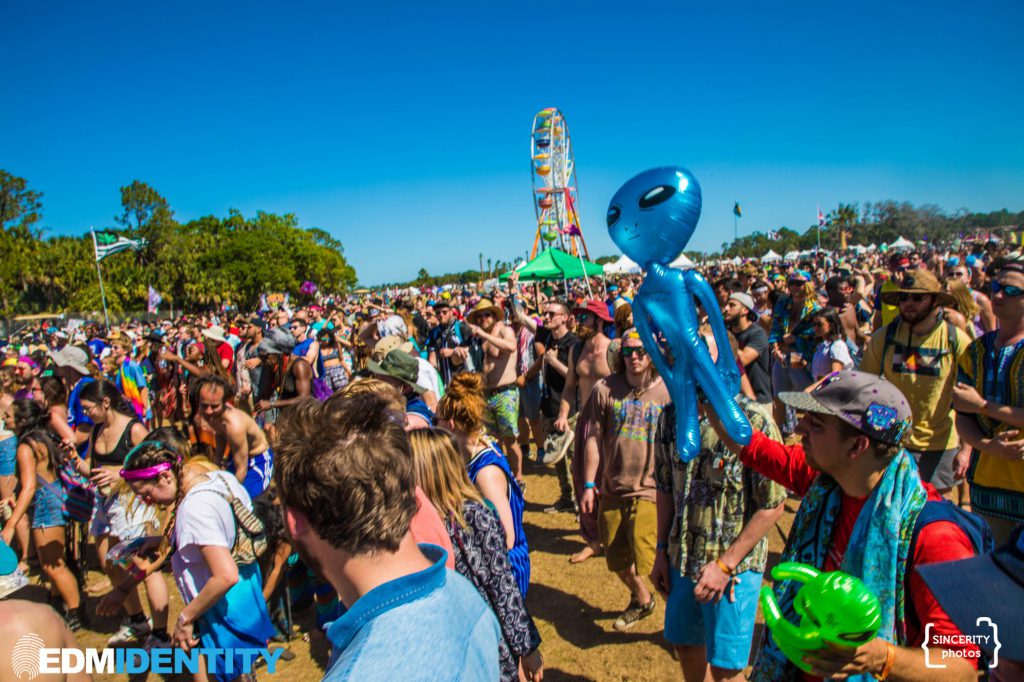 Day Two was the first beach day and we were ready to lay out, swim, and vibe out at the Aquachobee Stage.
A handful of us stayed up until the sun came up so it was no surprise that many of us didn't get up until the sun started heating up the inside of our tents. Once we were dressed and ready we gathered our coolers, our blankets, our inflatable hammocks and headed over to see Flamingosis.
The beach is where we would spend most of the day, and at any festival in the sun, it's important to remember two things, sunscreen and water. It's easy to forget when you're having fun but this will save you time and energy and definitely prevent emergencies from occurring. Our group would suffer both before the weekend was over, so as we go into festival season definitely a cautionary word, stay hydrated and protect your skin.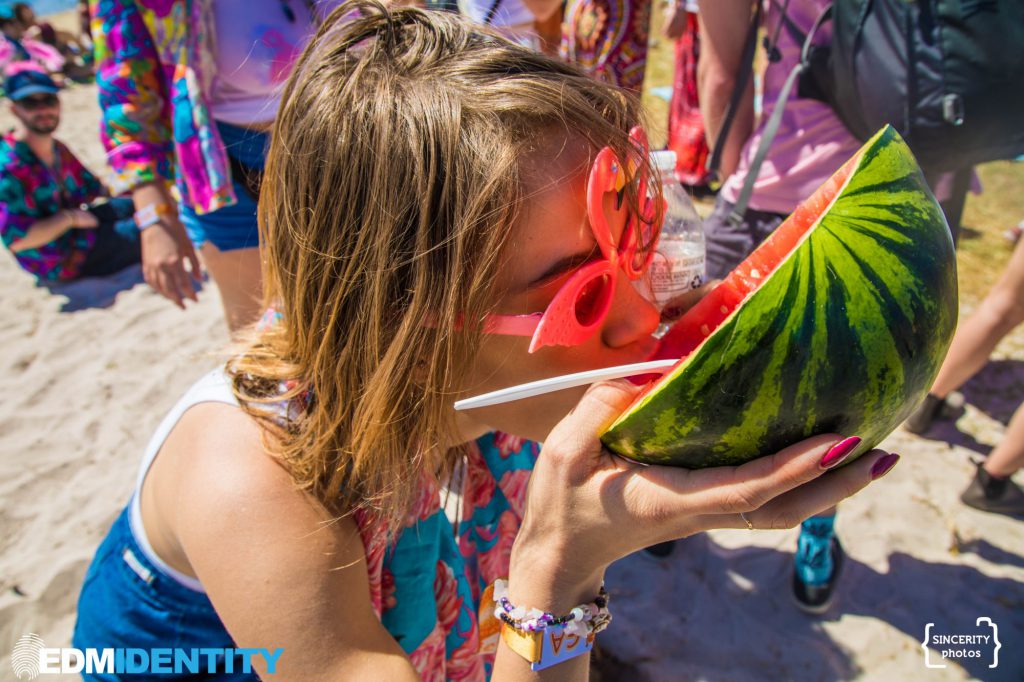 The beach crew was wild, fun, and extra in so many perfect ways.
Jesse brought a watermelon to the beach. Split in half he not only fed the people in our group but walked around feeding complete strangers – everyone loved it. We met people from all over the country, some on their first visit to the portal and others on their fourth.
I was trying to meet up with Samantha, a girl I met at my first Okeechobee experience and while I was waiting for her to arrive I ran into Nadia, another girl I met at Okeechobee last year. She seemed like she was in a hurry but also wanted to catch up with me so she said, "bring your camera, my friend is going to propose to her boyfriend." I was thrilled, being able to catch a moment like this was rare and it just fell into my lap.
We walked over to the sound booth, and a few other photographers were already in the vicinity. Nadia pointed out a girl with blue hair as the proposer and we all just casually hung out in the background. Over the next twenty minutes, the couple moved around dancing to the music when suddenly she turned around and started talking to her boyfriend.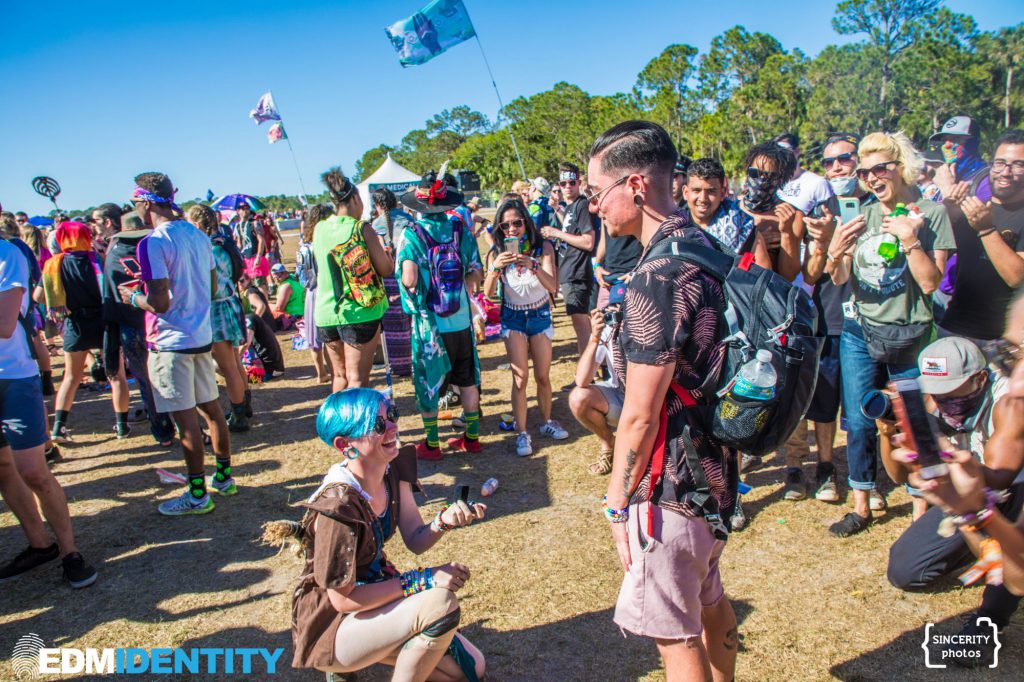 A few words were exchanged and then it happened, she fell to one knee pulling a small black box out of her pocket.
The look on his face told everyone he had not expected this. More words and the box was held upright facing him. Tears started streaming down everyone's faces and they had now garnered the attention of everyone around us. He said, yes, and the rest was embraces and kisses from the couple and friends all around them.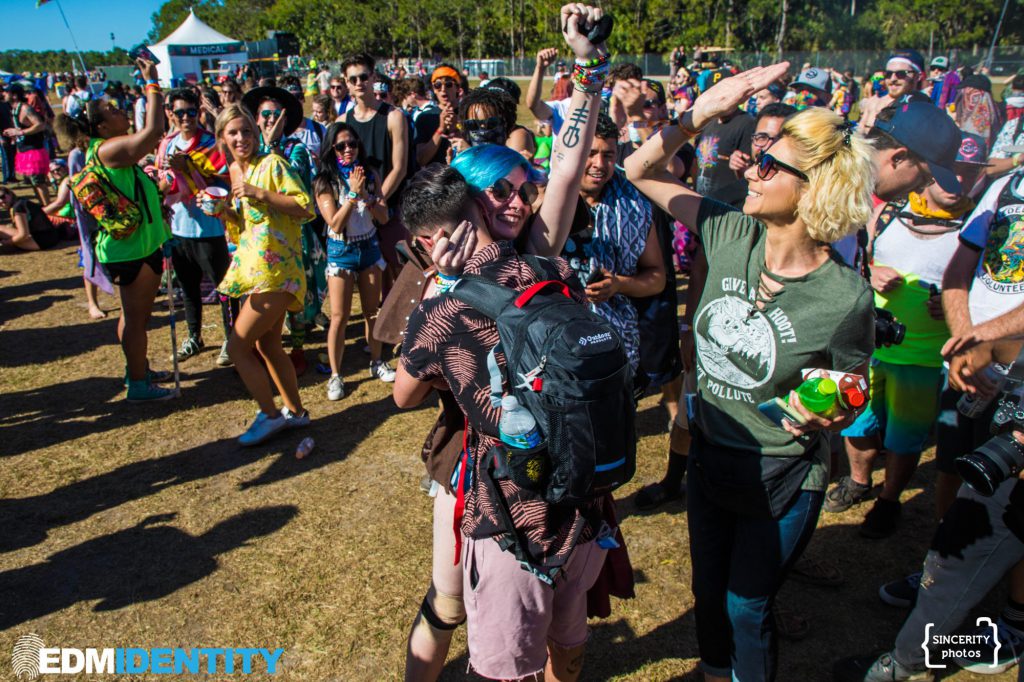 We stayed on the beach for Chet Porter all the way through CloZee, who completely stole the show.
CloZee's set was bouncy, fun, and the definition of a beach house vibe. We would later luck out by getting to see her again at the Aquachobee secret set later that night. Chadwick had wanted to see Blackbear so we went straight to the gates, but tonight was feeling the full impact of the crowd and the lines were moving so slow. Knowing that we had little time before it began to get cold we opted to change and just head in for the POWOW! with Snoop Dogg.
We have all heard or used the description of something as "OG" and Snoop Dogg is exactly that. On stage, he attempted to light a blunt that was at least eight inches and announces that he needs a lighter that actually works. His dancers were scantily clad and incredibly strong for the stunts they performed with the poles on stage, it was a throwback to anyone that has seen Snoop perform. It was definitely a sight and a fun set to watch.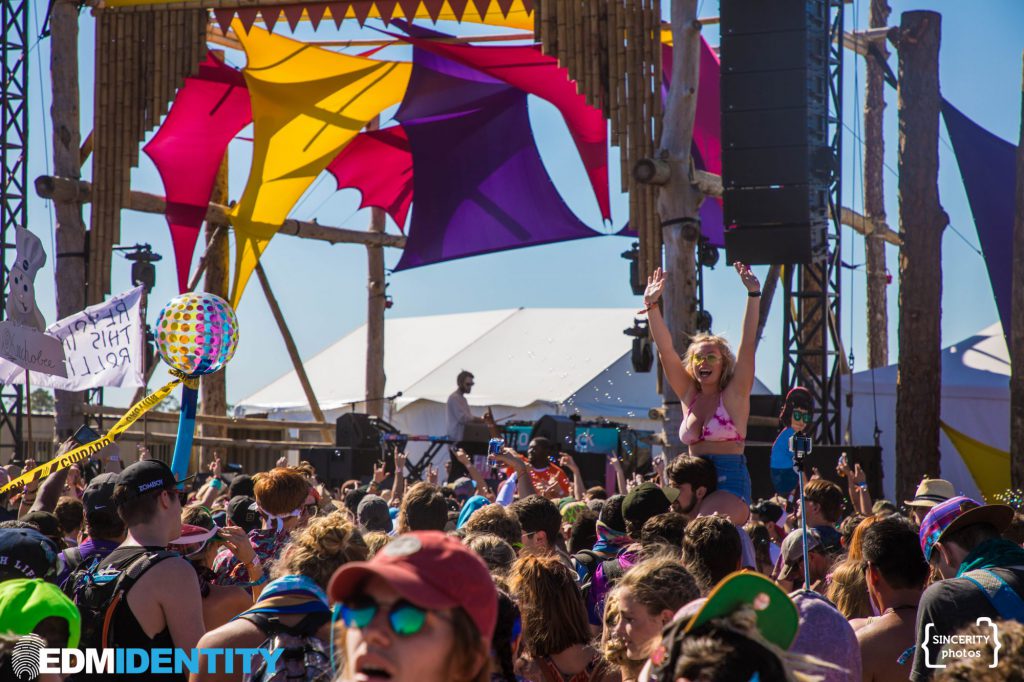 From there we wandered over to Illenium, and between the heat and the long day, much of my group decided to sit and enjoy the set.
Illenium is definitely one of my favorite producers, so I chose to dance and sing my heart out instead. At one moment, the center of the crowd seemed to open up and I started walking into the empty space. Just as I did about 4 or 5 other people slowly joined me, all of us belting out the words in a dramatic fashion and then headbanging when the drop hit. It was the "Illenial" community and I loved it.
We stayed for Big Gigantic who would perform another secret set back to back with Illenium later that night. It had been a while since I last saw Big G, but the saxophone and funky music never goes out of style. Then after all of this, we ended our night in Jungle 51 once again shuffling the night away into the sunrise.
Unfortunately, it's also important to note that at least two members of our group got pickpocketed over the weekend.
It was described as someone just standing strangely close to you, bumping into you and then quickly disappearing. We would later hear that the Okeechobee Police Department would catch a couple of the thieves, but it didn't help our friends. All this goes to show is that it is very important to pay attention to those around you and watch out for strange behavior.
The final day of Okeechobee brought bittersweet goodbyes, promises, and revelations
The final day was the day to get grimy and headbang as the beach would be host to a variety of dubstep, bass, and drum and bass back to backs. We once again headed out the beach and made a spectacle of ourselves as is our group's typical behavior. From Dirty Monkey b2b Subtronics to Boogie T b2b Squnto and then Ganja White Night b2b Boogie T b2b Dirt Monkey, we were a mess of hair and limbs just flying in every direction.
A large part of our group agreed they needed a different type of music and headed into The Grove for Big Wild.
The rest of us planned on staying for Liquid Stranger and then to get ready for the night. "This group is everything good about festivals," was the perfect compliment from my friend Hannah. She had only recently met many of us and the most incredible part of the statement was that many of us had only just met each other this weekend too. At the same time, it also impressed how much fleeting time left that we had together.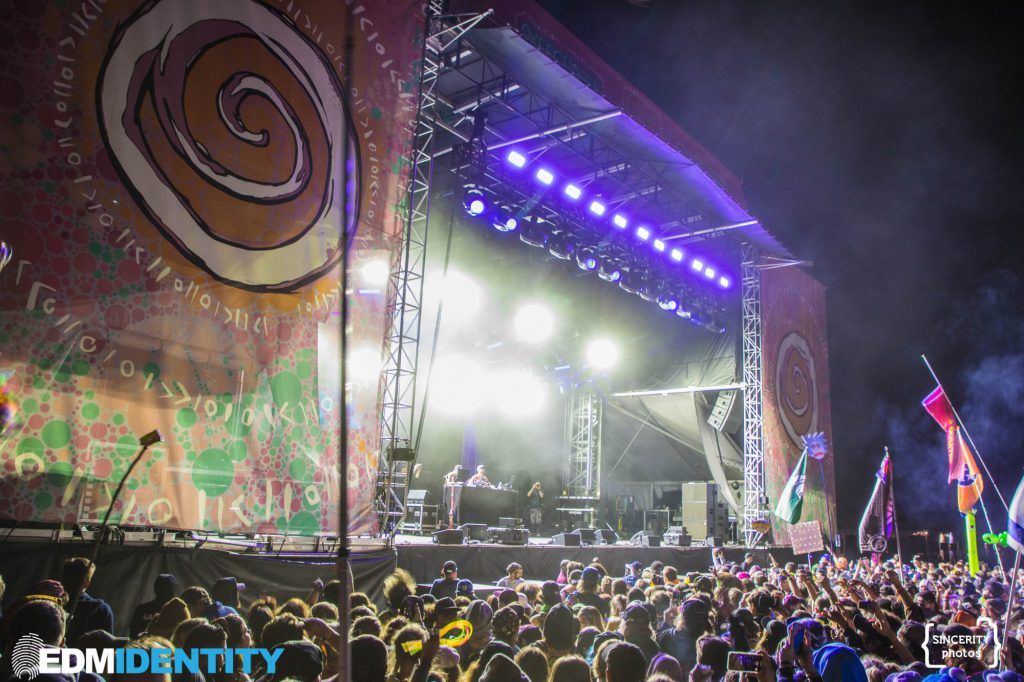 The last time we would enter The Grove for the weekend and we were ready to dance with every ounce of energy we had left
I missed Gramatik at Decadence Colorado, so this was my redemption and I was not disappointed. It was beautiful and led straight into an epic set by Zeds Dead. A few of my friends missed that, and after watching the videos all agreed that they messed up big time in not being there. The final act we caught at The Grove was Arcade Fire before leaving the stage until next year.
We wandered back through Chobeewobee Village and stopped at almost every piece of art on our way back. By the time we got back to the campsite we were all feeling the impending departure. It was our final night and my friend Sarah suggested that we end on a funny note – at the Jive Joint. We made our way over for what was an incredibly weird, and funny experience and the perfect way to end our four-day adventure at Okeechobee.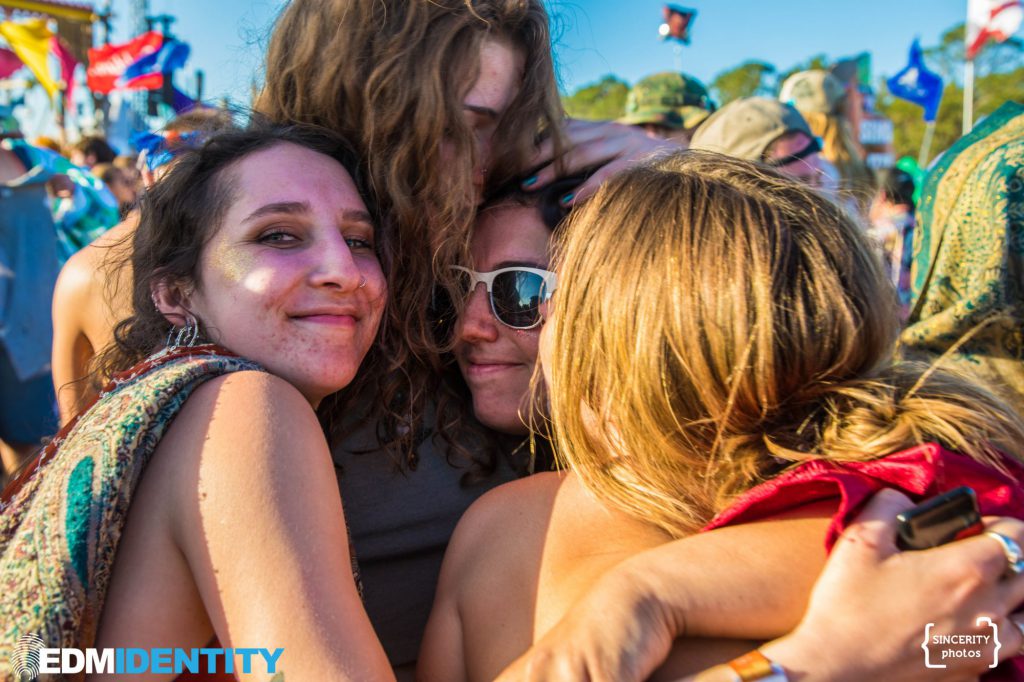 The first time I heard the word "Okeechobee" and was thinking about attending, I had no idea what I was in for but now I know I have a home there.
I won't lie, Okeechobee was huge and felt daunting at times, however, the lineup was great and the grounds were beautiful. Despite my previous experiences, I hadn't formed a connection to the festival yet. This year was a phenomenal flip of events and Okeechobee captured my heart in a way that I couldn't have expected.
Okeechobee truly is a little bit of all the festivals you hear it compared to and so much more. As we left the portal to return the rental car and board our flights we said farewell to that otherworldly adventure and until next year – I hope to see you there!
Be sure to check out the rest of our photos on Facebook!
---
Connect with Okeechobee Music & Arts Festival:
Website | Instagram | Twitter | Facebook | SoundCloud | YouTube