Electric Forest takes pride in the green efforts that keep our natural backdrop feeling healthy and looking beautiful!
---
Now more than ever the health and wellbeing of the ecosystems that we call home are relying on us to take extra special care of them if we are to ensure future sustainability. Unfortunately, we have all born witness to the destruction that often comes when thousands of festival goers converge for a wild weekend of partying and sadly, more often than not, we leave with heavy hearts as we pass by piles of rubbish that have been left behind in our wake. Electric Forest implores us to make a change.
To disregard the negative effect that the human element can have on our environment is simply unacceptable. The Forest takes this issue very seriously and has created a couple programs to help keep the health of our environment at the forefront of our hearts and minds. Through Electricology and the Green Monarch Program, we can bond together and become proactive in the fight to eradicate pollution on the grounds where we boogie on down, ensuring the health of the venue for many years to come.
Read on below to learn about some of the green initiative Plug In programs that are available for Electric Forest 2018!
---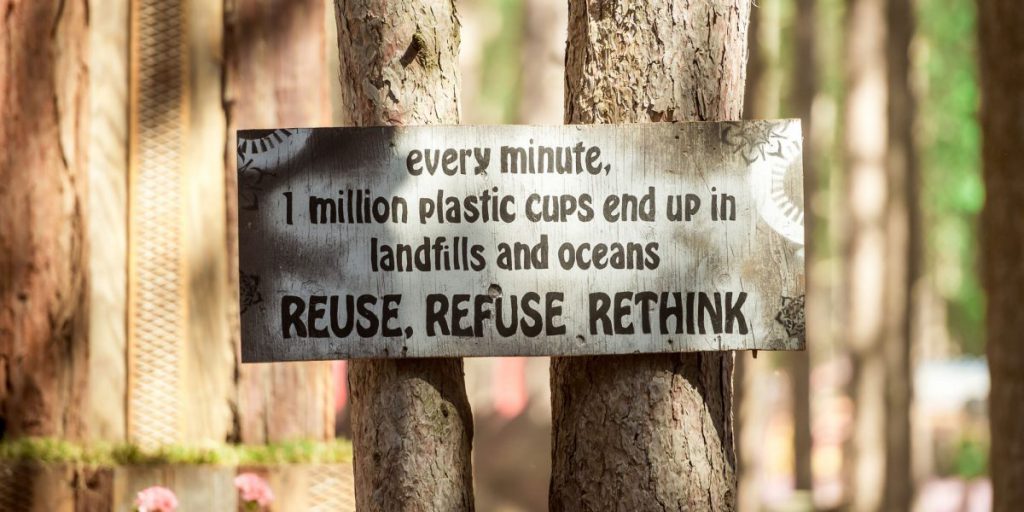 Electricology
Electricology challenges and supports each member of the Forest Family to leave Electric Forest with honor and respect. We are all capable of leaving The Forest beautiful, we know how awesome our Forest Family is and how prepared the Electricology Team is. Electricology is ready to own this, make magic happen, and rise to the challenge. Are you?
There are so many ways to make an impact, earn ecopoints, and win awesome prizes this year including tickets for life! Check out just a few Electricology happenings, contests, and sponsored prizes…
The Electricology Store:
Turn in your EcoPoints to win exclusive prizes every 15 minutes from Forest Vendors, Sponsors, and Artists! Visit locations at the Venue Entrance, Ranch Arena, and Sherwood Court. Thanks in part to our friends at GrassRoots California, Sloth Steady, ENO, and Vibedration!
Campground Ecozones:
Drop off trash & recycling when you visit the EcoZone at your Neighborhood Pod in the GA and Good Life campgrounds. Earn EcoPoints to spend at the Electricology Stores and restock trash and recycling supplies to keep your camp clean!
Ecopoints Leaderboard:
Win tickets for life by earning the most EcoPoints throughout the weekend!
Sustainable Travel Rewards:
Win tickets for life for traveling sustainably in vehicles with 3+, on buses, or on bikes. Green travelers also collect EcoPoints and an exclusive Forest Family 2018 bumper sticker, while supplies last!
Bagstravaganza:
Electricology is coming to your neighborhood on Saturday to make sure you have the trash and recycling bags you need! With these bags, you can leave your campsite spotless on Monday.
The Prize Cart:
The Prize Cart is like a mobile Electricology Store! Win instant prizes and collect EcoPoints in random clean up games all over The Forest, and when each stage closes down every night. Thanks in part to our friends at GrassRoots California, Sloth Steady, ENO, and Vibedration!
Recycle & Compost at Waste Stations:
Food Vendors will serve compostable cups, utensils, and plates festival-wide, so please remember to sort at the waste stations. If an Electricology staffer catches you in the act, you will win EcoPoints!
Ecopoints Party:
Win an invite to an exclusive party inside Electric Forest for the 50 Foresters at the top of the Leaderboard!
For more on how you can join in on the efforts to keep Electric Forest and your own community in tip-top shape, visit the official site!
---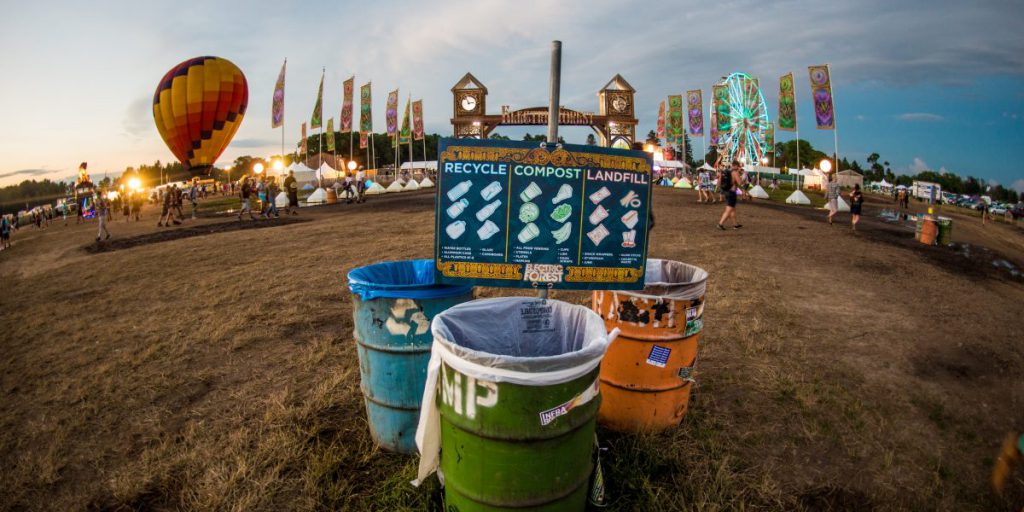 Green Monarch Program
Going hand in hand with the Electricology Program, The Green Monarch offers the opportunity to bring your environmental/green/sustainable vision to The Forest. Jump on the chance and dream up a creative way to inspire our Forest Family to be their best stewards of the land as you will be honored as the sustainable ambassador of the Forest with once in a lifetime experiences. If you would like to be considered, it is time to start thinking about what green initiative you could bring to The Forest that it doesn't already have.
If you are selected as the Green Monarch of Electric Forest, you must put your best foot forward to improve the festival and work with Forest HQ to do so. As a leader of the event, you must find ways to inspire the masses and make the experience better for all.
In order to reap the true benefits of your handsome reward, some meetings and advance communication with HQ this spring will be required to develop your winning idea. Additionally, the Green Monarch will be scheduled for 1-2 daily appearances, photo ops, and activities while at Electric Forest. HQ will make sure these participation opportunities will not conflict with your favorite sets or interests at EF.
The Award:
Two (2) Good Life Village Camping wristbands to Electric Forest 2018, with access to Good Life VIP viewing areas
Two (2) invitations to the secret Electricology EcoPoints Party
Two (2) Electricology Prize Packs with exclusive Electric Forest swag
Escorts to and from your scheduled Green Monarch duties
The opportunity to bring your vision to The Forest!
Check out the full list of entry details, selection process, and rules and get ready to make your green impact on the grounds of Electric Forest!
---
To drive the point home… A note from Electricology to our Electric Forest Family:
"It's no secret HQ needs the Forest Family to participate in Electricology each year. Between double weekends and an increased commitment to sustainable planning for our fans and partners, we have 48 hours to reset the most magical weekend you've ever experienced.

Some folks look at this operation with skepticism, but we say Challenge Accepted. Tickets for Life anyone?

This year, we're rising to the challenge to make sure you have everything you need to be a sustainable and active member of the Forest Family. This means more bags for Recycling and more EcoZones in both GA & Good Life Campgrounds. We're also increasing our service crew and members of the Electricology team circulating site-wide to keep it clean and reach our sustainability goals.

Electric Forest offers composting everywhere food vendors are serving. We have new & improved sorting signs posted everywhere. All food related items are compostable like utensils, plates, food scraps including meat. Our beverage cups, lids and straws are also compostable. Just the water bottles and aluminum cans sold at beverage stands are recyclable. Waste stations will be everywhere. It's never been easier to do the right thing and earn EcoPoints.

And as always, for your hard earned EcoPoints, we have insanely cool prizes to win. Electricology Stores and Prize Carts in both the venue and campgrounds will be ready to set cleanup records with EF Sponsored Gear, Vintage Festival Merch, Vendor Coupons, Secret happenings, and more EF Tickets for Life.

Now when it's all said and done and Monday morning dawns, we need you to do one last thing before you go. Stand there after it's all packed up. Think of the most incredible moment you experienced over the weekend. Breath in deep. Slowly open your eyes. Take a look around. And clean up your campsite. Please, bring it to the piles. We'll have massive piles strategically set up in the campgrounds this year fam. Do us all a favor and walk your trash and recycling 30 yards or less to the piles. Let's show the world what magic looks like.

It looks like a family caring for each other and taking a moment to do what's right. It's about leaving this place with honor and respect. Don't you think that's something we're all capable of? We do. Which is why Electricology is not concerned about the 48 hour turnover. We know how awesome our Forest Family is. We know how prepared we are. We are ready to own this, to make magic happen, and rise to this challenge. Are you?

See you in The Forest!"

– The Electricology Team
From our family at EDM Identity, we truly hope that you will become a proactive member of The Forest by joining in on both of these incredible green initiative Plug In's! Let us know how you will help out in the comments below!
And before you go, get up to date with Electric Forest's Curated Event Series and the Phase Two Lineup for both weekends in the magical and mysterious Sherwood Forest!
---
Connect with Electric Forest on Social Media: